Abstract
Aim/hypothesis
The risk of progressing from autoantibody positivity to type 1 diabetes is inversely related to age. Separately, whether age influences patterns of C-peptide loss or changes in insulin sensitivity in autoantibody-positive individuals who progress to stage 3 type 1 diabetes is unclear.
Methods
Beta cell function and insulin sensitivity were determined by modelling of OGTTs performed in 658 autoantibody-positive participants followed longitudinally in the Diabetes Prevention Trial–Type 1 (DPT-1). In this secondary analysis of DPT-1 data, time trajectories of beta cell function and insulin sensitivity were analysed in participants who progressed to type 1 diabetes (progressors) to address the impact of age on patterns of metabolic progression to diabetes.
Results
Among the entire DPT-1 cohort, the highest discriminant age for type 1 diabetes risk was 14 years, with participants aged <14 years being twice as likely to progress to type 1 diabetes as those aged ≥14 years. At study entry, beta cell glucose sensitivity was impaired to a similar extent in progressors aged <14 years and progressors aged ≥14 years. From study entry to stage 3 type 1 diabetes onset, beta cell glucose sensitivity and insulin sensitivity declined in both progressor groups. However, there were no significant differences in the yearly rate of decline in either glucose sensitivity (−13.7 [21.2] vs −11.9 [21.5] pmol min−1 m−2 [mmol/l]−1, median [IQR], p=0.52) or insulin sensitivity (−22 [37] vs −14 [40] ml min−1 m−2, median [IQR], p=0.07) between progressors aged <14 years and progressors aged ≥14 years.
Conclusions/interpretation
Our data indicate that during progression to stage 3 type 1 diabetes, rates of change in declining glucose and insulin sensitivity are not significantly different between progressors aged <14 years and progressors aged ≥14 years. These data suggest there is a predictable course of declining metabolic function during the progression to type 1 diabetes that is not influenced by age.
Graphical abstract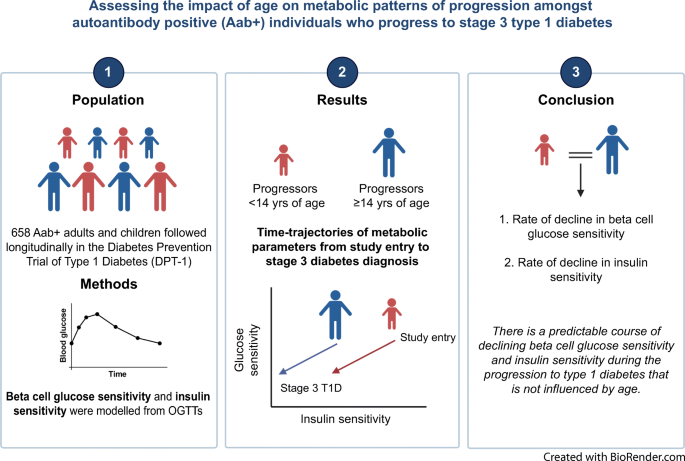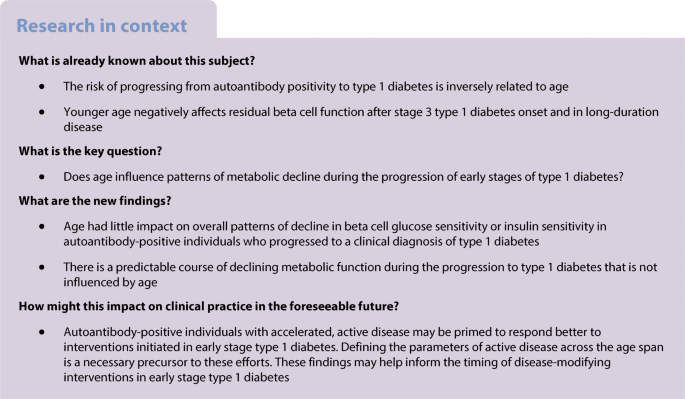 Data availability
Data from this study are available from the corresponding author upon reasonable request for the purposes of a collaborative research project.
Abbreviations
AIR:

Acute insulin response

DPT-1:

Diabetes Prevention Trial–Type 1

ICA:

Islet cell antibody

IGT:

Impaired glucose tolerance

ISR:

Insulin secretion rate

OGIS:

Oral glucose-derived insulin sensitivity index
Acknowledgements
The graphical abstract was adapted from a biorender template, 'Quantifying SARS-CoV-2 Virions in City Wastewater', by BioRender.com (2022). Retrieved from https://app.biorender.com/biorender-templates.
Authors' relationships and activities
EF has received speaker fees from Boehringer-Ingelheim/Lilly&Co., MSD and Sanofi, and research funding from Janssen and declares no conflict of interest with regard to the material in this manuscript. JSS has been an advisor to Abvance, Adocia, Altheia, Astra-Zeneca, Avotres, Bayer, Boehringer-Ingelheim, Dance Biopharm/Aerami Therapeutics, Enthera, Imcyse, Immunomolecular Therapeutics, Intarcia, Kriya, Novo-Nordisk, Oramed, Orgenesis, Precigen ActoBiotics, Provention Bio, Sanofi, Signos, Tolerion, Viacyte and Viela Bio. He is a member of the Board of Directors of Dexcom and Applied Therapeutics and is Chair of the Strategic Advisory Board of the EU INNODIA consortium. CE-M has been an advisor to Pfizer, Dompe Pharmaceuticals, Provention Bio, MaiCell Technologies, Isla Technologies, Avotres and Neurodon. CE-M is the recipient of in-kind research support from BMS and Nimbus and has investigator-initiated research grants from Lilly Pharmaceuticals and Astellas. GSFM and AM declare that there are no relationships or activities that might bias, or be perceived to bias, their work.
Contribution statement
EF, AM and CE-M conceived the study; EF and AM performed the analyses. EF, AM, CE-M, GSFM and JSS contributed to the analysis and interpretation of data. EF and CE-M drafted the manuscript and AM, GSFM and JSS revised it critically for important intellectual content. All authors reviewed and gave final approval of the version to be published. EF and CE-M are the guarantors of this work.
Funding
This work was supported by NIH grant R21 DK119800-01A1 (to EF and CE-M).
Additional information
Publisher's note
Springer Nature remains neutral with regard to jurisdictional claims in published maps and institutional affiliations.
Supplementary information
Rights and permissions
Open Access This article is licensed under a Creative Commons Attribution 4.0 International License, which permits use, sharing, adaptation, distribution and reproduction in any medium or format, as long as you give appropriate credit to the original author(s) and the source, provide a link to the Creative Commons licence, and indicate if changes were made. The images or other third party material in this article are included in the article's Creative Commons licence, unless indicated otherwise in a credit line to the material. If material is not included in the article's Creative Commons licence and your intended use is not permitted by statutory regulation or exceeds the permitted use, you will need to obtain permission directly from the copyright holder. To view a copy of this licence, visit http://creativecommons.org/licenses/by/4.0/.
About this article
Cite this article
Ferrannini, E., Mari, A., Monaco, G.S.F. et al. The effect of age on longitudinal measures of beta cell function and insulin sensitivity during the progression of early stage type 1 diabetes. Diabetologia 66, 508–519 (2023). https://doi.org/10.1007/s00125-022-05836-w
Received:

Accepted:

Published:

Issue Date:

DOI: https://doi.org/10.1007/s00125-022-05836-w
Keywords
Age

Beta cell glucose sensitivity

C-peptide

Type 1 diabetes