Abstract
Aims/hypothesis
Metformin is increasingly used to treat gestational diabetes (GDM) and pregnancies complicated by pregestational type 2 diabetes or polycystic ovary syndrome but data regarding long-term offspring outcome are lacking in both human studies and animal models. Using a mouse model, this study investigated the effects of maternal metformin intervention during obese glucose-intolerant pregnancy on adiposity, hepatic steatosis and markers of metabolic health of male and female offspring up to the age of 12 months.
Methods
C57BL/6J female mice were weaned onto either a control diet (Con) or, to induce pre-conception obesity, an obesogenic diet (Ob). The respective diets were maintained throughout pregnancy and lactation. These obese dams were then randomised to the untreated group or to receive 300 mg/kg oral metformin hydrochloride treatment (Ob-Met) daily during pregnancy. In male and female offspring, body weights and body composition were measured from 1 month until 12 months of age, when serum and tissues were collected for investigation of adipocyte cellularity (histology), adipose tissue inflammation (histology and quantitative RT-PCR), and hepatic steatosis and fibrosis (histochemistry and modified Folch assay).
Results
At 12 months of age, male Ob and Ob-Met offspring showed increased adiposity, adipocyte hypertrophy, elevated expression of proinflammatory genes, hyperleptinaemia and hepatic lipid accumulation compared with Con offspring. Male Ob-Met offspring failed to show hyperplasia between 8 weeks and 12 months, indicative of restricted adipose tissue expansion, resulting in increased immune cell infiltration and ectopic lipid deposition. Female Ob offspring were relatively protected from these phenotypes but Ob-Met female offspring showed increased adiposity, adipose tissue inflammation, hepatic lipid accumulation, hyperleptinaemia and hyperinsulinaemia compared with Con female offspring.
Conclusions/interpretation
Maternal metformin treatment of obese dams increased offspring metabolic risk factors in a sex- and age-dependent manner. These observations highlight the importance of following up offspring of both sexes beyond early adulthood after interventions during pregnancy. Our findings illustrate the complexity of balancing short-term benefits to mother and child vs any potential long-term metabolic effects on the offspring when prescribing therapeutic agents that cross the placenta.
Graphical abstract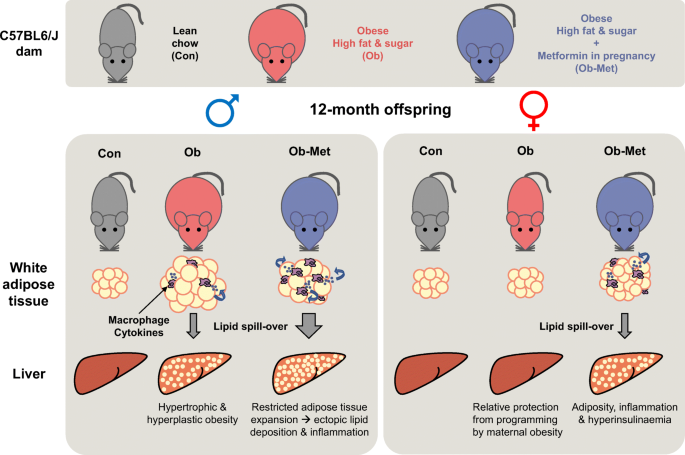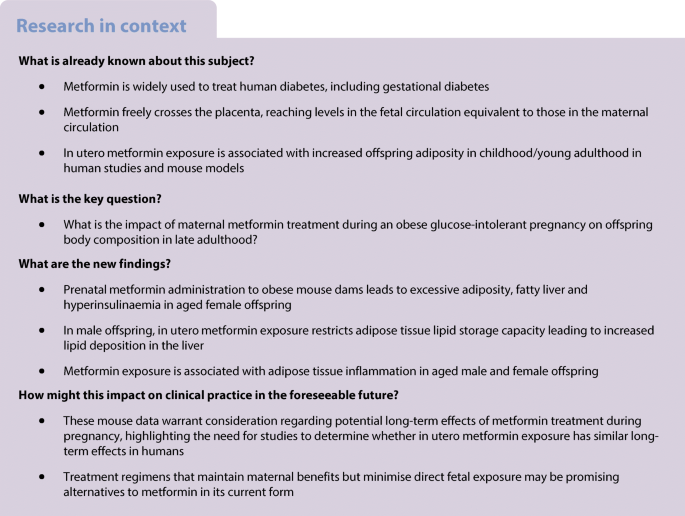 Data availability
The datasets generated during and/or analysed during the current study are available from the corresponding author on reasonable request.
Abbreviations
BAT:

Brown adipose tissue

CLS:

Crown-like structures

GDM:

Gestational diabetes mellitus

gWAT:

Gonadal white adipose tissue

PCOS:

Polycystic ovary syndrome

RT-qPCR:

Quantitative RT-PCR

TD-NMR:

Time-domain NMR

WAT:

White adipose tissue
Acknowledgements
We would like to thank C. Custance (Wellcome-MRC Institute of Metabolic Science-Metabolic Research Laboratories, University of Cambridge, Cambridge, UK) for expert technical assistance. We would also like to thank the Core Biochemical Assay Laboratory for performing the serum lipid analyses and the Histopathology Core for the use of their processing facilities (MRC Metabolic Diseases Unit, University of Cambridge).
Authors' relationships and activities
The authors declare that there are no relationships or activities that might bias, or be perceived to bias, their work.
Contribution statement
Substantial contributions to the conception or design of the work were made by HLB, DSF-T, JMS and SEO. Data acquisition was carried out by JAT, JMS, LCP, LD, LPP and TJA. Data analysis was performed by CEA, JAT, JMS, LCP, LPP and SEO. All authors contributed to manuscript revision and approved the final manuscript prior to submission. JMS is responsible for the integrity of the work as a whole.
Funding
This work was funded by the British Heart Foundation (grants RG/17/12/33167, PG/13/46/30329, PG/20/11/34957, and studentship to JMS FS/16/53/32729), the Medical Research Council (MC_UU_00014/4 and MR/T016701/1), the São Paulo Research Foundation (FAPESP, 2019/22635-4), the Wellcome Trust (Sir Henry Wellcome Fellowship: 106026/Z/14/Z) and National Institute for Health Research (clinical lectureship: CL-2019-14-504). The Histopathology Core is funded by the Medical Research Council (MRC_MC_ UU_00014/5). The study funders were not involved in the design of the study; the collection, analysis, and interpretation of data; writing the report; and did not impose any restrictions regarding the publication of the report.
Additional information
Publisher's note
Springer Nature remains neutral with regard to jurisdictional claims in published maps and institutional affiliations.
Supplementary information
Rights and permissions
Open Access This article is licensed under a Creative Commons Attribution 4.0 International License, which permits use, sharing, adaptation, distribution and reproduction in any medium or format, as long as you give appropriate credit to the original author(s) and the source, provide a link to the Creative Commons licence, and indicate if changes were made. The images or other third party material in this article are included in the article's Creative Commons licence, unless indicated otherwise in a credit line to the material. If material is not included in the article's Creative Commons licence and your intended use is not permitted by statutory regulation or exceeds the permitted use, you will need to obtain permission directly from the copyright holder. To view a copy of this licence, visit http://creativecommons.org/licenses/by/4.0/.
About this article
Cite this article
Schoonejans, J.M., Blackmore, H.L., Ashmore, T.J. et al. Sex-specific effects of maternal metformin intervention during glucose-intolerant obese pregnancy on body composition and metabolic health in aged mouse offspring. Diabetologia 65, 2132–2145 (2022). https://doi.org/10.1007/s00125-022-05789-0
Received:

Accepted:

Published:

Issue Date:

DOI: https://doi.org/10.1007/s00125-022-05789-0
Keywords