Abstract
Aims/hypothesis
Our study aimed to examine the trends in diabetes-related mortality in urban and rural areas in the USA over the past two decades.
Methods
We examined the trends in diabetes-related mortality (as the underlying or a contributing cause of death) in urban and rural areas in the USA between 1999 and 2019, using the CDC WONDER Multiple Cause of Death database. We estimated the 20 year trends of the age-adjusted mortality rate (AAMR) per 100,000 population in urban vs rural counties.
Results
The AAMR of diabetes was higher in rural than urban areas across all subgroups. In urban areas, there was a significant decrease in the AAMR of diabetes as the underlying (−16.7%) and contributing (−13.5%) cause of death (ptrend<0.001), which was not observed in rural areas (+2.6%, +8.9%, respectively). AAMRs of diabetes decreased more significantly in female compared with male individuals, both in rural and urban areas. Among people younger than 55 years old, there was a temporal increase in diabetes-related AAMR (+13.8% to +65.2%). While the diabetes-related AAMRs of American Indian patients decreased in all areas (−19.8% to −40.5%, all ptrend<0.001), diabetes-related AAMRs of Black and White patients decreased significantly in urban (−26.6% to −28.3% and −10.7% to −15.4%, respectively, all ptrend<0.001) but not rural areas (−6.5% to +1.8%, +2.4% to +10.6%, respectively, ptrend NS, NS, NS and <0.001).
Conclusions/interpretation
The temporal decrease in diabetes-related mortality in the USA has been observed only in urban areas, and mainly among female and older patients. A synchronised effort is needed to improve cardiovascular health indices and healthcare access in rural areas and to decrease diabetes-related mortality.
Graphical abstract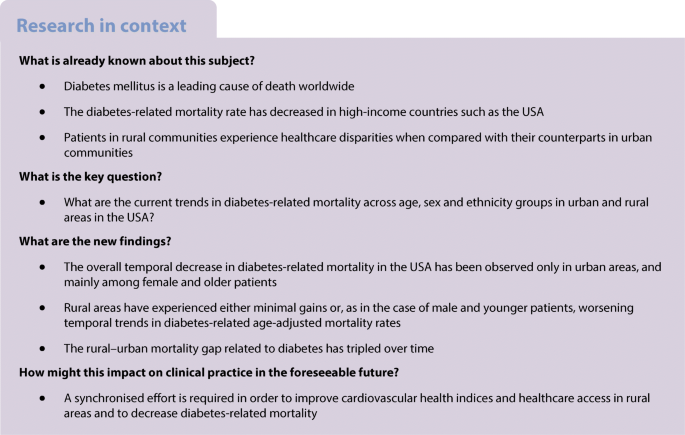 Abbreviations
AAMR:

Age-adjusted mortality rate

CDC WONDER:

Centers for Disease Control and Prevention Wide-ranging ONline Data for Epidemiologic Research
Data availability
The CDC WONDER Multiple Cause of Death data that support the findings of this study are available at https://wonder.cdc.gov/.
Funding
This research received no specific grant from any funding agency in the public, commercial or not-for-profit sectors.
Authors' relationships and activities
The authors declare that there are no relationships or activities that might bias, or be perceived to bias, their work.
Contribution statement
We state that all authors fulfil the appropriate authorship criteria and that they took part in: (1) substantial contributions to conception and design, acquisition of data, or analysis and interpretation of data (OK, HGCVS, MAM); (2) drafting the article (OK) or revising it critically for important intellectual content (HGCVS, MAM); and (3) final approval of the version to be published (OK, HGCVS, MAM). OK is the guarantor of this work.
Additional information
Publisher's note
Springer Nature remains neutral with regard to jurisdictional claims in published maps and institutional affiliations.
Rights and permissions
Open Access This article is licensed under a Creative Commons Attribution 4.0 International License, which permits use, sharing, adaptation, distribution and reproduction in any medium or format, as long as you give appropriate credit to the original author(s) and the source, provide a link to the Creative Commons licence, and indicate if changes were made. The images or other third party material in this article are included in the article's Creative Commons licence, unless indicated otherwise in a credit line to the material. If material is not included in the article's Creative Commons licence and your intended use is not permitted by statutory regulation or exceeds the permitted use, you will need to obtain permission directly from the copyright holder. To view a copy of this licence, visit http://creativecommons.org/licenses/by/4.0/.
About this article
Cite this article
Kobo, O., Van Spall, H.G.C. & Mamas, M.A. Urban–rural disparities in diabetes-related mortality in the USA 1999–2019. Diabetologia 65, 2078–2083 (2022). https://doi.org/10.1007/s00125-022-05785-4
Received:

Accepted:

Published:

Issue Date:

DOI: https://doi.org/10.1007/s00125-022-05785-4
Keywords
Diabetes-related mortality

Disparities

Epidemiology

Prognosis

Rural–urban mortality gap