Abstract
Aims/hypothesis
The aim of this study was to develop strategies that identify children from the general population who have late-stage presymptomatic type 1 diabetes and may, therefore, benefit from immune intervention.
Methods
We tested children from Bavaria, Germany, aged 1.75–10 years, enrolled in the Fr1da public health screening programme for islet autoantibodies (n=154,462). OGTT and HbA1c were assessed in children with multiple islet autoantibodies for diagnosis of presymptomatic stage 1 (normoglycaemia) or stage 2 (dysglycaemia) type 1 diabetes. Cox proportional hazards and penalised logistic regression of autoantibody, genetic, metabolic and demographic information were used to develop a progression likelihood score to identify children with stage 1 type 1 diabetes who progressed to stage 3 (clinical) type 1 diabetes within 2 years.
Results
Of 447 children with multiple islet autoantibodies, 364 (81.4%) were staged. Undiagnosed stage 3 type 1 diabetes, presymptomatic stage 2, and stage 1 type 1 diabetes were detected in 41 (0.027% of screened children), 30 (0.019%) and 293 (0.19%) children, respectively. The 2 year risk for progression to stage 3 type 1 diabetes was 48% (95% CI 34, 58) in children with stage 2 type 1 diabetes (annualised risk, 28%). HbA1c, islet antigen-2 autoantibody positivity and titre, and the 90 min OGTT value were predictors of progression in children with stage 1 type 1 diabetes. The derived progression likelihood score identified substages corresponding to ≤90th centile (stage 1a, n=258) and >90th centile (stage 1b, n=29; 0.019%) of stage 1 children with a 4.1% (95% CI 1.4, 6.7) and 46% (95% CI 21, 63) 2 year risk of progressing to stage 3 type 1 diabetes, respectively.
Conclusions/interpretation
Public health screening for islet autoantibodies found 0.027% of children to have undiagnosed clinical type 1 diabetes and 0.038% to have undiagnosed presymptomatic stage 2 or stage 1b type 1 diabetes, with 50% risk to develop clinical type 1 diabetes within 2 years.
Graphical abstract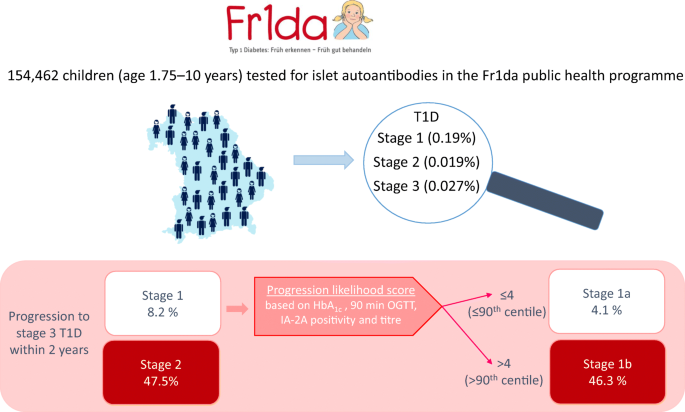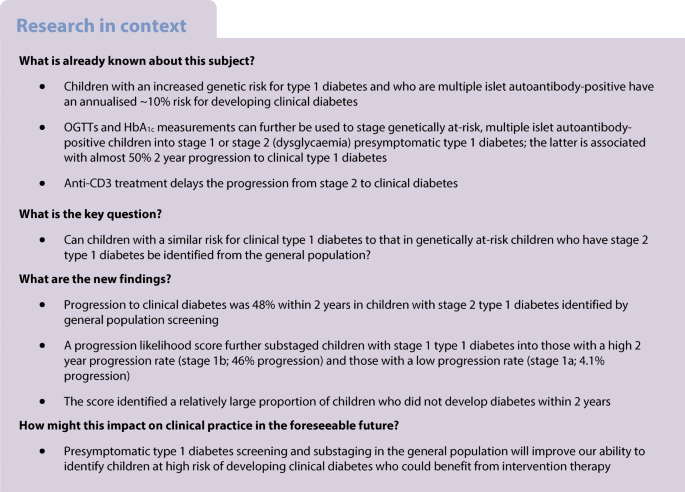 Data availability
The de-identified individual participant data that underlie the results (text, tables, figures and ESM, excluding genetic data) reported in this article can be shared between 9 and 36 months after publication of the article. Requests will be honoured from researchers who provide a methodologically sound proposal and who complete a Data Use Agreement with the Helmholtz Zentrum Muenchen. Requests should be directed by email to the corresponding author.
Abbreviations
CPH:

Cox proportional hazards

GADA:

autoantibody

GAD:

Glutamic acid decarboxylase

IA-2A:

Insulinoma antigen-2 autoantibody

IAA:

Insulin autoantibody

LR:

Logistic regression

ZnT8A:

Zinc transporter 8 autoantibody
Acknowledgements
We are grateful to the participating families and children and all members of the Fr1da study team at the Institute of Diabetes Research, Helmholtz Munich, the Forschergruppe Diabetes, Faculty of Medicine, Klinikum rechts der Isar, Technical University Munich and the Forschergruppe Diabetes at Helmoltz Munich, Germany (B. A. Marcus, A. Hofelich, E. Karapinar, F. Reinmüller, M. Bunk, S. Färber-Meisterjahn, M. Herbst, A. Knopff, A. Munzinger, C. Ramminger, J. Schmidt, W. Grätz, S. Jacobsen, C. Matzke, R. Niewöhner, K. Sarcletti, C. Sanverdi, M. Scholz, P. Sifft, M. Vurucu and L. Wendel). We also thank all primary care paediatricians and clinical centres participating in the Fr1da study group (FR1DA study group).
Author's relationships and activities
The authors declare that there are no relationships or activities that might bias, or be perceived to bias, their work.
Contribution statement
AW, JMZ-G and FV performed the analyses. KK and JS were the clinical coordinators of the Fr1da study and TW was the study physician. PA and EB were responsible for laboratory measurements. FV, CW, FH, MJ, AH, KK, JS and TW contributed substantially to data acquisition. A-GZ and EB were responsible for study design and supervised the statistical analyses. A-GZ and PA were responsible for study conduct. A-GZ is the principal investigator of the Fr1da study. AW, JMZ-G, FV, A-GZ and EB drafted the manuscript. AW, JMZ-G, FV, CW, FH, A-GZ and EB were involved in the interpretation of the results and preparation of the manuscript. All authors revised the manuscript critically for important intellectual content and approved the version to be published. A-GZ takes responsibility for the integrity of the work as a whole.
Funding
Open Access funding enabled and organized by Projekt DEAL. This work was supported by a grant from the Federal Ministry of Education and Research (BMBF, grant FKZ01KX1818). The Fr1da study was supported by JDRF International (1-SRA-2014-310-M-R, 3-SRA-2015-72-M-R, 3-SRA-2019-718-Q-R), LifeScience Stiftung (HMGU 2014.01 and HMGU 2016.01), The Leona M. and Harry B. Helmsley Charitable Trust (G-1911-3274), and the German Center for Diabetes Research [DZD] e.V.). The funding sources were not involved in the design or conduct of the study; the collection, management, analysis or interpretation of the data; the preparation, review, or approval of the manuscript; or the decision to submit the manuscript for publication.
Additional information
Publisher's note
Springer Nature remains neutral with regard to jurisdictional claims in published maps and institutional affiliations.
Andreas Weiss, Jose Zapardiel-Gonzalo and Franziska Voss are joint first authors.
Anette-Gabriele Ziegler and Ezio Bonifacio are joint last authors.
The original online version of this article was revised: In the Conclusions/interpretation section of the Abstract, the potentially misleading text has been changed.
Supplementary information
Rights and permissions
Open Access This article is licensed under a Creative Commons Attribution 4.0 International License, which permits use, sharing, adaptation, distribution and reproduction in any medium or format, as long as you give appropriate credit to the original author(s) and the source, provide a link to the Creative Commons licence, and indicate if changes were made. The images or other third party material in this article are included in the article's Creative Commons licence, unless indicated otherwise in a credit line to the material. If material is not included in the article's Creative Commons licence and your intended use is not permitted by statutory regulation or exceeds the permitted use, you will need to obtain permission directly from the copyright holder. To view a copy of this licence, visit http://creativecommons.org/licenses/by/4.0/.
About this article
Cite this article
Weiss, A., Zapardiel-Gonzalo, J., Voss, F. et al. Progression likelihood score identifies substages of presymptomatic type 1 diabetes in childhood public health screening. Diabetologia 65, 2121–2131 (2022). https://doi.org/10.1007/s00125-022-05780-9
Received:

Accepted:

Published:

Issue Date:

DOI: https://doi.org/10.1007/s00125-022-05780-9
Keywords
Clinical trial modelling

Glucose tolerance

Immunotherapy

Islet autoantibodies

Population screening

Progression score

Public health screening

Type 1 diabetes