Abstract
Aims/hypothesis
Enterovirus (EV) infection of pancreatic islet cells is one possible factor contributing to type 1 diabetes development. We have reported the presence of EV genome by PCR and of EV proteins by immunohistochemistry in pancreatic sections. Here we explore multiple human virus species in the Diabetes Virus Detection (DiViD) study cases using innovative methods, including virus passage in cell cultures.
Methods
Six recent-onset type 1 diabetes patients (age 24–35) were included in the DiViD study. Minimal pancreatic tail resection was performed under sterile conditions. Eleven live cases (age 43–83) of pancreatic carcinoma without diabetes served as control cases. In the present study, we used EV detection methods that combine virus growth in cell culture, gene amplification and detection of virus-coded proteins by immunofluorescence. Pancreas homogenates in cell culture medium were incubated with EV-susceptible cell lines for 3 days. Two to three blind passages were performed. DNA and RNA were extracted from both pancreas tissue and cell cultures. Real-time PCR was used for detecting 20 different viral agents other than EVs (six herpesviruses, human polyomavirus [BK virus and JC virus], parvovirus B19, hepatitis B virus, hepatitis C virus, hepatitis A virus, mumps, rubella, influenza A/B, parainfluenza 1–4, respiratory syncytial virus, astrovirus, norovirus, rotavirus). EV genomes were detected by endpoint PCR using five primer pairs targeting the partially conserved 5′ untranslated region genome region of the A, B, C and D species. Amplicons were sequenced. The expression of EV capsid proteins was evaluated in cultured cells using a panel of EV antibodies.
Results
Samples from six of six individuals with type 1 diabetes (cases) and two of 11 individuals without diabetes (control cases) contained EV genomes (p<0.05). In contrast, genomes of 20 human viruses other than EVs could be detected only once in an individual with diabetes (Epstein–Barr virus) and once in an individual without diabetes (parvovirus B19). EV detection was confirmed by immunofluorescence of cultured cells incubated with pancreatic extracts: viral antigens were expressed in the cytoplasm of approximately 1% of cells. Notably, infection could be transmitted from EV-positive cell cultures to uninfected cell cultures using supernatants filtered through 100 nm membranes, indicating that infectious agents of less than 100 nm were present in pancreases. Due to the slow progression of infection in EV-carrying cell cultures, cytopathic effects were not observed by standard microscopy but were recognised by measuring cell viability. Sequences of 5′ untranslated region amplicons were compatible with EVs of the B, A and C species. Compared with control cell cultures exposed to EV-negative pancreatic extracts, EV-carrying cell cultures produced significantly higher levels of IL-6, IL-8 and monocyte chemoattractant protein-1 (MCP1).
Conclusions/interpretation
Sensitive assays confirm that the pancreases of all DiViD cases contain EVs but no other viruses. Analogous EV strains have been found in pancreases of two of 11 individuals without diabetes. The detected EV strains can be passaged in series from one cell culture to another in the form of poorly replicating live viruses encoding antigenic proteins recognised by multiple EV-specific antibodies. Thus, the early phase of type 1 diabetes is associated with a low-grade infection by EVs, but not by other viral agents.
Graphical abstract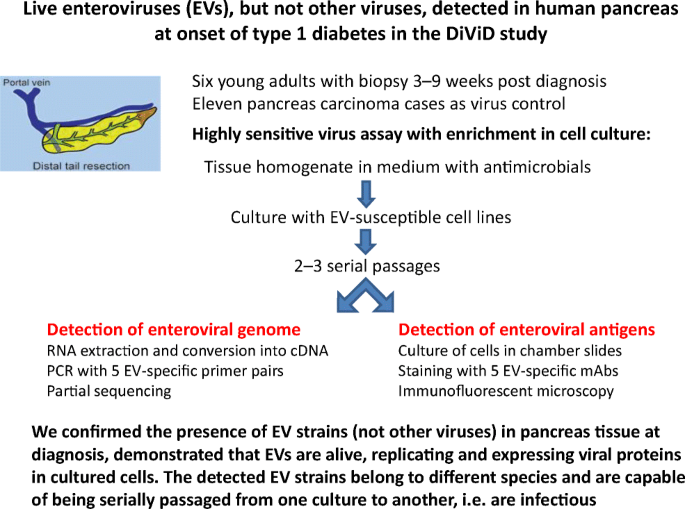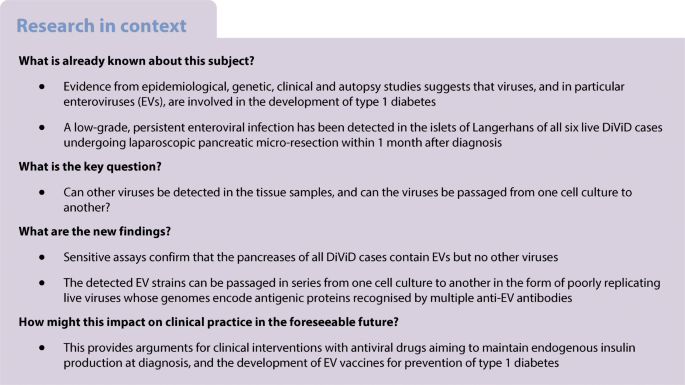 Data availability
The datasets presented in this article are not readily available because of the sensitive nature of the data and possible high risks associated with patient confidentiality. Requests to access the datasets should be directed to lars.krogvold@odont.uio.no.
Abbreviations
3Dpol:

3D RNA polymerase

5′UTR:

5′ Untranslated region

CBV:

Coxsackievirus B

CMV:

Cytomegalovirus

DiViD:

Diabetes Virus Detection

EBV:

Epstein–Barr virus

EV:

Enterovirus

FFPE:

Formalin-fixed paraffin-embedded

HAV:

Hepatitis A virus

HBV:

Hepatitis B virus

HCV:

Hepatitis C virus

HHV:

Human herpesvirus

IF:

Immunofluorescence

IHC:

Immunohistochemistry

ISG:

IFN-stimulated gene

LPN:

Lateral pancreas nitrogen

mAb:

Monoclonal antibody

MCP1:

Monocyte chemoattractant protein-1

MIP1:

Macrophage inflammatory protein 1

NGS:

Next-generation sequencing

PBMC:

Peripheral blood mononuclear cell

RSV:

Respiratory syncytial virus

VZV:

Varicella-zoster virus
Acknowledgements
The authors thank specialist nurse T. Roald, Oslo University Hospital, Norway, who has provided invaluable efforts in coordination of the study; nurses and doctors at the local hospitals, providing contact with the patients; and, finally, the patients who participated in this study. Gratitude is expressed to R.C. Gallo and the Global Virus Network (GVN) for advice (Institute of Human Virology, University of Maryland, Baltimore). The contribution of M. Colombo is gratefully acknowledged (Astra-Zeneca, Milano, Italy). Some of the data were presented as an abstract at the 53rd EASD Annual Meeting of the EASD, Lisbon, in 2017.
Authors' relationships and activities
The authors declare that there are no relationships or activities that might bias, or be perceived to bias, their work.
Contribution statement
KD-J, LK and AT conceived and designed the study while LK, AG, AT, AP, DC, CSF and SJR performed the experiments. LK, BE, TB, KD-J and AT provided diagnosis, samples and interpretation of clinical data and the analyses and interpretation were done by KD-J, LK, AT, SJR and DC. AT, KD-J and LK wrote the paper. All authors revised the manuscript critically for important intellectual content and gave their approval of the final version to be published. LK and KD-J are the guarantors of this work and, as such, had full access to all the data in the study and take responsibility for the integrity of the data and the accuracy of the data analysis. KD-J is the Principal Investigator of the DiViD study.
Funding
Open access funding provided by University of Oslo (incl Oslo University Hospital). The study has been supported by JDRF and nPOD-V (JDRF grant 25-2012-770 to AT), and the Italian Ministry of Health (PE-2013-02357094 to AT). The DiViD project was funded by the South-Eastern Norway Regional Health Authority (grant to KD-J), the Novo Nordisk Foundation (grant to KD-J) and through the PEVNET Study Group funded by the European Union's Seventh Framework Programme (FP7/2007-2013) under grant agreement no. 261441 PEVNET. SJR is grateful to JDRF for a Career Development Award (5-CDA-2014-221-A-N) and to MRC for Project Grant MR/P010695/1.
Additional information
Publisher's note
Springer Nature remains neutral with regard to jurisdictional claims in published maps and institutional affiliations.
Supplementary Information
Rights and permissions
Open Access This article is licensed under a Creative Commons Attribution 4.0 International License, which permits use, sharing, adaptation, distribution and reproduction in any medium or format, as long as you give appropriate credit to the original author(s) and the source, provide a link to the Creative Commons licence, and indicate if changes were made. The images or other third party material in this article are included in the article's Creative Commons licence, unless indicated otherwise in a credit line to the material. If material is not included in the article's Creative Commons licence and your intended use is not permitted by statutory regulation or exceeds the permitted use, you will need to obtain permission directly from the copyright holder. To view a copy of this licence, visit http://creativecommons.org/licenses/by/4.0/.
About this article
Cite this article
Krogvold, L., Genoni, A., Puggioni, A. et al. Live enteroviruses, but not other viruses, detected in human pancreas at the onset of type 1 diabetes in the DiViD study. Diabetologia 65, 2108–2120 (2022). https://doi.org/10.1007/s00125-022-05779-2
Received:

Accepted:

Published:

Issue Date:

DOI: https://doi.org/10.1007/s00125-022-05779-2
Keywords