Abstract
Aims/hypothesis
Mitochondrial dysfunction, which can be approximated by blood mitochondrial DNA copy number (mtDNA-CN), has been implicated in the pathogenesis of type 2 diabetes mellitus. Thus far, however, insights from prospective cohort studies and Mendelian randomisation (MR) analyses on this relationship are limited. We assessed the association between blood mtDNA-CN and incident type 2 diabetes using multivariable-adjusted regression analyses, and the associations between blood mtDNA-CN and type 2 diabetes and BMI using bi-directional MR.
Methods
Multivariable-adjusted Cox proportional hazard models were used to estimate the association between blood mtDNA-CN and incident type 2 diabetes in 285,967 unrelated European individuals from UK Biobank free of type 2 diabetes at baseline. Additionally, a cross-sectional analysis was performed to investigate the association between blood mtDNA-CN and BMI. We also assessed the potentially causal relationship between blood mtDNA-CN and type 2 diabetes (N=898,130 from DIAGRAM, N=215,654 from FinnGen) and BMI (N=681,275 from GIANT) using bi-directional two-sample MR.
Results
During a median follow-up of 11.87 years, 15,111 participants developed type 2 diabetes. Participants with a higher level of blood mtDNA-CN are at lower risk of developing type 2 diabetes (HR 0.90 [95% CI 0.89, 0.92]). After additional adjustment for BMI and other confounders, these results attenuated moderately and remained present. The multivariable-adjusted cross-sectional analyses showed that higher blood mtDNA-CN was associated with lower BMI (−0.12 [95% CI −0.14, −0.10]) kg/m2. In the bi-directional MR analyses, we found no evidence for causal associations between blood mtDNA-CN and type 2 diabetes, and blood mtDNA-CN and BMI in either direction.
Conclusions/interpretation
The results from the present study indicate that the observed association between low blood mtDNA-CN and higher risk of type 2 diabetes is likely not causal.
Graphical abstract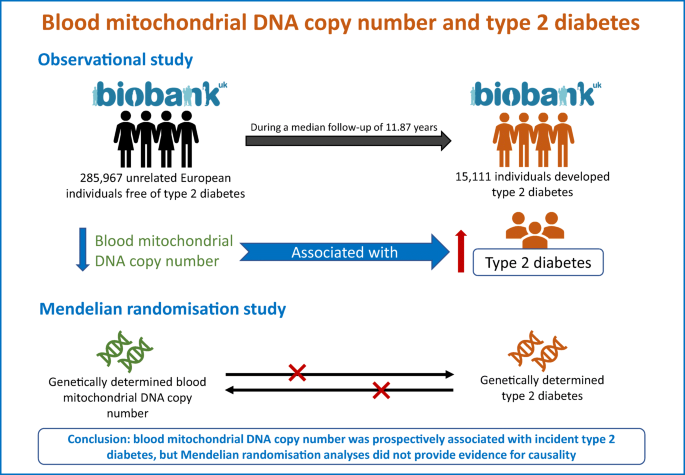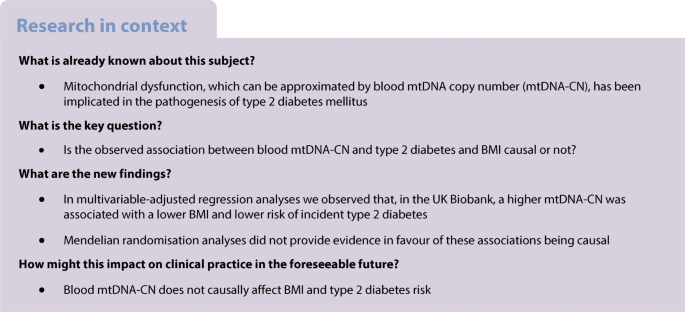 Data availability
Data supporting the findings of this study have been deposited in the UK Biobank under project number 22474. Data are available on request after approval of a research proposal by UK Biobank resources and payment of an access fee.
Abbreviations
ALP:

Alkaline phosphatase

ALT:

Alanine aminotransferase

ARIC:

Atherosclerosis Risk in Communities

AST:

Aspartate aminotransferase

CHARGE:

Cohorts for Heart and Aging Research in Genomic Epidemiology

DIAGRAM:

Diabetes Genetics Replication and Meta-analysis

GGT:

Gamma-glutamyl transferase

GIANT:

Genetic Investigation of Anthropometric Traits

GWAS:

Genome-wide association study

IVW:

Inverse variance weighted

L2R:

Log2 transformed ratio

MR:

Mendelian randomisation

mtDNA:

Mitochondrial DNA

mtDNA-CN:

Mitochondrial DNA copy number

UKB:

UK Biobank
Acknowledgements
Some of the data were presented as an oral presentation at the Zoom Forward 2022 European Congress on Obesity meeting in Maastricht on 5 May 2022.
Ethics approval statement
The data used in this work are available after approval of a research proposal and payment of an access fee. More information related to ethics approval can be found in the study population part of the Methods section.
Authors' relationships and activities
The authors declare that there are no relationships or activities that might bias, or be perceived to bias, their work.
Contribution statement
All authors made substantial contributions to conception, design, acquisition of data, data analyses and data interpretation. All authors contributed to drafting the article and critically commented on the initial versions of the manuscript. All authors approved the final manuscript before submission. RN is the guarantor of the work as a whole.
Funding
This work was supported by the VELUX Stiftung (grant number 1156) to DvH and RN, and WW and JL were supported with a scholarship from the China Scholarship Council (201907720011 and 201808500155, respectively). SH is supported by the Karolinska Institutet Strategic Research Area in Epidemiology and the Swedish Research Council (2019-01272). FG has received a grant from the Åke Wibergs Foundation (M19-0294).
Additional information
Publisher's note
Springer Nature remains neutral with regard to jurisdictional claims in published maps and institutional affiliations.
Supplementary Information
Rights and permissions
Open Access This article is licensed under a Creative Commons Attribution 4.0 International License, which permits use, sharing, adaptation, distribution and reproduction in any medium or format, as long as you give appropriate credit to the original author(s) and the source, provide a link to the Creative Commons licence, and indicate if changes were made. The images or other third party material in this article are included in the article's Creative Commons licence, unless indicated otherwise in a credit line to the material. If material is not included in the article's Creative Commons licence and your intended use is not permitted by statutory regulation or exceeds the permitted use, you will need to obtain permission directly from the copyright holder. To view a copy of this licence, visit http://creativecommons.org/licenses/by/4.0/.
About this article
Cite this article
Wang, W., Luo, J., Willems van Dijk, K. et al. Assessment of the bi-directional relationship between blood mitochondrial DNA copy number and type 2 diabetes mellitus: a multivariable-adjusted regression and Mendelian randomisation study. Diabetologia 65, 1676–1686 (2022). https://doi.org/10.1007/s00125-022-05759-6
Received:

Accepted:

Published:

Issue Date:

DOI: https://doi.org/10.1007/s00125-022-05759-6
Keywords
Mendelian randomisation

Mitochondrial DNA copy number

Prospective analyses

Type 2 diabetes mellitus