Abstract
Aims/hypothesis
Time-restricted eating (TRE) is suggested to improve metabolic health by limiting food intake to a defined time window, thereby prolonging the overnight fast. This prolonged fast is expected to lead to a more pronounced depletion of hepatic glycogen stores overnight and might improve insulin sensitivity due to an increased need to replenish nutrient storage. Previous studies showed beneficial metabolic effects of 6–8 h TRE regimens in healthy, overweight adults under controlled conditions. However, the effects of TRE on glucose homeostasis in individuals with type 2 diabetes are unclear. Here, we extensively investigated the effects of TRE on hepatic glycogen levels and insulin sensitivity in individuals with type 2 diabetes.
Methods
Fourteen adults with type 2 diabetes (BMI 30.5±4.2 kg/m2, HbA1c 46.1±7.2 mmol/mol [6.4±0.7%]) participated in a 3 week TRE (daily food intake within 10 h) vs control (spreading food intake over ≥14 h) regimen in a randomised, crossover trial design. The study was performed at Maastricht University, the Netherlands. Eligibility criteria included diagnosis of type 2 diabetes, intermediate chronotype and absence of medical conditions that could interfere with the study execution and/or outcome. Randomisation was performed by a study-independent investigator, ensuring that an equal amount of participants started with TRE and CON. Due to the nature of the study, neither volunteers nor investigators were blinded to the study interventions. The quality of the data was checked without knowledge on intervention allocation. Hepatic glycogen levels were assessed with 13C-MRS and insulin sensitivity was assessed using a hyperinsulinaemic–euglycaemic two-step clamp. Furthermore, glucose homeostasis was assessed with 24 h continuous glucose monitoring devices. Secondary outcomes included 24 h energy expenditure and substrate oxidation, hepatic lipid content and skeletal muscle mitochondrial capacity.
Results
Results are depicted as mean ± SEM. Hepatic glycogen content was similar between TRE and control condition (0.15±0.01 vs 0.15±0.01 AU, p=0.88). M value was not significantly affected by TRE (19.6±1.8 vs 17.7±1.8 μmol kg−1 min−1 in TRE vs control, respectively, p=0.10). Hepatic and peripheral insulin sensitivity also remained unaffected by TRE (p=0.67 and p=0.25, respectively). Yet, insulin-induced non-oxidative glucose disposal was increased with TRE (non-oxidative glucose disposal 4.3±1.1 vs 1.5±1.7 μmol kg−1 min−1, p=0.04). TRE increased the time spent in the normoglycaemic range (15.1±0.8 vs 12.2±1.1 h per day, p=0.01), and decreased fasting glucose (7.6±0.4 vs 8.6±0.4 mmol/l, p=0.03) and 24 h glucose levels (6.8±0.2 vs 7.6±0.3 mmol/l, p<0.01). Energy expenditure over 24 h was unaffected; nevertheless, TRE decreased 24 h glucose oxidation (260.2±7.6 vs 277.8±10.7 g/day, p=0.04). No adverse events were reported that were related to the interventions.
Conclusions/interpretation
We show that a 10 h TRE regimen is a feasible, safe and effective means to improve 24 h glucose homeostasis in free-living adults with type 2 diabetes. However, these changes were not accompanied by changes in insulin sensitivity or hepatic glycogen.
Trial registration
ClinicalTrials.gov NCT03992248
Funding
ZonMW, 459001013
Graphical abstract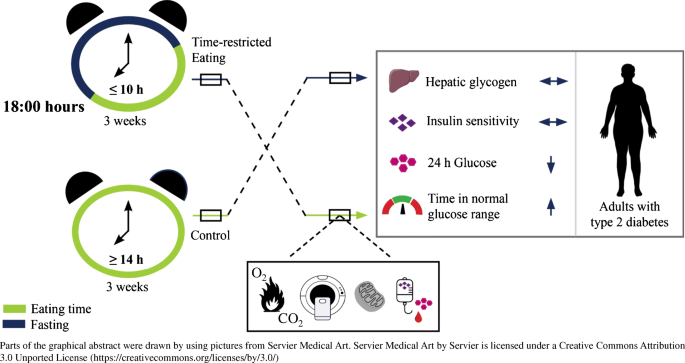 Similar content being viewed by others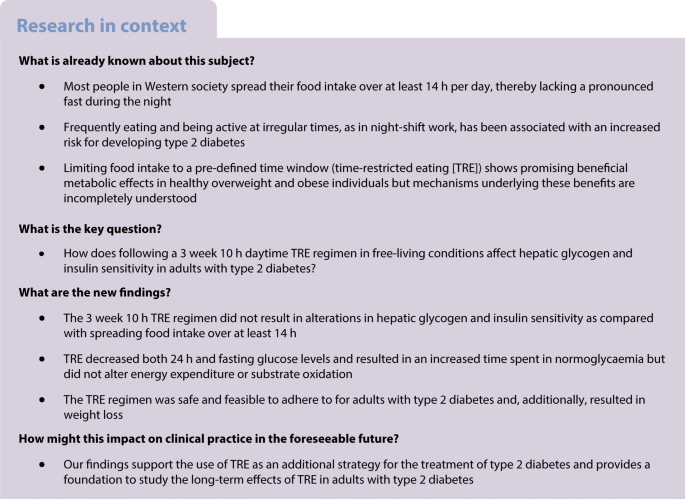 Data availability
The datasets that were obtained in this study can be made available by the corresponding author upon reasonable request.
Abbreviations
AU:

Arbitrary units

CGM:

Continuous glucose monitoring

CON:

Control

EGP:

Endogenous glucose production

En%:

Per cent of energy

NOGD:

Non-oxidative glucose disposal

RER:

Respiratory exchange ratio

SMR:

Sleeping metabolic rate

TG:

Triglycerides

TRE:

Time-restricted eating
References
Koopman AD, Rauh SP, van 't Riet E et al (2017) The association between social jetlag, the metabolic syndrome, and type 2 diabetes mellitus in the general population: the new Hoorn study. J Biol Rhythms 32(4):359–368. https://doi.org/10.1177/0748730417713572

Proper KI, van de langenberg D, Rodenburg W et al (2016) The relationship between shift work and metabolic risk factors: a systematic review of longitudinal studies. Am J Prev Med 50(5):e147–e157. https://doi.org/10.1016/j.amepre.2015.11.013

Vetter C, Dashti HS, Lane JM et al (2018) Night shift work, genetic risk, and type 2 diabetes in the UK biobank. Diabetes Care 41(4):762–769. https://doi.org/10.2337/dc17-1933

Gill S, Panda S (2015) A smartphone app reveals erratic diurnal eating patterns in humans that can be modulated for health benefits. Cell Metab 22(5):789–798. https://doi.org/10.1016/j.cmet.2015.09.005

Ravussin E, Beyl RA, Poggiogalle E, Hsia DS, Peterson CM (2019) Early time-restricted feeding reduces appetite and increases fat oxidation but does not affect energy expenditure in humans. Obesity 27(8):1244–1254. https://doi.org/10.1002/oby.22518

Jamshed H, Beyl RA, Della Manna DL, Yang ES, Ravussin E, Peterson CM (2019) Early time-restricted feeding improves 24-hour glucose levels and affects markers of the circadian clock, aging, and autophagy in humans. Nutrients 11(6):1234. https://doi.org/10.3390/nu11061234

Parr EB, Devlin BL, Radford BE, Hawley JA (2020) A delayed morning and earlier evening time-restricted feeding protocol for improving glycemic control and dietary adherence in men with overweight/obesity: a randomized controlled trial. Nutrients 12(2):505. https://doi.org/10.3390/nu12020505

Sutton EF, Beyl R, Early KS, Cefalu WT, Ravussin E, Peterson CM (2018) Early time-restricted feeding improves insulin sensitivity, blood pressure, and oxidative stress even without weight loss in men with prediabetes. Cell Metab 27(6):1212–1221. e1213. https://doi.org/10.1016/j.cmet.2018.04.010

Chow LS, Manoogian EN, Alvear A et al (2020) Time-restricted eating effects on body composition and metabolic measures in humans who are overweight: a feasibility study. Obesity 28(5):860–869. https://doi.org/10.1002/oby.22756

Gabel K, Hoddy KK, Haggerty N et al (2018) Effects of 8-hour time restricted feeding on body weight and metabolic disease risk factors in obese adults: A pilot study. Nutr Healthy Aging 4(4):345–353. https://doi.org/10.3233/NHA-170036

Parr EB, Devlin BL, Lim KH et al (2020) Time-restricted eating as a nutrition strategy for individuals with type 2 diabetes: A feasibility study. Nutrients 12(11):3228. https://doi.org/10.3390/nu12113228

Hutchison AT, Regmi P, Manoogian EN et al (2019) Time-restricted feeding improves glucose tolerance in men at risk for type 2 diabetes: a randomized crossover trial. Obesity 27(5):724–732. https://doi.org/10.1002/oby.22449

Wilkinson MJ, Manoogian EN, Zadourian A et al (2020) Ten-hour time-restricted eating reduces weight, blood pressure, and atherogenic lipids in patients with metabolic syndrome. Cell Metab 31(1):92–104. e105. https://doi.org/10.1016/j.cmet.2019.11.004

Lee A, Ader M, Bray GA, Bergman RN (1992) Diurnal variation in glucose tolerance: cyclic suppression of insulin action and insulin secretion in normal-weight, but not obese, subjects. Diabetes 41(6):750–759. https://doi.org/10.2337/diab.41.6.750

Jarrett R, Keen H (1969) Diurnal variation of oral glucose tolerance: a possible pointer to the evolution of diabetes mellitus. Br Med J 2(5653):341–344. https://doi.org/10.1136/bmj.2.5653.341

Wefers J, Connell NJ, Fealy CE et al (2020) Day-night rhythm of skeletal muscle metabolism is disturbed in older, metabolically compromised individuals. Mol Metab 41:101050. https://doi.org/10.1016/j.molmet.2020.101050

van Moorsel D, Hansen J, Havekes B et al (2016) Demonstration of a day-night rhythm in human skeletal muscle oxidative capacity. Mol Metab 5(8):635–645. https://doi.org/10.1016/j.molmet.2016.06.012

Hesselink MK, Schrauwen-Hinderling V, Schrauwen P (2016) Skeletal muscle mitochondria as a target to prevent or treat type 2 diabetes mellitus. Nat Rev Endocrinol 12(11):633–645. https://doi.org/10.1038/nrendo.2016.104

Roden M, Perseghin G, Petersen KF et al (1996) The roles of insulin and glucagon in the regulation of hepatic glycogen synthesis and turnover in humans. J Clin Invest 97(3):642–648. https://doi.org/10.1172/JCI118460

Izumida Y, Yahagi N, Takeuchi Y et al (2013) Glycogen shortage during fasting triggers liver–brain–adipose neurocircuitry to facilitate fat utilization. Nat Commun 4(1):1–9

World Medical Association (2013) World Medical Association Declaration of Helsinki: ethical principles for medical research involving human subjects. JAMA 310(20):2191–2194

Harris JA, Benedict FG (1918) A biometric study of human basal metabolism. Proc Natl Acad Sci U S A 4(12):370–373. https://doi.org/10.1073/pnas.4.12.370

Basu A, Joshi N, Miles J, Carter RE, Rizza RA, Basu R (2018) Paradigm shifts in nocturnal glucose control in type 2 diabetes. The J Clin Endocrinol Metab 103(10):3801–3809. https://doi.org/10.1210/jc.2018-00873

Petersen MC, Vatner DF, Shulman GI (2017) Regulation of hepatic glucose metabolism in health and disease. Nat Rev Endocrinol 13(10):572–587. https://doi.org/10.1038/nrendo.2017.80

Mogensen M, Sahlin K, Fernström M et al (2007) Mitochondrial respiration is decreased in skeletal muscle of patients with type 2 diabetes. Diabetes 56(6):1592–1599. https://doi.org/10.2337/db06-0981

Schrauwen-Hinderling V, Kooi M, Hesselink M et al (2007) Impaired in vivo mitochondrial function but similar intramyocellular lipid content in patients with type 2 diabetes mellitus and BMI-matched control subjects. Diabetologia 50(1):113–120. https://doi.org/10.1007/s00125-006-0475-1

van de Weijer T, Sparks LM, Phielix E et al (2013) Relationships between mitochondrial function and metabolic flexibility in type 2 diabetes mellitus. PloS One 8(2):e51648. https://doi.org/10.1371/journal.pone.0051648

Goodpaster BH, He J, Watkins S, Kelley DE (2001) Skeletal muscle lipid content and insulin resistance: evidence for a paradox in endurance-trained athletes. J Clin Endocrin Metab 86(12):5755–5761. https://doi.org/10.1210/jcem.86.12.8075

Perry RJ, Samuel VT, Petersen KF, Shulman GI (2014) The role of hepatic lipids in hepatic insulin resistance and type 2 diabetes. Nature 510(7503):84–91. https://doi.org/10.1038/nature13478

Lundell LS, Parr EB, Devlin BL et al (2020) Time-restricted feeding alters lipid and amino acid metabolite rhythmicity without perturbing clock gene expression. Nat Commun 11(1):1–11

Cienfuegos S, Gabel K, Kalam F et al (2020) Effects of 4-and 6-h time-restricted feeding on weight and cardiometabolic health: a randomized controlled trial in adults with obesity. Cell Metab 32(3):366–378. e363. https://doi.org/10.1016/j.cmet.2020.06.018
Acknowledgements
Some of the data were presented as an abstract at the ZoomForward2022: European Congress on Obesity meeting in 2022, at the Dutch Diabetes Research Meeting in 2021 and at the 57th EASD Annual Meeting in 2021. The authors thank all the enthusiastic volunteers in this study for their participation.
Authors' relationships and activities
The authors declare that there are no relationships or activities that might bias, or be perceived to bias, their work.
Contribution statement
CA, CEF, JH and PS designed the experiments. CA, CEF, AV, KHMR, SMMvB, EM-K, NJC and BH performed the measurements. CA, AV, VBS-H, JM, JH and PS were involved in data analysis. CA, JH and PS drafted the manuscript. All authors reviewed and approved the final version of the manuscript. PS is the guarantor of this work and, as such, has full access to the data in the study and takes responsibility for the integrity of the data and the accuracy of the data analysis.
Funding
This clinical trial was granted by ZonMw and Diabetes Fonds. The study sponsor/funder was not involved in the design of the study; the collection, analysis and interpretation of data; writing the report; and did not impose any restrictions regarding the publication of the report.
Additional information
Publisher's note
Springer Nature remains neutral with regard to jurisdictional claims in published maps and institutional affiliations.
Supplementary information
Rights and permissions
Open Access This article is licensed under a Creative Commons Attribution 4.0 International License, which permits use, sharing, adaptation, distribution and reproduction in any medium or format, as long as you give appropriate credit to the original author(s) and the source, provide a link to the Creative Commons licence, and indicate if changes were made. The images or other third party material in this article are included in the article's Creative Commons licence, unless indicated otherwise in a credit line to the material. If material is not included in the article's Creative Commons licence and your intended use is not permitted by statutory regulation or exceeds the permitted use, you will need to obtain permission directly from the copyright holder. To view a copy of this licence, visit http://creativecommons.org/licenses/by/4.0/.
About this article
Cite this article
Andriessen, C., Fealy, C.E., Veelen, A. et al. Three weeks of time-restricted eating improves glucose homeostasis in adults with type 2 diabetes but does not improve insulin sensitivity: a randomised crossover trial. Diabetologia 65, 1710–1720 (2022). https://doi.org/10.1007/s00125-022-05752-z
Received:

Accepted:

Published:

Issue Date:

DOI: https://doi.org/10.1007/s00125-022-05752-z
Keywords