Abstract
Aims/hypothesis
The general population is ageing, involving an enhanced incidence of chronic diseases such as type 2 diabetes. With ageing, DNA methylation of FHL2 increases, as well as expression of the four and a half LIM domains 2 (FHL2) protein in human pancreatic islets. We hypothesised that FHL2 is actively involved in glucose metabolism.
Methods
Publicly available microarray datasets from human pancreatic islets were analysed for FHL2 expression. In FHL2-deficient mice, we studied glucose clearance and insulin secretion. Gene expression analysis and glucose-stimulated insulin secretion (GSIS) were determined in isolated murine FHL2-deficient islets to evaluate insulin-secretory capacity. Moreover, knockdown and overexpression of FHL2 were accomplished in MIN6 cells to delineate the underlying mechanism of FHL2 function.
Results
Transcriptomics of human pancreatic islets revealed that individuals with elevated levels of HbA1c displayed increased FHL2 expression, which correlated negatively with insulin secretion pathways. In line with this observation, FHL2-deficient mice cleared glucose more efficiently than wild-type littermates through increased plasma insulin levels. Insulin sensitivity was comparable between these genotypes. Interestingly, pancreatic islets isolated from FHL2-deficient mice secreted more insulin in GSIS assays than wild-type mouse islets even though insulin content and islet size was similar. To support this observation, we demonstrated increased expression of the transcription factor crucial in insulin secretion, MAF BZIP transcription factor A (MafA), higher expression of GLUT2 and reduced expression of the adverse factor c-Jun in FHL2-deficient islets. The underlying mechanism of FHL2 was further delineated in MIN6 cells. FHL2-knockdown led to enhanced activation of forkhead box protein O1 (FOXO1) and its downstream genes such as Mafa and Pdx1 (encoding pancreatic and duodenal homeobox 1), as well as increased glucose uptake. On the other hand, FHL2 overexpression in MIN6 cells blocked GSIS, increased the formation of reactive oxygen species and increased c-Jun activity.
Conclusions/interpretation
Our data demonstrate that FHL2 deficiency improves insulin secretion from beta cells and improves glucose tolerance in mice. Given that FHL2 expression in humans increases with age and that high expression levels of FHL2 are associated with beta cell dysfunction, we propose that enhanced FHL2 expression in elderly individuals contributes to glucose intolerance and the development of type 2 diabetes.
Data availability
The human islet microarray datasets used are publicly available and can be found on https://www.ncbi.nlm.nih.gov/geo/.
Graphical abstract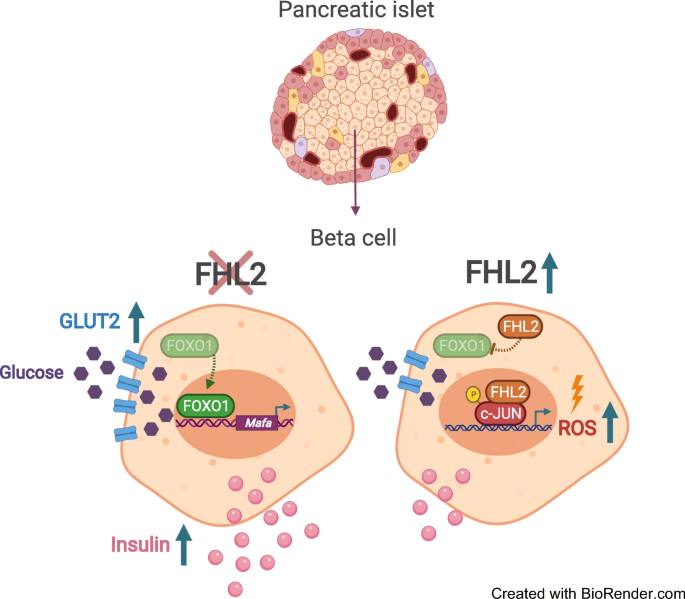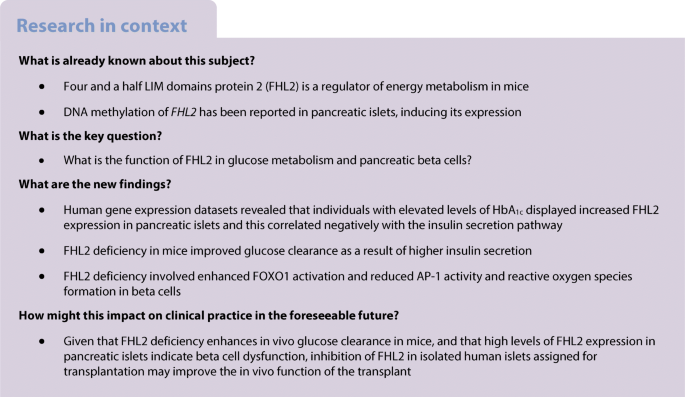 Data availability
The human islet microarray datasets used are publicly available and can be found on https://www.ncbi.nlm.nih.gov/geo/. The data generated in the current study are available from the corresponding author upon reasonable request.
Abbreviations
AP-1:

AP-1 transcription factor subunit

Casp3:

Caspase 3

FHL2:

Four and a half LIM domains 2

FOXO1:

Forkhead box protein O1

GSIS:

Glucose-stimulated insulin secretion

MafA:

MAF BZIP transcription factor A

MAPK:

Mitogen-activated protein kinases

MTT:

Thiazolyl blue tetrazolium bromide

PDX1:

Pancreatic and duodenal homeobox 1

qPCR:

Quantitative real-time PCR

ROS:

Reactive oxygen species

WT:

Wild-type
Acknowledgements
We thank M. van der Stoel (current address: Department of Anatomy and Stem Cells and Metabolism Research Program, Faculty of Medicine, University of Helsinki, Finland) for the GFP-tagged lentiviral constructs. The graphical abstract was created with BioRender.com.
Authors' relationships and activities
The authors declare that there are no relationships or activities that might bias, or be perceived to bias, their work.
Contribution statement
JJH, MPC-O and CJMdV conceived the study and experiments. JJH, MPC-O, ER, AM, MV and TPMS performed the experiments. JJH, MPC-O and ER analysed the data. JJH, MPC-O, CJMdV, ECE, DHvR, MN and HH interpreted the data. JJH, MPC-O and CJMdV wrote the manuscript. All authors were involved in editing and reviewing the manuscript. CJMdV is the guarantor of this work. All authors approved the final version to be published.
Funding
This research was supported by a grant from the Rembrandt Institute of Cardiovascular Sciences (CJMdV) and Research Institute Cardiovascular Sciences of Amsterdam UMC (CJMdV, ECE, DHvR, MN). MN is supported by a personal ZONMW-VICI grant 2020 (09150182010020).
Additional information
Publisher's note
Springer Nature remains neutral with regard to jurisdictional claims in published maps and institutional affiliations.
Supplementary Information
Rights and permissions
Open Access This article is licensed under a Creative Commons Attribution 4.0 International License, which permits use, sharing, adaptation, distribution and reproduction in any medium or format, as long as you give appropriate credit to the original author(s) and the source, provide a link to the Creative Commons licence, and indicate if changes were made. The images or other third party material in this article are included in the article's Creative Commons licence, unless indicated otherwise in a credit line to the material. If material is not included in the article's Creative Commons licence and your intended use is not permitted by statutory regulation or exceeds the permitted use, you will need to obtain permission directly from the copyright holder. To view a copy of this licence, visit http://creativecommons.org/licenses/by/4.0/.
About this article
Cite this article
Habibe, J.J., Clemente-Olivo, M.P., Scheithauer, T.P.M. et al. Glucose-mediated insulin secretion is improved in FHL2-deficient mice and elevated FHL2 expression in humans is associated with type 2 diabetes. Diabetologia 65, 1721–1733 (2022). https://doi.org/10.1007/s00125-022-05750-1
Received:

Accepted:

Published:

Issue Date:

DOI: https://doi.org/10.1007/s00125-022-05750-1
Keywords
FHL2

Four and a half LIM domains protein 2

Gene expression

Glucose tolerance test

Glucose-stimulated insulin secretion

GSIS

GTT

MIN6

Pancreatic islets