Abstract
Aims/hypothesis
The prevalence of type 2 diabetes is increasing worldwide, and previous studies have suggested that it is higher in individuals who are seropositive for herpesviruses. This study examines the prospective association of herpesviruses with (pre)diabetes to evaluate their potential role in diabetes aetiology.
Methods
Two follow-up examinations of the German population-based KORA cohort (F4 and FF4) were used to identify participants with normal glucose tolerance at baseline, thus being at risk for (pre)diabetes (n = 1257). All participants had repeated OGTTs and antibody measurements for herpes simplex virus (HSV) 1 and 2, varicella-zoster virus, Epstein–Barr virus, cytomegalovirus (CMV) and human herpesvirus 6 and 7. Regression models were used to evaluate the association between serostatus with (pre)diabetes incidence after a 7 year follow-up and HbA1c.
Results
HSV2 and CMV were associated with (pre)diabetes incidence after adjustment for sex, age, BMI, education, smoking, physical activity, parental diabetes, hypertension, lipid levels, insulin resistance and fasting glucose. Seropositivity of both viruses was also cross-sectionally associated with higher HbA1c at baseline, with the association of HSV2 being independent of confounders, including the prevalence of (pre)diabetes itself. While seropositivity for multiple herpesviruses was associated with a higher incidence of (pre)diabetes, this association was not independent of confounders.
Conclusions/interpretation
The associations of HSV2 and CMV serostatus with (pre)diabetes incidence indicate that these herpesviruses may contribute to the development of impaired glucose metabolism. Our results highlight the link between viral infection and (pre)diabetes, and the need for more research evaluating viral prevention strategies.
Graphical abstract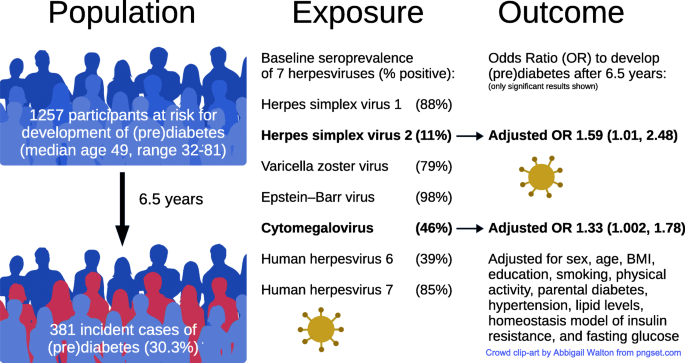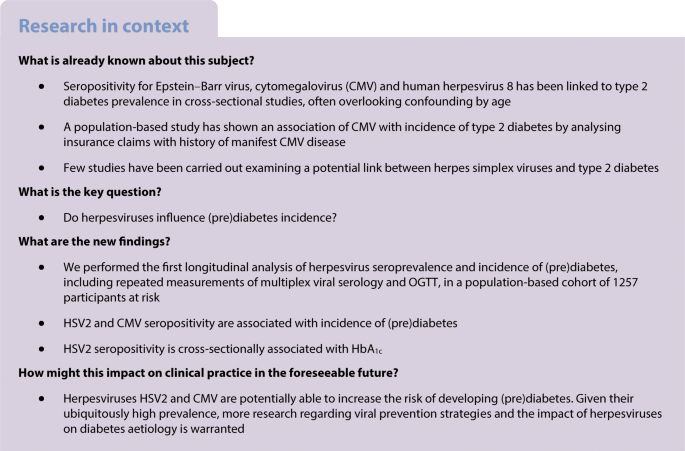 Data availability
The informed consent given by KORA study participants does not cover data posting in public databases. However, data are available upon request by means of a project agreement (https://epi.helmholtz-muenchen.de) subject to approval by the KORA Board.
Abbreviations
CMV:

Cytomegalovirus

EBV:

Epstein–Barr virus

HDL-C:

HDL-cholesterol

HHV:

Human herpesvirus

HSV:

Herpes simplex virus

IFG:

Impaired fasting glucose

IGT:

Impaired glucose tolerance

KORA:

Cooperative Health Research in the Region of Augsburg

LASSO:

Least absolute shrinkage and selection operator

MFI:

Median fluorescence intensity

VZV:

Varicella-zoster virus
References
Davison AJ (2007) Overview of classification. In: Arvin A, Campadelli-Fiume G, Mocarski E et al (eds) Human herpesviruses: biology, therapy, and Immunoprophylaxis. Cambridge University Press, Cambridge

Saeedi P, Petersohn I, Salpea P et al (2019) Global and regional diabetes prevalence estimates for 2019 and projections for 2030 and 2045: results from the international diabetes federation diabetes atlas, 9th edition. Diabetes Res Clin Pract 157:107843. https://doi.org/10.1016/j.diabres.2019.107843

The Global Burden of Metabolic Risk Factors for Chronic Diseases Collaboration (2014) Cardiovascular disease, chronic kidney disease, and diabetes mortality burden of cardiometabolic risk factors from 1980 to 2010: a comparative risk assessment. Lancet Diabetes Endocrinol 2(8):634–647. https://doi.org/10.1016/S2213-8587(14)70102-0

American Diabetes Association (2015) 2. Classification and diagnosis of diabetes. Diabetes Care 38(Supplement 1):S8–S16. https://doi.org/10.2337/dc15-S005

Kowall B, Rathmann W, Bongaerts B et al (2019) Incidence rates of type 2 diabetes in people with impaired fasting glucose (ADA vs. WHO criteria) and impaired glucose tolerance: results from an older population (KORA S4/F4/FF4 study). Diabetes Care 42(2):e18–e20. https://doi.org/10.2337/dc18-1473

Chester B, Babu JR, Greene MW, Geetha T (2019) The effects of popular diets on type 2 diabetes management. Diabetes Metab Res Rev 0(0):e3188. https://doi.org/10.1002/dmrr.3188

Garber AJ (2012) Obesity and type 2 diabetes: which patients are at risk? Diabetes Obes Metab 14(5):399–408. https://doi.org/10.1111/j.1463-1326.2011.01536.x

Tsalamandris S, Antonopoulos AS, Oikonomou E et al (2019) The role of inflammation in diabetes: current concepts and future perspectives. Eur Cardiol. https://doi.org/10.15420/ecr.2018.33.1

Fuchsberger C, Flannick J, Teslovich TM et al (2016) The genetic architecture of type 2 diabetes. Nature 536(7614):41–47. https://doi.org/10.1038/nature18642

Schneider DA, von Herrath MG (2014) Potential viral pathogenic mechanism in human type 1 diabetes. Diabetologia 57(10):2009–2018. https://doi.org/10.1007/s00125-014-3340-7

Hober D, Alidjinou EK (2013) Enteroviral pathogenesis of type 1 diabetes: queries and answers. Curr Opin Infect Dis 26(3):263. https://doi.org/10.1097/QCO.0b013e3283608300

Korbel L, Easterling RS, Punja N, Spencer JD (2018) The burden of common infections in children and adolescents with diabetes mellitus: a pediatric health information system study. Pediatr Diabetes 19(3):512–519. https://doi.org/10.1111/pedi.12594

Zoppini G, Fedeli U, Schievano E et al (2018) Mortality from infectious diseases in diabetes. Nutr Metab Cardiovasc Dis 28(5):444–450. https://doi.org/10.1016/j.numecd.2017.12.007

Dooley KE, Chaisson RE (2009) Tuberculosis and diabetes mellitus: convergence of two epidemics. Lancet Infect Dis 9(12):737–746. https://doi.org/10.1016/S1473-3099(09)70282-8

Lontchi-Yimagou E, Feutseu C, Kenmoe S et al (2021) Non-autoimmune diabetes mellitus and the risk of virus infections: a systematic review and meta-analysis of case-control and cohort studies. Sci Rep 11(1):8968. https://doi.org/10.1038/s41598-021-88598-6

Pompei R (2016) The role of human herpesvirus 8 in diabetes mellitus type 2: state of the art and a medical hypothesis. Adv Exp Med Biol 901:37–45. https://doi.org/10.1007/5584_2015_5014

Cui M, Fang Q, Zheng J et al (2019) Kaposi's sarcoma-associated herpesvirus seropositivity is associated with type 2 diabetes mellitus: a case–control study in Xinjiang, China. Int J Infect Dis 80:73–79. https://doi.org/10.1016/j.ijid.2019.01.003

Blum A, Peleg A, Weinberg M (2003) Anti-cytomegalovirus (CMV) IgG antibody titer in patients with risk factors to atherosclerosis. Clin Exp Med 3(3):157–160. https://doi.org/10.1007/s10238-003-0019-7

Roberts BW, Cech I (2005) Association of type 2 diabetes mellitus and seroprevalence for cytomegalovirus. South Med J 98(7):686–692. https://doi.org/10.1097/01.SMJ.0000163310.12516.2D

Chen S, de Craen AJM, Raz Y et al (2012) Cytomegalovirus seropositivity is associated with glucose regulation in the oldest old. Results from the Leiden 85-plus study. Immun Ageing 9(1):18. https://doi.org/10.1186/1742-4933-9-18

Schmidt L, Nelson HH, Thyagarajan B et al (2018) Association between cytomegalovirus seropositivity and type 2 diabetes is explained by age and other demographic characteristics: the national health and nutrition examination survey. Diabet Med J Br Diabet Assoc 35(12):1722–1726. https://doi.org/10.1111/dme.13781

Holle R, Happich M, Löwel H, Wichmann HE, MONICA/KORA Study Group (2005) KORA - a research platform for population based Health Research. Gesundheitswesen 67(S 1):19–25. https://doi.org/10.1055/s-2005-858235

Waterboer T, Sehr P, Michael KM et al (2005) Multiplex human papillomavirus serology based on in situ–purified glutathione S-transferase fusion proteins. Clin Chem 51(10):1845–1853. https://doi.org/10.1373/clinchem.2005.052381

Brenner N, Mentzer AJ, Butt J et al (2018) Validation of multiplex serology detecting human herpesviruses 1-5. PLoS One 13(12):e0209379. https://doi.org/10.1371/journal.pone.0209379

Mentzer AJ, Brenner N, Allen N et al (2019) Identification of host-pathogen-disease relationships using a scalable Multiplex Serology platform in UK Biobank. medRxiv 19004960. https://doi.org/10.1101/19004960

Sujana C, Seissler J, Jordan J et al (2020) Associations of cardiac stress biomarkers with incident type 2 diabetes and changes in glucose metabolism: KORA F4/FF4 study. Cardiovasc Diabetol 19(1):178. https://doi.org/10.1186/s12933-020-01117-1

Tibshirani R (1996) Regression shrinkage and selection via the Lasso. J R Stat Soc Ser B Methodol 58(1):267–288. https://doi.org/10.1111/j.2517-6161.1996.tb02080.x

Meinshausen N, Bühlmann P (2010) Stability selection. J R Stat Soc Ser B Stat Methodol 72(4):417–473. https://doi.org/10.1111/j.1467-9868.2010.00740.x

Seward J, Jumaan A (2007) VZV: persistence in the population. In: Arvin A, Campadelli-Fiume G, Mocarski E et al (eds) Human herpesviruses: biology, therapy, and immunoprophylaxis. Cambridge University Press, Cambridge

Haeseker MB, Pijpers E, Dukers-Muijrers NH et al (2013) Association of cytomegalovirus and other pathogens with frailty and diabetes mellitus, but not with cardiovascular disease and mortality in psycho-geriatric patients; a prospective cohort study. Immun Ageing A 10:30. https://doi.org/10.1186/1742-4933-10-30

Rottenkolber M, Gar C, Then C et al (2021) A pathophysiology of type 2 diabetes unrelated to metabolic syndrome. J Clin Endocrinol Metab 106(5):1460–1471. https://doi.org/10.1210/clinem/dgab057

Yoo SG, Han KD, Lee KH, La Y, Kwon DE, Han SH (2019) Impact of cytomegalovirus disease on new-onset type 2 diabetes mellitus: population-based matched case-control cohort study. Diabetes Metab J 43(6):815–829. https://doi.org/10.4093/dmj.2018.0167

Lohr JM, Oldstone MBA (1990) Detection of cytomegalovirus nucleic acid sequences in pancreas in type 2 diabetes. Lancet 336(8716):644–648. https://doi.org/10.1016/0140-6736(90)92145-8

Saadatian-Elahi M, Bauduceau B, Del-Signore C, Vanhems P (2020) Diabetes as a risk factor for herpes zoster in adults: a synthetic literature review. Diabetes Res Clin Pract 159:107983. https://doi.org/10.1016/j.diabres.2019.107983

Dworzański J, Drop B, Kliszczewska E, Strycharz-Dudziak M, Polz-Dacewicz M (2019) Prevalence of Epstein-Barr virus, human papillomavirus, cytomegalovirus and herpes simplex virus type 1 in patients with diabetes mellitus type 2 in South-Eastern Poland. PLoS One 14(9):e0222607. https://doi.org/10.1371/journal.pone.0222607

Piras E, Madeddu MA, Palmieri G et al (2017) High prevalence of human herpesvirus 8 infection in diabetes type 2 patients and detection of a new virus subtype. In: Donelli G (ed) Advances in microbiology, infectious diseases and public health: volume 7. Springer International Publishing, Cham, pp 41–51

Tan DHS, Raboud JM, Szadkowski L et al (2015) Herpes simplex virus type 2 serostatus is not associated with inflammatory or metabolic markers in antiretroviral therapy-treated HIV. AIDS Res Hum Retrovir 31(3):276–281. https://doi.org/10.1089/aid.2014.0183

Senior K (2009) Herpes simplex type 2 infects one in ten globally. Lancet Infect Dis 9(1):15. https://doi.org/10.1016/S1473-3099(08)70300-1

Bagcchi S (2016) WHO estimates suggest large herpes simplex virus burden. Lancet Infect Dis 16(2):155. https://doi.org/10.1016/S1473-3099(16)00022-0
Authors' relationships and activities
The authors declare that there are no relationships or activities that might bias, or be perceived to bias, their work.
Contribution statement
TWoe, MCH and AP conceptualised and designed the study, verified the underlying data, and revised the manuscript. TWoe performed the analyses, drafted the manuscript and created the figures. BL, TWa, BT, JS and AP collected data and revised the manuscript critically for important intellectual content. All authors gave final approval of the version to be published. TWoe and AP are guarantors of this work.
Funding
Open Access funding enabled and organized by Projekt DEAL. The KORA study was initiated and financed by the Helmholtz Zentrum München – German Research Centre for Environmental Health, which is funded by the German Federal Ministry of Education and Research (BMBF: Bundesministerium für Bildung und Forschung) and by the State of Bavaria. This work was supported by 'Aging and Metabolic Programming, AMPro' and 'iMED', research alliances within the Helmholtz Association, Germany. The funding sources had no role in collection, analysis or interpretation of data, writing of the report, or in the decision to submit the paper for publication.
Additional information
Publisher's note
Springer Nature remains neutral with regard to jurisdictional claims in published maps and institutional affiliations.
Supplementary information
Rights and permissions
Open Access This article is licensed under a Creative Commons Attribution 4.0 International License, which permits use, sharing, adaptation, distribution and reproduction in any medium or format, as long as you give appropriate credit to the original author(s) and the source, provide a link to the Creative Commons licence, and indicate if changes were made. The images or other third party material in this article are included in the article's Creative Commons licence, unless indicated otherwise in a credit line to the material. If material is not included in the article's Creative Commons licence and your intended use is not permitted by statutory regulation or exceeds the permitted use, you will need to obtain permission directly from the copyright holder. To view a copy of this licence, visit http://creativecommons.org/licenses/by/4.0/.
About this article
Cite this article
Woelfle, T., Linkohr, B., Waterboer, T. et al. Health impact of seven herpesviruses on (pre)diabetes incidence and HbA1c: results from the KORA cohort. Diabetologia 65, 1328–1338 (2022). https://doi.org/10.1007/s00125-022-05704-7
Received:

Accepted:

Published:

Issue Date:

DOI: https://doi.org/10.1007/s00125-022-05704-7
Keywords
Cytomegalovirus (CMV)

Epstein–Barr virus (EBV)

HbA1c

Herpes simplex virus 1 (HSV1)

Herpes simplex virus 2 (HSV2)

Human herpes virus 6 (HHV6)

Human herpes virus 7 (HHV7)

Incidence

Prediabetes

Varicella-zoster virus (VZV)