Abstract
Aims/hypothesis
Mucosal-associated invariant T cells (MAIT cells) are an abundant population of innate T cells. When activated, MAIT cells rapidly produce a range of cytokines, including IFNγ, TNF-α and IL-17. Several studies have implicated MAIT cells in the development of metabolic dysfunction, but the mechanisms through which this occurs are not fully understood. We hypothesised that MAIT cells are associated with insulin resistance in children with obesity, and affect insulin signalling through their production of IL-17.
Methods
In a cross-sectional observational study, we investigated MAIT cell cytokine profiles in a cohort of 30 children with obesity and 30 healthy control participants, of similar age, using flow cytometry. We then used a cell-based model to determine the direct effect of MAIT cells and IL-17 on insulin signalling and glucose uptake.
Results
Children with obesity display increased MAIT cell frequencies (2.2% vs 2.8%, p=0.047), and, once activated, these produced elevated levels of both TNF-α (39% vs 28%, p=0.03) and IL-17 (1.25% vs 0.5%, p=0.008). The IL-17-producing MAIT cells were associated with an elevated HOMA-IR (r=0.65, p=0.001). The MAIT cell secretome from adults with obesity resulted in reduced glucose uptake when compared with the secretome from healthy adult control (1.31 vs 0.96, p=0.0002), a defect that could be blocked by neutralising IL-17. Finally, we demonstrated that recombinant IL-17 blocked insulin-mediated glucose uptake via inhibition of phosphorylated Akt and extracellular signal-regulated kinase.
Conclusions/interpretations
Collectively, these studies provide further support for the role of MAIT cells in the development of metabolic dysfunction, and suggest that an IL-17-mediated effect on intracellular insulin signalling is responsible.
Graphical abstract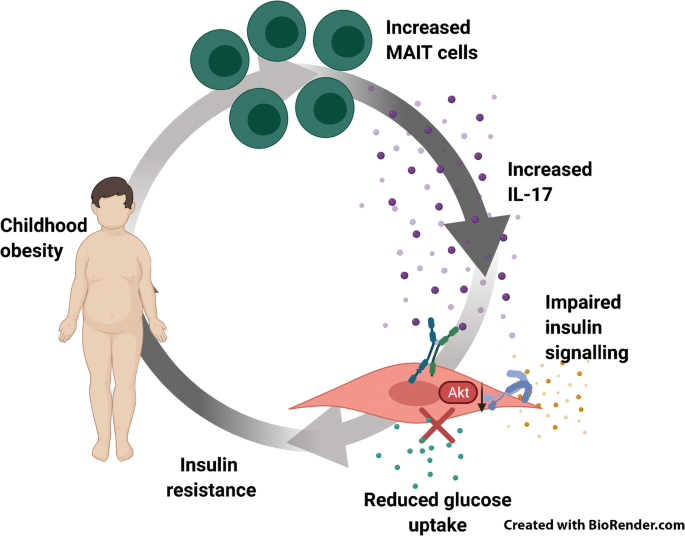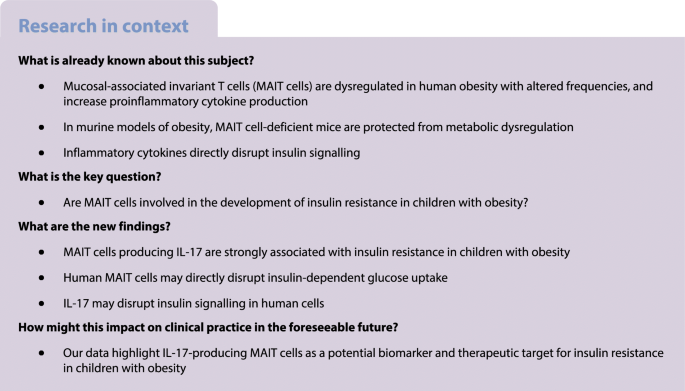 Data availability
The data generated in this study are available from the corresponding author upon reasonable request.
Abbreviations
CWO:

Children with obesity (cohort)

ERK:

Extracellular signal-regulated kinase

HAC:

Healthy adult control (cohort)

HC:

Healthy control (cohort)

HSMC:

Human skeletal muscle cell

MAIT cells:

Mucosal-associated invariant T cells

PWO:

People with obesity (cohort)
References
Godfrey DI, Koay HF, McCluskey J, Gherardin NA (2019) The biology and functional importance of MAIT cells. Nat Immunol 20(9):1110–1128

Toubal A, Nel I, Lotersztajn S, Lehuen A (2019) Mucosal-associated invariant T cells and disease. Nat Rev Immunol 19(10):643–657.

Chiba A, Tajima R, Tomi C, Miyazaki Y, Yamamura T, Miyake S (2012) Mucosal-associated invariant T cells promote inflammation and exacerbate disease in murine models of arthritis. Arthritis Rheum 64(1):153–161

Magalhaes I, Pingris K, Poitou C, Bessoles S, Venteclef N, Kiaf B et al (2015) Mucosal-associated invariant T cell alterations in obese and type 2 diabetic patients. J Clin Invest 125(4):1752–1762

Carolan E, Tobin LM, Mangan BA, Corrigan M, Gaoatswe G, Byrne G et al (2015) Altered distribution and increased IL-17 production by mucosal-associated invariant T cells in adult and childhood obesity. J Immunol 194(12):5775–5780

Brien AO, Kedia-Mehta N, Tobin L, Veerapen N, Besra GS, Shea DO et al (2020) Targeting mitochondrial dysfunction in MAIT cells limits IL-17 production in obesity. Cell Mol Immunol 17(11):1193–1195.

Toubal A, Kiaf B, Beaudoin L, Cagninacci L, Rhimi M, Fruchet B et al (2020) Mucosal-associated invariant T cells promote inflammation and intestinal dysbiosis leading to metabolic dysfunction during obesity. Nat Commun 11(1):3755

Cole TJ, Lobstein T (2012) Extended international (IOTF) body mass index cut-offs for thinness, overweight and obesity. Pediatr Obes 7(4):284–294

O'Brien A, Loftus RM, Pisarska MM et al (2019) Obesity reduces mTORC1 activity in mucosal-associated invariant T cells, driving defective metabolic and functional responses. J Immunol 202(12):3404–3411

Pisarska MM, Dunne MR, O'Shea D, Hogan AE (2020) Interleukin-17 producing mucosal associated invariant T cells - emerging players in chronic inflammatory diseases? Eur J Immunol 50(8):1098–1108.

Hotamisligil GS, Shargill NS, Spiegelman BM (1993) Adipose expression of tumor necrosis factor-alpha: direct role in obesity-linked insulin resistance. Science. 259(5091):87–91

Fabbrini E, Cella M, McCartney SA, Fuchs A, Abumrad NA, Pietka TA et al (2013) Association between specific adipose tissue CD4+ T-cell populations and insulin resistance in obese individuals. Gastroenterology. 145(2):366–374 e1-3

Zuniga LA, Shen WJ, Joyce-Shaikh B, Pyatnova EA, Richards AG, Thom C et al (2010) IL-17 regulates adipogenesis, glucose homeostasis, and obesity. J Immunol 185(11):6947–6959

Teijeiro A, Garrido A, Ferre A, Perna C, Djouder N (2021) Inhibition of the IL-17A axis in adipocytes suppresses diet-induced obesity and metabolic disorders in mice. Nat Metab 3(4):496–512
Authors' relationships and activities
The authors declare that there are no relationships or activities that might bias, or be perceived to bias, their work.
Contribution statement
RB, DK, NKM, EH and FCC performed the experiments, and carried out analysis, revised the manuscript and approved the final manuscript as submitted. DK and DC recruited the participants and analysed the clinical cohorts. AEH, DOS and DC conceptualised and designed the study, analysed the data, drafted the manuscript and approved the final manuscript as submitted. AEH is the guarantor of this work.
Funding
Open Access funding provided by the IReL Consortium. This study is supported by the National Children's Research Centre, Dublin, Ireland.
Additional information
Publisher's note
Springer Nature remains neutral with regard to jurisdictional claims in published maps and institutional affiliations.
Donal O'Shea and Andrew E. Hogan are joint senior authors.
Supplementary information
Rights and permissions
Open Access This article is licensed under a Creative Commons Attribution 4.0 International License, which permits use, sharing, adaptation, distribution and reproduction in any medium or format, as long as you give appropriate credit to the original author(s) and the source, provide a link to the Creative Commons licence, and indicate if changes were made. The images or other third party material in this article are included in the article's Creative Commons licence, unless indicated otherwise in a credit line to the material. If material is not included in the article's Creative Commons licence and your intended use is not permitted by statutory regulation or exceeds the permitted use, you will need to obtain permission directly from the copyright holder. To view a copy of this licence, visit http://creativecommons.org/licenses/by/4.0/.
About this article
Cite this article
Bergin, R., Kinlen, D., Kedia-Mehta, N. et al. Mucosal-associated invariant T cells are associated with insulin resistance in childhood obesity, and disrupt insulin signalling via IL-17. Diabetologia 65, 1012–1017 (2022). https://doi.org/10.1007/s00125-022-05682-w
Received:

Accepted:

Published:

Issue Date:

DOI: https://doi.org/10.1007/s00125-022-05682-w
Keywords
Insulin resistance

Interleukin-17

Mucosal-associated invariant T cells

Obesity