Abstract
Aims/hypothesis
The aim of this work was to investigate diabetes incidence after infection with coronavirus disease-2019 (Covid-19). Individuals with acute upper respiratory tract infections (AURI), which are frequently caused by viruses, were selected as a non-exposed control group.
Methods
We performed a retrospective cohort analysis of the Disease Analyzer, which comprises a representative panel of 1171 physicians' practices throughout Germany (March 2020 to January 2021: 8.8 million patients). Newly diagnosed diabetes was defined based on ICD-10 codes (type 2 diabetes: E11; other forms of diabetes: E12–E14) during follow-up until July 2021 (median for Covid-19, 119 days; median for AURI 161 days). Propensity score matching (1:1) for sex, age, health insurance, index month for Covid-19/AURI and comorbidity (obesity, hypertension, hyperlipidaemia, myocardial infarction, stroke) was performed. Individuals using corticosteroids within 30 days after the index dates were excluded. Poisson regression models were fitted to obtain incidence rate ratios (IRRs) for diabetes.
Results
There were 35,865 individuals with documented Covid-19 in the study period. After propensity score matching, demographic and clinical characteristics were similar in 35,865 AURI controls (mean age 43 years; 46% female). Individuals with Covid-19 showed an increased type 2 diabetes incidence compared with AURI (15.8 vs 12.3 per 1000 person-years). Using marginal models to account for correlation of observations within matched pairs, an IRR for type 2 diabetes of 1.28 (95% CI 1.05, 1.57) was estimated. The IRR was not increased for other forms of diabetes.
Conclusions/interpretation
Covid-19 confers an increased risk for type 2 diabetes. If confirmed, these results support the active monitoring of glucose dysregulation after recovery from mild forms of severe acute respiratory syndrome coronavirus 2 (SARS-CoV-2) infection.
Graphical abstract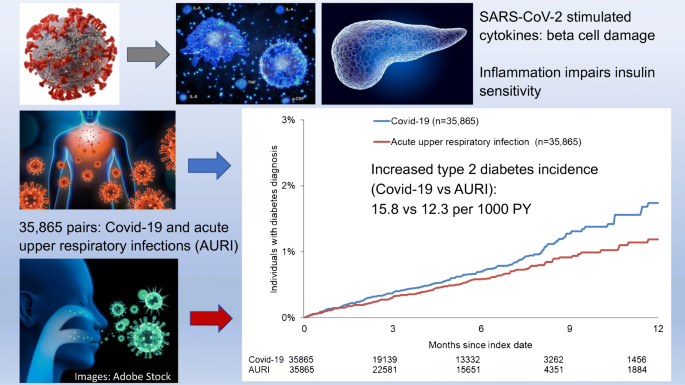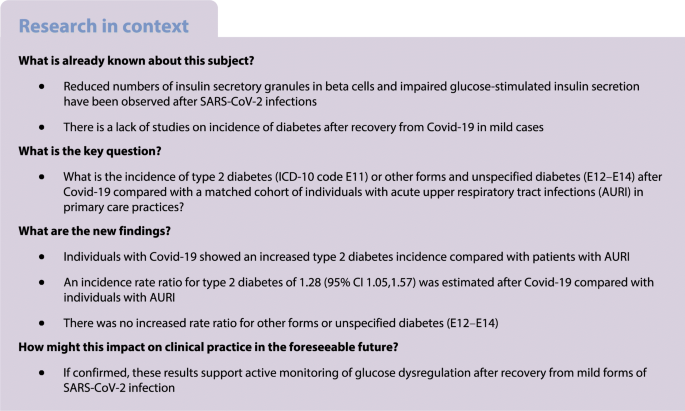 Data availability
The Disease Analyzer data are not publicly available due to confidentiality issues. Investigators should contact IQVIA (Frankfurt, Germany) to ask about data availability.
Abbreviations
AURI:

Acute upper respiratory tract infections

Covid-19:

Coronavirus disease-2019

DA:

Disease Analyzer database

DPP-4:

Dipeptidyl peptidase-4

IRR:

Incidence rate ratio

SARS-CoV-2:

Severe acute respiratory syndrome coronavirus 2
Acknowledgements
We thank Christian Herder (German Diabetes Center) for critical feedback on a first draft of the manuscript. We thank two anonymous reviewers for providing helpful comments on earlier drafts of the manuscript.
Authors' relationships and activities
WR reports the receipt of consulting fees for attending educational sessions or advisory boards run by AstraZeneca, Boehringer Ingelheim and NovoNordisk and institutional research grants from NovoNordisk outside of the topic of the current work. OK reports receiving honoraria for biostatistical education by Berlin-Chemie outside of the topic of the current work. KK declares that there are no relationships or activities that might bias, or be perceived to bias, their work.
Funding
Open Access funding enabled and organized by Projekt DEAL. The German Diabetes Center is funded by the German Federal Ministry of Health and the Ministry of Culture and Science of the State of North Rhine-Westphalia.
Additional information
Publisher's note
Springer Nature remains neutral with regard to jurisdictional claims in published maps and institutional affiliations.
Supplementary information
Rights and permissions
Open Access This article is licensed under a Creative Commons Attribution 4.0 International License, which permits use, sharing, adaptation, distribution and reproduction in any medium or format, as long as you give appropriate credit to the original author(s) and the source, provide a link to the Creative Commons licence, and indicate if changes were made. The images or other third party material in this article are included in the article's Creative Commons licence, unless indicated otherwise in a credit line to the material. If material is not included in the article's Creative Commons licence and your intended use is not permitted by statutory regulation or exceeds the permitted use, you will need to obtain permission directly from the copyright holder. To view a copy of this licence, visit http://creativecommons.org/licenses/by/4.0/.
About this article
Cite this article
Rathmann, W., Kuss, O. & Kostev, K. Incidence of newly diagnosed diabetes after Covid-19. Diabetologia 65, 949–954 (2022). https://doi.org/10.1007/s00125-022-05670-0
Received:

Accepted:

Published:

Issue Date:

DOI: https://doi.org/10.1007/s00125-022-05670-0
Keywords
Coronavirus

COVID-19

Diabetes

SARS-CoV-2