Abstract
Aims/hypothesis
Despite a similar fat storing function, visceral (intra-abdominal) white adipose tissue (WAT) is detrimental, whereas subcutaneous WAT is considered to protect against metabolic disease. Recent findings indicate that thermogenic genes, expressed in brown adipose tissue (BAT), can be induced primarily in subcutaneous WAT. Here, we investigate the hypothesis that the Wilms tumour gene product (WT1), which is expressed in intra-abdominal WAT but not in subcutaneous WAT and BAT, suppresses a thermogenic program in white fat cells.
Methods
Heterozygous Wt1 knockout mice and their wild-type littermates were examined in terms of thermogenic and adipocyte-selective gene expression. Glucose tolerance and hepatic lipid accumulation in these mice were assessed under normal chow and high-fat diet conditions. Pre-adipocytes isolated from the stromal vascular fraction of BAT were transduced with Wt1-expressing retrovirus, induced to differentiate and analysed for the expression of thermogenic and adipocyte-selective genes.
Results
Expression of the thermogenic genes Cpt1b and Tmem26 was enhanced and transcript levels of Ucp1 were on average more than tenfold higher in epididymal WAT of heterozygous Wt1 knockout mice compared with wild-type mice. Wt1 heterozygosity reduced epididymal WAT mass, improved whole-body glucose tolerance and alleviated severe hepatic steatosis upon diet-induced obesity in mice. Retroviral expression of WT1 in brown pre-adipocytes, which lack endogenous WT1, reduced mRNA levels of Ucp1, Ppargc1a, Cidea, Prdm16 and Cpt1b upon in vitro differentiation by 60–90%. WT1 knockdown in epididymal pre-adipocytes significantly lowered Aldh1a1 and Zfp423 transcripts, two key suppressors of the thermogenic program. Conversely, Aldh1a1 and Zfp423 mRNA levels were increased approximately five- and threefold, respectively, by retroviral expression of WT1 in brown pre-adipocytes.
Conclusion/interpretation
WT1 functions as a white adipocyte determination factor in epididymal WAT by suppressing thermogenic genes. Reducing Wt1 expression in this and other intra-abdominal fat depots may represent a novel treatment strategy in metabolic disease.
Graphical abstract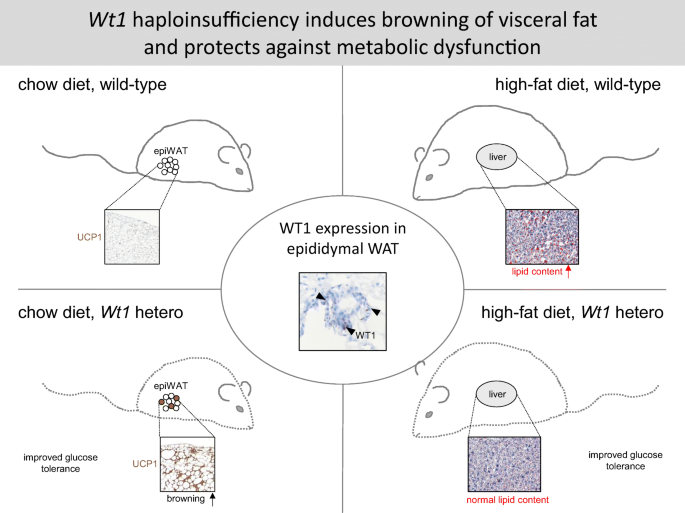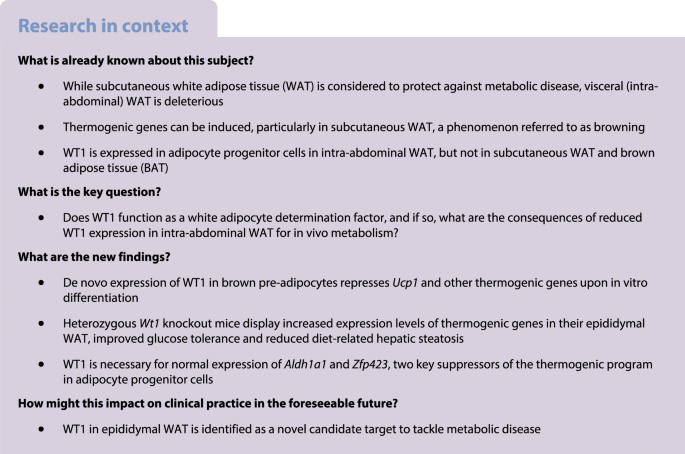 Data availability
Data are available on request from the authors.
Abbreviations
BAT:

Brown adipose tissue

HFD:

High-fat diet

PPARγ:

Peroxisome proliferator-activated receptor γ

PRDM16:

PR/SET domain 16

RER:

Respiratory exchange ratio

RT-qPCR:

Reverse transcription quantitative PCR

SVF:

Stromal vascular fraction

UCP1:

Uncoupling protein-1

WAT:

White adipose tissue

WT1:

Wilms tumour gene product
Acknowledgements
The expert technical assistance of B. Höft (Institut für Pharmakologie, Charité-Universitätsmedizin Berlin) with the animal experiments, and of U. Kastner and U. Neumann (both from Institut für Physiologie, Charité-Universitätsmedizin Berlin) with biochemical analyses is gratefully acknowledged. We also thank M. Muenzner and A. Tolkachov (from Institut für Pharmakologie, Charité-Universitätsmedizin Berlin) for cloning and early cell culture work for this project.
Authors' relationships and activities
The authors declare that there are no relationships or activities that might bias, or be perceived to bias, their work.
Funding
This study was supported by grants from the Else Kröner-Fresenius-Stiftung (Grant 2014_A23) and the Deutsche Diabetes Stiftung to HS (Grant FP-0403-2017). TJS is supported by the German Research Foundation (Grant ID 2445/5-1) and the German Center for Diabetes Research (DZD) funded by the German Ministry of Education and Research (BMBF) and the State of Brandenburg (DZD Grant IDs 82DZD00302 and 82DZD03C3G). MS is supported by the German Research Foundation (SCHU 2546/5-1).
Additional information
Publisher's note
Springer Nature remains neutral with regard to jurisdictional claims in published maps and institutional affiliations.
Supplementary information
Rights and permissions
Open Access This article is licensed under a Creative Commons Attribution 4.0 International License, which permits use, sharing, adaptation, distribution and reproduction in any medium or format, as long as you give appropriate credit to the original author(s) and the source, provide a link to the Creative Commons licence, and indicate if changes were made. The images or other third party material in this article are included in the article's Creative Commons licence, unless indicated otherwise in a credit line to the material. If material is not included in the article's Creative Commons licence and your intended use is not permitted by statutory regulation or exceeds the permitted use, you will need to obtain permission directly from the copyright holder. To view a copy of this licence, visit http://creativecommons.org/licenses/by/4.0/.
About this article
Cite this article
Kirschner, K.M., Foryst-Ludwig, A., Gohlke, S. et al. Wt1 haploinsufficiency induces browning of epididymal fat and alleviates metabolic dysfunction in mice on high-fat diet. Diabetologia 65, 528–540 (2022). https://doi.org/10.1007/s00125-021-05621-1
Received:

Accepted:

Published:

Issue Date:

DOI: https://doi.org/10.1007/s00125-021-05621-1
Keywords
Adipocyte

Browning

Glucose tolerance

Hepatic steatosis

High-fat diet

Obesity

Thermogenesis

Transcription factor

UCP1

WT1