Abstract
Aims/hypothesis
Individuals with type 2 diabetes mellitus and subclinical inflammation have stimulated coagulation, activated platelets and endothelial dysfunction. Recent studies with the direct factor Xa inhibitor rivaroxaban in combination with low-dose aspirin demonstrated a significant reduction of major cardiovascular events, especially in individuals with type 2 diabetes and proven cardiovascular disease. Therefore, we asked the question of whether treatment with rivaroxaban could influence endothelial function, arterial stiffness and platelet activation.
Methods
We conducted a multi-centre, prospective, randomised, open-label trial in 179 participants with type 2 diabetes (duration 2–20 years), subclinical inflammation (high-sensitivity C-reactive protein 2–10 mg/l) and at least two traits of the metabolic syndrome to compare the effects of the direct factor Xa inhibitor rivaroxaban (5 mg twice daily) vs aspirin (100 mg every day) on endothelial function (assessed by forearm occlusion plethysmography), skin blood flow (assessed by laser-Doppler fluxmetry), arterial stiffness (assessed by pulse wave velocity) and serum biomarkers of endothelial function and inflammation. Furthermore, we investigated phosphorylation of vasodilator-stimulated phosphoprotein (VASP) in platelets, the concentration of platelet-derived microparticles (PMPs) and the effects of isolated PMPs on HUVEC proliferation in vitro.
Results
Rivaroxaban treatment for 20 weeks (n = 89) resulted in a significant improvement of post-ischaemic forearm blood flow (3.6 ± 4.7 vs 1.0 ± 5.2 ml/100 ml, p = 0.004), a numerically increased skin blood flow and reduced soluble P-Selectin plasma level vs aspirin. We did not find significant differences of arterial stiffness or further biomarkers. Neither rivaroxaban nor aspirin influenced VASP phosphorylation of platelets. The number of PMPs increased significantly with both rivaroxaban (365.2 ± 372.1 vs 237.4 ± 157.1 μl−1, p = 0.005) and aspirin (266.0 ± 212.7 vs 201.7 ± 162.7 μl−1, p = 0.021). PMPs of rivaroxaban-treated participants stimulated HUVEC proliferation in vitro compared with aspirin. Rivaroxaban was associated with a higher number of bleeding events.
Conclusions/interpretation
Our findings indicate that the direct factor Xa inhibitor rivaroxaban improved endothelial function in participants with type 2 diabetes and subclinical inflammation but also increased the risk of bleeding.
Trial registration:
ClinicalTrials.gov NCT02164578.
Funding
The study was supported by a research grant from Bayer Vital AG, Germany.
Graphical abstract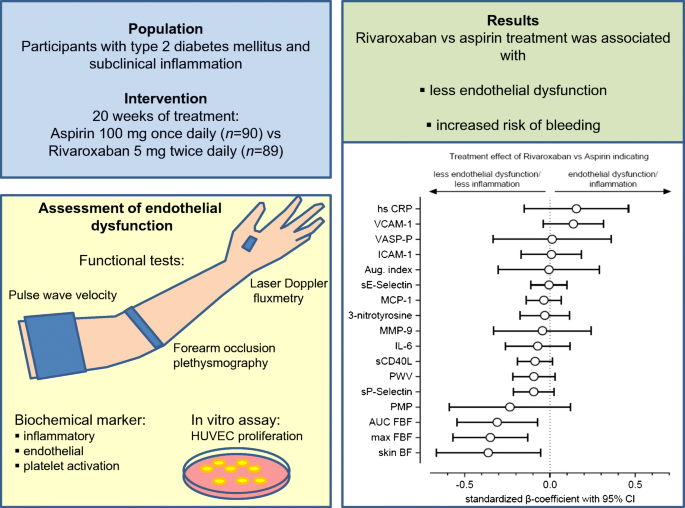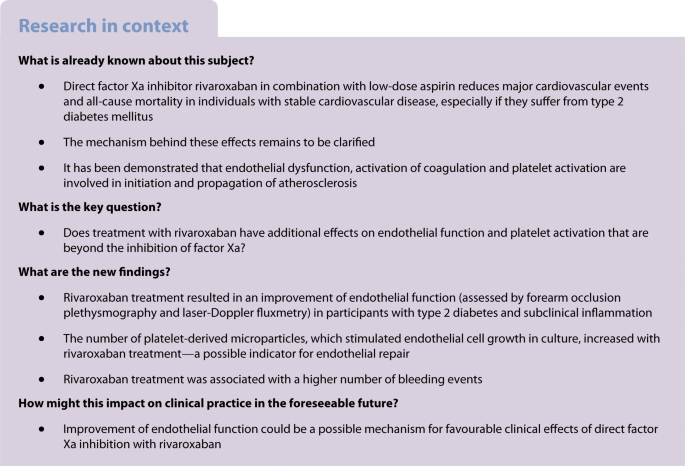 Data availability
The clinical study report is available at ClinicalTrials.gov (registration no. NCT02164578). Original data are available on request from the corresponding author.
Abbreviations
FBF:

Forearm blood flow

hsCrP:

High-sensitivity C-reactive protein

ICAM-1:

Intercellular adhesion molecule 1

MACE:

Major adverse cardiovascular events

maxBF:

Maximal post-ischaemic blood flow

MCP-1:

Monocyte chemoattractant protein 1

MMP-9:

Matrix metallopeptidase 9

NO:

Nitric oxide

PAR:

Protease-activated receptors

pBF:

Pre-ischaemic blood flow

PE:

Phycoerythrin

PMP:

Platelet-derived microparticle

PTF:

Prothrombin fragment

PWV:

Pulse wave velocity

sCD40L:

Soluble CD40 ligand

sE-Selectin:

Soluble E-Selectin

sP-Selectin:

Soluble P-Selectin

VASP:

Vasodilator-stimulated phosphoprotein

VCAM-1:

Vascular cell adhesion molecule 1

WST-1:

4-[3-(4-iodophenyl)-2-(4-nitrophenyl)-2H-5-tetrazolio]-1,3-benzene disulfonate
References
Mach F, Baigent C, Catapano AL, Koskinas KC, Casula M, Badimon L et al (2020) 2019 ESC/EAS guidelines for the management of dyslipidaemias: lipid modification to reduce cardiovascular risk. Eur Heart J 41(1):111–188. https://doi.org/10.1093/eurheartj/ehz455

Pistrosch F, Passauer J, Fischer S, Fuecker K, Hanefeld M, Gross P (2004) In type 2 diabetes, rosiglitazone therapy for insulin resistance ameliorates endothelial dysfunction independent of glucose control. Diabetes Care 27(2):484–490. https://doi.org/10.2337/diacare.27.2.484

Randriamboavonjy V, Fleming I (2012) Platelet function and signaling in diabetes mellitus. Curr Vasc Pharmacol 10(5):532–538. https://doi.org/10.2174/157016112801784639

Stegenga ME, van der Crabben SN, Levi M, de Vos AF, Tanck MW, Sauerwein HP et al (2006) Hyperglycemia stimulates coagulation, whereas hyperinsulinemia impairs fibrinolysis in healthy humans. Diabetes 55(6):1807–1812. https://doi.org/10.2337/db05-1543

Schachinger V, Britten MB, Zeiher AM (2000) Prognostic impact of coronary vasodilator dysfunction on adverse long-term outcome of coronary heart disease. Circulation 101(16):1899–1906. https://doi.org/10.1161/01.CIR.101.16.1899

Bowman L, Mafham M, Wallendszus K, Stevens W, Buck G, Barton J et al (2018) Effects of Aspirin for Primary Prevention in Persons with Diabetes Mellitus. N Engl J Med 379(16):1529–1539. https://doi.org/10.1056/NEJMoa1804988

Eikelboom JW, Connolly SJ, Bosch J, Dagenais GR, Hart RG, Shestakovska O et al (2017) Rivaroxaban with or without Aspirin in Stable Cardiovascular Disease. N Engl J Med 377(14):1319–1330. https://doi.org/10.1056/NEJMoa1709118

Bhatt DL, Eikelboom JW, Connolly SJ, Steg PG, Anand SS, Verma S et al (2020) Role of Combination Antiplatelet and Anticoagulation Therapy in Diabetes Mellitus and Cardiovascular Disease: Insights From the COMPASS Trial. Circulation 141(23):1841–1854. https://doi.org/10.1161/CIRCULATIONAHA.120.046448

Coppens M, Weitz JI, Eikelboom JWA (2019) Synergy of Dual Pathway Inhibition in Chronic Cardiovascular Disease. Circ Res 124(3):416–425. https://doi.org/10.1161/CIRCRESAHA.118.313141

Borissoff JI, Spronk HM, ten Cate H (2011) The hemostatic system as a modulator of atherosclerosis. N Engl J Med 364(18):1746–1760. https://doi.org/10.1056/NEJMra1011670

Wolzt M, Gouya G, Kapiotis S, Becka M, Mueck W, Kubitza D (2013) Open-label, randomized study of the effect of rivaroxaban with or without acetylsalicylic acid on thrombus formation in a perfusion chamber. Thromb Res 132(2):240–247. https://doi.org/10.1016/j.thromres.2013.05.019

Ikari Y, Saito F, Kiyooka T, Nagaoka M, Kimura M, Furuki T et al (2020) Switching from Warfarin to rivaroxaban induces sufficiency of vitamin K and reduction of arterial stiffness in patients with atrial fibrillation. Heart Vessel 35(12):1727–1733. https://doi.org/10.1007/s00380-020-01651-8

Silva BM, Neves FJ, Rocha NG, Cagy M, de Souza MN, da Nobrega AC (2009) Intra- and inter-tester reproducibility of venous occlusion plethysmography: comparison between a manual and a semi-automatic method of blood flow analysis. Physiol Meas 30(11):1267–1279. https://doi.org/10.1088/0967-3334/30/11/010

Pistrosch F, Kohler C, Schaper F, Landgraf W, Forst T, Hanefeld M (2013) Effects of insulin glargine versus metformin on glycemic variability, microvascular and beta-cell function in early type 2 diabetes. Acta Diabetol 50(4):587–595. https://doi.org/10.1007/s00592-012-0451-9

Forst T, Hohberg C, Tarakci E, Forst S, Kann P, Pfutzner A (2008) Reliability of lightguide spectrophotometry (O2C) for the investigation of skin tissue microvascular blood flow and tissue oxygen supply in diabetic and nondiabetic subjects. J Diabetes Sci Technol 2(6):1151–1156. https://doi.org/10.1177/193229680800200625

Qiu S, Cai X, Liu J, Yang B, Zugel M, Steinacker JM et al (2019) Association between circulating cell adhesion molecules and risk of type 2 diabetes: A meta-analysis. Atherosclerosis 287:147–154. https://doi.org/10.1016/j.atherosclerosis.2019.06.908

Moller MN, Rios N, Trujillo M, Radi R, Denicola A, Alvarez B (2019) Detection and quantification of nitric oxide-derived oxidants in biological systems. J Biol Chem 294(40):14776–14802. https://doi.org/10.1074/jbc.REV119.006136

Townsend RR, Wilkinson IB, Schiffrin EL, Avolio AP, Chirinos JA, Cockcroft JR et al (2015) Recommendations for Improving and Standardizing Vascular Research on Arterial Stiffness: A Scientific Statement From the American Heart Association. Hypertension 66(3):698–722. https://doi.org/10.1161/HYP.0000000000000033

Grillo A, Parati G, Rovina M, Moretti F, Salvi L, Gao L et al (2017) Short-Term Repeatability of Noninvasive Aortic Pulse Wave Velocity Assessment: Comparison Between Methods and Devices. Am J Hypertens 31(1):80–88. https://doi.org/10.1093/ajh/hpx140

Wasserman DH, Wang TJ, Brown NJ (2018) The Vasculature in Prediabetes. Circ Res 122(8):1135–1150. https://doi.org/10.1161/CIRCRESAHA.118.311912

Randriamboavonjy V, Isaak J, Elgheznawy A, Pistrosch F, Fromel T, Yin X et al (2012) Calpain inhibition stabilizes the platelet proteome and reactivity in diabetes. Blood 120(2):415–423. https://doi.org/10.1182/blood-2011-12-399980

Aszodi A, Pfeifer A, Ahmad M, Glauner M, Zhou XH, Ny L et al (1999) The vasodilator-stimulated phosphoprotein (VASP) is involved in cGMP- and cAMP-mediated inhibition of agonist-induced platelet aggregation, but is dispensable for smooth muscle function. EMBO J 18(1):37–48. https://doi.org/10.1093/emboj/18.1.37

Mause SF, Ritzel E, Liehn EA, Hristov M, Bidzhekov K, Muller-Newen G et al (2010) Platelet microparticles enhance the vasoregenerative potential of angiogenic early outgrowth cells after vascular injury. Circulation 122(5):495–506. https://doi.org/10.1161/CIRCULATIONAHA.109.909473

Robert S, Poncelet P, Lacroix R, Arnaud L, Giraudo L, Hauchard A et al (2009) Standardization of platelet-derived microparticle counting using calibrated beads and a Cytomics FC500 routine flow cytometer: a first step towards multicenter studies? J Thromb Haemost 7(1):190–197. https://doi.org/10.1111/j.1538-7836.2008.03200.x

Voltan R, Zauli G, Rizzo P, Fucili A, Pannella M, Marci R et al (2014) In vitro endothelial cell proliferation assay reveals distinct levels of proangiogenic cytokines characterizing sera of healthy subjects and of patients with heart failure. Mediat Inflamm 2014:257081

Pham PT, Fukuda D, Yagi S, Kusunose K, Yamada H, Soeki T et al (2019) Rivaroxaban, a specific FXa inhibitor, improved endothelium-dependent relaxation of aortic segments in diabetic mice. Sci Rep 9(1):11206

Fichtlscherer S, Schmidt-Lucke C, Bojunga S, Rossig L, Heeschen C, Dimmeler S et al (2006) Differential effects of short-term lipid lowering with ezetimibe and statins on endothelial function in patients with CAD: clinical evidence for 'pleiotropic' functions of statin therapy. Eur Heart J 27(10):1182–1190. https://doi.org/10.1093/eurheartj/ehi881

Vlachopoulos C, Xaplanteris P, Aboyans V, Brodmann M, Cifkova R, Cosentino F et al (2015) The role of vascular biomarkers for primary and secondary prevention. A position paper from the European Society of Cardiology Working Group on peripheral circulation: Endorsed by the Association for Research into Arterial Structure and Physiology (ARTERY) Society. Atherosclerosis 241(2):507–532

Levi M, van Der PT, Buller HR (2004) Bidirectional relation between inflammation and coagulation. Circulation 109(22):2698–2704. https://doi.org/10.1161/01.CIR.0000131660.51520.9A

Borissoff JI, Spronk HM, Heeneman S, ten Cate H (2009) Is thrombin a key player in the 'coagulation-atherogenesis' maze? Cardiovasc Res 82(3):392–403. https://doi.org/10.1093/cvr/cvp066

Pingel S, Tiyerili V, Mueller J, Werner N, Nickenig G, Mueller C (2014) Thrombin inhibition by dabigatran attenuates atherosclerosis in ApoE deficient mice. Arch Med Sci 10(1):154–160. https://doi.org/10.5114/aoms.2014.40742

Ellinghaus P, Perzborn E, Hauenschild P, Gerdes C, Heitmeier S, Visser M et al (2016) Expression of pro-inflammatory genes in human endothelial cells: Comparison of rivaroxaban and dabigatran. Thromb Res 142:44–51. https://doi.org/10.1016/j.thromres.2016.04.008

Santilli F, Marchisio M, Lanuti P, Boccatonda A, Miscia S, Davi G (2016) Microparticles as new markers of cardiovascular risk in diabetes and beyond. Thromb Haemost 116(2):220–234. https://doi.org/10.1160/TH16-03-0176

Alvarez E, Paradela-Dobarro B, Raposeiras-Roubin S, Gonzalez-Juanatey JR (2018) Protective, repairing and fibrinolytic effects of rivaroxaban on vascular endothelium. Br J Clin Pharmacol 84(2):280–291. https://doi.org/10.1111/bcp.13440

Wu TC, Chan JS, Lee CY, Leu HB, Huang PH, Chen JS et al (2015) Rivaroxaban, a factor Xa inhibitor, improves neovascularization in the ischemic hindlimb of streptozotocin-induced diabetic mice. Cardiovasc Diabetol 14:81

Daci A, Da Dalt L, Alaj R, Shurdhiqi S, Neziri B, Ferizi R et al (2020) Rivaroxaban improves vascular response in LPS-induced acute inflammation in experimental models. PLoS One 15(12):e0240669. https://doi.org/10.1371/journal.pone.0240669

Aird WC (2012) Endothelial cell heterogeneity. Cold Spring Harb Perspect Med 2(1):a006429. https://doi.org/10.1101/cshperspect.a006429

Ridker PM, Cushman M, Stampfer MJ, Tracy RP, Hennekens CH (1997) Inflammation, aspirin, and the risk of cardiovascular disease in apparently healthy men. N Engl J Med 336(14):973–979. https://doi.org/10.1056/NEJM199704033361401

Kirchhof P, Ezekowitz MD, Purmah Y, Schiffer S, Meng IL, Camm AJ et al (2020) Effects of Rivaroxaban on Biomarkers of Coagulation and Inflammation: A Post Hoc Analysis of the X-VeRT Trial. TH Open 4(1):e20–e32. https://doi.org/10.1055/s-0040-1701206

Oldgren J, Wallentin L, Alexander JH, James S, Jonelid B, Steg G et al (2013) New oral anticoagulants in addition to single or dual antiplatelet therapy after an acute coronary syndrome: a systematic review and meta-analysis. Eur Heart J 34(22):1670–1680. https://doi.org/10.1093/eurheartj/eht049
Acknowledgements
Some of the data were presented as an abstract at the 54th and 55th EASD meetings in 2018 and 2019.
Authors' relationships and activities
FP and MH received lecture fees from Bayer Vital AG. All other authors declare that there are no relationships or activities that might bias, or be perceived to bias, their work.
Funding
Open Access funding enabled and organised by Projekt DEAL. The study was supported by a research grant from Bayer Vital AG, Germany. The sponsor/funder was not involved in the design of the study; the collection, analysis and interpretation of data; writing the report; and did not impose any restrictions regarding the publication of the report.
Additional information
Publisher's note
Springer Nature remains neutral with regard to jurisdictional claims in published maps and institutional affiliations.
Supplementary information
Rights and permissions
Open Access This article is licensed under a Creative Commons Attribution 4.0 International License, which permits use, sharing, adaptation, distribution and reproduction in any medium or format, as long as you give appropriate credit to the original author(s) and the source, provide a link to the Creative Commons licence, and indicate if changes were made. The images or other third party material in this article are included in the article's Creative Commons licence, unless indicated otherwise in a credit line to the material. If material is not included in the article's Creative Commons licence and your intended use is not permitted by statutory regulation or exceeds the permitted use, you will need to obtain permission directly from the copyright holder. To view a copy of this licence, visit http://creativecommons.org/licenses/by/4.0/.
About this article
Cite this article
Pistrosch, F., Matschke, J.B., Schipp, D. et al. Rivaroxaban compared with low-dose aspirin in individuals with type 2 diabetes and high cardiovascular risk: a randomised trial to assess effects on endothelial function, platelet activation and vascular biomarkers. Diabetologia 64, 2701–2712 (2021). https://doi.org/10.1007/s00125-021-05562-9
Received:

Accepted:

Published:

Issue Date:

DOI: https://doi.org/10.1007/s00125-021-05562-9