Abstract
Aims/hypothesis
Five clusters based on clinical characteristics have been suggested as diabetes subtypes: one autoimmune and four subtypes of type 2 diabetes. In the current study we replicate and cross-validate these type 2 diabetes clusters in three large cohorts using variables readily measured in the clinic.
Methods
In three independent cohorts, in total 15,940 individuals were clustered based on age, BMI, HbA1c, random or fasting C-peptide, and HDL-cholesterol. Clusters were cross-validated against the original clusters based on HOMA measures. In addition, between cohorts, clusters were cross-validated by re-assigning people based on each cohort's cluster centres. Finally, we compared the time to insulin requirement for each cluster.
Results
Five distinct type 2 diabetes clusters were identified and mapped back to the original four All New Diabetics in Scania (ANDIS) clusters. Using C-peptide and HDL-cholesterol instead of HOMA2-B and HOMA2-IR, three of the clusters mapped with high sensitivity (80.6–90.7%) to the previously identified severe insulin-deficient diabetes (SIDD), severe insulin-resistant diabetes (SIRD) and mild obesity-related diabetes (MOD) clusters. The previously described ANDIS mild age-related diabetes (MARD) cluster could be mapped to the two milder groups in our study: one characterised by high HDL-cholesterol (mild diabetes with high HDL-cholesterol [MDH] cluster), and the other not having any extreme characteristic (mild diabetes [MD]). When these two milder groups were combined, they mapped well to the previously labelled MARD cluster (sensitivity 79.1%). In the cross-validation between cohorts, particularly the SIDD and MDH clusters cross-validated well, with sensitivities ranging from 73.3% to 97.1%. SIRD and MD showed a lower sensitivity, ranging from 36.1% to 92.3%, where individuals shifted from SIRD to MD and vice versa. People belonging to the SIDD cluster showed the fastest progression towards insulin requirement, while the MDH cluster showed the slowest progression.
Conclusions/interpretation
Clusters based on C-peptide instead of HOMA2 measures resemble those based on HOMA2 measures, especially for SIDD, SIRD and MOD. By adding HDL-cholesterol, the MARD cluster based upon HOMA2 measures resulted in the current clustering into two clusters, with one cluster having high HDL levels. Cross-validation between cohorts showed generally a good resemblance between cohorts. Together, our results show that the clustering based on clinical variables readily measured in the clinic (age, HbA1c, HDL-cholesterol, BMI and C-peptide) results in informative clusters that are representative of the original ANDIS clusters and stable across cohorts. Adding HDL-cholesterol to the clustering resulted in the identification of a cluster with very slow glycaemic deterioration.
Graphical abstract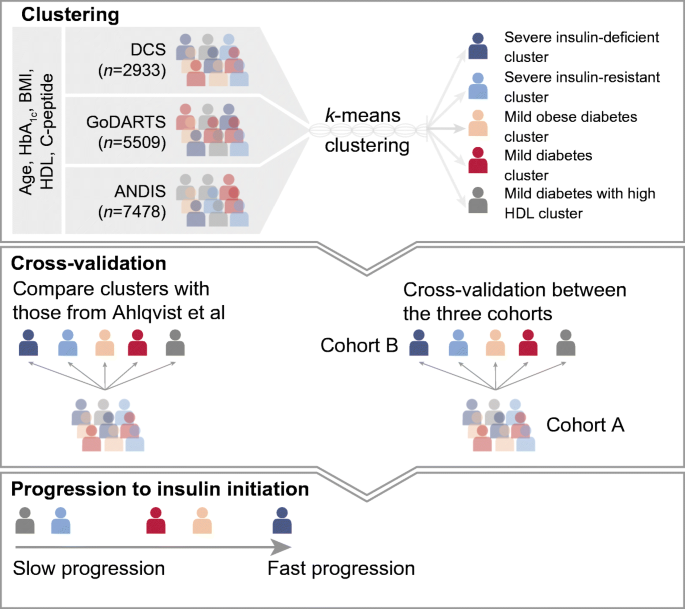 Similar content being viewed by others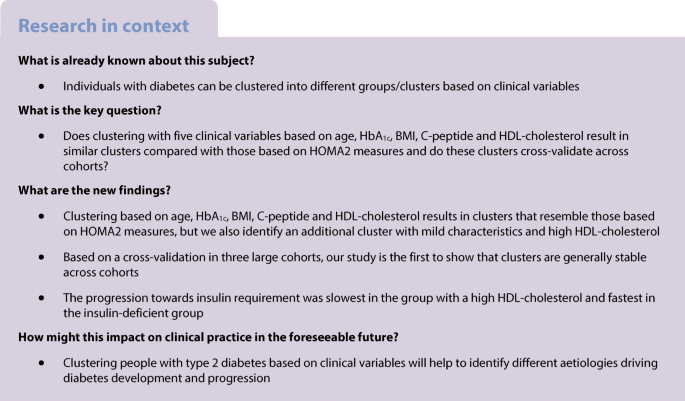 Data availability
Steering committees of the individual cohorts will consider reasonable requests for sharing of de-identified patient-level data.
Abbreviations
ANDIS:

All New Diabetics in Scania

DCS:

Diabetes Care System

GoDARTS:

Genetics of Diabetes Audit and Research Tayside Study

MARD:

Mild age-related diabetes

MD:

Mild diabetes

MDH:

Mild diabetes with high HDL-cholesterol

MOD:

Mild obesity-related diabetes

RHAPSODY:

Risk Assessment and ProgreSsiOn of DIabetes

SIDD:

Severe insulin-deficient diabetes

SIRD:

Severe insulin-resistant diabetes
References
Ahlqvist E, Storm P, Karajamaki A et al (2018) Novel subgroups of adult-onset diabetes and their association with outcomes: a data-driven cluster analysis of six variables. Lancet Diabetes Endocrinol 6:361–369. https://doi.org/10.1016/S2213-8587(18)30051-2

Safai N, Ali A, Rossing P, Ridderstråle M (2018) Stratification of type 2 diabetes based on routine clinical markers. Diabetes Res Clin Pract 141:275–283. https://doi.org/10.1016/j.diabres.2018.05.014

Zaharia OP, Strassburger K, Strom A et al (2019) Risk of diabetes-associated diseases in subgroups of patients with recent-onset diabetes: a 5-year follow-up study. Lancet Diabetes Endocrinol 7(9):684–694. https://doi.org/10.1016/S2213-8587(19)30187-1

Dennis JM, Shields BM, Henley WE, Jones AG, Hattersley AT (2019) Disease progression and treatment response in data-driven subgroups of type 2 diabetes compared with models based on simple clinical features: an analysis using clinical trial data. Lancet Diabetes Endocrinol 7(6):442–451. https://doi.org/10.1016/S2213-8587(19)30087-7

Kahkoska AR, Geybels MS, Klein KR et al (2020) Validation of distinct type 2 diabetes clusters and their association with diabetes complications in the DEVOTE, LEADER and SUSTAIN-6 cardiovascular outcomes trials. Diabetes Obes Metab 22(9):1537–1547. https://doi.org/10.1111/dom.14063

Zou X, Zhou X, Zhu Z, Ji L (2019) Novel subgroups of patients with adult-onset diabetes in Chinese and US populations. Lancet Diabetes Endocrinol 7(1):9–11. https://doi.org/10.1016/s2213-8587(18)30316-4

Anjana RM, Baskar V, Nair ATN et al (2020) Novel subgroups of type 2 diabetes and their association with microvascular outcomes in an Asian Indian population: a data-driven cluster analysis: the INSPIRED study. BMJ Open Diabetes Res Care 8(1):1506. https://doi.org/10.1136/bmjdrc-2020-001506

Bennet L, Nilsson C, Mansour-Aly D, Christensson A, Groop L, Ahlqvist E (2020) Adult-onset diabetes in Middle Eastern immigrants to Sweden: novel subgroups and diabetic complications-the all new diabetes in scania cohort diabetic complications and ethnicity. Diabetes Metab Res Rev e3419. https://doi.org/10.1002/dmrr.3419

Bancks MP, Casanova R, Gregg EW, Bertoni AG (2019) Epidemiology of diabetes phenotypes and prevalent cardiovascular risk factors and diabetes complications in the National Health and Nutrition Examination Survey 2003-2014. Diabetes Res Clin Pract 158:107915. https://doi.org/10.1016/j.diabres.2019.107915

van der Heijden AA, Rauh SP, Dekker JM et al (2017) The Hoorn Diabetes Care System (DCS) cohort. A prospective cohort of persons with type 2 diabetes treated in primary care in the Netherlands. BMJ Open 7(5):e015599

Hebert HL, Shepherd B, Milburn K et al (2018) Cohort Profile: Genetics of Diabetes Audit and Research in Tayside Scotland (GoDARTS). Int J Epidemiol 47(2):380–381j. https://doi.org/10.1093/ije/dyx140

Zhou K, Donnelly LA, Morris AD et al (2014) Clinical and genetic determinants of progression of type 2 diabetes: a DIRECT study. Diabetes Care 37(3):718–724. https://doi.org/10.2337/dc13-1995

Yan M, Ye K (2007) Determining the number of clusters using the weighted gap statistic. Biometrics 63(4):1031–1037. https://doi.org/10.1111/j.1541-0420.2007.00784.x
Acknowledgements
We acknowledge the support of the Health Informatics Centre, University of Dundee for managing and supplying the anonymised data.
Authors' relationships and activities
KS is CEO of Lipotype GmbH. KS and CK are shareholders of Lipotype GmbH. MJG is an employee of Lipotype GmbH. GAR has received grant funding and consultancy fees from Sun Pharmaceuticals and Les Laboratoires Servier. MKH is an employee of Janssen Research & Development, LLC. AF and IP are employees of Eli Lilly Regional Operations GmbH. The authors declare that there are no relationships or activities that might bias, or be perceived to bias, their work.
Funding
This project has received funding from the Innovative Medicines Initiative 2 Joint Undertaking under grant agreement number 115881 (RHAPSODY). This Joint Undertaking receives support from the European Union's Horizon 2020 Research and Innovation programme and EFPIA. This work is supported by the Swiss State Secretariat for Education' Research and Innovation (SERI) under contract number 16.0097-2. The opinions expressed and arguments employed herein do not necessarily reflect the official views of these funding bodies. ERP was supported by a Wellcome Trust Investigator Award (102820/Z/13/Z). GAR was supported by a Wellcome Trust Senior Investigator Award (WT098424AIA) and Investigator Award (212625/Z/18/Z), by MRC Programme Grants (MR/R022259/1, MR/J0003042/1, MR/L020149/1) and by Diabetes UK Project Grants (BDA/11/0004210, BDA/15/0005275, BDA 16/0005485).
Additional information
Publisher's note
Springer Nature remains neutral with regard to jurisdictional claims in published maps and institutional affiliations.
Supplementary information
Rights and permissions
Open Access This article is licensed under a Creative Commons Attribution 4.0 International License, which permits use, sharing, adaptation, distribution and reproduction in any medium or format, as long as you give appropriate credit to the original author(s) and the source, provide a link to the Creative Commons licence, and indicate if changes were made. The images or other third party material in this article are included in the article's Creative Commons licence, unless indicated otherwise in a credit line to the material. If material is not included in the article's Creative Commons licence and your intended use is not permitted by statutory regulation or exceeds the permitted use, you will need to obtain permission directly from the copyright holder. To view a copy of this licence, visit http://creativecommons.org/licenses/by/4.0/.
About this article
Cite this article
Slieker, R.C., Donnelly, L.A., Fitipaldi, H. et al. Replication and cross-validation of type 2 diabetes subtypes based on clinical variables: an IMI-RHAPSODY study. Diabetologia 64, 1982–1989 (2021). https://doi.org/10.1007/s00125-021-05490-8
Received:

Accepted:

Published:

Issue Date:

DOI: https://doi.org/10.1007/s00125-021-05490-8
Keywords