Abstract
Aims/hypothesis
People with obesity and a normal metabolic profile are sometimes referred to as having 'metabolically healthy obesity' (MHO). However, whether this group of individuals are actually 'healthy' is uncertain. This study aims to examine the associations of MHO with a wide range of obesity-related outcomes.
Methods
This is a population-based prospective cohort study of 381,363 UK Biobank participants with a median follow-up of 11.2 years. MHO was defined as having a BMI ≥ 30 kg/m2 and at least four of the six metabolically healthy criteria. Outcomes included incident diabetes and incident and fatal atherosclerotic CVD (ASCVD), heart failure (HF) and respiratory diseases.
Results
Compared with people who were not obese at baseline, those with MHO had higher incident HF (HR 1.60; 95% CI 1.45, 1.75) and respiratory disease (HR 1.20; 95% CI 1.16, 1.25) rates, but not higher ASCVD. The associations of MHO were generally weaker for fatal outcomes and only significant for all-cause (HR 1.12; 95% CI 1.04, 1.21) and HF mortality rates (HR 1.44; 95% CI 1.09, 1.89). However, when compared with people who were metabolically healthy without obesity, participants with MHO had higher rates of incident diabetes (HR 4.32; 95% CI 3.83, 4.89), ASCVD (HR 1.18; 95% CI 1.10, 1.27), HF (HR 1.76; 95% CI 1.61, 1.92), respiratory diseases (HR 1.28; 95% CI 1.24, 1.33) and all-cause mortality (HR 1.22; 95% CI 1.14, 1.31). The results with a 5 year landmark analysis were similar.
Conclusions/interpretation
Weight management should be recommended to all people with obesity, irrespective of their metabolic status, to lower risk of diabetes, ASCVD, HF and respiratory diseases. The term 'MHO' should be avoided as it is misleading and different strategies for risk stratification should be explored.
Graphical abstract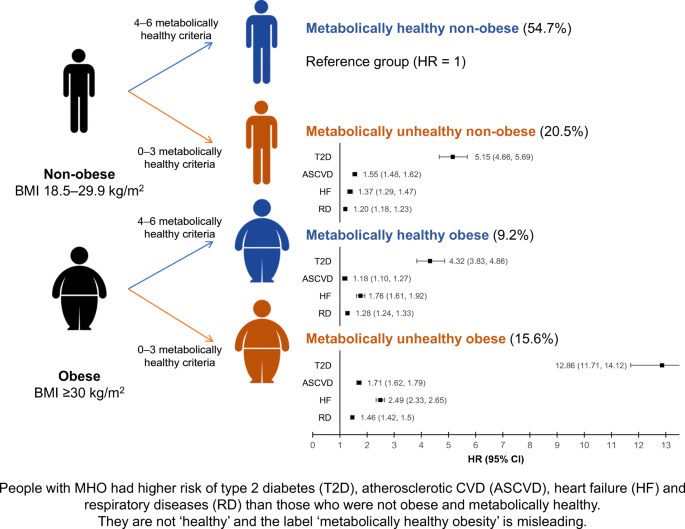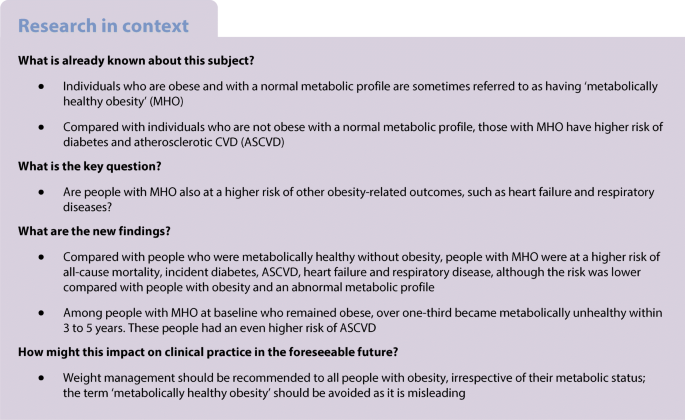 Data availability
UK Biobank data can be requested by bona fide researchers for approved projects, including replication, through https://www.ukbiobank.ac.uk/.
Abbreviations
ASCVD:

Atherosclerotic CVD

COPD:

Chronic obstructive pulmonary disease

HF:

Heart failure

MHN:

Metabolically healthy non-obesity

MHO:

Metabolically healthy obesity

MI:

Myocardial infarction

MUN:

Metabolically unhealthy non-obesity

MUO:

Metabolically unhealthy obesity
References
Zimmet P, Alberti K, Shaw J (2001) Global and societal implications of the diabetes epidemic. Nature 414(6865):782–787. https://doi.org/10.1038/414782a

Kelly T, Yang W, Chen C-S, Reynolds K, He J (2008) Global burden of obesity in 2005 and projections to 2030. Int J Obes 32(9):1431–1437. https://doi.org/10.1038/ijo.2008.102

Kromhout D, Geleijnse JM, Boer JM, Verschuren WM (2009) Body mass index and waist circumference predict both 10-year nonfatal and fatal cardiovascular disease risk: study conducted in 20 000 Dutch men and women aged 20–65 years. Eur J Cardiovasc Prev Rehabil 16(6):729–734

Hopps E, Noto D, Caimi G, Averna MR (2010) A novel component of the metabolic syndrome: the oxidative stress. Nutr Metab Cardiovasc Dis 20(1):72–77. https://doi.org/10.1016/j.numecd.2009.06.002

Kim SH, Abbasi F, Reaven GM (2004) Impact of degree of obesity on surrogate estimates of insulin resistance. Diabetes Care 27(8):1998–2002. https://doi.org/10.2337/diacare.27.8.1998

Stefan N, Häring H-U, Hu FB, Schulze MB (2013) Metabolically healthy obesity: epidemiology, mechanisms, and clinical implications. Lancet Diabetes Endocrinol 1(2):152–162. https://doi.org/10.1016/S2213-8587(13)70062-7

Hinnouho G-M, Czernichow S, Dugravot A, Batty GD, Kivimaki M, Singh-Manoux A (2013) Metabolically healthy obesity and risk of mortality: does the definition of metabolic health matter? Diabetes Care 36(8):2294–2300. https://doi.org/10.2337/dc12-1654

Lopez-Garcia E, Guallar-Castillon P, Leon-Muñoz L, Rodriguez-Artalejo F (2013) Prevalence and determinants of metabolically healthy obesity in Spain. Atherosclerosis 231(1):152–157. https://doi.org/10.1016/j.atherosclerosis.2013.09.003

Zhang M, Tong W, Chen J, Zhang Y, Li S (2014) Metabolically healthy obesity and its associates in Mongolian Chinese adults. Metab Syndr Relat Disord 12(3):185–190. https://doi.org/10.1089/met.2013.0102

Bell JA, Kivimaki M, Hamer M (2014) Metabolically healthy obesity and risk of incident type 2 diabetes: a meta-analysis of prospective cohort studies. Obes Rev 15(6):504–515

Hamer M, Stamatakis E (2012) Metabolically healthy obesity and risk of all-cause and cardiovascular disease mortality. J Clin Endocrinol Metab 97(7):2482–2488. https://doi.org/10.1210/jc.2011-3475

Ärnlöv J, Ingelsson E, Sundström J, Lind L (2010) Impact of body mass index and the metabolic syndrome on the risk of cardiovascular disease and death in middle-aged men. Circulation 121(2):230–236. https://doi.org/10.1161/CIRCULATIONAHA.109.887521

Twig G, Afek A, Derazne E et al (2014) Diabetes risk among overweight and obese metabolically healthy young adults. Diabetes Care 37(11):2989–2995. https://doi.org/10.2337/dc14-0869

Blüher M (2020) Metabolically healthy obesity. Endocr Rev 41(3):405–420. https://doi.org/10.1210/endrev/bnaa004

Iacobini C, Pugliese G, Blasetti Fantauzzi C, Federici M, Menini S (2019) Metabolically healthy versus metabolically unhealthy obesity. Metab Clin Exp 92:51–60. https://doi.org/10.1016/j.metabol.2018.11.009

Appleton SL, Seaborn CJ, Visvanathan R et al (2013) Diabetes and cardiovascular disease outcomes in the metabolically healthy obese phenotype: a cohort study. Diabetes Care 36(8):2388–2394. https://doi.org/10.2337/dc12-1971

Sudlow C, Gallacher J, Allen N et al (2015) UK Biobank: an open access resource for identifying the causes of a wide range of complex diseases of middle and old age. PLoS Med 12(3):e1001779. https://doi.org/10.1371/journal.pmed.1001779

Fry D, Almon R, Moffat S et al (2019) UK Biobank Biomarker Project Companion Document to Accompany Serum Biomarker Data: UK Biobank. Available from https://biobank.ndph.ox.ac.uk/showcase/showcase/docs/serum_biochemistry.pdf. Accessed 7 Apr 2021

van Vliet-Ostaptchouk JV, Nuotio M-L, Slagter SN et al (2014) The prevalence of metabolic syndrome and metabolically healthy obesity in Europe: a collaborative analysis of ten large cohort studies. BMC Endocr Disord 14(1):9

Goff DC, Lloyd-Jones DM, Bennett G et al (2014) 2013 ACC/AHA guideline on the assessment of cardiovascular risk: a report of the American College of Cardiology/American Heart Association Task Force on Practice Guidelines. J Am Coll Cardiol 63(25 Part B):2935–2959

Craig CL, Marshall AL, Sjöström M et al (2003) International physical activity questionnaire: 12-country reliability and validity. Med Sci Sports Exerc 35(8):1381–1395. https://doi.org/10.1249/01.MSS.0000078924.61453.FB

Townsend P, Phillimore P, Beattie A (1987) Health and deprivation. Inequality and the North. Routledge, London

Govindarajulu US, Malloy EJ, Ganguli B, Spiegelman D, Eisen EA (2009) The comparison of alternative smoothing methods for fitting non-linear exposure-response relationships with Cox models in a simulation study. Int J Biostat 5(1):Article 2. https://doi.org/10.2202/1557-4679.1104

Tingley D, Yamamoto T, Hirose K, Keele L, Imai K (2014) Mediation: R package for causal mediation analysis. J Stat Softw https://doi.org/10.18637/jss.v059.i05

Collins R (2012) What makes UK Biobank special? Lancet 379(9822):1173–1174. https://doi.org/10.1016/S0140-6736(12)60404-8

Batty GD, Gale CR, Kivimäki M, Deary IJ, Bell S (2020) Comparison of risk factor associations in UK Biobank against representative, general population based studies with conventional response rates: prospective cohort study and individual participant meta-analysis. BMJ 368:m131. https://doi.org/10.1136/bmj.m131

Di Angelantonio E, Gao P, Khan H et al (2014) Glycated hemoglobin measurement and prediction of cardiovascular disease. JAMA 311(12):1225–1233. https://doi.org/10.1001/jama.2014.1873

Korduner J, Bachus E, Jujic A, Magnusson M, Nilsson PM (2019) Metabolically healthy obesity (MHO) in the Malmö diet cancer study–epidemiology and prospective risks. Obes Res Clin Pract 13(6):548–554. https://doi.org/10.1016/j.orcp.2019.10.002

Nilsson PM, Korduner J, Magnusson M (2020) Metabolically healthy obesity (MHO)—new research directions for personalised medicine in cardiovascular prevention. Curr Hypertens Rep 22(2):1–5

Lassale C, Tzoulaki I, Moons KGM et al (2018) Separate and combined associations of obesity and metabolic health with coronary heart disease: a pan-European case-cohort analysis. Eur Heart J 39(5):397–406. https://doi.org/10.1093/eurheartj/ehx448

Sattar N, McGuire DK (2018) Pathways to cardiorenal complications in type 2 diabetes mellitus: a need to rethink. Circulation 138(1):7–9. https://doi.org/10.1161/CIRCULATIONAHA.118.035083

Rosengren A, Åberg M, Robertson J et al (2017) Body weight in adolescence and long-term risk of early heart failure in adulthood among men in Sweden. Eur Heart J 38(24):1926–1933. https://doi.org/10.1093/eurheartj/ehw221

Poulain M (2006) The effect of obesity on chronic respiratory diseases: pathophysiology and therapeutic strategies. Can Med Assoc J 174(9):1293–1299. https://doi.org/10.1503/cmaj.051299

Franssen FME, O'Donnell DE, Goossens GH, Blaak EE, Schols AMWJ (2008) Obesity and the lung: 5. Obesity and COPD. Thorax 63(12):1110–1117. https://doi.org/10.1136/thx.2007.086827

Soriano JB, Kendrick PJ, Paulson KR et al (2020) Prevalence and attributable health burden of chronic respiratory diseases, 1990–2017: a systematic analysis for the Global Burden of Disease Study 2017. Lancet Respir Med 8(6):585–596. https://doi.org/10.1016/S2213-2600(20)30105-3

Igel LI, Kumar RB, Saunders KH, Aronne LJ (2017) Practical use of pharmacotherapy for obesity. Gastroenterology 152(7):1765–1779. https://doi.org/10.1053/j.gastro.2016.12.049

Wilding JP, Batterham RL, Calanna S et al (2021) Once-weekly semaglutide in adults with overweight or obesity. N Engl J Med 384(11):989–1002. https://doi.org/10.1056/NEJMoa2032183

Busetto L, Dicker D, Azran C et al (2017) Practical recommendations of the obesity management task force of the European Association for the Study of obesity for the post-bariatric surgery medical management. Obes Facts 10(6):597–632

Sattar N, McConnachie A, Shaper AG et al (2008) Can metabolic syndrome usefully predict cardiovascular disease and diabetes? Outcome data from two prospective studies. Lancet 371(9628):1927–1935. https://doi.org/10.1016/S0140-6736(08)60602-9
Acknowledgements
We are grateful to UK Biobank participants. This research has been conducted using the UK Biobank Resource under Application Number 7155.
Authors' relationships and activities
NS has received grants and personal fees from Boehringer Ingelheim, and personal fees from Amgen, AstraZeneca, Eli Lilly, Merck Sharp & Dohme, Novartis, Novo Nordisk, Pfizer and Sanofi outside the submitted work. The remaining authors declare that there are no relationships or activities that might bias, or be perceived to bias, their work.
Funding
UK Biobank was established by the Wellcome Trust, the Medical Research Council, the Department of Health, the Scottish government and the Northwest Regional Development Agency. It has also had funding from the Welsh Assembly government and the British Heart Foundation.
Additional information
Publisher's note
Springer Nature remains neutral with regard to jurisdictional claims in published maps and institutional affiliations.
Supplementary Information
Rights and permissions
Open Access This article is licensed under a Creative Commons Attribution 4.0 International License, which permits use, sharing, adaptation, distribution and reproduction in any medium or format, as long as you give appropriate credit to the original author(s) and the source, provide a link to the Creative Commons licence, and indicate if changes were made. The images or other third party material in this article are included in the article's Creative Commons licence, unless indicated otherwise in a credit line to the material. If material is not included in the article's Creative Commons licence and your intended use is not permitted by statutory regulation or exceeds the permitted use, you will need to obtain permission directly from the copyright holder. To view a copy of this licence, visit http://creativecommons.org/licenses/by/4.0/.
About this article
Cite this article
Zhou, Z., Macpherson, J., Gray, S.R. et al. Are people with metabolically healthy obesity really healthy? A prospective cohort study of 381,363 UK Biobank participants. Diabetologia 64, 1963–1972 (2021). https://doi.org/10.1007/s00125-021-05484-6
Received:

Accepted:

Published:

Issue Date:

DOI: https://doi.org/10.1007/s00125-021-05484-6
Keywords
Cardiovascular disease

Metabolically healthy obesity

Obesity