Abstract
Aims/hypothesis
Recurrent hypoglycaemia in people with diabetes leads to progressive suppression of counterregulatory hormonal responses to subsequent hypoglycaemia. Recently it has been proposed that the mechanism underpinning this is a form of adaptive memory referred to as habituation. To test this hypothesis, we use two different durations of cold exposure to examine whether rodents exposed to recurrent hypoglycaemia exhibit two characteristic features of habituation, namely stimulus generalisation and dishabituation.
Methods
In the first study (stimulus generalisation study), hyperinsulinaemic–hypoglycaemic (2.8 mmol/l) glucose clamps were performed in non-diabetic rodents exposed to prior moderate-duration cold (4°C for 3 h) or control conditions. In the second study (dishabituation study), rodents exposed to prior recurrent hypoglycaemia or saline (154 mmol/l NaCl) injections over 4 weeks underwent a longer-duration cold (4°C for 4.5 h) exposure followed 24 h later by a hyperinsulinaemic–hypoglycaemic (2.8 mmol/l) glucose clamp. Output measures were counterregulatory hormone responses during experimental hypoglycaemia.
Results
Moderate-duration cold exposure blunted the adrenaline (epinephrine) response (15,266 ± 1920 vs 7981 ± 1258 pmol/l, Control vs Cold; p < 0.05) to next day hypoglycaemia in healthy non-diabetic rodents. In contrast, the suppressed adrenaline response (Control 5912 ± 1417 vs recurrent hypoglycaemia 1836 ± 736 pmol/l; p < 0.05) that is associated with recurrent hypoglycaemia was restored following longer-duration cold exposure (recurrent hypoglycaemia + Cold 4756 ± 826 pmol/l; not significant vs Control).
Conclusions/interpretation
Non-diabetic rodents exhibit two cardinal features of habituation, namely stimulus generalisation and dishabituation. These findings provide further support for the hypothesis that suppressed counterregulatory responses following exposure to recurrent hypoglycaemia in diabetes result from habituation.
Graphical abstract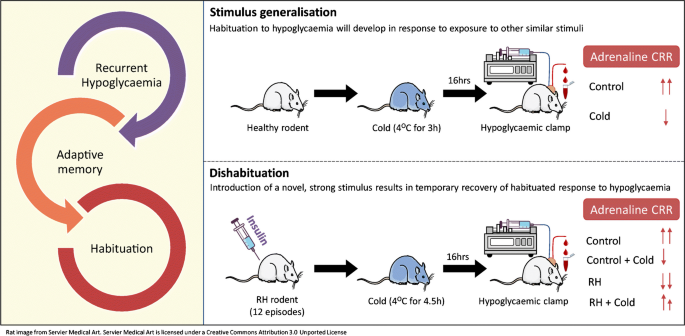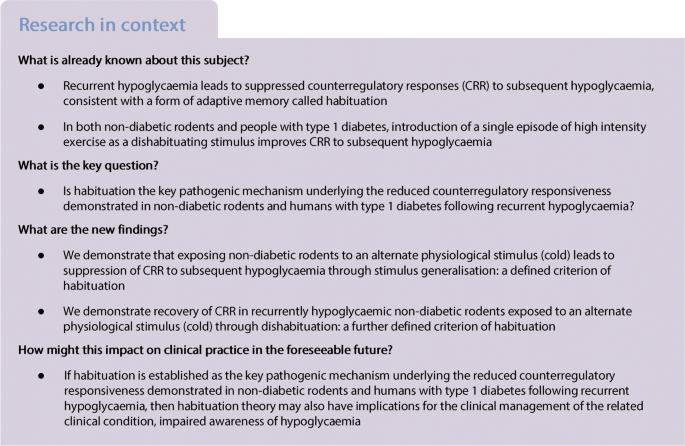 Data availability
Data are available on request from the corresponding author.
Abbreviations
CRR:

Counterregulatory responses

GIR:

Glucose infusion rate

HIT:

High intensity training

IAH:

Impaired awareness of hypoglycaemia
References
Davis MR, Mellman M, Shamoon H (1992) Further defects in counterregulatory responses induced by recurrent hypoglycemia in IDDM. Diabetes 41:1335–1340. https://doi.org/10.2337/diab.41.10.1335

Heller SR, Cryer PE (1991) Reduced neuroendocrine and symptomatic responses to subsequent hypoglycemia after 1 episode of hypoglycemia in nondiabetic humans. Diabetes 40:223–226. https://doi.org/10.2337/diab.40.2.223

Frier BM (2014) Impaired awareness of hypoglycaemia. In: Frier DM, Heller SR, McCrimmon RJ (eds) Hypoglycaemia in clinical diabetes, 3rd edn. Wiley-Blackwell, Chichester, pp 114–144

Thompson RF, Spencer WA (1966) Habituation: a model phenomenon for the study of neuronal substrates of behavior. Psychol Rev 73:16–43. https://doi.org/10.1037/h0022681

McNeilly AD, McCrimmon RJ (2018) Impaired hypoglycaemia awareness in type 1 diabetes: lessons from the lab. Diabetologia 61:743–750. https://doi.org/10.1007/s00125-018-4548-8

McNeilly AD, Gallagher JR, Huang JT, Ashford MLJ, McCrimmon RJ (2017) High-intensity exercise as a dishabituating stimulus restores counterregulatory responses in recurrently hypoglycemic rodents. Diabetes 66:1696–1702

Farrell CM, McNeilly AD, Fournier P et al (2020) A randomised controlled study of high intensity exercise as a dishabituating stimulus to improve hypoglycaemia awareness in people with type 1 diabetes: a proof-of-concept study. Diabetologia 63:853–863. https://doi.org/10.1007/s00125-019-05076-5

Zhou L, Podolsky N, Sang Z et al (2010) The medial amygdalar nucleus: a novel glucose-sensing region that modulates the counterregulatory response to hypoglycemia. Diabetes 59:2646–2652. https://doi.org/10.2337/db09-0995

Kinsley BT, Widom B, Utzschneider K, Simonson DC (1994) Stimulus specificity of defects in counterregulatory hormone secretion in insulin-dependent diabetes mellitus: effect of glycemic control. J Clin Endocrinol Metab 79:1383–1389. https://doi.org/10.1210/jcem.79.5.7962332

Rankin CH, Abrams T, Barry RJ et al (2009) Habituation revisited: an updated and revised description of the behavioral characteristics of habituation. Neurobiol Learn Mem 92:135–138. https://doi.org/10.1016/j.nlm.2008.09.012

Farrell CM, McNeilly AD, West D, McCrimmon RJ (2020) High-intensity training as a novel treatment for impaired awareness of hypoglycaemia in type 1 diabetes [HIT4HYPOS]: Protocol for a randomized parallel-group study. Endocrinol Diab Metab 4:e00166
Acknowledgements
Some of the data from this work were presented as an abstract at the 55th Annual Meeting of the EASD, Barcelona, 2019. The authors would like to thank C. Farrell, C. Forteath, C. Pourreyron and C. Ross, Division of Systems Medicine, University of Dundee, Dundee, UK for their advice and assistance with clamp studies.
Authors' relationships and activities
The authors declare that there are no relationships or activities that might bias, or be perceived to bias, their work.
Funding
Hypo-RESOLVE has received funding from the Innovative Medicines Initiative 2 Joint Undertaking (JU) under grant agreement no. 777460. The JU receives support from the European Union's Horizon 2020 research and innovation programme and EFPIA and T1D Exchange, JDRF, International Diabetes Federation (IDF) and The Leona M. and Harry B. Helmsley Charitable Trust.
Additional information
Publisher's note
Springer Nature remains neutral with regard to jurisdictional claims in published maps and institutional affiliations.
Supplementary Information
Rights and permissions
Open Access This article is licensed under a Creative Commons Attribution 4.0 International License, which permits use, sharing, adaptation, distribution and reproduction in any medium or format, as long as you give appropriate credit to the original author(s) and the source, provide a link to the Creative Commons licence, and indicate if changes were made. The images or other third party material in this article are included in the article's Creative Commons licence, unless indicated otherwise in a credit line to the material. If material is not included in the article's Creative Commons licence and your intended use is not permitted by statutory regulation or exceeds the permitted use, you will need to obtain permission directly from the copyright holder. To view a copy of this licence, visit http://creativecommons.org/licenses/by/4.0/.
About this article
Cite this article
Vickneson, K., Blackburn, J., Gallagher, J.R. et al. Cold-induced dishabituation in rodents exposed to recurrent hypoglycaemia. Diabetologia 64, 1436–1441 (2021). https://doi.org/10.1007/s00125-021-05425-3
Received:

Accepted:

Published:

Issue Date:

DOI: https://doi.org/10.1007/s00125-021-05425-3
Keywords
Cold

Counterregulatory responses

Habituation

Hypoglycaemia

Impaired awareness

Type 1 diabetes