Abstract
Aims/hypothesis
We aimed to assess and contextualise 134 potential risk variables for the development of type 2 diabetes and to determine their applicability in risk prediction.
Methods
A total of 96,534 people without baseline diabetes (372,007 person-years) from the Dutch Lifelines cohort were included. We used a risk variable-wide association study (RV-WAS) design to independently screen and replicate risk variables for 5-year incidence of type 2 diabetes. For identified variables, we contextualised HRs, calculated correlations and assessed their robustness and unique contribution in different clinical contexts using bootstrapped and cross-validated lasso regression models. We evaluated the change in risk, or 'HR trajectory', when sequentially assigning variables to a model.
Results
We identified 63 risk variables, with novel associations for quality-of-life indicators and non-cardiovascular medications (i.e., proton-pump inhibitors, anti-asthmatics). For continuous variables, the increase of 1 SD of HbA1c, i.e., 3.39 mmol/mol (0.31%), was equivalent in risk to an increase of 0.53 mmol/l of glucose, 19.8 cm of waist circumference, 8.34 kg/m2 of BMI, 0.67 mmol/l of HDL-cholesterol, and 0.14 mmol/l of uric acid. Other variables required an increase of >3 SD, which is not physiologically realistic or a rare occurrence in the population. Though moderately correlated, the inclusion of four variables satiated prediction models. Invasive variables, except for glucose and HbA1c, contributed little compared with non-invasive variables. Glucose, HbA1c and family history of diabetes explained a unique part of disease risk. Adding risk variables to a satiated model can impact the HRs of variables already in the model.
Conclusions
Many variables show weak or inconsistent associations with the development of type 2 diabetes, and only a handful can reliably explain disease risk. Newly discovered risk variables will yield little over established factors, and existing prediction models can be simplified. A systematic, data-driven approach to identify risk variables for the prediction of type 2 diabetes is necessary for the practice of precision medicine.
Graphical abstract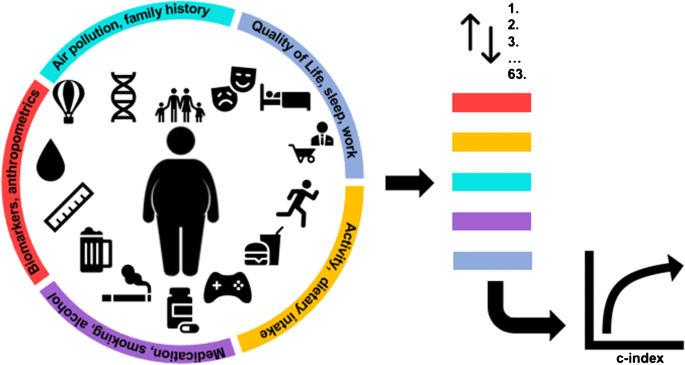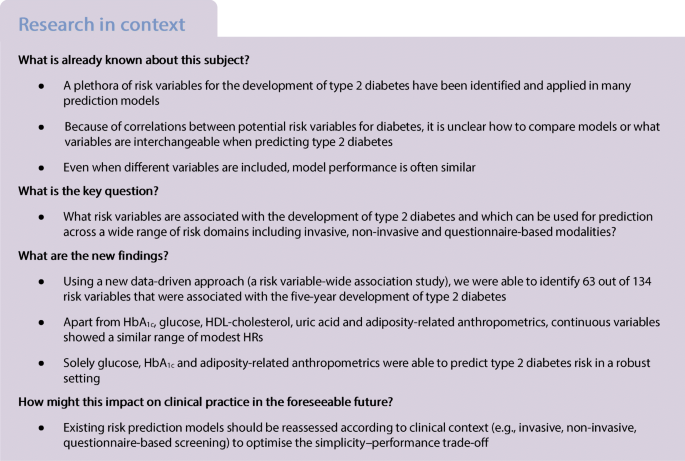 Data availability
Statistical code is available in the LIFEWAS package [17]. The manuscript is based on data from the Lifelines Cohort Study. Lifelines adheres to standards for data availability. The data catalogue of Lifelines is publicly accessible at www.lifelines.nl. All international researchers can obtain data at the Lifelines research office (research@lifelines.nl), for which a fee is required. The Lifelines system allows access for reproducibility of the study results.
Abbreviations
FDR:

False discovery rate

IFG:

Impaired fasting glucose

RV-WAS:

Risk variable-wide association study

UMCG:

University Medical Center Groningen
References
Bellou V, Belbasis L, Tzoulaki I, Evangelou E (2018) Risk factors for type 2 diabetes mellitus: an exposure-wide umbrella review of meta-analyses. PLoS One 13(3):e0194127. https://doi.org/10.1371/journal.pone.0194127

Noble D, Mathur R, Dent T, Meads C, Greenhalgh T (2011) Risk models and scores for type 2 diabetes: systematic review. BMJ (Online) 343:d7163

Tabák AG, Jokela M, Akbaraly TN, Brunner EJ, Kivimäki M, Witte DR (2009) Trajectories of glycaemia, insulin sensitivity, and insulin secretion before diagnosis of type 2 diabetes: an analysis from the Whitehall II study. Lancet. 373(9682):2215–2221. https://doi.org/10.1016/S0140-6736(09)60619-X

Abbasi A, Peelen LM, Corpeleijn E et al (2012) Prediction models for risk of developing type 2 diabetes: systematic literature search and independent external validation study. BMJ 345:e5900. https://doi.org/10.1136/bmj.e5900

Patel CJ, Cullen MR, Ioannidis JPA, Butte AJ (2012) Systematic evaluation of environmental factors: persistent pollutants and nutrients correlated with serum lipid levels. Int J Epidemiol 41(3):828–843. https://doi.org/10.1093/ije/dys003

Tzoulaki I, Patel CJ, Okamura T et al (2012) A nutrient-wide association study on blood pressure. Circulation 126(21):2456–2464. https://doi.org/10.1161/CIRCULATIONAHA.112.114058

Benjamini Y, Yekutieli D (2001) The control of the false discovery rate in multiple testing under dependency. Ann Stat 29(4):1165–1188

Zijlema WL, Smidt N, Klijs B et al (2016) The LifeLines Cohort Study: a resource providing new opportunities for environmental epidemiology. Arch Public Health 1(74):32

Patel CJ, Ji J, Sundquist J, Ioannidis JPA, Sundquist K (2016) Systematic assessment of pharmaceutical prescriptions in association with cancer risk: a method to conduct a population-wide medication-wide longitudinal study. Sci Rep 6:31308

Agniel D, Kohane IS, Weber GM (2018) Biases in electronic health record data due to processes within the healthcare system: retrospective observational study. BMJ 361:k1479

World Health Organization (2006) Definition and diagnosis of diabetes mellitus and intermediate hyperglycemia: Report of a WHO/IDF consultation. World Health Organization, Geneva

van der Meer TP Risk variables for predicting type 2 diabetes. https://chiragjp.shinyapps.io/t2d_relative_risk_variables/. Accessed 17 Jul 2020

Warnes GR, Bolker B, Bonebakker L, et al (2009) gplots: various R programming tools for plotting data. R package version 2(4):1

Patel CJ, Ioannidis JPA (2014) Placing epidemiological results in the context of multiplicity and typical correlations of exposures. J Epidemiol Community Health 68(11):1096–1100. https://doi.org/10.1136/jech-2014-204195

Tibshirani R (1996) Regression shrinkage and selection via the lasso. J R Stat Soc Ser B Stat Methodol 58(1):267–288

R Development Core Team (2017) R: a language and environment for statistical computing. R Foundation for Statistical Computing, Vienna, Austria

LIFEWAS. https://github.com/LIFEWAS/LIFEWAS. Accessed 10 Jun 2020

Meigs JB, Cupples LA, Wilson PW (2000) Parental transmission of type 2 diabetes: the Framingham Offspring Study. Diabetes 49(12):2201–2207. https://doi.org/10.2337/diabetes.49.12.2201

Vangipurapu J, Fernandes Silva L, Kuulasmaa T, Smith U, Laakso M (2020) Microbiota-related metabolites and the risk of type 2 diabetes. Diabetes Care 43(6):1319–1325

Wang TJ, Larson MG, Vasan RS et al (2011) Metabolite profiles and the risk of developing diabetes. Nat Med 17:448–453. https://doi.org/10.1038/nm.2307

He Y, Lakhani CM, Rasooly D, Manrai AK, Tzoulaki I, Patel CJ (2021) Comparisons of polyexposure, polygenic, and clinical risk scores in risk prediction of type 2 diabetes. Diabetes Care. https://doi.org/10.2337/dc20-2049

Saeedi P, Petersohn I, Salpea P et al (2019) Global and regional diabetes prevalence estimates for 2019 and projections for 2030 and 2045: results from the international diabetes federation diabetes atlas, 9th edition. Diabetes Res Clin Pract 157:107843. https://doi.org/10.1016/j.diabres.2019.107843
Acknowledgements
The authors wish to acknowledge the services of the Lifelines Cohort Study, the contributing research centres delivering data to Lifelines, and all the study participants.
Authors' relationships and activities
CJP is a co-founder, consultant and equity holder of XY.health, Inc. All other authors declare that there are no relationships or activities that might bias, or be perceived to bias, their work.
Funding
CJP had financial support from the National Institutes of Health (grant R01AI127250) for the submitted work.
Additional information
Publisher's note
Springer Nature remains neutral with regard to jurisdictional claims in published maps and institutional affiliations.
Supplementary Information
Rights and permissions
Open Access This article is licensed under a Creative Commons Attribution 4.0 International License, which permits use, sharing, adaptation, distribution and reproduction in any medium or format, as long as you give appropriate credit to the original author(s) and the source, provide a link to the Creative Commons licence, and indicate if changes were made. The images or other third party material in this article are included in the article's Creative Commons licence, unless indicated otherwise in a credit line to the material. If material is not included in the article's Creative Commons licence and your intended use is not permitted by statutory regulation or exceeds the permitted use, you will need to obtain permission directly from the copyright holder. To view a copy of this licence, visit http://creativecommons.org/licenses/by/4.0/.
About this article
Cite this article
van der Meer, T.P., Wolffenbuttel, B.H.R. & Patel, C.J. Data-driven assessment, contextualisation and implementation of 134 variables in the risk for type 2 diabetes: an analysis of Lifelines, a prospective cohort study in the Netherlands. Diabetologia 64, 1268–1278 (2021). https://doi.org/10.1007/s00125-021-05419-1
Received:

Accepted:

Published:

Issue Date:

DOI: https://doi.org/10.1007/s00125-021-05419-1
Keywords
Contextualisation

Data-driven

Identification

Lasso regression

Machine learning

Prediction models

Prospective

Risk variable-wide association study

Type 2 diabetes