Abstract
Aims/hypothesis
Observational studies have shown a bidirectional association between major depressive disorder (MDD) and cardiometabolic diseases. We conducted a two-sample bidirectional Mendelian randomisation (MR) study to assess the causal associations of MDD with type 2 diabetes, coronary artery disease (CAD) and heart failure and vice versa.
Methods
We extracted summary-level data for MDD, type 2 diabetes, CAD and heart failure from corresponding published large genome-wide association studies of individuals mainly of European-descent. In total, 96 SNPs for MDD, 202 SNPs for type 2 diabetes, 44 SNPs for CAD and 12 SNPs for heart failure were proposed as instrumental variables at the genome-wide significance level (p < 5 × 10−8). The random-effects inverse-variance weighted method was used for the main analyses.
Results
Genetic liability to MDD was significantly associated with type 2 diabetes and CAD at the Bonferroni-corrected significance level. The ORs of type 2 diabetes and CAD were respectively 1.26 (95% CI 1.10, 1.43; p = 6 × 10−4) and 1.16 (95% CI 1.05, 1.29; p = 0.0047) per one-unit increase in loge odds of MDD. There was a suggestive association between MDD and heart failure (OR 1.11 [95% CI 1.01, 1.21]; p = 0.033). We found limited evidence supporting causal effects of cardiometabolic diseases on MDD risk in the reverse MR analyses.
Conclusions/interpretation
The present study strengthened the evidence that MDD is a potential risk factor for type 2 diabetes and CAD. Whether MDD is causally related to heart failure needs further study.
Data availability
All data included in this study were uploaded as supplements and are also publicly available through published GWASs and open GWAS datasets (UK Biobank, 23andMe and Psychiatric Genomics: https://datashare.is.ed.ac.uk/handle/10283/3203; DIAGRAM: http://diagram-consortium.org/downloads.html; CARDIoGRAMplusCD4: www.cardiogramplusc4d.org/; HERMES: http://www.kp4cd.org/datasets/mi).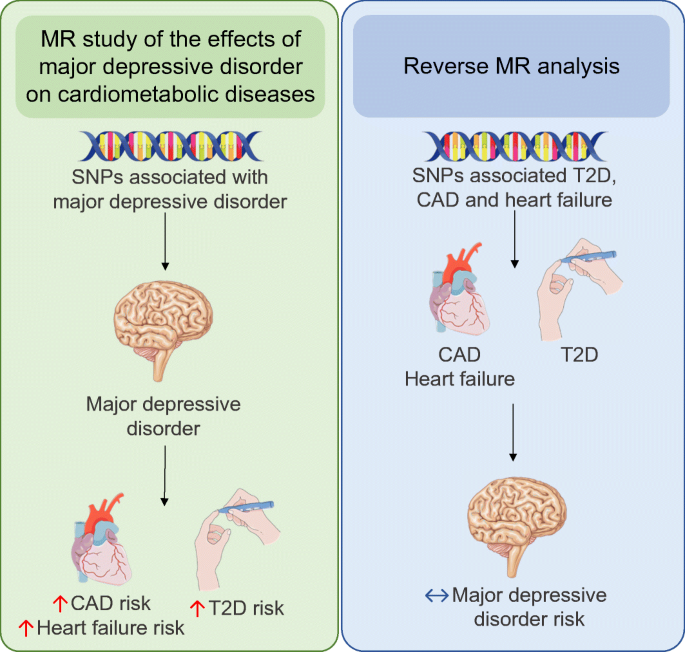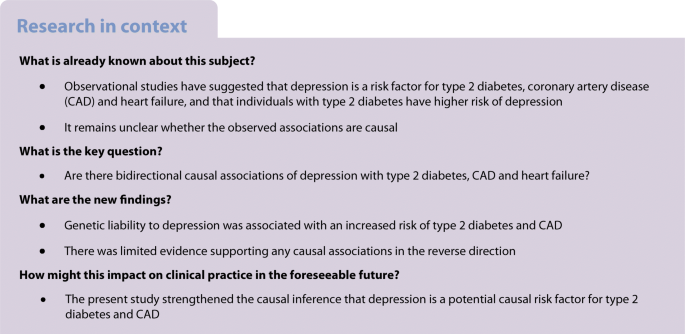 Abbreviations
CAD:

Coronary artery disease

GWAS:

Genome-wide association study

IVW:

Inverse-variance weighted

MDD:

Major depressive disorder

MR:

Mendelian randomisation

MR-PRESSO:

Mendelian randomisation pleiotropy residual sum and outlier
References
World Health Organization (2017) Depression and other common mental disorders: global health estimates. World Health Organization, Geneva

Ogurtsova K, da Rocha Fernandes JD, Huang Y et al (2017) IDF diabetes atlas: global estimates for the prevalence of diabetes for 2015 and 2040. Diabetes Res Clin Pract 28:40–50

Anderson RJ, Freedland KE, Clouse RE, Lustman PJ (2001) The prevalence of comorbid depression in adults with diabetes. Diabetes Care 24(6):1069–1078. https://doi.org/10.2337/diacare.24.6.1069

Carnethon MR, Kinder LS, Fair JM, Stafford RS, Fortmann SP (2003) Symptoms of depression as a risk factor for incident diabetes: findings from the National Health and Nutrition Examination Epidemiologic Follow-up Study, 1971–1992. Am J Epidemiol 158(5):416–423. https://doi.org/10.1093/aje/kwg172

Musselman DL, Betan E, Larsen H, Phillips LS (2003) Relationship of depression to diabetes types 1 and 2: epidemiology, biology, and treatment. Biol Psychiatry 54(3):317–329. https://doi.org/10.1016/s0006-3223(03)00569-9

de Jonge P, Roy JF, Saz P, Marcos G, Lobo A, ZARADEMP Investigators (2006) Prevalent and incident depression in community-dwelling elderly persons with diabetes mellitus: results from the ZARADEMP project. Diabetologia 49(11):2627–2633. https://doi.org/10.1007/s00125-006-0442-x

Tabák AG, Akbaraly TN, Batty GD, Kivimäki M (2014) Depression and type 2 diabetes: a causal association? Lancet Diabetes Endocrinol 2(3):236–245. https://doi.org/10.1016/S2213-8587(13)70139-6

Smith G, Ebrahim S (2003) ʻMendelian randomization': can genetic epidemiology contribute to understanding environmental determinants of disease? Int J Epidemiol 32(1):1–22. https://doi.org/10.1093/ije/dyg070

Abramson J, Berger A, Krumholz HM, Vaccarino V (2001) Depression and risk of heart failure among older persons with isolated systolic hypertension. JAMA Intern Med 161(14):1725–1730

Lett HS, Blumenthal JA, Babyak MA et al (2004) Depression as a risk factor for coronary artery disease: evidence, mechanisms, and treatment. Psychosom Med 66(3):305–315. https://doi.org/10.1097/01.psy.0000126207.43307.c0

Rugulies R (2002) Depression as a predictor for coronary heart disease: a review and meta-analysis. Am J Prev Med 23(1):51–61. https://doi.org/10.1016/S0749-3797(02)00439-7

Williams SA, Kasl SV, Heiat A, Abramson JL, Krumholz HM, Vaccarino V (2002) Depression and risk of heart failure among the elderly: a prospective community-based study. Psychosom Med 64(1):6–12. https://doi.org/10.1097/00006842-200201000-00002

Davey Smith G, Ebrahim S (2005) What can mendelian randomisation tell us about modifiable behavioural and environmental exposures? BMJ 330(7499):1076–1079. https://doi.org/10.1136/bmj.330.7499.1076

Howard DM, Adams MJ, Clarke T-K et al (2019) Genome-wide meta-analysis of depression identifies 102 independent variants and highlights the importance of the prefrontal brain regions. Nat Neurosci 22(3):343–352. https://doi.org/10.1038/s41593-018-0326-7

Mahajan A, Taliun D, Thurner M et al (2018) Fine-mapping type 2 diabetes loci to single-variant resolution using high-density imputation and islet-specific epigenome maps. Nat Genet 50(11):1505–1513. https://doi.org/10.1038/s41588-018-0241-6

Nikpay M, Goel A, Won H-H et al (2015) A comprehensive 1,000 genomes-based genome-wide association meta-analysis of coronary artery disease. Nat Genet 47(10):1121–1130. https://doi.org/10.1038/ng.3396

Shah S, Henry A, Roselli C et al (2020) Genome-wide association and Mendelian randomisation analysis provide insights into the pathogenesis of heart failure. Nat Commun 11(1):163. https://doi.org/10.1038/s41467-019-13690-5

Bowden J, Del Greco MF, Minelli C, Davey Smith G, Sheehan N, Thompson J (2017) A framework for the investigation of pleiotropy in two-sample summary data Mendelian randomization. Stat Med 36(11):1783–1802. https://doi.org/10.1002/sim.7221

Brion M-JA, Shakhbazov K, Visscher PM (2012) Calculating statistical power in Mendelian randomization studies. Int J Epidemiol 42(5):1497–1501

Knol MJ, Twisk JWR, Beekman ATF, Heine RJ, Snoek FJ, Pouwer F (2006) Depression as a risk factor for the onset of type 2 diabetes mellitus. A meta-analysis. Diabetologia 49(5):837–845. https://doi.org/10.1007/s00125-006-0159-x

Mezuk B, Eaton WW, Albrecht S, Golden SH (2008) Depression and type 2 diabetes over the lifespan. A meta-analysis. 31(12):2383–2390

Pan A, Lucas M, Sun Q et al (2010) Bidirectional association between depression and type 2 diabetes mellitus in women. JAMA Intern Med 170(21):1884–1891

Golden SH, Lazo M, Carnethon M et al (2008) Examining a bidirectional association between depressive symptoms and diabetes. JAMA 299(23):2751–2759. https://doi.org/10.1001/jama.299.23.2751

Chen P-C, Chan Y-T, Chen H-F, Ko M-C, Li C-Y (2013) Population-based cohort analyses of the bidirectional relationship between type 2 diabetes and depression. Diabetes Care 36(2):376–382. https://doi.org/10.2337/dc12-0473

Renn BN, Feliciano L, Segal DL (2011) The bidirectional relationship of depression and diabetes: a systematic review. Clin Psychol Rev 31(8):1239–1246. https://doi.org/10.1016/j.cpr.2011.08.001

Talbot F, Nouwen A (2000) A review of the relationship between depression and diabetes in adults: is there a link? Diabetes Care 23(10):1556–1562. https://doi.org/10.2337/diacare.23.10.1556

Khawaja IS, Westermeyer JJ, Gajwani P, Feinstein RE (2009) Depression and coronary artery disease: the association, mechanisms, and therapeutic implications. Psychiatry 6(1):38–51

He J, Ogden LG, Bazzano LA, Vupputuri S, Loria C, Whelton PK (2001) Risk factors for congestive heart failure in US men and women: NHANES I Epidemiologic Follow-up Study. JAMA Intern Med 161(7):996–1002

Strine TW, Mokdad AH, Dube SR et al (2008) The association of depression and anxiety with obesity and unhealthy behaviors among community-dwelling US adults. Gen Hosp Psychiatry 30(2):127–137. https://doi.org/10.1016/j.genhosppsych.2007.12.008

Tyrrell J, Mulugeta A, Wood AR et al (2019) Using genetics to understand the causal influence of higher BMI on depression. Int J Epidemiol 48(3):834–848. https://doi.org/10.1093/ije/dyy223

Wainberg M, Mahajan A, Kundaje A et al (2019) Homogeneity in the association of body mass index with type 2 diabetes across the UK Biobank: a Mendelian randomization study. PLoS Med 16(12):e1002982. https://doi.org/10.1371/journal.pmed.1002982
Acknowledgements
Summary-level data for genetic associations with MDD, type 2 diabetes, CAD and heart failure were from the MDD GWAS dataset (the UK Biobank study, 23andMe and Psychiatric Genomics consortium), the DIAbetes Genetics Replication And Meta-analysis (DIAGRAM) consortium, the Coronary ARtery DIsease Genome wide Replication and Meta-analysis plus The Coronary Artery Disease Genetics (CARDIoGRAMplusC4D) consortium and the Heart Failure Molecular Epidemiology for Therapeutic Targets (HERMES) consortium. The authors thank all investigators for sharing these data.
Authors' relationships and activities
The authors declare that there are no relationships or activities that might bias, or be perceived to bias, their work.
Funding
Open access funding provided by Uppsala University. This work was supported by the Swedish Heart-Lung Foundation (Hjärt-Lungfonden grant no. 20190247) and the Swedish Research Council (Vetenskapsrådet grant no. 2019–00977).
Additional information
Publisher's note
Springer Nature remains neutral with regard to jurisdictional claims in published maps and institutional affiliations.
Electronic supplementary material
Rights and permissions
Open Access This article is licensed under a Creative Commons Attribution 4.0 International License, which permits use, sharing, adaptation, distribution and reproduction in any medium or format, as long as you give appropriate credit to the original author(s) and the source, provide a link to the Creative Commons licence, and indicate if changes were made. The images or other third party material in this article are included in the article's Creative Commons licence, unless indicated otherwise in a credit line to the material. If material is not included in the article's Creative Commons licence and your intended use is not permitted by statutory regulation or exceeds the permitted use, you will need to obtain permission directly from the copyright holder. To view a copy of this licence, visit http://creativecommons.org/licenses/by/4.0/.
About this article
Cite this article
Tang, B., Yuan, S., Xiong, Y. et al. Major depressive disorder and cardiometabolic diseases: a bidirectional Mendelian randomisation study. Diabetologia 63, 1305–1311 (2020). https://doi.org/10.1007/s00125-020-05131-6
Received:

Accepted:

Published:

Issue Date:

DOI: https://doi.org/10.1007/s00125-020-05131-6
Keywords