Reduced size at birth and persisting reductions in adiposity in recent, compared with earlier, cohorts of infants born to mothers with gestational diabetes mellitus
Abstract
Aims/hypothesis
This study aimed to explore the infancy growth trajectories of 'recent' and 'earlier' offspring of mothers with gestational diabetes mellitus (OGDM), each compared with the same control infants, and investigate whether 'recent' OGDM still exhibit a classical phenotype, with macrosomia and increased adiposity.
Methods
Within a prospective observational birth cohort, 98 'earlier' OGDM born between 2001 and 2009 were identified using 75 g oral glucose tolerance testing at 28 weeks gestation, 122 recent OGDM born between 2011 and 2013 were recruited postnatally through antenatal diabetes clinics, and 876 normal birthweight infants of mothers with no history of diabetes were recruited across the full study period as the control group. All infants followed the same study protocol (measurements at birth, 3, 12 and 24 months, including weight, length and skinfold thickness indicating adiposity, and detailed demographic data). In all cases, GDM was defined using the International Association of Diabetes and Pregnancy Study Group criteria.
Results
Earlier OGDM had higher birthweight SD scores (SDS) than control infants. Conversely, recent OGDM had similar birthweight- and length SDS to control infants (mean ± SD, 0.1 ± 1.0 and− 0.1 ± 0.9, respectively), but lower mean skinfold thickness SDS (−0.4 ± 0.6 vs 0.0 ± 0.9; p < 0.001). After birth, earlier OGDM showed reduced gains in weight and length between 3 and 12 months. In contrast, recent OGDM had increased weight and skinfold thickness gains until 3 months, followed by reduced gains in those variables from 3 to 12 months, compared with control infants. At 24 months, recent OGDM had lower adiposity than control infants (mean skinfold thickness SDS −0.3 ± 0.7 vs 0.0 ± 0.8; p < 0.001). At all time points recent OGDM had lower growth measurements than earlier OGDM.
Conclusions/interpretation
Recent OGDM showed different growth trajectories to the earlier group, namely normalisation of birthweight and reduced adiposity at birth, followed by initial rapid weight gain but subsequent reduced adiposity postnatally. While avoidance of macrosomia at birth may be advantageous, the longer-term health implications of these changing growth trajectories are uncertain.
Keywords
Adiposity 
Gestational diabetes mellitus 
Growth 
Infancy 
Macrosomia 
Maternal hyperglycaemia 
Offspring 
Skinfold thickness 
Weight gain 
Abbreviations
CBGS

Cambridge Baby Growth Study

GDM

Gestational diabetes mellitus

HAPO

Hyperglycemia and Adverse Pregnancy Outcomes

IADPSG

International Association of Diabetes and Pregnancy Study Groups

IMD

Index of Multiple Deprivation

MiG trial

Metformin in Gestational Diabetes trial

OGDM

Offspring of gestational diabetic mother

SDS

SD score

SGA

Small for gestational age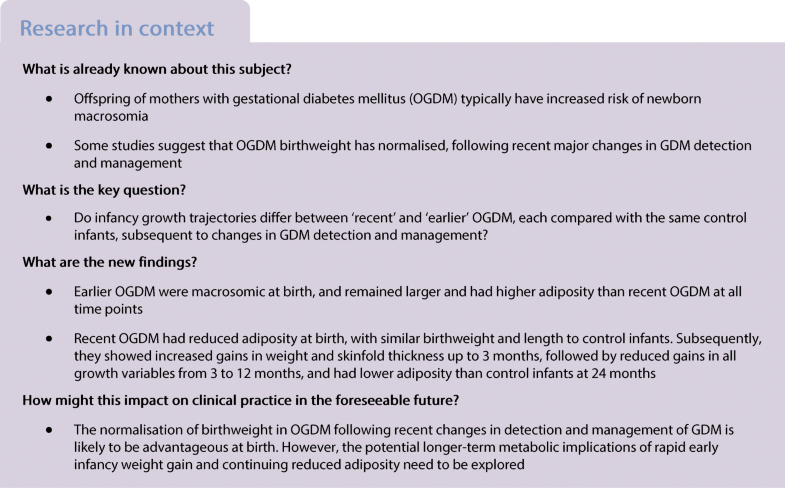 Notes
Acknowledgements
The authors acknowledge the CBGS research nurses S. Smith, A-M. Wardell and K. Forbes, Addenbrooke's Hospital, Cambridge, UK. The authors are also very grateful to the diabetes in pregnancy team, Rosie Maternity Hospital, Cambridge, UK, particularly R. Harding and K. Stubbington, for their help with recruitment. The authors thank all the families who contributed to the study, the staff at the NIHR-Wellcome Trust Clinical Research Facility, Cambridge, the NIHR Cambridge Comprehensive Biomedical Research Centre, and the midwives at the Rosie Maternity Hospital, Cambridge, UK.
Contribution statement
CLA, IAH, KKO and DBD contributed to the cohort conception. PMP, CLA, KKO and DBD designed the study. PMP, CLA, IAH, KKO and DBD secured funding. DS, HRM and PMP were involved in the study recruitment. PMP and LO contributed to data harmonisation. PMP and LO conducted the statistical analyses and wrote the manuscript. CJP, DS and HRM contributed to data generation and commented on manuscript drafts. CJP, KKO and DBD critically reviewed the manuscript and contributed to interpretation of data. LO, CJP, KKO and DBD contributed to the manuscript revision. All authors critically revised the manuscript for important intellectual content, read and approved the final manuscript. DBD is responsible for the integrity of the work as a whole.
Funding
The CBGS has been funded by the Medical Research Council (7500001180, G1001995), European Union Framework 5 (QLK4-1999-01422), the Mothercare Charitable Foundation (RG54608), Newlife Foundation for Disabled Children (07/20) and the World Cancer Research Fund International (2004/03). It is also supported by the National Institute for Health Research Cambridge Biomedical Research Centre. KKO is supported by the Medical Research Council (Unit programme: MC_UU_12015/2). The sponsors had no role in the study design, collection, analysis or interpretation of the data, the writing of the manuscript or the decision to submit it for publication.
Duality of interest
The authors declare that there is no duality of interest associated with this manuscript.
Copyright information
© The Author(s) 2019
Open Access This article is distributed under the terms of the Creative Commons Attribution 4.0 International License (http://creativecommons.org/licenses/by/4.0/), which permits unrestricted use, distribution, and reproduction in any medium, provided you give appropriate credit to the original author(s) and the source, provide a link to the Creative Commons license, and indicate if changes were made.