Genome editing of human pancreatic beta cell models: problems, possibilities and outlook
Abstract
Understanding the molecular mechanisms behind beta cell dysfunction is essential for the development of effective and specific approaches for diabetes care and prevention. Physiological human beta cell models are needed for this work. We review the possibilities and limitations of currently available human beta cell models and how they can be dramatically enhanced using genome-editing technologies. In addition to the gold standard, primary isolated islets, other models now include immortalised human beta cell lines and pluripotent stem cell-derived islet-like cells. The scarcity of human primary islet samples limits their use, but valuable gene expression and functional data from large collections of human islets have been made available to the scientific community. The possibilities for studying beta cell physiology using immortalised human beta cell lines and stem cell-derived islets are rapidly evolving. However, the functional immaturity of these cells is still a significant limitation. CRISPR-Cas9 (Clustered Regularly Interspaced Short Palindromic Repeats/CRISPR-associated protein 9) has enabled precise engineering of specific genetic variants, targeted transcriptional modulation and genome-wide genetic screening. These approaches can now be exploited to gain understanding of the mechanisms behind coding and non-coding diabetes-associated genetic variants, allowing more precise evaluation of their contribution to diabetes pathogenesis. Despite all the progress, genome editing in primary pancreatic islets remains difficult to achieve, an important limitation requiring further technological development.
Keywords
Beta cells 
Cell models 
CRISPR-Cas9 
Diabetes 
Genome editing 
Human islets 
Pancreas 
Review 
Stem cells 
Abbreviations
AAV

Adenovirus and adeno-associated viruses

Cas9

CRISPR-associated protein 9

CRISPR

Clustered Regularly Interspaced Short Palindromic Repeats

gRNA

Guide RNA

GWAS

Genome-wide association studies

HDR

Homology-directed repair

hESC

Human embryonic stem cell

hiPSC

Human induced pluripotent stem cell

hPSC

Human pluripotent stem cell

lncRNA

Long non-coding RNA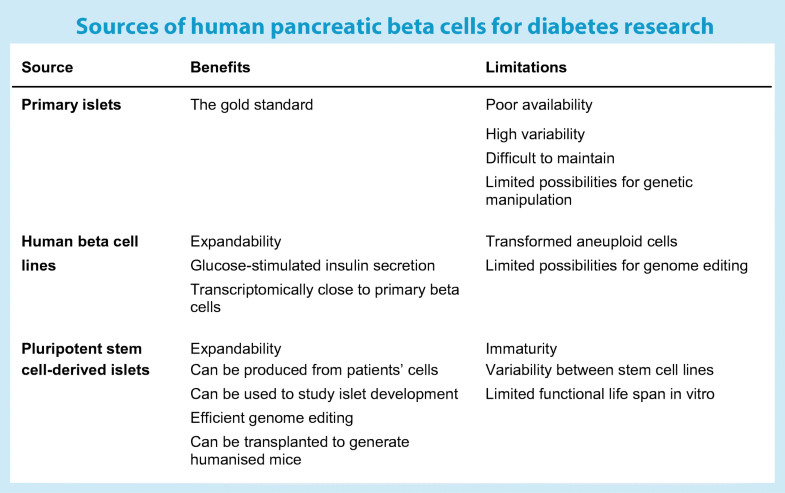 Notes
Acknowledgements
Open access funding provided by University of Helsinki including Helsinki University Central Hospital.
Contribution statement
All authors were responsible for drafting and revising this review article. All authors approved the final version to be published.
Funding
The authors' work in this area has been supported by grants from the Academy of Finland, The Novo Nordisk Foundation and the Sigrid Jusélius Foundation. TO is also funded by the Innovative Medicines Initiative 2 Joint Undertaking under grant agreement no. 115797 (INNODIA), which receives support from the European Union's Horizon 2020 research and innovation programme and the European Federation of Pharmaceutical Industries and Associations (EFPIA), JDRF and the Leona M. and Harry B. Helmsley Charitable Trust.
Duality of interest
The authors declare that there is no duality of interest associated with this manuscript.
Copyright information
© The Author(s) 2019
Open Access This article is distributed under the terms of the Creative Commons Attribution 4.0 International License (http://creativecommons.org/licenses/by/4.0/), which permits unrestricted use, distribution, and reproduction in any medium, provided you give appropriate credit to the original author(s) and the source, provide a link to the Creative Commons license, and indicate if changes were made.