Abstract
Aims/hypothesis
Activation of the receptor for AGE (RAGE) has been shown to be associated with diabetic nephropathy. The soluble isoform of RAGE (sRAGE) is considered to function as a decoy receptor for RAGE ligands and thereby protects against diabetic complications. A possible association between sRAGE and diabetic nephropathy is still, however, controversial and a more comprehensive analysis of sRAGE with respect to diabetic nephropathy in type 1 diabetes is therefore warranted.
Methods
sRAGE was measured in baseline serum samples from 3647 participants with type 1 diabetes from the nationwide multicentre Finnish Diabetic Nephropathy (FinnDiane) Study. Associations between sRAGE and diabetic nephropathy, as well as sRAGE and diabetic nephropathy progression, were evaluated by regression, competing risks and receiver operating characteristic curve analyses. The non-synonymous SNP rs2070600 (G82S) was used to test causality in the Mendelian randomisation analysis.
Results
Baseline sRAGE concentrations were highest in participants with diabetic nephropathy, compared with participants with a normal AER or those with microalbuminuria. Baseline sRAGE was associated with progression from macroalbuminuria to end-stage renal disease (ESRD) in the competing risks analyses, but this association disappeared when eGFR was entered into the model. The SNP rs2070600 was strongly associated with sRAGE concentrations and with progression from macroalbuminuria to ESRD. However, Mendelian randomisation analysis did not support a causal role for sRAGE in progression to ESRD.
Conclusions/interpretation
sRAGE is associated with progression from macroalbuminuria to ESRD, but does not add predictive value on top of conventional risk factors. Although sRAGE is a biomarker of diabetic nephropathy, in light of the Mendelian randomisation analysis it does not seem to be causally related to progression from macroalbuminuria to ESRD.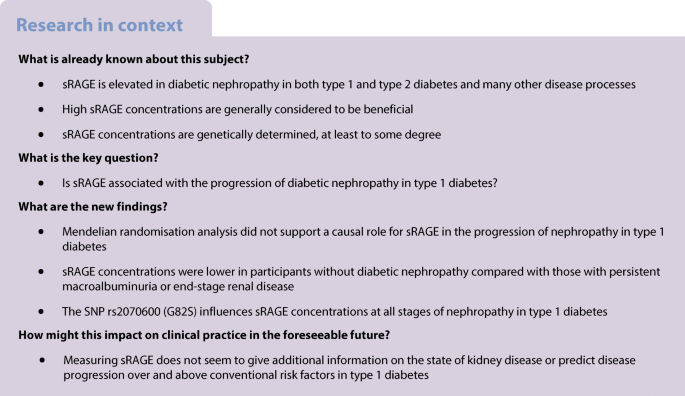 Data availability
The datasets generated during and/or analysed during the current study are available from the corresponding author on reasonable request.
Abbreviations
ESRD:

End-stage renal disease

RAGE:

Receptor for AGE

ROC:

Receiver operating characteristic

sRAGE:

Soluble receptor for AGE
Acknowledgements
Open access funding provided by University of Helsinki including Helsinki University Central Hospital. We acknowledge the skilled assistance of A. Sandelin, T. Soppela and A.-R. Salonen at Folkhälsan Research Center, Biomedicum Helsinki. Finally, we acknowledge all the physicians and nurses at each participating study centre in the collection of participants for the FinnDiane Study.
Funding
This study was supported by grants from the Folkhälsan Research Foundation, the Wilhelm and Else Stockmann Foundation, the Waldemar von Frenckell Foundation, the Liv och Hälsa Foundation, the Novo Nordisk Foundation, the Maud Kuistila Foundation, the Emil Aaltonen Foundation and the Academy of Finland.
Ethics declarations
The authors declare that there are no conflicts of interest associated with this manuscript. P-HG has received lecture honoraria from Astra Zeneca, Boehringer Ingelheim, Eli Lilly, Genzyme, MSD, Novartis, Novo Nordisk and Sanofi. P-HG is an advisor for AbbVie, Astra Zeneca, Boehringer Ingelheim, Eli Lilly, Janssen, MSD, Novartis, Novo Nordisk and Sanofi. P-HG has received investigator-initiated grants from Eli Lilly and Roche.
Additional information
Publisher's note
Springer Nature remains neutral with regard to jurisdictional claims in published maps and institutional affiliations.
Electronic supplementary material
Rights and permissions
Open Access This article is distributed under the terms of the Creative Commons Attribution 4.0 International License (http://creativecommons.org/licenses/by/4.0/), which permits unrestricted use, distribution, and reproduction in any medium, provided you give appropriate credit to the original author(s) and the source, provide a link to the Creative Commons license, and indicate if changes were made.
About this article
Cite this article
Wadén, J.M., Dahlström, E.H., Elonen, N. et al. Soluble receptor for AGE in diabetic nephropathy and its progression in Finnish individuals with type 1 diabetes. Diabetologia 62, 1268–1274 (2019). https://doi.org/10.1007/s00125-019-4883-4
Received:

Accepted:

Published:

Issue Date:

DOI: https://doi.org/10.1007/s00125-019-4883-4
Keywords
Diabetic nephropathy

End-stage renal disease

Soluble receptor for advanced glycation end-products

Type 1 diabetes