Abstract
Aims/hypothesis
Finding new treatment alternatives for individuals with diabetes with severe insulin resistance is highly desired. To identify novel mechanisms that improve glucose uptake in skeletal muscle, independently from insulin levels and signalling, we have explored the therapeutic potential of a short peptide sequence, RG54, derived from apolipoprotein A-I (ApoA-I).
Methods
INS-1E rat clonal beta cells, C2C12 rat muscle myotubes and J774 mouse macrophages were used to study the impact of RG54 peptide on glucose-stimulated insulin secretion, glucose uptake and cholesterol efflux, respectively. GTTs were carried out on diet-induced insulin-resistant and Leprdb diabetic mouse models treated with RG54 peptide, and the impact of RG54 peptide on atherosclerosis was evaluated in Apoe−/− mice. Control mice received ApoA-I protein, liraglutide or NaCl.
Results
The synthetic RG54 peptide induced glucose uptake in cultured muscle myotubes by a similar amount as insulin, and also primed pancreatic beta cells for improved glucose-stimulated insulin secretion. The findings were verified in diet-induced insulin-resistant and Leprdb diabetic mice, jointly confirming the physiological effect. The RG54 peptide also efficiently catalysed cholesterol efflux from macrophages and prevented the formation of atherosclerotic plaques in Apoe−/− mice.
Conclusions/interpretation
The RG54 peptide exhibits good prospects for providing glucose control and reducing the risk of cardiovascular disease in individuals with severe insulin resistance.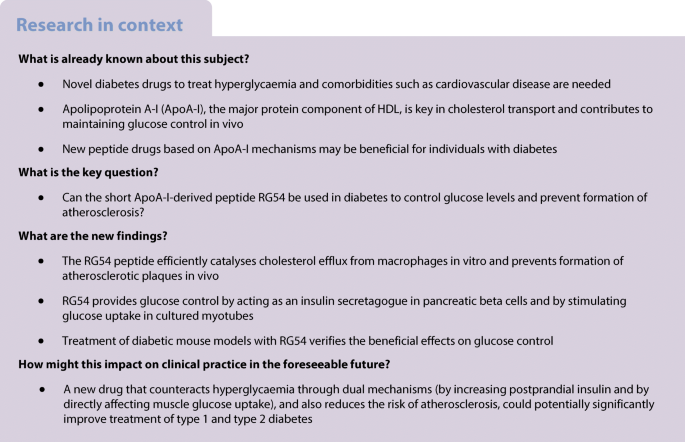 Data availability
All relevant data are available in this paper.
Abbreviations
DMPC:

1,2-Dimyristoyl-sn-glycero-3-phosphocholine

ApoA-I:

Apolipoprotein A-I

CVD:

Cardiovascular disease

db/db :

Lepr db

DIO:

Diet-induced obesity

DLS:

Dynamic light scattering

GSIS:

Glucose-stimulated insulin secretion

MLV:

Multilamellar vesicles

rHDL:

Reconstituted HDL
Acknowledgements
A. Knutsson and S. Hsiung (Lund University, Sweden) for training and advice regarding the Apoe−/− model and aortic preparation; E. Krupinska and W. Knecht (Lund University Protein Production Platform [LP3], Sweden) for providing protein; R. Del Giudice (Lund University, Sweden) for peptide purification and technical advice; Red Glead Discovery (Lund, Sweden) for peptide synthesis and solubility studies; and the SciLifeLabs Drug Discovery and Development platform (Stockholm, Sweden) for the stability studies. Part of this work was previously published as an abstract at the 23rd Annual Scandinavian Atherosclerosis Conference, Humlebæk, Denmark, 2017; and the 24th edition IDF Congress, Abu Dhabi, United Arab Emirates, 2017.
Funding
This work was supported by grants from the Swedish Research council (K2014-54X-22426-01-3 and 2009-1039, Strategic Research Area Exodiab), the Swedish Diabetes Foundation, the Albert Påhlsson Foundation, the NovoNordisk Foundation (NovoSeeds), the Vinnova (Sweden's Innovation Agency 2015-01549), the Royal Physiographic Society in Lund, the Sten K. Johnson Foundation, the NovoNordisk STAR Postdoc programme and the Swedish Foundation for Strategic Research (IRC15-0067).
Ethics declarations
KGS and JOL have filed for a patent (WO 2014/114787 A1) pertaining to the data described here. JOL has an affiliation with Pfizer R&D, Cambridge, MA, USA. There are no other disclosures.
Additional information
Publisher's note
Springer Nature remains neutral with regard to jurisdictional claims in published maps and institutional affiliations.
Electronic supplementary material
Rights and permissions
Open Access This article is distributed under the terms of the Creative Commons Attribution 4.0 International License (http://creativecommons.org/licenses/by/4.0/), which permits unrestricted use, distribution, and reproduction in any medium, provided you give appropriate credit to the original author(s) and the source, provide a link to the Creative Commons license, and indicate if changes were made.
About this article
Cite this article
Edmunds, S.J., Liébana-García, R., Nilsson, O. et al. ApoAI-derived peptide increases glucose tolerance and prevents formation of atherosclerosis in mice. Diabetologia 62, 1257–1267 (2019). https://doi.org/10.1007/s00125-019-4877-2
Received:

Accepted:

Published:

Issue Date:

DOI: https://doi.org/10.1007/s00125-019-4877-2
Keywords
ApoA-I

Atherosclerosis

Cardiovascular disease

Diabetes

Glucose tolerance test

Glycaemic control

HDL

Insulin

Peptide

RG54