Abstract
Aims/hypothesis
Glucagon is critical for normal glucose homeostasis and aberrant secretion of the hormone aggravates dysregulated glucose control in diabetes. However, the mechanisms by which glucose controls glucagon secretion from pancreatic alpha cells remain elusive. The aim of this study was to investigate the role of the intracellular messenger cAMP in alpha-cell-intrinsic glucose regulation of glucagon release.
Methods
Subplasmalemmal cAMP and Ca2+ concentrations were recorded in isolated and islet-located alpha cells using fluorescent reporters and total internal reflection microscopy. Glucagon secretion from mouse islets was measured using ELISA.
Results
Glucose induced Ca2+-independent alterations of the subplasmalemmal cAMP concentration in alpha cells that correlated with changes in glucagon release. Glucose-lowering-induced stimulation of glucagon secretion thus corresponded to an elevation in cAMP that was independent of paracrine signalling from insulin or somatostatin. Imposed cAMP elevations stimulated glucagon secretion and abolished inhibition by glucose elevation, while protein kinase A inhibition mimicked glucose suppression of glucagon release.
Conclusions/interpretation
Glucose concentrations in the hypoglycaemic range control glucagon secretion by directly modulating the cAMP concentration in alpha cells independently of paracrine influences. These findings define a novel mechanism for glucose regulation of glucagon release that underlies recovery from hypoglycaemia and may be disturbed in diabetes.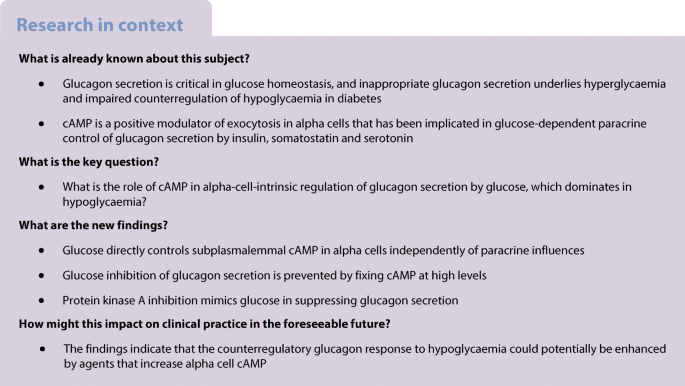 Data availability
The datasets generated and/or analysed during the current study are available from the corresponding author on reasonable request.
Abbreviations
[Ca2+]pm :

Subplasma membrane Ca2+ concentration

[cAMP]pm :

Subplasma membrane cAMP concentration

FRET:

Fluorescence resonance energy transfer

IBMX:

3-Isobutyl-1-methylxanthine

PKA:

Protein kinase A

SSTR2:

Somatostatin receptor type 2

TIRF:

Total internal reflection fluorescence

YFP:

Yellow fluorescent protein
Acknowledgements
Some of these data were presented as an abstract at the 52nd EASD annual meeting in 2016.
Funding
This study was supported by grants from the Diabetes Wellness foundation, the European Foundation for the Study of Diabetes (EFSD-MSD and EFSD-Novo Nordisk), the Family Ernfors Foundation, the Leona M. and Harry B. Helmsley Charitable Trust, the Novo Nordisk Foundation, the Swedish Diabetes Foundation and the Swedish Research Council. Human islets were obtained from the Nordic Network for Clinical Islet Transplantation, supported by grants from the JDRF and the strategic grant consortium Excellence of Diabetes Research in Sweden (EXODIAB).
Ethics declarations
The authors declare that there is no duality of interest associated with this manuscript.
Additional information
Publisher's note
Springer Nature remains neutral with regard to jurisdictional claims in published maps and institutional affiliations.
Electronic supplementary material
Rights and permissions
Open Access This article is distributed under the terms of the Creative Commons Attribution 4.0 International License (http://creativecommons.org/licenses/by/4.0/), which permits unrestricted use, distribution, and reproduction in any medium, provided you give appropriate credit to the original author(s) and the source, provide a link to the Creative Commons license, and indicate if changes were made.
About this article
Cite this article
Yu, Q., Shuai, H., Ahooghalandari, P. et al. Glucose controls glucagon secretion by directly modulating cAMP in alpha cells. Diabetologia 62, 1212–1224 (2019). https://doi.org/10.1007/s00125-019-4857-6
Received:

Accepted:

Published:

Issue Date:

DOI: https://doi.org/10.1007/s00125-019-4857-6
Keywords
Ca2+

Cyclic AMP

Glucagon release

Hypoglycaemia

Insulin

Pancreatic alpha cell

Protein kinase A

Somatostatin