Abstract
Aims/hypothesis
Progressive decline in functional beta cell mass is central to the development of type 2 diabetes. Elevated serum levels of extracellular nicotinamide phosphoribosyltransferase (eNAMPT) are associated with beta cell failure in type 2 diabetes and eNAMPT immuno-neutralisation improves glucose tolerance in mouse models of diabetes. Despite this, the effects of eNAMPT on functional beta cell mass are poorly elucidated, with some studies having separately reported beta cell-protective effects of eNAMPT. eNAMPT exists in structurally and functionally distinct monomeric and dimeric forms. Dimerisation is essential for the NAD-biosynthetic capacity of NAMPT. Monomeric eNAMPT does not possess NAD-biosynthetic capacity and may exert distinct NAD-independent effects. This study aimed to fully characterise the structure-functional effects of eNAMPT on pancreatic beta cell functional mass and to relate these to beta cell failure in type 2 diabetes.
Methods
CD-1 mice and serum from obese humans who were without diabetes, with impaired fasting glucose (IFG) or with type 2 diabetes (from the Body Fat, Surgery and Hormone [BodyFatS&H] study) or with or at risk of developing type 2 diabetes (from the VaSera trial) were used in this study. We generated recombinant wild-type and monomeric eNAMPT to explore the effects of eNAMPT on functional beta cell mass in isolated mouse and human islets. Beta cell function was determined by static and dynamic insulin secretion and intracellular calcium microfluorimetry. NAD-biosynthetic capacity of eNAMPT was assessed by colorimetric and fluorescent assays and by native mass spectrometry. Islet cell number was determined by immunohistochemical staining for insulin, glucagon and somatostatin, with islet apoptosis determined by caspase 3/7 activity. Markers of inflammation and beta cell identity were determined by quantitative reverse transcription PCR. Total, monomeric and dimeric eNAMPT and nicotinamide mononucleotide (NMN) were evaluated by ELISA, western blot and fluorometric assay using serum from non-diabetic, glucose intolerant and type 2 diabetic individuals.
Results
eNAMPT exerts bimodal and concentration- and structure-functional-dependent effects on beta cell functional mass. At low physiological concentrations (~1 ng/ml), as seen in serum from humans without diabetes, eNAMPT enhances beta cell function through NAD-dependent mechanisms, consistent with eNAMPT being present as a dimer. However, as eNAMPT concentrations rise to ~5 ng/ml, as in type 2 diabetes, eNAMPT begins to adopt a monomeric form and mediates beta cell dysfunction, reduced beta cell identity and number, increased alpha cell number and increased apoptosis, through NAD-independent proinflammatory mechanisms.
Conclusions/interpretation
We have characterised a novel mechanism of beta cell dysfunction in type 2 diabetes. At low physiological levels, eNAMPT exists in dimer form and maintains beta cell function and identity through NAD-dependent mechanisms. However, as eNAMPT levels rise, as in type 2 diabetes, structure-functional changes occur resulting in marked elevation of monomeric eNAMPT, which induces a diabetic phenotype in pancreatic islets. Strategies to selectively target monomeric eNAMPT could represent promising therapeutic strategies for the treatment of type 2 diabetes.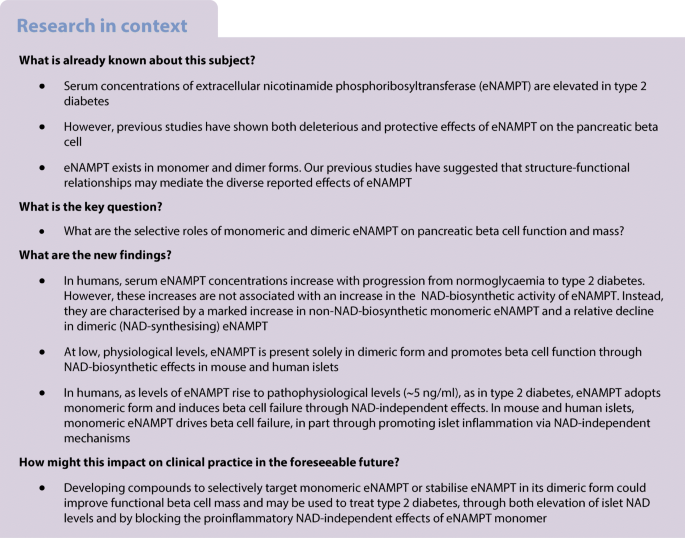 Data availability
Data are available on request from the authors.
Abbreviations
AMP-CP:

Adenosine 5′-(α,β-methylene)diphosphate

eNAMPT:

Extracellular nicotinamide phosphoribosyltransferase

eNAMPT-WT:

Recombinant wild-type extracellular nicotinamide phosphoribosyltransferase

FPG:

Fasting plasma glucose

GSIS:

Glucose-stimulated insulin secretion

IFG:

Impaired fasting glucose

iNAMPT:

Intracellular nicotinamide phosphoribosyltransferase

JNK:

c-Jun N-terminal kinase

MAPK:

Mitogen-activated protein kinase

NAMPT:

Nicotinamide phosphoribosyltransferase

NMN:

Nicotinamide mononucleotide

STAT3:

Signal transducer and activator of transcription 3

WT:

Wild-type
References
DeFronzo RA, Abdul-Ghani MA (2011) Preservation of beta-cell function: the key to diabetes prevention. J Clin Endocrinol Metab 96(8):2354–2366

Imai S (2009) Nicotinamide phosphoribosyltransferase (Nampt): a link between NAD biology, metabolism, and diseases. Curr Pharm Des 15(1):20–28

Imai S, Yoshino J (2013) The importance of NAMPT/NAD/SIRT1 in the systemic regulation of metabolism and ageing. Diabetes Obes Metab 15(Suppl 3):26–33

Samal B, Sun Y, Stearns G, Xie C, Suggs S, McNiece I (1994) Cloning and characterization of the cDNA encoding a novel human pre-B cell colony-enhancing factor. Mol Cell Biol 14(2):1431–1437

Rongvaux A, Shea RJ, Mulks MH et al (2002) Pre-B cell colony-enhancing factor, whose expression is up-regulated in activated lymphocytes, is a nicotinamide phosphoribosyltransferase, a cytosolic enzyme involved in NAD biosynthesis. Eur J Immunol 32(11):3225–3234

Revollo JR, Korner A, Mills KF et al (2007) Nampt/PBEF/visfatin regulates insulin secretion in beta cells as a systemic NAD biosynthetic enzyme. Cell Metab 6(5):363–375

Li Y, Zhang Y, Dorweiler B et al (2008) Extracellular Nampt promotes macrophage survival via a nonenzymatic interleukin-6/STAT3 signaling mechanism. J Biol Chem 283(50):34833–34843

Fukuhara A, Matsuda M, Nishizawa M et al (2005) Visfatin: a protein secreted by visceral fat that mimics the effects of insulin. Science. 307(5708):426–430

Moschen AR, Kaser A, Enrich B et al (2007) Visfatin, an adipocytokine with proinflammatory and immunomodulating properties. J Immunol 178(3):1748–1758

Lopez-Bermejo A, Chico-Julia B, Fernandez-Balsells M et al (2006) Serum visfatin increases with progressive beta-cell deterioration. Diabetes. 55(10):2871–2875

Chang YH, Chang DM, Lin KC, Shin SJ, Lee YJ (2011) Visfatin in overweight/obesity, type 2 diabetes mellitus, insulin resistance, metabolic syndrome and cardiovascular diseases: a meta-analysis and systemic review. Diabetes Metab Res Rev 27(6):515–527

Kieswich J, Sayers SR, Silvestre MF, Harwood SM, Yaqoob MM, Caton PW (2016) Monomeric eNAMPT in the development of experimental diabetes in mice: a potential target for type 2 diabetes treatment. Diabetologia. 59(11):2477–2486

Caton PW, Kieswich J, Yaqoob MM, Holness MJ, Sugden MC (2011) Nicotinamide mononucleotide protects against pro-inflammatory cytokine-mediated impairment of mouse islet function. Diabetologia. 54(12):3083–3092

Caton PW, Richardson SJ, Kieswich J et al (2013) Sirtuin 3 regulates mouse pancreatic beta cell function and is suppressed in pancreatic islets isolated from human type 2 diabetic patients. Diabetologia. 56(5):1068–1077

Yoon MJ, Yoshida M, Johnson S et al (2015) SIRT1-mediated eNAMPT secretion from adipose tissue regulates hypothalamic NAD+ and function in mice. Cell Metab 21(5):706–717

Yoshino J, Mills KF, Yoon MJ, Imai S (2011) Nicotinamide mononucleotide, a key NAD+ intermediate, treats the pathophysiology of diet- and age-induced diabetes in mice. Cell Metab 14(4):528–536

Kim DS, Kang S, Moon NR, Park S (2014) Central visfatin potentiates glucose-stimulated insulin secretion and beta-cell mass without increasing serum visfatin levels in diabetic rats. Cytokine. 65(2):159–166

Spinnler R, Gorski T, Stolz K et al (2013) The adipocytokine Nampt and its product NMN have no effect on beta-cell survival but potentiate glucose stimulated insulin secretion. PLoS One 8(1):e54106

Ramsey KM, Mills KF, Satoh A, Imai S (2008) Age-associated loss of Sirt1-mediated enhancement of glucose-stimulated insulin secretion in beta cell-specific Sirt1-overexpressing (BESTO) mice. Aging Cell 7(1):78–88

Wang T, Zhang X, Bheda P, Revollo JR, Imai S, Wolberger C (2006) Structure of Nampt/PBEF/visfatin, a mammalian NAD+ biosynthetic enzyme. Nat Struct Mol Biol 13(7):661–662

Xiang RL, Mei M, Su YC, Li L, Wang JY, Wu LL (2015) Visfatin protects rat pancreatic β-cells against IFN-γ-induced apoptosis through AMPK and ERK1/2 signaling pathways. Biomed Environ Sci 28(3):169–177

Brown JE, Onyango DJ, Ramanjaneya M et al (2010) Visfatin regulates insulin secretion, insulin receptor signalling and mRNA expression of diabetes-related genes in mouse pancreatic beta-cells. J Mol Endocrinol 44(3):171–178

Mills CE, Govoni V, Faconti L et al (2017) Reducing arterial stiffness independently of blood pressure: the VaSera trial. J Am Coll Cardiol 70(13):1683–1684

Faconti L, Mills CE, Govoni V et al (2019) Cardiac effects of 6 months' dietary nitrate and spironolactone in patients with hypertension and with/at risk of type 2 diabetes, in the factorial design, double-blind, randomized controlled VaSera trial. Br J Clin Pharmacol 85(1):169–180

Huang GC, Zhao M, Jones P et al (2004) The development of new density gradient media for purifying human islets and islet-quality assessments. Transplantation. 77(1):143–145

Jones PM, Salmon DM, Howell SL (1988) Protein phosphorylation in electrically permeabilized islets of Langerhans. Effects of Ca2+, cyclic AMP, a phorbol ester and noradrenaline. Biochem J 254(2):397–403

Ishihara H, Asano T, Tsukuda K et al (1993) Pancreatic beta cell line MIN6 exhibits characteristics of glucose metabolism and glucose-stimulated insulin secretion similar to those of normal islets. Diabetologia. 36(11):1139–1145

Sakurada M, Kanatsuka A, Saitoh T et al (1993) Relation between glucose-stimulated insulin secretion and intracellular calcium accumulation studied with a superfusion system of a glucose-responsive pancreatic beta-cell line MIN6. Endocrinology. 132(6):2659–2665

Formentini L, Moroni F, Chiarugi A (2009) Detection and pharmacological modulation of nicotinamide mononucleotide (NMN) in vitro and in vivo. Biochem Pharmacol 77(10):1612–1620

Zhang RY, Qin Y, Lv XQ et al (2011) A fluorometric assay for high-throughput screening targeting nicotinamide phosphoribosyltransferase. Anal Biochem 412(1):18–25

Caton PW, Nayuni NK, Kieswich J, Khan NQ, Yaqoob MM, Corder R (2010) Metformin suppresses hepatic gluconeogenesis through induction of SIRT1 and GCN5. J Endocrinol 205(1):97–106

Retnakaran R, Youn BS, Liu Y et al (2008) Correlation of circulating full-length visfatin (PBEF/NAMPT) with metabolic parameters in subjects with and without diabetes: a cross-sectional study. Clin Endocrinol 69(6):885–893

Flehmig G, Scholz M, Kloting N et al (2014) Identification of adipokine clusters related to parameters of fat mass, insulin sensitivity and inflammation. PLoS One 9(6):e99785

Esteghamati A, Alamdari A, Zandieh A et al (2011) Serum visfatin is associated with type 2 diabetes mellitus independent of insulin resistance and obesity. Diabetes Res Clin Pract 91(2):154–158

Marchetti P, Bugliani M, De Tata V, Suleiman M, Marselli L (2017) Pancreatic beta cell identity in humans and the role of type 2 diabetes. Front Cell Dev Biol 5:55

Fletcher RS, Ratajczak J, Doig CL et al (2017) Nicotinamide riboside kinases display redundancy in mediating nicotinamide mononucleotide and nicotinamide riboside metabolism in skeletal muscle cells. Mol Metab 6(8):819–832

Ratajczak J, Joffraud M, Trammell SA et al (2016) NRK1 controls nicotinamide mononucleotide and nicotinamide riboside metabolism in mammalian cells. Nat Commun 7:13103

Nikiforov A, Dolle C, Niere M, Ziegler M (2011) Pathways and subcellular compartmentation of NAD biosynthesis in human cells: from entry of extracellular precursors to mitochondrial NAD generation. J Biol Chem 286(24):21767–21778

Garavaglia S, Bruzzone S, Cassani C et al (2012) The high-resolution crystal structure of periplasmic Haemophilus influenzae NAD nucleotidase reveals a novel enzymatic function of human CD73 related to NAD metabolism. Biochem J 441(1):131–141

Yegutkin GG, Marttila-Ichihara F, Karikoski M et al (2011) Altered purinergic signaling in CD73-deficient mice inhibits tumor progression. Eur J Immunol 41(5):1231–1241

Negi S, Jetha A, Aikin R, Hasilo C, Sladek R, Paraskevas S (2012) Analysis of beta-cell gene expression reveals inflammatory signaling and evidence of dedifferentiation following human islet isolation and culture. PLoS One 7(1):e30415

Matsuda T, Omori K, Vuong T et al (2005) Inhibition of p38 pathway suppresses human islet production of pro-inflammatory cytokines and improves islet graft function. Am J Transplant 5(3):484–493

Camp SM, Ceco E, Evenoski CL et al (2015) Unique Toll-like receptor 4 activation by NAMPT/PBEF induces NFκB signaling and inflammatory lung injury. Sci Rep 5:13135

Van den Bergh R, Morin S, Sass HJ et al (2012) Monocytes contribute to differential immune pressure on R5 versus X4 HIV through the adipocytokine visfatin/NAMPT. PLoS One 7(4):e35074
Acknowledgements
We thank J. I. Miyazaki (Osaka University, Osaka, Japan) for provision and consent to use MIN6 cells. Imaging was conducted in the Nikon Imaging Centre at King's College London (London, UK).
Funding
PWC and SRS were supported by Diabetes UK project grants (15/0005154; 18/0005865), King's Health Partners Challenge Fund (funded via MRC Confidence-in-concept), Society for Endocrinology Early Career Grant and EFSD/Lilly Fellowship. DJH was supported by a Diabetes UK R.D. Lawrence (12/0004431) Fellowship, and MRC (MR/N00275X/1) and Diabetes UK (17/0005681) Project Grants. This project has received funding from the European Research Council (ERC) under the European Union's Horizon 2020 research and innovation programme (Starting Grant 715884 to DJH), and New Zealand Health Research Council (HRC) programme grant (190/C; SDP and A-TM). MPS was supported by University of Auckland FRDF fellowship and HRC project grant (14/191). GGL was supported by a Wellcome Trust Senior Fellowship. The VaSera trial was supported by FUKUDA Denshi Japan. The study funders were not involved in the design of the study; the collection, analysis, and interpretation of data; writing the report; or the decision to submit the report for publication
Ethics declarations
The authors declare that there is no duality of interest associated with this manuscript.
Additional information
Publisher's note
Springer Nature remains neutral with regard to jurisdictional claims in published maps and institutional affiliations.
Electronic supplementary material
Rights and permissions
Open Access This article is distributed under the terms of the Creative Commons Attribution 4.0 International License (http://creativecommons.org/licenses/by/4.0/), which permits unrestricted use, distribution, and reproduction in any medium, provided you give appropriate credit to the original author(s) and the source, provide a link to the Creative Commons license, and indicate if changes were made.
About this article
Cite this article
Sayers, S.R., Beavil, R.L., Fine, N.H.F. et al. Structure-functional changes in eNAMPT at high concentrations mediate mouse and human beta cell dysfunction in type 2 diabetes. Diabetologia 63, 313–323 (2020). https://doi.org/10.1007/s00125-019-05029-y
Received:

Accepted:

Published:

Issue Date:

DOI: https://doi.org/10.1007/s00125-019-05029-y
Keywords
Beta cell

eNAMPT

Extracellularnicotinamide phosphoribosyltransferase

Inflammation

Insulin secretion

NAD

Type 2 diabetes