Abstract
Aims/hypothesis
The molecular basis for the pathological impact of specific HLA molecules on autoimmune diseases such as type 1 diabetes remains unclear. Recent natural history studies in children have indicated a link between specific HLA genotypes and the first antigenic target against which immune responses develop. We set out to examine this link in vivo by exploring the diabetogenicity of islet antigens on the background of a common diabetes-associated HLA haplotype.
Methods
We generated a novel HLA-transgenic mouse model that expresses high-risk genes for type 1 diabetes (DRB1*03:01-DQA1*05:01-DQB1*02:01) as well as human CD80 under the rat insulin promoter and human CD4, on a C57BL/6 background. Adjuvanted antigen priming was used to reveal the diabetogenicity of candidate antigens and peptides.
Results
HLA-DR3-DQ2+huCD4+IA/IE−/−RIP.B7.1+ mice spontaneously developed autoimmune diabetes (incidence 46% by 35 weeks of age), accompanied by numerous hallmarks of human type 1 diabetes (autoantibodies against GAD65 and proinsulin; pancreatic islet infiltration by CD4+, CD8+ B220+, CD11b+ and CD11c+ immune cells). Disease was markedly accelerated and had deeper penetrance after adjuvanted antigen priming with proinsulin (mean onset 11 weeks and incidence 100% by 20 weeks post challenge). Moreover, the diabetogenic effect of proinsulin located to the 15-residue B29-C11 region.
Conclusions/interpretation
Our study identifies a proinsulin-derived peptide region that is highly diabetogenic on the HLA-DR3-DQ2 background using an in vivo model. This approach and the peptide region identified may have wider implications for future studies of human type 1 diabetes.
Similar content being viewed by others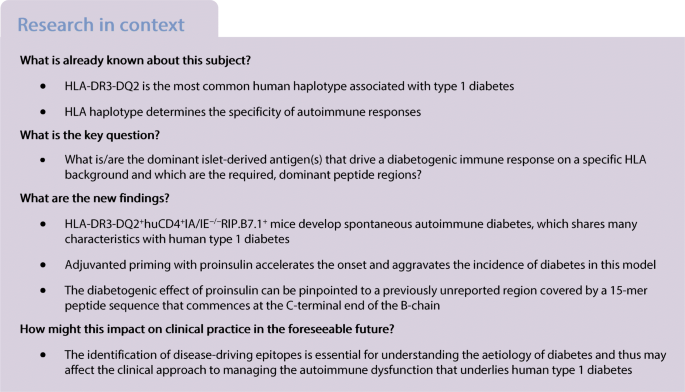 Data availability
All relevant data are available in this article and ESM. Reasonable requests for access to the in vivo models described can be made to the corresponding author.
Abbreviations
IA-2:

Islet antigen-2

RIP:

Rat insulin promoter

TEDDY :

The Environmental Determinants of Diabetes in the Young
Funding
This work was funded by UCB Pharma Ltd. The sponsor was involved in study design and decision to submit for publication only. Related work in our laboratory receives funding from the Innovative Medicines Initiative 2 Joint Undertaking under grant agreement no. 115797 INNODIA. This Joint Undertaking receives support from the European Union's Horizon 2020 research and innovation programme and 'EFPIA', 'JDRF International' and 'The Leona M. and Harry B. Helmsley Charitable Trust'.
Ethics declarations
ES is an employee of UCB Pharma Ltd. who were developing peptide immunotherapy for type 1 diabetes between 2014 and 2018 through a licence agreement with King's College London. MP is employed by King's College London and during the period specified received research funds and provided consultancy services for UCB. All other authors declare that there is no duality of interest associated with their contribution to this manuscript.
Additional information
Publisher's note
Springer Nature remains neutral with regard to jurisdictional claims in published maps and institutional affiliations.
Electronic supplementary material
Rights and permissions
Open Access This article is distributed under the terms of the Creative Commons Attribution 4.0 International License (http://creativecommons.org/licenses/by/4.0/), which permits unrestricted use, distribution, and reproduction in any medium, provided you give appropriate credit to the original author(s) and the source, provide a link to the Creative Commons license, and indicate if changes were made.
About this article
Cite this article
Verhagen, J., Yusuf, N., Smith, E.L. et al. Proinsulin peptide promotes autoimmune diabetes in a novel HLA-DR3-DQ2-transgenic murine model of spontaneous disease. Diabetologia 62, 2252–2261 (2019). https://doi.org/10.1007/s00125-019-04994-8
Received:

Accepted:

Published:

Issue Date:

DOI: https://doi.org/10.1007/s00125-019-04994-8
Keywords