Abstract
Aims/hypothesis
Exercise is recommended for the treatment and prevention of type 2 diabetes. However, the most effective time of day to achieve beneficial effects on health remains unknown. We aimed to determine whether exercise training at two distinct times of day would have differing effects on 24 h blood glucose levels in men with type 2 diabetes.
Methods
Eleven men with type 2 diabetes underwent a randomised crossover trial. Inclusion criteria were 45–68 years of age and BMI between 23 and 33 kg/m2. Exclusion criteria were insulin treatment and presence of another systemic illness. Researchers were not blinded to the group assignment. The trial involved 2 weeks of either morning or afternoon high-intensity interval training (HIIT) (three sessions/week), followed by a 2 week wash-out period and a subsequent period of the opposite training regimen. Continuous glucose monitor (CGM)-based data were obtained.
Results
Morning HIIT increased CGM-based glucose concentration (6.9 ± 0.4 mmol/l; mean ± SEM for the exercise days during week 1) compared with either the pre-training period (6.4 ± 0.3 mmol/l) or afternoon HIIT (6.2 ± 0.3 mmol/l for the exercise days during week 1). Conversely, afternoon HIIT reduced the CGM-based glucose concentration compared with either the pre-training period or morning HIIT. Afternoon HIIT was associated with elevated thyroid-stimulating hormone (TSH; 1.9 ± 0.2 mU/l) and reduced T4 (15.8 ± 0.7 pmol/l) concentrations compared with pre-training (1.4 ± 0.2 mU/l for TSH; 16.8 ± 0.6 pmol/l for T4). TSH was also elevated after morning HIIT (1.7 ± 0.2 mU/l), whereas T4 concentrations were unaltered.
Conclusions/interpretation
Afternoon HIIT was more efficacious than morning HIIT at improving blood glucose in men with type 2 diabetes. Strikingly, morning HIIT had an acute, deleterious effect, increasing blood glucose. However, studies of longer training regimens are warranted to establish the persistence of this adverse effect. Our data highlight the importance of optimising the timing of exercise when prescribing it as treatment for type 2 diabetes.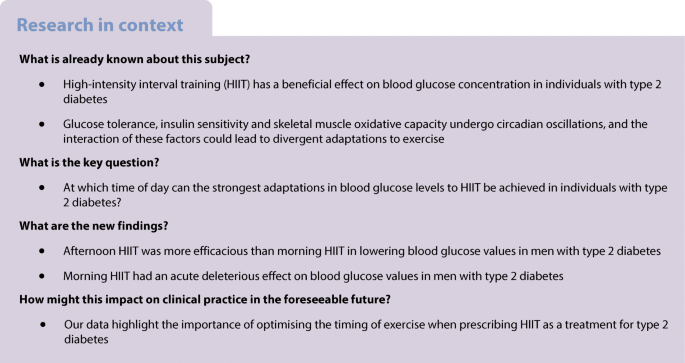 Abbreviations
CGM:

Continuous glucose monitor

HIIT:

High-intensity interval training

PTH:

Parathyroid hormone

TSH:

Thyroid-stimulating hormone
References
Gabriel BM, Zierath JR (2017) The limits of exercise physiology: from performance to health. Cell Metab 25(5):1000–1011. https://doi.org/10.1016/j.cmet.2017.04.018

Gibala MJ, Little JP, Macdonald MJ, Hawley JA (2012) Physiological adaptations to low-volume, high-intensity interval training in health and disease. J Physiol 590(5):1077–1084. https://doi.org/10.1113/jphysiol.2011.224725

Qian J, Scheer F (2016) Circadian system and glucose metabolism: implications for physiology and disease. Trends Endocrinol Metab 27(5):282–293. https://doi.org/10.1016/j.tem.2016.03.005

van Moorsel D, Hansen J, Havekes B et al (2016) Demonstration of a day-night rhythm in human skeletal muscle oxidative capacity. Mol Metab 5(8):635–645. https://doi.org/10.1016/j.molmet.2016.06.012

Yamanaka Y, Hashimoto S, Takasu NN et al (2015) Morning and evening physical exercise differentially regulate the autonomic nervous system during nocturnal sleep in humans. Am J Physiol Regul Integr Comp Physiol 309(9):R1112–R1121. https://doi.org/10.1152/ajpregu.00127.2015

Deschenes MR, Kraemer WJ, Bush JA et al (1998) Biorhythmic influences on functional capacity of human muscle and physiological responses. Med Sci Sports Exerc 30(9):1399–1407

Gomez AM, Gomez C, Aschner P et al (2015) Effects of performing morning versus afternoon exercise on glycemic control and hypoglycemia frequency in type 1 diabetes patients on sensor-augmented insulin pump therapy. J Diabetes Sci Technol 9(3):619–624. https://doi.org/10.1177/1932296814566233

Gillen JB, Little JP, Punthakee Z, Tarnopolsky MA, Riddell MC, Gibala MJ (2012) Acute high-intensity interval exercise reduces the postprandial glucose response and prevalence of hyperglycaemia in patients with type 2 diabetes. Diabetes Obes Metab 14(6):575–577. https://doi.org/10.1111/j.1463-1326.2012.01564.x

Leiper JB, Broad NP, Maughan RJ (2001) Effect of intermittent high-intensity exercise on gastric emptying in man. Med Sci Sports Exerc 33(8):1270–1278. https://doi.org/10.1097/00005768-200108000-00005

Nygaard H, Rønnestad BR, Hammarström D, Holmboe-Ottesen G, Høstmark AT (2017) Effects of exercise in the fasted and postprandial state on interstitial glucose in hyperglycemic individuals. J Sports Sci Med 16(2):254–263

Peake JM, Tan SJ, Markworth JF, Broadbent JA, Skinner TL, Cameron-Smith D (2014) Metabolic and hormonal responses to isoenergetic high-intensity interval exercise and continuous moderate-intensity exercise. Am J Phys Endocrinol Metab 307(7):E539–E552. https://doi.org/10.1152/ajpendo.00276.2014
Acknowledgements
Some of the data were presented as an abstract at the 54th annual meeting of the European Association for Study of Diabetes in 2018. The authors wish to thank J. Larsson and K. Mattsson (SATS Sports Club Sweden AB, Stockholm, Sweden) for assistance with exercise supervision and for access to the training facilities, D. Fiuza-Sanches (Clinical Physiology, Karolinska University Hospital, Stockholm, Sweden) for exercise testing, and P. Odenblad (Clinical Physiology, Karolinska University Hospital, Stockholm, Sweden) for assistance with study coordination.
Data availability
The data analysed during the current study are available from the corresponding author on reasonable request.
Funding
The authors are supported by grants from Novo Nordisk Foundation (NNF14OC0011493 and NNF14OC0009941), Swedish Diabetes Foundation (DIA2015-052), Wenner-Gren Foundation, Swedish Research Council (2015-00165), Strategic Research Program in Diabetes at Karolinska Institutet (2009-1068), Stockholm County Council (SLL20150517 and SLL20170159) and Swedish Heart Lung Foundation (20150423).
Ethics declarations
The authors declare that there is no duality of interest associated with this manuscript.
Rights and permissions
Open Access This article is distributed under the terms of the Creative Commons Attribution 4.0 International License (http://creativecommons.org/licenses/by/4.0/), which permits unrestricted use, distribution, and reproduction in any medium, provided you give appropriate credit to the original author(s) and the source, provide a link to the Creative Commons license, and indicate if changes were made.
About this article
Cite this article
Savikj, M., Gabriel, B.M., Alm, P.S. et al. Afternoon exercise is more efficacious than morning exercise at improving blood glucose levels in individuals with type 2 diabetes: a randomised crossover trial. Diabetologia 62, 233–237 (2019). https://doi.org/10.1007/s00125-018-4767-z
Received:

Accepted:

Published:

Issue Date:

DOI: https://doi.org/10.1007/s00125-018-4767-z
Keywords
Blood glucose level

Circadian rhythm

Continuous glucose monitoring

Exercise

High-intensity interval training

Type 2 diabetes