Abstract
Aims/hypothesis
Against a background of a near-universally increasing incidence of childhood type 1 diabetes, recent reports from some countries suggest a slowing in this increase. Occasional reports also describe cyclical variations in incidence, with periodicities of between 4 and 6 years.
Methods
Age/sex-standardised incidence rates for the 0- to 14-year-old age group are reported for 26 European centres (representing 22 countries) that have registered newly diagnosed individuals in geographically defined regions for up to 25 years during the period 1989–2013. Poisson regression was used to estimate rates of increase and test for cyclical patterns. Joinpoint regression software was used to fit segmented log-linear relationships to incidence trends.
Results
Significant increases in incidence were noted in all but two small centres, with a maximum rate of increase of 6.6% per annum in a Polish centre. Several centres in high-incidence countries showed reducing rates of increase in more recent years. Despite this, a pooled analysis across all centres revealed a 3.4% (95% CI 2.8%, 3.9%) per annum increase in incidence rate, although there was some suggestion of a reduced rate of increase in the 2004–2008 period. Rates of increase were similar in boys and girls in the 0- to 4-year-old age group (3.7% and 3.7% per annum, respectively) and in the 5- to 9-year-old age group (3.4% and 3.7% per annum, respectively), but were higher in boys than girls in the 10- to 14-year-old age group (3.3% and 2.6% per annum, respectively). Significant 4 year periodicity was detected in four centres, with three centres showing that the most recent peak in fitted rates occurred in 2012.
Conclusions/interpretation
Despite reductions in the rate of increase in some high-risk countries, the pooled estimate across centres continues to show a 3.4% increase per annum in incidence rate, suggesting a doubling in incidence rate within approximately 20 years in Europe. Although four centres showed support for a cyclical pattern of incidence with a 4 year periodicity, no plausible explanation for this can be given.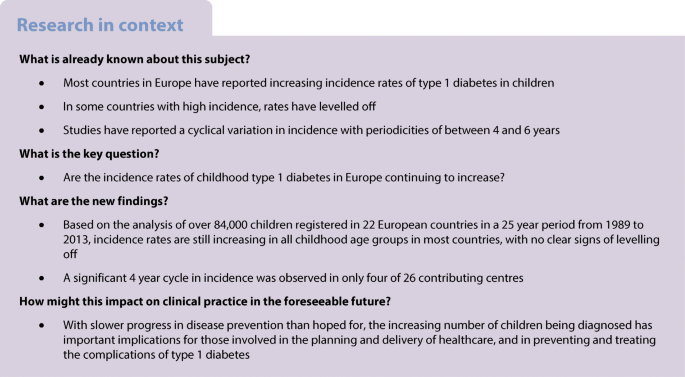 Data availability
Much of the data generated or analysed during this study are included in this article and its accompanying electronic supplementary material (ESM) files. Requests for further data should be sent to the corresponding author.
References
Patterson CC, Dahlquist GG, Gyürüs E et al (2009) Incidence trends for childhood type 1 diabetes in Europe during 1989–2003 and predicted new cases 2005–20: a multicentre prospective registration study. Lancet 373(9680):2027–2033. https://doi.org/10.1016/S0140-6736(09)60568-7

DIAMOND Project Group (2006) Incidence and trends of childhood type 1 diabetes worldwide 1990–1999. Diabet Med 23(8):857–866. https://doi.org/10.1111/j.1464-5491.2006.01925.x

Mayer-Davis EJ, Lawrence JM, Dabelea D et al (2017) Incidence trends of type 1 and type 2 diabetes among youths, 2002-2012. N Engl J Med 376(15):1419–1429. https://doi.org/10.1056/NEJMoa1610187

Fox DA, Islam N, Sutherland J, Reimer K, Amed S (2018) Type 1 diabetes incidence and prevalence trends in a cohort of Canadian children and youth. Pediatr Diabetes 19(3):501–505. https://doi.org/10.1111/pedi.12566

Haynes A, Bulsara MK, Bower C, Jones TW, Davis EA (2015) Regular peaks and troughs in the Australian incidence of childhood type 1 diabetes mellitus (2000-2011). Diabetologia 58(11):2513–2516. https://doi.org/10.1007/s00125-015-3709-2

Berhan Y, Waernbaum I, Lind T, Möllsten A, Dahlquist G, the Swedish Childhood Diabetes Study Group (2011) Thirty years of prospective nationwide incidence of childhood type 1 diabetes: the accelerating increase by time tends to level off in Sweden. Diabetes 60(2):577–581. https://doi.org/10.2337/db10-0813

Harjutsalo V, Sund R, Knip M, Groop PH (2013) Incidence of type 1 diabetes in Finland. JAMA 310(4):427–428. https://doi.org/10.1001/jama.2013.8399

Skrivarhaug T, Stene LC, Drivvoll AK, Strøm H, Joner G, Norwegian Childhood Diabetes Study Group (2014) Incidence of type 1 diabetes in Norway among children aged 0-14 years between 1989 and 2012: has the incidence stopped rising? Results from the Norwegian Childhood Diabetes Registry. Diabetologia 57(1):57–62. https://doi.org/10.1007/s00125-013-3090-y

Wu HB, Zhong JM, Hu RY et al (2016) Rapidly rising incidence of type 1 diabetes in children and adolescents aged 0-19 years in Zhejiang, China, 2007 to 2013. Diabet Med 33(10):1339–1346. https://doi.org/10.1111/dme.13010

Staines A, Bodansky HJ, Lilley HE, Stephenson C, McNally RJ, Cartwright RA (1993) The epidemiology of diabetes mellitus in the United Kingdom: the Yorkshire Regional Childhood Diabetes Register. Diabetologia 36(12):1282–1287. https://doi.org/10.1007/BF00400806

McNally RJ, Court S, James PW et al (2010) Cyclical variation in type 1 childhood diabetes. Epidemiology 21(6):914–915. https://doi.org/10.1097/EDE.0b013e3181f38f3f

Haynes A, Bulsara MK, Bower C, Jones TW, Davis EA (2012) Cyclical variation in the incidence of childhood type 1 diabetes in Western Australia (1985–2010). Diabetes Care 35(11):2300–2302. https://doi.org/10.2337/dc12-0205

Chobot A, Polanska J, Brandt A et al (2017) Updated 24-year trend of type 1 diabetes incidence in children in Poland reveals a sinusoidal pattern and sustained increase. Diabet Med 34(9):1252–1258. https://doi.org/10.1111/dme.13345

Green A, Gale EA, Patterson CC (1992) Incidence of childhood-onset insulin-dependent diabetes mellitus: the EURODIAB ACE study. Lancet 339(8798):905–909. https://doi.org/10.1016/0140-6736(92)90938-Y

Patterson CC, Gyürüs E, Rosenbauer J et al (2012) Trends in childhood type 1 diabetes incidence in Europe during 1989–2008: evidence of non-uniformity over time in rates of increase. Diabetologia 55(8):2142–2147. https://doi.org/10.1007/s00125-012-2571-8

Morris JA, Gardner MJ (1988) Calculating confidence intervals for relative risks (odds ratios) and standardised ratios and rates. Br Med J (Clin Res Ed) 296(6632):1313–1316. https://doi.org/10.1136/bmj.296.6632.1313

Stolwijk AM, Straatman H, Zielhuis GA (1999) Studying seasonality using sine and cosine functions in regression analysis. J Epidemiol Community Health 53(4):235–238. https://doi.org/10.1136/jech.53.4.235

Patterson CC, Gyürüs E, Rosenbauer J et al (2015) Seasonal variation in month of diagnosis in children with type 1 diabetes registered in 23 European centers during 1989-2008: little short-term influence of sunshine hours or average temperature. Pediatr Diabetes 16(8):573–580. https://doi.org/10.1111/pedi.12227

Craig ME, Nair S, Stein H, Rawlinson WD (2013) Viruses and type 1 diabetes: a new look at an old story. Pediatr Diabetes 14(3):149–158. https://doi.org/10.1111/pedi.12033

Bartlett MS (1957) Measles periodicity and community size. J R Stat Soc Ser A 120(1):48–70. https://doi.org/10.2307/2342553

Sun GQ, Jusup M, Jin Z, Wang Y, Wang Z (2016) Pattern transitions in spatial epidemics: mechanisms and emergent properties. Phys Life Rev 19:43–73. https://doi.org/10.1016/j.plrev.2016.08.002

Oen K, Fast M, Postl B (1995) Epidemiology of juvenile rheumatoid arthritis in Manitoba, Canada, 1975-92: cycles in incidence. J Rheumatol 22(4):745–750

Ruiz PLD, Tapia G, Bakken IJ et al (2018) Pandemic influenza and subsequent risk of type 1 diabetes: a nationwide cohort study. Diabetologia 61(9):1996–2004. https://doi.org/10.1007/s00125-018-4662-7

Chowell G, Miller MA, Viboud C (2008) Seasonal influenza in the United States, France, and Australia: transmission and prospects for control. Epidemiol Infect 136(6):852–864. https://doi.org/10.1017/S0950268807009144

American Diabetes Association (2016) Classification and diagnosis of diabetes. Section 2. In Standards of medical care in Diabetes–2016. Diabetes Care 39(Suppl 1):S8–S16

Bingley PJ, Bonifacio E, Williams AJ, Genovese S, Bottazzo GF, Gale E (1997) Prediction of IDDM in the general population: strategies based on combinations of autoantibody markers. Diabetes 46(11):1701–1710. https://doi.org/10.2337/diab.46.11.1701

Bingley PJ (2010) Clinical applications of diabetes antibody testing. J Clin Endocrinol Metab 95(1):25–33. https://doi.org/10.1210/jc.2009-1365

Craig ME, Jefferies C, Dabelea D, Balde N, Seth A, Donaghue KC (2014) Definition, epidemiology, and classification of diabetes in children and adolescents. Pediatr Diabetes 15(Suppl 20):4–17. https://doi.org/10.1111/pedi.12186

Fazeli Farsani S, van der Aa MP, van der Vorst MM, Knibbe CA, de Boer A (2013) Global trends in the incidence and prevalence of type 2 diabetes in children and adolescents: a systematic review and evaluation of methodological approaches. Diabetologia 56(7):1471–1488. https://doi.org/10.1007/s00125-013-2915-z

Neu A, Feldhahn L, Ehehalt S et al (2018) No change in type 2 diabetes prevalence in children and adolescents over 10 years: update of a population-based survey in South Germany. Pediatr Diabetes 19(4):637–639. https://doi.org/10.1111/pedi.12622

Candler TP, Mahmoud O, Lynn RM, Majbar AA, Barrett TG, Shield JPH (2018) Continuing rise of type 2 diabetes incidence in children and young people in the UK. Diabet Med 35(6):737–744. https://doi.org/10.1111/dme.13609

Oester IM, Kloppenborg JT, Olsen BS, Johannesen J (2016) Type 2 diabetes mellitus in Danish children and adolescents in 2014. Pediatr Diabetes 17(5):368–373. https://doi.org/10.1111/pedi.12291

O'Dea MI, O'Connell SM, O'Grady MJ (2017) Prevalence and characteristics of paediatric type 2 diabetes in the Republic of Ireland. Diabet Med 34(11):1603–1607. https://doi.org/10.1111/dme.13425
Acknowledgements
The authors acknowledge the Austrian Diabetes Incidence Study Group, the Belgian Diabetes Registry, the Czech Childhood Diabetes Register and the Czech Association of Parents and Friends of Diabetic Children, the Danish Study Group of Diabetes in Childhood and contributors to DanDiabKids, the Chronic Disease Prevention Unit of the Finnish National Institute for Health and Welfare, the Baden-Württemberg Diabetes Incidence Registry (DIARY), the German Paediatric Surveillance Unit, DPV Science Initiative, Ulm University, the German Competence Network Diabetes Mellitus and the German Center for Diabetes Research (DZD), the Saxonian Childhood Diabetes Register Group, the Hungarian Childhood Diabetes Epidemiology Group, the Irish Childhood Diabetes National Register, the Registry for Incidence of Diabetes in Italy (RIDI), the Lithuanian Childhood Diabetes Registry Study Group, the Norwegian Childhood Diabetes Study Group, the Catalan Epidemiology Type 1 Diabetes Study Group, the Swedish Childhood Diabetes Study Group, the Managed Clinical Network for Paediatric Diabetes in Northern Ireland, the Bart's–Oxford Study Group and the Yorkshire Register of Diabetes in Children and Young People.
Funding
The following centres received support as listed: Austria centre from Sanofi and Novo-Nordisk, Czechia centre from the Czech Ministry of Health (grant 00064203), Germany–North Rhine-Westphalia centre from the German Federal Ministry of Education and Research, Ireland centre from the National Children's Hospital Foundation, Norway centre from the South-Eastern Norway Regional Health Authority, Poland–Katowice centre from the Medical University of Silesia (grants SUM KNW-1-083/K/6/K and SUM KNW-1-063/N/7/K Sweden–Stockholm centre from the Swedish Research Council (project number 07531), UK–Oxford centre from Diabetes UK, UK–Yorkshire centre from the UK Department of Health and the Yorkshire and Humber Children and Young People's Diabetes Network. IW was in receipt of a fellowship from the Belgian Fund for Scientific Research. Funding to establish the collaboration was supplied by European Community Concerted Action Program grants (BMH1-CT92-0043, BMH4-CT96-0577 and IC20-CT96-0070).
Ethics declarations
The authors declare that there is no duality of interest associated with this manuscript.
Electronic supplementary material
Rights and permissions
Open Access This article is distributed under the terms of the Creative Commons Attribution 4.0 International License (http://creativecommons.org/licenses/by/4.0/), which permits unrestricted use, distribution, and reproduction in any medium, provided you give appropriate credit to the original author(s) and the source, provide a link to the Creative Commons license, and indicate if changes were made.
About this article
Cite this article
Patterson, C.C., Harjutsalo, V., Rosenbauer, J. et al. Trends and cyclical variation in the incidence of childhood type 1 diabetes in 26 European centres in the 25 year period 1989–2013: a multicentre prospective registration study. Diabetologia 62, 408–417 (2019). https://doi.org/10.1007/s00125-018-4763-3
Received:

Accepted:

Published:

Issue Date:

DOI: https://doi.org/10.1007/s00125-018-4763-3
Keywords
Cyclical variation

Epidemiology

Incidence

Temporal change

Type 1 diabetes mellitus