Abstract
Aims/hypothesis
Hypoglycaemia is a major barrier to good glucose control in type 1 diabetes. Frequent hypoglycaemic episodes impair awareness of subsequent hypoglycaemic bouts. Neural changes underpinning awareness of hypoglycaemia are poorly defined and molecular mechanisms by which glial cells contribute to hypoglycaemia sensing and glucose counterregulation require further investigation. The aim of the current study was to examine whether, and by what mechanism, human primary astrocyte (HPA) function was altered by acute and recurrent low glucose (RLG).
Methods
To test whether glia, specifically astrocytes, could detect changes in glucose, we utilised HPA and U373 astrocytoma cells and exposed them to RLG in vitro. This allowed measurement, with high specificity and sensitivity, of RLG-associated changes in cellular metabolism. We examined changes in protein phosphorylation/expression using western blotting. Metabolic function was assessed using a Seahorse extracellular flux analyser. Immunofluorescent imaging was used to examine cell morphology and enzymatic assays were used to measure lactate release, glycogen content, intracellular ATP and nucleotide ratios.
Results
AMP-activated protein kinase (AMPK) was activated over a pathophysiologically relevant glucose concentration range. RLG produced an increased dependency on fatty acid oxidation for basal mitochondrial metabolism and exhibited hallmarks of mitochondrial stress, including increased proton leak and reduced coupling efficiency. Relative to glucose availability, lactate release increased during low glucose but this was not modified by RLG. Basal glucose uptake was not modified by RLG and glycogen levels were similar in control and RLG-treated cells. Mitochondrial adaptations to RLG were partially recovered by maintaining euglycaemic levels of glucose following RLG exposure.
Conclusions/interpretation
Taken together, these data indicate that HPA mitochondria are altered following RLG, with a metabolic switch towards increased fatty acid oxidation, suggesting glial adaptations to RLG involve altered mitochondrial metabolism that could contribute to defective glucose counterregulation to hypoglycaemia in diabetes.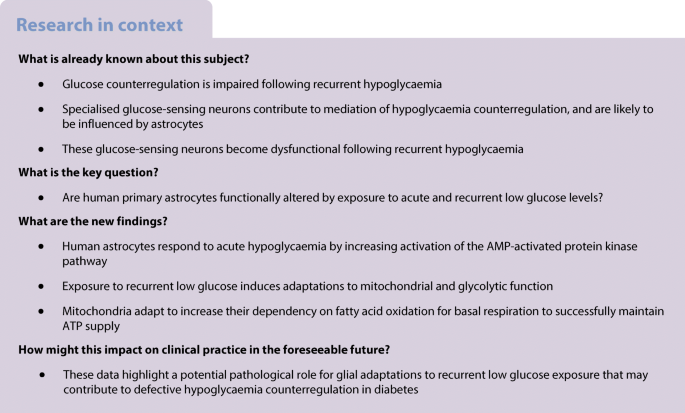 Data availability
The datasets generated during and analysed during the current study are available from the corresponding author on reasonable request.
Abbreviations
ACC:

Acetyl-CoA carboxylase

AMPK:

AMP-activated protein kinase

CPT1:

Carnitine palmitoyltransferase 1

CRR:

Counterregulatory response

ECAR:

Extracellular acidification rate

FAO:

Fatty acid oxidation

FCCP:

Carbonyl cyanide 4-(trifluoromethoxy)phenylhydrazone

GFAP:

Glial fibrillary acidic protein

HK:

Hexokinase

HPA:

Human primary astrocyte

MPC:

Mitochondrial pyruvate carrier

6-NBDG:

6-(N-(7-nitrobenz-2-oxa-1,3-diazol-4-yl)amino)-6-deoxyglucose

OCR:

Oxygen consumption rate

PFK[P]:

Phosphofructokinase [platelet]

RLG:

Recurrent low glucose

VDAC:

Voltage-dependent anion channel

VMH:

Ventromedial nucleus of the hypothalamus
References
Michaud I, Henderson M, Legault L, Mathieu ME (2017) Physical activity and sedentary behavior levels in children and adolescents with type 1 diabetes using insulin pump or injection therapy – the importance of parental activity profile. J Diabetes Complicat 31:381–386. https://doi.org/10.1016/j.jdiacomp.2016.11.016

Brazeau AS, Rabasa-Lhoret R, Strychar I, Mircescu H (2008) Barriers to physical activity among patients with type 1 diabetes. Diabetes Care 31:2108–2109. https://doi.org/10.2337/dc08-0720

Robinson RT, Harris ND, Ireland RH, Macdonald IA, Heller SR (2004) Changes in cardiac repolarization during clinical episodes of nocturnal hypoglycaemia in adults with type 1 diabetes. Diabetologia 47:312–315. https://doi.org/10.1007/s00125-003-1292-4

Chow E, Bernjak A, Williams S et al (2014) Risk of cardiac arrhythmias during hypoglycemia in patients with type 2 diabetes and cardiovascular risk. Diabetes 63:1738–1747. https://doi.org/10.2337/db13-0468

Heller SR, Cryer PE (1991) Reduced neuroendocrine and symptomatic responses to subsequent hypoglycemia after 1 episode of hypoglycemia in nondiabetic humans. Diabetes 40:223–226. https://doi.org/10.2337/diab.40.2.223

Segel SA, Paramore DS, Cryer PE (2002) Hypoglycemia-associated autonomic failure in advanced type 2 diabetes. Diabetes 51:724–733. https://doi.org/10.2337/diabetes.51.3.724

Evans ML, McCrimmon RJ, Flanagan DE et al (2004) Hypothalamic ATP-sensitive K + channels play a key role in sensing hypoglycemia and triggering counterregulatory epinephrine and glucagon responses. Diabetes 53:2542–2551. https://doi.org/10.2337/diabetes.53.10.2542

Horvath TL, Sarman B, García-Cáceres C et al (2010) Synaptic input organization of the melanocortin system predicts diet-induced hypothalamic reactive gliosis and obesity. Proc Natl Acad Sci 107:14875–14880. https://doi.org/10.1073/pnas.1004282107

Mancardi GL, Liwnicz BH, Mandybur TI (1983) Fibrous astrocytes in Alzheimer's disease and senile dementia of Alzheimer's type. Acta Neuropathol 61:76–80. https://doi.org/10.1007/BF00688390

Renkawek K, Stege GJ, Bosman GJ (1999) Dementia, gliosis and expression of the small heat shock proteins hsp27 and alpha B-crystallin in Parkinson's disease. Neuroreport 10:2273–2276. https://doi.org/10.1097/00001756-199908020-00009

Lee J, Hyeon SJ, Im H, Ryu H, Kim Y, Ryu H (2016) Astrocytes and microglia as non-cell autonomous players in the pathogenesis of ALS. Experimental neurobiology 25:233–240. https://doi.org/10.5607/en.2016.25.5.233

Maxwell K, Berliner JA, Cancilla PA (1989) Stimulation of glucose analogue uptake by cerebral microvessel endothelial cells by a product released by astrocytes. J Neuropathol Exp Neurol 48:69–80. https://doi.org/10.1097/00005072-198901000-00006

McDougal DH, Viard E, Hermann GE, Rogers RC (2013) Astrocytes in the hindbrain detect glucoprivation and regulate gastric motility. Autonomic neuroscience: basic & clinical 175:61–69. https://doi.org/10.1016/j.autneu.2012.12.006

Chen N, Sugihara H, Kim J et al (2016) Direct modulation of GFAP-expressing glia in the arcuate nucleus bi-directionally regulates feeding. eLife 5:e18716. https://doi.org/10.7554/eLife.18716

Fuente-Martin E, Garcia-Caceres C, Granado M et al (2012) Leptin regulates glutamate and glucose transporters in hypothalamic astrocytes. J Clin Invest 122:3900–3913. https://doi.org/10.1172/JCI64102

Wender R, Brown AM, Fern R, Swanson RA, Farrell K, Ransom BR (2000) Astrocytic glycogen influences axon function and survival during glucose deprivation in central white matter. J Neurosci 20:6804–6810. https://doi.org/10.1523/JNEUROSCI.20-18-06804.2000

Brown AM, Sickmann HM, Fosgerau K et al (2005) Astrocyte glycogen metabolism is required for neural activity during aglycemia or intense stimulation in mouse white matter. J Neurosci Res 79:74–80. https://doi.org/10.1002/jnr.20335

Gibbs ME, Hertz L (2008) Inhibition of astrocytic energy metabolism by d-lactate exposure impairs memory. Neurochem Int 52:1012–1018. https://doi.org/10.1016/j.neuint.2007.10.014

Suzuki A, Stern SA, Bozdagi O et al (2011) Astrocyte–neuron lactate transport is required for long-term memory formation. Cell 144:810–823. https://doi.org/10.1016/j.cell.2011.02.018

Matsui T, Ishikawa T, Ito H et al (2012) Brain glycogen supercompensation following exhaustive exercise. J Physiol 590:607–616. https://doi.org/10.1113/jphysiol.2011.217919

Almeida A, Moncada S, Bolanos JP (2004) Nitric oxide switches on glycolysis through the AMP protein kinase and 6-phosphofructo-2-kinase pathway. Nat Cell Biol 6:45–51. https://doi.org/10.1038/ncb1080

Holley JE, Gveric D, Whatmore JL, Gutowski NJ (2005) Tenascin C induces a quiescent phenotype in cultured adult human astrocytes. Glia 52:53–58. https://doi.org/10.1002/glia.20231

Vlachaki Walker JM, Robb JL, Cruz AM et al (2017) AMP-activated protein kinase (AMPK) activator A-769662 increases intracellular calcium and ATP release from astrocytes in an AMPK-independent manner. Diabetes Obes Metab 19:997–1005. https://doi.org/10.1111/dom.12912

Allaman I, Pellerin L, Magistretti PJ (2004) Glucocorticoids modulate neurotransmitter-induced glycogen metabolism in cultured cortical astrocytes. J Neurochem 88:900–908

McCrimmon RJ, Shaw M, Fan X et al (2008) Key role for AMP-activated protein kinase in the ventromedial hypothalamus in regulating counterregulatory hormone responses to acute hypoglycemia. Diabetes 57:444–450. https://doi.org/10.2337/db07-0837

Claret M, Smith MA, Batterham RL et al (2007) AMPK is essential for energy homeostasis regulation and glucose sensing by POMC and AgRP neurons. J Clin Invest 117:2325–2336. https://doi.org/10.1172/JCI31516

St-Pierre J, Buckingham JA, Roebuck SJ, Brand MD (2002) Topology of superoxide production from different sites in the mitochondrial electron transport chain. J Biol Chem 277:44784–44790. https://doi.org/10.1074/jbc.M207217200

Skulachev VP (1998) Uncoupling: new approaches to an old problem of bioenergetics. Biochimica et Biophysica Acta (BBA) - Bioenergetics 1363:100–124. https://doi.org/10.1016/S0005-2728(97)00091-1

Poplawski MM, Mastaitis JW, Mobbs CV (2011) Naloxone, but not valsartan, preserves responses to hypoglycemia after antecedent hypoglycemia. Diabetes 60:39–46. https://doi.org/10.2337/db10-0326

García-Cáceres C, Quarta C, Varela L et al (2016) Astrocytic insulin signaling couples brain glucose uptake with nutrient availability. Cell 166:867–880. https://doi.org/10.1016/j.cell.2016.07.028

Logan S, Pharaoh GA, Marlin MC et al (2018) Insulin-like growth factor receptor signaling regulates working memory, mitochondrial metabolism, and amyloid-beta uptake in astrocytes. Mol Metab 9:141–155. https://doi.org/10.1016/j.molmet.2018.01.013

Herzog RI, McNay EC, McCrimmon R et al (2006) Effect of acute and recurrent hypoglycemia on regional changes in brain glycogen concentration. Diabetes 55:A149–A149

Oz G, Tesfaye N, Kumar A, Deelchand DK, Eberly LE, Seaquist ER (2012) Brain glycogen content and metabolism in subjects with type 1 diabetes and hypoglycemia unawareness. J Cereb Blood Flow Metab 32:256–263. https://doi.org/10.1038/jcbfm.2011.138

Canada SE, Weaver SA, Sharpe SN, Pederson BA (2011) Brain glycogen supercompensation in the mouse after recovery from insulin-induced hypoglycemia. J Neurosci Res 89:585–591. https://doi.org/10.1002/jnr.22579

Alquier T, Kawashima J, Tsuji Y, Kahn BB (2007) Role of hypothalamic adenosine 5′-monophosphate activated protein kinase in the impaired counterregulatory response induced by repetitive neuroglucopenia. Endocrinology 148:1367–1375. https://doi.org/10.1210/en.2006-1039

Schousboe A (2018) Metabolic signaling in the brain and the role of astrocytes in control of glutamate and GABA neurotransmission. Neurosci Lett. https://doi.org/10.1016/j.neulet.2018.01.038

Levy LM, Warr O, Attwell D (1998) Stoichiometry of the glial glutamate transporter GLT-1 expressed inducibly in a Chinese hamster ovary cell line selected for low endogenous Na+-dependent glutamate uptake. J Neurosci 18:9620–9628. https://doi.org/10.1523/JNEUROSCI.18-23-09620.1998

Silver IA, Erecinska M (1997) Energetic demands of the Na+/K+ ATPase in mammalian astrocytes. Glia 21:35–45. https://doi.org/10.1002/(SICI)1098-1136(199709)21:1<35::AID-GLIA4>3.0.CO;2-0

Yan X, Shi ZF, Xu LX et al (2017) Glutamate impairs mitochondria aerobic respiration capacity and enhances glycolysis in cultured rat astrocytes. Biomed Environ Sci 30:44–51. https://doi.org/10.3967/bes2017.005

Chowdhury GMI, Wang P, Ciardi A et al (2017) Impaired glutamatergic neurotransmission in the VMH may contribute to defective counterregulation in recurrently hypoglycemic rats. Diabetes 66:1979–1989. https://doi.org/10.2337/db16-1589

Chan O, Cheng H, Herzog R et al (2008) Increased GABAergic tone in the ventromedial hypothalamus contributes to suppression of counterregulatory responses after antecedent hypoglycemia. Diabetes 57:1363–1370. https://doi.org/10.2337/db07-1559

Iversen LL, Neal MJ (1968) The uptake of [3H]GABA by slices of rat cerebral cortex. J Neurochem 15(10):1141–1149. https://doi.org/10.1111/j.1471-4159.1968.tb06831.x

Chatton J-Y, Pellerin L, Magistretti PJ (2003) GABA uptake into astrocytes is not associated with significant metabolic cost: implications for brain imaging of inhibitory transmission. Proc Natl Acad Sci 100:12456–12461. https://doi.org/10.1073/pnas.2132096100

Chung IY, Benveniste EN (1990) Tumor necrosis factor-alpha production by astrocytes. Induction by lipopolysaccharide, IFN-gamma, and IL-1 beta. J Immunol 144:2999–3007

Hao L, Sheng Z, Potian J, Deak A, Rohowsky-Kochan C, Routh VH (2016) Lipopolysaccharide (LPS) and tumor necrosis factor alpha (TNFα) blunt the response of neuropeptide Y/agouti-related peptide (NPY/AgRP) glucose inhibited (GI) neurons to decreased glucose. Brain Res 1648:181–192. https://doi.org/10.1016/j.brainres.2016.07.035

Buckman LB, Thompson MM, Lippert RN, Blackwell TS, Yull FE, Ellacott KL (2015) Evidence for a novel functional role of astrocytes in the acute homeostatic response to high-fat diet intake in mice. Mol Metab 4:58–63. https://doi.org/10.1016/j.molmet.2014.10.001

Chari M, Yang CS, Lam CKL et al (2011) Glucose transporter-1 in the hypothalamic glial cells mediates glucose sensing to regulate glucose production in vivo. Diabetes 60:1901–1906. https://doi.org/10.2337/db11-0120

Boisvert MM, Erikson GA, Shokhirev MN, Allen NJ (2018) The aging astrocyte transcriptome from multiple regions of the mouse brain. Cell Rep 22:269–285. https://doi.org/10.1016/j.celrep.2017.12.039

Oe Y, Baba O, Ashida H, Nakamura KC, Hirase H (2016) Glycogen distribution in the microwave-fixed mouse brain reveals heterogeneous astrocytic patterns. Glia 64:1532–1545. https://doi.org/10.1002/glia.23020

McDougal DH, Hermann GE, Rogers RC (2013) Astrocytes in the nucleus of the solitary tract are activated by low glucose or glucoprivation: evidence for glial involvement in glucose homeostasis. Front Neurosci 7:249
Acknowledgements
We thank the family of the donor for making this research possible and N. Gutowski and J. Holley (both University of Exeter, Exeter, UK) for kindly gifting the human primary astrocytes. We also wish to thank N. Howe (Seahorse Bioscience, Agilent, UK) for guidance with extracellular flux analysis.
Parts of this study were presented at the American Diabetes Association 77th Scientific Sessions and at the Diabetes UK Annual Professional Conference 2017 and 2018.
Funding
This study was funded by grants from: Diabetes UK (RD Lawrence Fellowship to CB; 13/0004647); the Medical Research Council (MR/N012763/1) to KLJE, ADR and CB; and a Mary Kinross Charitable Trust PhD studentship to CB, ADR and RW to support PGWP. Additional support for this work came from awards from the British Society for Neuroendocrinology (to CB and KLJE), the Society for Endocrinology (CB), Tenovus Scotland (CB) and the University of Exeter Medical School (CB and KLJE). AR was also supported by a Royal Society Industry Fellowship.
Ethics declarations
The authors declare that there is no duality of interest associated with this manuscript.
Electronic supplementary material
Rights and permissions
Open Access This article is distributed under the terms of the Creative Commons Attribution 4.0 International License (http://creativecommons.org/licenses/by/4.0/), which permits unrestricted use, distribution, and reproduction in any medium, provided you give appropriate credit to the original author(s) and the source, provide a link to the Creative Commons license, and indicate if changes were made.
About this article
Cite this article
Weightman Potter, P.G., Vlachaki Walker, J.M., Robb, J.L. et al. Basal fatty acid oxidation increases after recurrent low glucose in human primary astrocytes. Diabetologia 62, 187–198 (2019). https://doi.org/10.1007/s00125-018-4744-6
Received:

Accepted:

Published:

Issue Date:

DOI: https://doi.org/10.1007/s00125-018-4744-6
Keywords
Adenosine triphosphate

AMP-activated protein kinase

Astrocyte

Diabetes

Fatty acid oxidation

Glia

Hypoglycaemia

Lactate

Low glucose

Mitochondrial metabolism