Abstract
Aims/hypothesis
The Coxsackie and adenovirus receptor (CAR) is a transmembrane cell-adhesion protein that serves as an entry receptor for enteroviruses and may be essential for their ability to infect cells. Since enteroviral infection of beta cells has been implicated as a factor that could contribute to the development of type 1 diabetes, it is often assumed that CAR is displayed on the surface of human beta cells. However, CAR exists as multiple isoforms and it is not known whether all isoforms subserve similar physiological functions. In the present study, we have determined the profile of CAR isoforms present in human beta cells and monitored the subcellular localisation of the principal isoform within the cells.
Methods
Formalin-fixed, paraffin-embedded pancreatic sections from non-diabetic individuals and those with type 1 diabetes were studied. Immunohistochemistry, confocal immunofluorescence, electron microscopy and western blotting with isoform-specific antisera were employed to examine the expression and cellular localisation of the five known CAR isoforms. Isoform-specific qRT-PCR and RNA sequencing (RNAseq) were performed on RNA extracted from isolated human islets.
Results
An isoform of CAR with a terminal SIV motif and a unique PDZ-binding domain was expressed at high levels in human beta cells at the protein level. A second isoform, CAR-TVV, was also present. Both forms were readily detected by qRT-PCR and RNAseq analysis in isolated human islets. Immunocytochemical studies indicated that CAR-SIV was the principal isoform in islets and was localised mainly within the cytoplasm of beta cells, rather than at the plasma membrane. Within the cells it displayed a punctate pattern of immunolabelling, consistent with its retention within a specific membrane-bound compartment. Co-immunofluorescence analysis revealed significant co-localisation of CAR-SIV with zinc transporter protein 8 (ZnT8), prohormone convertase 1/3 (PC1/3) and insulin, but not proinsulin. This suggests that CAR-SIV may be resident mainly in the membranes of insulin secretory granules. Immunogold labelling and electron microscopic analysis confirmed that CAR-SIV was localised to dense-core (insulin) secretory granules in human islets, whereas no immunolabelling of the protein was detected on the secretory granules of adjacent exocrine cells. Importantly, CAR-SIV was also found to co-localise with protein interacting with C-kinase 1 (PICK1), a protein recently demonstrated to play a role in insulin granule maturation and trafficking.
Conclusions/interpretation
The SIV isoform of CAR is abundant in human beta cells and is localised mainly to insulin secretory granules, implying that it may be involved in granule trafficking and maturation. We propose that this subcellular localisation of CAR-SIV contributes to the unique sensitivity of human beta cells to enteroviral infection.
Similar content being viewed by others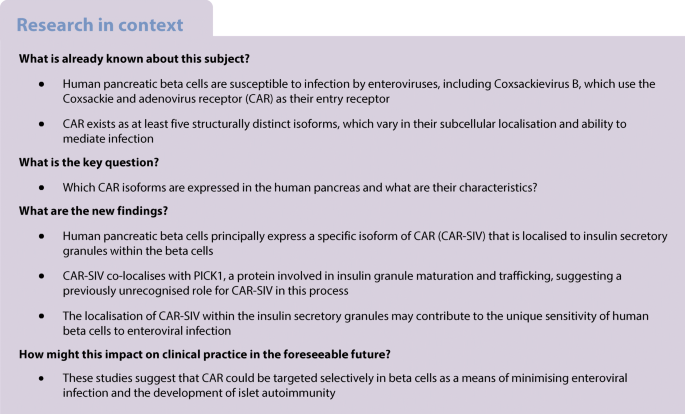 Data availability
The datasets generated during and/or analysed during the current study are available from the corresponding author on reasonable request.
Abbreviations
CAR:

Coxsackie and adenovirus receptor

CAR-CT:

Coxsackie and adenovirus receptor C-terminus

CVB:

Coxsackievirus B

ECD:

Extracellular domain

FFPE:

Formalin-fixed, paraffin-embedded

LCM:

Laser capture microdissected

MCC:

Manders co-localisation coefficient

PC1/3:

Prohormone convertase 1/3

PICK1:

Protein interacting with C-kinase 1

RNAseq:

RNA sequencing

ZnT8:

Zinc transporter protein 8
References
Yeung W-CG, Rawlinson WD, Craig ME (2011) Enterovirus infection and type 1 diabetes mellitus: systematic review and meta-analysis of observational molecular studies. BMJ 342:d35

Frisk G, Diderholm H (2000) Tissue culture of isolated human pancreatic islets infected with different strains of coxsackievirus B4: assessment of virus replication and effects on islet morphology and insulin release. Int J Exp Diabetes Res 1:165–175

Ylipaasto P, Klingel K, Lindberg AM et al (2004) Enterovirus infection in human pancreatic islet cells, islet tropism in vivo and receptor involvement in cultured islet beta cells. Diabetologia 47:225–239

Roivainen M, Rasilainen S, Ylipaasto P et al (2000) Mechanisms of coxsackievirus-induced damage to human pancreatic beta-cells 1. J Clin Endocrinol Metab 85:432–440

Richardson SJ, Willcox A, Bone A, Foulis AK, Morgan NG (2009) The prevalence of enteroviral capsid protein vp1 immunostaining in pancreatic islets in human type 1 diabetes. Diabetologia 52:1143–1151

Krogvold L, Edwin B, Buanes T et al (2015) Detection of a low-grade enteroviral infection in the islets of Langerhans of living patients newly diagnosed with type 1 diabetes. Diabetes 64:1682–1687

Ylipaasto P, Smura T, Gopalacharyulu P et al (2012) Enterovirus-induced gene expression profile is critical for human pancreatic islet destruction. Diabetologia 55:3273–3283

Richardson SJ, Leete P, Bone AJ, Foulis AK, Morgan NG (2013) Expression of the enteroviral capsid protein VP1 in the islet cells of patients with type 1 diabetes is associated with induction of protein kinase R and downregulation of Mcl-1. Diabetologia 56:185–193

Raschperger E, Thyberg J, Pettersson S, Philipson L, Fuxe J, Pettersson RF (2006) The coxsackie-and adenovirus receptor (CAR) is an in vivo marker for epithelial tight junctions, with a potential role in regulating permeability and tissue homeostasis. Exp Cell Res 312:1566–1580

Bergelson JM, Cunningham JA, Droguett G et al (1997) Isolation of a common receptor for Coxsackie B viruses and adenoviruses 2 and 5. Science 275:1320–1323

Dörner A, Xiong D, Couch K, Yajima T, Knowlton KU (2004) Alternatively spliced soluble coxsackie-adenovirus receptors inhibit coxsackievirus infection. J Biol Chem 279:18497–18503

He Y, Chipman PR, Howitt J et al (2001) Interaction of coxsackievirus B3 with the full length coxsackievirus-adenovirus receptor. Nat Struct Biol 8:874–878

Excoffon KJ, Gansemer ND, Mobily ME, Karp PH, Parekh KR, Zabner J (2010) Isoform-specific regulation and localization of the coxsackie and adenovirus receptor in human airway epithelia. PLoS One 5:e9909

Cohen CJ, Shieh JT, Pickles RJ, Okegawa T, Hsieh JT, Bergelson JM (2001) The coxsackievirus and adenovirus receptor is a transmembrane component of the tight junction. Proc Natl Acad Sci U S A 98:15191–15196

Excoffon KJA, Hruska-Hageman A, Klotz M, Traver GL, Zabner J (2004) A role for the PDZ-binding domain of the coxsackie B virus and adenovirus receptor (CAR) in cell adhesion and growth. J Cell Sci 117:4401–4409

Kolawole AO, Sharma P, Yan R et al (2012) The PDZ1 and PDZ3 domains of MAGI-1 Regulate the eight-exon isoform of the coxsackievirus and adenovirus receptor. J Virol 86:9244–9254

Holst B, Madsen KL, Jansen AM et al (2013) PICK1 deficiency impairs secretory vesicle biogenesis and leads to growth retardation and decreased glucose tolerance. PLoS Biol 11:e1001542

Cao M, Mao Z, Kam C et al (2013) PICK1 and ICA69 control insulin granule trafficking and their deficiencies lead to impaired glucose tolerance. PLoS Biol 11:e1001541

Drescher KM, Kono K, Bopegamage S, Carson SD, Tracy S (2004) Coxsackievirus B3 infection and type 1 diabetes development in NOD mice: insulitis determines susceptibility of pancreatic islets to virus infection. Virology 329:381–394

Hodik M, Anagandula M, Fuxe J et al (2016) Coxsackie–adenovirus receptor expression is enhanced in pancreas from patients with type 1 diabetes. BMJ Open Diabetes Res Care 4:e000219

Willcox A, Richardson SJ, Bone AJ, Foulis AK, Morgan NG (2009) Analysis of islet inflammation in human type 1 diabetes. Clin Exp Immunol 155:173–181

Richardson SJ, Rodriguez-Calvo T, Gerling IC et al (2016) Islet cell hyperexpression of HLA class I antigens: a defining feature in type 1 diabetes. Diabetologia 59:2448–2458

Eizirik DL, Sammeth M, Bouckenooghe T et al (2012) The human pancreatic islet transcriptome: expression of candidate genes for type 1 diabetes and the impact of pro-inflammatory cytokines. PLoS Genet 8:e1002552

Slot JW, Geuze HJ (2007) Cryosectioning and immunolabeling. Nat Protoc 2:2480–2491

Ravassard P, Hazhouz Y, Pechberty S et al (2011) A genetically engineered human pancreatic β cell line exhibiting glucose-inducible insulin secretion. J Clin Invest 121:3589–3597

Coyne CB, Bergelson JM (2006) Virus-induced Abl and Fyn kinase signals permit coxsackievirus entry through epithelial tight junctions. Cell 124:119–131

Robinson R (2013) A pair of crescent-shaped proteins shape vesicles at the golgi. PLoS Biol 11:e1001543

Arvan P, Pietropaolo M, Ostrov D, Rhodes CJ (2012) Islet autoantigens: structure, function, localization, and regulation. Cold Spring Harb Perspect Med 2:a007658

Hodik M, Skog O, Lukinius A et al (2016) Enterovirus infection of human islets of Langerhans affects β-cell function resulting in disintegrated islets, decreased glucose stimulated insulin secretion and loss of Golgi structure. BMJ Open Diabetes Res Care 4:e000179
Acknowledgements
This research was performed with the support of the Network for Pancreatic Organ donors with Diabetes (nPOD; RRID:SCR_014641), a collaborative type 1 diabetes research project sponsored by the JDRF (nPOD: 5-SRA-2018-557-Q-R) and The Leona M. & Harry B. Helmsley Charitable Trust (Grant no. 2018PG-T1D053). Organ Procurement Organizations (OPO) partnering with nPOD to provide research resources are listed at http://www.jdrfnpod.org//for-partners/npod-partners/. The Biocenter Oulu electron microscopy core facility and T. Kantoluoto are acknowledged for cutting thin, frozen sections and assisting with staining. We would also like to acknowledge J. L. E. Hill (Institute of Biomedical & Clinical Science, University of Exeter Medical School, Exeter, UK) for assistance with the immunoprecipitations and J.-V. Turatsinze (ULB Center for Diabetes Research, Brussels) for bioinformatics support. Some of the data in this manuscript were presented at the Diabetes UK Professional Conference in 2017 (P14).
Funding
We are pleased to acknowledge financial support from the European Union's Seventh Framework Programme PEVNET (FP7/2007-2013) under grant agreement number 261441. The participants of the PEVNET consortium are described at http://www.uta.fi/med/pevnet/publications.html. Additional support was from a JDRF Career Development Award (5-CDA-2014-221-A-N) to SJR, a JDRF research grant awarded to the network of Pancreatic Organ Donors—Virus (nPOD-V) consortium (JDRF 25-2012-516), an MRC Project Grant MR/P010695/1 awarded to SJR, a Foundation main grant to EI from the Funds for Women Graduates (178123), and FRFS-Welbio grant CR-2015A-06, Belgium, awarded to DLE.
Ethics declarations
The authors declare that there is no duality of interest associated with this manuscript.
Electronic supplementary material
Rights and permissions
Open Access This article is distributed under the terms of the Creative Commons Attribution 4.0 International License (http://creativecommons.org/licenses/by/4.0/), which permits unrestricted use, distribution, and reproduction in any medium, provided you give appropriate credit to the original author(s) and the source, provide a link to the Creative Commons license, and indicate if changes were made.
About this article
Cite this article
Ifie, E., Russell, M.A., Dhayal, S. et al. Unexpected subcellular distribution of a specific isoform of the Coxsackie and adenovirus receptor, CAR-SIV, in human pancreatic beta cells. Diabetologia 61, 2344–2355 (2018). https://doi.org/10.1007/s00125-018-4704-1
Received:

Accepted:

Published:

Issue Date:

DOI: https://doi.org/10.1007/s00125-018-4704-1
Keywords