Abstract
Aims/hypothesis
Islet transplantation is a treatment option that can help individuals with type 1 diabetes become insulin independent, but inefficient oxygen and nutrient delivery can hamper islet survival and engraftment due to the size of the islets and loss of the native microvasculature. We hypothesised that size-controlled pseudoislets engineered via centrifugal-forced-aggregation (CFA-PI) in a platform we previously developed would compare favourably with native islets, even after taking into account cell loss during the process.
Methods
Human islets were dissociated and reaggregated into uniform, size-controlled CFA-PI in our microwell system. Their performance was assessed in vitro and in vivo over a range of sizes, and compared with that of unmodified native islets, as well as islet cell clusters formed by a conventional spontaneous aggregation approach (in which dissociated islet cells are cultured on ultra-low-attachment plates). In vitro studies included assays for membrane integrity, apoptosis, glucose-stimulated insulin secretion assay and total DNA content. In vivo efficacy was determined by transplantation under the kidney capsule of streptozotocin-treated Rag1−/− mice, with non-fasting blood glucose monitoring three times per week and IPGTT at day 60 for glucose response. A recovery nephrectomy, removing the graft, was conducted to confirm efficacy after completing the IPGTT. Architecture and composition were analysed by histological assessment via insulin, glucagon, pancreatic polypeptide, somatostatin, CD31 and von Willebrand factor staining.
Results
CFA-PI exhibit markedly increased uniformity over native islets, as well as substantially improved glucose-stimulated insulin secretion (8.8-fold to 11.1-fold, even after taking cell loss into account) and hypoxia tolerance. In vivo, CFA-PI function similarly to (and potentially better than) native islets in reversing hyperglycaemia (55.6% for CFA-PI vs 20.0% for native islets at 500 islet equivalents [IEQ], and 77.8% for CFA-PI vs 55.6% for native islets at 1000 IEQ), and significantly better than spontaneously aggregated control cells (55.6% for CFA-PI vs 0% for spontaneous aggregation at 500 IEQ, and 77.8% CFA-PI vs 33.4% for spontaneous aggregation at 1000 IEQ; p < 0.05). Glucose clearance in the CFA-PI groups was improved over that in the native islet groups (CFA-PI 18.1 mmol/l vs native islets 29.7 mmol/l at 60 min; p < 0.05) to the point where they were comparable with the non-transplanted naive normoglycaemic control mice at a low IEQ of 500 IEQ (17.2 mmol/l at 60 min).
Conclusions/interpretation
The ability to efficiently reformat dissociated islet cells into engineered pseudoislets with improved properties has high potential for both research and therapeutic applications.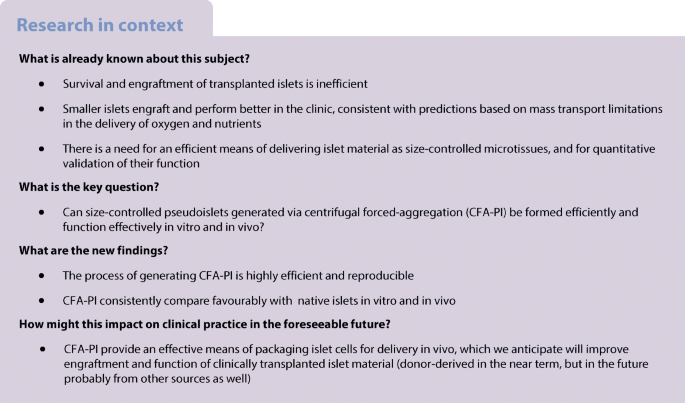 Data availability
Data are available within the supplementary materials, or on request from the authors.
Abbreviations
CFA-PI:

Pseudoislets engineered via centrifugal-forced-aggregation

GSIS:

Glucose-stimulated insulin secretion

IEQ:

Islet equivalents

P:

Pseudoislet (number; formed from the number of cells indicated)
References
You W-P, Henneberg M (2016) Type 1 diabetes prevalence increasing globally and regionally: the role of natural selection and life expectancy at birth. BMJ Open Diabetes Res Care 4:e000161

Patterson CC, Dahlquist GG, Gyürüs E et al (2009) Incidence trends for childhood type 1 diabetes in Europe during 1989–2003 and predicted new cases 2005–20: a multicentre prospective registration study. Lancet 373:2027–2033

Hex N, Bartlett C, Wright D et al (2012) Estimating the current and future costs of type 1 and type 2 diabetes in the UK, including direct health costs and indirect societal and productivity costs. Diabet Med 29:855–862

American Diabetes Association (2013) Economic costs of diabetes in the U.S. in 2012. Diabetes Care 36:1033–1046

Shapiro AM, Lakey JR, Ryan EA et al (2000) Islet transplantation in seven patients with type 1 diabetes mellitus using a glucocorticoid-free immunosuppressive regimen. N Engl J Med 343:230–238

Ryan EA, Lakey JR, Rajotte RV et al (2001) Clinical outcomes and insulin secretion after islet transplantation with the Edmonton protocol. Diabetes 50:710–719

Ryan EA, Lakey JRT, Paty BW et al (2002) Successful islet transplantation: continued insulin reserve provides long-term glycemic control. Diabetes 51:2148–2157

Korsgren O, Lundgren T, Felldin M et al (2008) Optimising islet engraftment is critical for successful clinical islet transplantation. Diabetologia 51:227–232

Sherar MD, Noss MB, Foster FS (1987) Ultrasound backscatter microscopy images the internal structure of living tumour spheroids. Nature 330:493–495

Johnson AS, Fisher RJ, Weir GC, Colton CK (2009) Oxygen consumption and diffusion in assemblages of respiring spheres: performance enhancement of a bioartificial pancreas. Chem Eng Sci 64:4470–4487

Mattsson G, Jansson L, Carlsson P-O (2002) Decreased vascular density in mouse pancreatic islets after transplantation. Diabetes 51:1362–1366

Carlsson P-O, Palm F, Mattsson G (2002) Low revascularization of experimentally transplanted human pancreatic islets. J Clin Endocrinol Metab 87:5418–5423

Lau J, Carlsson P-O (2009) Low revascularization of human islets when experimentally transplanted into the liver. Transplantation 87:322–325

Toso C, Isse K, Demetris AJ et al (2009) Histologic graft assessment after clinical islet transplantation. Transplantation 88:1286–1293

Dionne KE, Colton CK, Yarmush ML (1993) Effect of hypoxia on insulin secretion by isolated rat and canine islets of Langerhans. Diabetes 42:12–21

Li R (1998) Materials for immunoisolated cell transplantation. Adv Drug Deliv Rev 33:87–109

Buchwald P (2009) FEM-based oxygen consumption and cell viability models for avascular pancreatic islets. Theor Biol Med Model 6:5

Lehmann R, Zuellig RA, Kugelmeier P et al (2007) Superiority of small islets in human islet transplantation. Diabetes 56:594–603

Kin T, Senior P, O'Gorman D et al (2008) Risk factors for islet loss during culture prior to transplantation. Transpl Int 21:1029–1035

Persaud SJ, Arden C, Bergsten P et al (2010) Pseudoislets as primary islet replacements for research: Report on a symposium at King's College London, London UK. Islets 2:236–239

Halban PA, Wollheim CB, Blondel B et al (1982) The possible importance of contact between pancreatic islet cells for the control of insulin release. Endocrinology 111:86–94

Guo-Parke H, McCluskey JT, Kelly C et al (2012) Configuration of electrofusion-derived human insulin-secreting cell line as pseudoislets enhances functionality and therapeutic utility. J Endocrinol 214:257–265

Green AD, Vasu S, Flatt PR (2016) Functionality and antidiabetic utility of β- and L-cell containing pseudoislets. Exp Cell Res 344:201–209

Green AD, Vasu S, McClenaghan NH, Flatt PR (2016) Implanting 1.1B4 human β-cell pseudoislets improves glycaemic control in diabetic severe combined immune deficient mice. World J Diabetes 7:523

Hauge-Evans AC, Squires PE, Persaud SJ, Jones PM (1999) Pancreatic beta-cell-to-beta-cell interactions are required for integrated responses to nutrient stimuli: enhanced Ca2+ and insulin secretory responses of MIN6 pseudoislets. Diabetes 48:1402–1408

Green AD, Vasu S, McClenaghan NH, Flatt PR (2015) Pseudoislet formation enhances gene expression, insulin secretion and cytoprotective mechanisms of clonal human insulin-secreting 1.1B4 cells. Pflugers Arch - Eur J Physiol 467:2219–2228

O'Sullivan ES, Johnson AS, Omer A et al (2010) Rat islet cell aggregates are superior to islets for transplantation in microcapsules. Diabetologia 53:937–945

Westenfelder C, Gooch A, Hu Z et al (2017) Durable control of autoimmune diabetes in mice achieved by intraperitoneal transplantation of "neo-islets," three-dimensional aggregates of allogeneic islet and "mesenchymal stem cells". Stem Cells Transl Med 6:1631–1643

Cavallari G, Zuellig RA, Lehmann R et al (2007) Rat pancreatic islet size standardization by the "hanging drop" technique. Transplant Proc 39:2018–2020

Zuellig RA, Cavallari G, Gerber P et al (2017) Improved physiological properties of gravity-enforced reassembled rat and human pancreatic pseudo-islets. J Tissue Eng Regen Med 11:109–120

Mendelsohn AD, Nyitray C, Sena M, Desai TA (2012) Size-controlled insulin-secreting cell clusters. Acta Biomater 8:4278–4284

Lee GH, Lee JS, Wang X, Lee SH (2016) Bottom-up engineering of well-defined 3D microtissues using microplatforms and biomedical applications. Adv Healthc Mater 5:56–74

Pathak S, Regmi S, Gupta B et al (2017) Engineered islet cell clusters transplanted into subcutaneous space are superior to pancreatic islets in diabetes. FASEB J 31:5111–5121

Ungrin MD, Joshi C, Nica A et al (2008) Reproducible, ultra high-throughput formation of multicellular organization from single cell suspension-derived human embryonic stem cell aggregates. PLoS One 3:e1565

Integrated Islet Distribution Program (2017) QA-002 viability estimation of islets for distribution using inclusion and exclusion fluorescent dyes (FDA/PI). https://iidp.coh.org/Investigators/Policies-Standard-Operating-Procedures. Accessed 5 Dec 2017

Livak KJ, Schmittgen TD (2001) Analysis of relative gene expression data using real-time quantitative PCR and the 2(-Delta Delta C(T)) Method. Methods 25:402–408

Vandesompele J, De Preter K, Pattyn F et al (2002) Accurate normalization of real-time quantitative RT-PCR data by geometric averaging of multiple internal control genes. Genome Biol 3:RESEARCH0034

Andrey P, Kiêu K, Kress C et al (2010) Statistical analysis of 3D images detects regular spatial distributions of centromeres and chromocenters in animal and plant nuclei. PLoS Comput Biol 6:e1000853

Ollion J, Cochennec J, Loll F et al (2013) TANGO: a generic tool for high-throughput 3D image analysis for studying nuclear organization. Bioinformatics 29:1840–1841

Steinberg MS (1975) Adhesion-guided multicellular assembly: a commentary upon the postulates, real and imagined, of the differential adhesion hypothesis, with special attention to computer simulations of cell sorting. J Theor Biol 55:431–443

Foty RA, Pfleger CM, Forgacs G, Steinberg MS (1996) Surface tensions of embryonic tissues predict their mutual envelopment behavior. Dev Camb Engl 122:1611–1620

Callewaert H, Gysemans C, Cardozo AK et al (2007) Cell loss during pseudoislet formation hampers profound improvements in islet lentiviral transduction efficacy for transplantation purposes. Cell Transplant 16:527–537

Lione L, Puddu A, Pedemonte A, Viviani GL (2001) Rat serum improves rat pseudoislet formation and insulin gene expression. Boll Della Soc Ital Biol Sper 77:13–19

Kilimnik G, Jo J, Periwal V et al (2012) Quantification of islet size and architecture. Islets 4:167–172

Cunha GR, Baskin L (2016) Use of sub-renal capsule transplantation in developmental biology. Differ Res Biol Divers 91:4–9

Olsson R, Olerud J, Pettersson U, Carlsson P-O (2011) Increased numbers of low-oxygenated pancreatic islets after intraportal islet transplantation. Diabetes 60:2350–2353

Rezania A, Bruin JE, Arora P et al (2014) Reversal of diabetes with insulin-producing cells derived in vitro from human pluripotent stem cells. Nat Biotechnol 32:1121–1133

Scharfmann R, Didiesheim M, Richards P et al (2016) Mass production of functional human pancreatic β-cells: why and how? Diabetes Obes Metab 18:128–136

Green AD, Vasu S, Flatt PR (2018) Cellular models for beta-cell function and diabetes gene therapy. Acta Physiol 222:e13012

Mihalicz D, Rajotte RV, Rayat GR (2011) Porcine islet xenotransplantation for the treatment of type 1 diabetes. In Wagner D (ed.) Type 1 diabetes, IntechOpen. https://doi.org/10.5772/22206
Acknowledgements
We thank J. Lyon, J. E. Manning Fox and P. Macdonald (IsletCore, Alberta Diabetes Institute, University of Alberta, Canada) for human islet isolations; the Cell Imaging Centre at the Alberta Diabetes Institute (University of Alberta, Canada) and the Biernaskie laboratory (University of Calgary, Canada) for the use of imaging equipment; CX Pan and the Krawetz and Klein laboratories (University of Calgary, Canada) for assistance in qRT-PCR experiments; and Histocore at the Alberta Diabetes Institute (University of Alberta, Canada) for histology services.
Funding
Funding for this study was provided by Canadian Institutes of Health Research Operating Grant MOP-137095, an Alberta Diabetes Institute/Alberta Diabetes Foundation Pilot Project, the University of Calgary University Research Granting Council, and the Diabetes Research Institute Foundation of Canada (DRIFCan). YY is supported by an Alberta Diabetes Institute Graduate Studentship. AG is supported through an Alberta Diabetes Institute Blanch graduate award and Gladys Woodrow Wirtanen Studentship. AP is supported by the Alberta Innovates—Health Solutions (AIHS) Postdoctoral Fellowship Grant 201400496. AB is supported by Canadian Institutes of Health Research—Proof of Principle Grant 144255 and Stem Cell Network (SCN). BG-L is supported through an AIHS Clinician Fellowship Grant 201400106 and Izaak Walton Killam Memorial Scholarship. AMJS is supported through SCN Grant NCESCN CTRA FY17/CT5 and NCESCN DTRA FY17/DT6; AIHS Proof of Principle 144255 and Collaborative Research and Innovation Opportunities (CRIO) Team funding Grant 201201154; the JDRF Canadian Clinical Trial Network (JDRF CCTN) and the Diabetes Research Institute Foundation Canada (DRIFCan). MU is supported through SCN Grant FY17/CZN4, NSERC RGPIN-201404874, a CNIB Barbara Tuck Macphee Research Grant and CIHR MOP-137095. The funding sources had no role in the study design, study execution, analyses, interpretation of the data or decision to submit results.
Ethics declarations
MU is an inventor of the microwell system employed in this work and has a financial interest in it. The authors declare that there is no other duality of interest associated with their contribution this manuscript.
Electronic supplementary material
Rights and permissions
Open Access This article is distributed under the terms of the Creative Commons Attribution 4.0 International License (http://creativecommons.org/licenses/by/4.0/), which permits unrestricted use, distribution, and reproduction in any medium, provided you give appropriate credit to the original author(s) and the source, provide a link to the Creative Commons license, and indicate if changes were made.
About this article
Cite this article
Yu, Y., Gamble, A., Pawlick, R. et al. Bioengineered human pseudoislets form efficiently from donated tissue, compare favourably with native islets in vitro and restore normoglycaemia in mice. Diabetologia 61, 2016–2029 (2018). https://doi.org/10.1007/s00125-018-4672-5
Received:

Accepted:

Published:

Issue Date:

DOI: https://doi.org/10.1007/s00125-018-4672-5
Keywords
Hypoxia

Islet

Mouse

Pseudoislet

Transplant