Autoantibodies to N-terminally truncated GAD improve clinical phenotyping of individuals with adult-onset diabetes: Action LADA 12
Open Access
Short Communication
Abstract
Aims/hypothesis
Adult-onset type 1 diabetes, in which the 65 kDa isoform of GAD (GAD65) is a major autoantigen, has a broad clinical phenotype encompassing variable need for insulin therapy. This study aimed to evaluate whether autoantibodies against N-terminally truncated GAD65 more closely defined a type 1 diabetes phenotype associated with insulin therapy.
Methods
Of 1114 participants with adult-onset diabetes from the Action LADA (latent autoimmune diabetes in adults) study with sufficient sera, we selected those designated type 1 (n = 511) or type 2 diabetes (n = 603) and retested the samples in radiobinding assays for human full-length GAD65 autoantibodies (f-GADA) and N-terminally truncated (amino acids 96–585) GAD65 autoantibodies (t-GADA). Individuals' clinical phenotypes were analysed according to antibody binding patterns.
Results
Overall, 478 individuals were f-GADA-positive, 431 were t-GADA-positive and 628 were negative in both assays. Risk of insulin treatment was augmented in t-GADA-positive individuals (OR 4.69 [95% CI 3.57, 6.17]) compared with f-GADA-positive individuals (OR 3.86 [95% CI 2.95, 5.06]), irrespective of diabetes duration. Of 55 individuals who were f-GADA-positive but t-GADA-negative, i.e. with antibody binding restricted to the N-terminus of GAD65, the phenotype was similar to type 2 diabetes with low risk of progression to insulin treatment. Compared with these individuals with N-terminal GAD65-restricted GADA, t-GADA-positive individuals were younger at diagnosis (p = 0.005), leaner (p < 0.0001) and more often had multiple diabetes-associated autoantibodies (28.3% vs 7.3%; p = 0.0005).
Conclusions/interpretation
In individuals with adult-onset diabetes, presence of N-terminally truncated GAD65 autoantibodies is associated with the clinical phenotype of autoimmune type 1 diabetes and predicts insulin therapy.
Keywords
Adult-onset diabetes 
Autoantibodies 
Autoimmune 
Clinical phenotype 
GAD 
LADA 
N-terminally truncated GAD65 
Patients 
Type 1 diabetes 
Abbreviations
aa

Amino acids

GAD65

65 kDa isoform of GAD

GADA

GAD autoantibodies

f-GADA

Full-length (aa 1–585) GAD65 autoantibodies

t-GADA

N-terminally truncated (aa 96–585) GAD65 autoantibodies

IA-2A

Insulinoma-associated antigen-2 autoantibodies

IQR

Interquartile range

LADA

Latent autoimmune diabetes in adults

NIDDK

National Institute of Diabetes and Digestive and Kidney diseases

ZnT8A

Zinc transporter-8 autoantibodies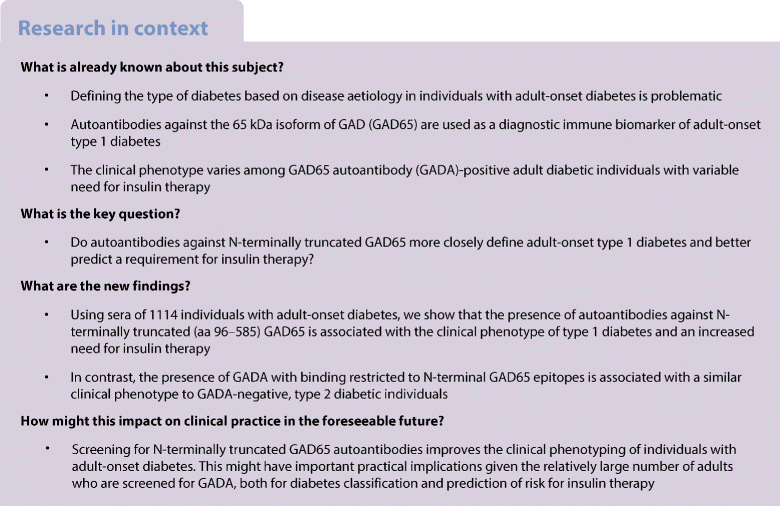 Notes
Contribution statement
PA and RDL designed and coordinated the study, researched data, and wrote, reviewed and edited the manuscript. MIH contributed to acquisition, analysis and interpretation of data, and reviewed and edited the manuscript. SK performed GADA measurements, researched data, contributed to the discussion, and drafted, reviewed and edited the manuscript. VL, STJ, AJKW, EB and AGZ contributed to the analysis, interpretation of data and discussion, and reviewed and edited the manuscript. VL, AJKW and PA developed the concept of screening for autoantibodies against N-terminally truncated GAD65 for improved type 1 diabetes specificity. All listed authors approved the final version of the manuscript. PA is the guarantor of this work and, as such, had full access to all the data in the study and takes responsibility for the integrity of the data and the accuracy of the data analysis.
Funding
This study was supported in part by grants from the German Federal Ministry of Education and Research (BMBF) to the Competence Network for Diabetes mellitus (FKZ 01GI0805) and the German Center for Diabetes Research (DZD e.V.), and from JDRF (2-SRA-2015-50-Q-R). The Action LADA study was supported by the 5th Framework Programme of the European Union. EB is supported by the DFG Research Center and Cluster of Excellence - Center for Regenerative Therapies Dresden (FZ 111).
Duality of interest
The authors declare that there is no duality of interest associated with this manuscript.
Copyright information
© The Author(s) 2018
Open Access This article is distributed under the terms of the Creative Commons Attribution 4.0 International License (http://creativecommons.org/licenses/by/4.0/), which permits unrestricted use, distribution, and reproduction in any medium, provided you give appropriate credit to the original author(s) and the source, provide a link to the Creative Commons license, and indicate if changes were made.