Ceramide stearic to palmitic acid ratio predicts incident diabetes
Abstract
Aims/hypothesis
Ceramide lipids have a role in the development of insulin resistance, diabetes and risk of cardiovascular disease. Here we investigated four ceramides and their ratios to find the best predictors of incident diabetes.
Methods
A validated mass-spectrometric method was applied to measure Cer(d18:1/16:0), Cer(d18:1/18:0), Cer(d18:1/24:0) and Cer(d18:1/24:1) from serum or plasma samples. These ceramides were analysed in a population-based risk factor study (FINRISK 2002, n = 8045), in a cohort of participants undergoing elective coronary angiography for suspected stable angina pectoris (Western Norway Coronary Angiography Cohort [WECAC], n = 3344) and in an intervention trial investigating improved methods of lifestyle modification for individuals at high risk of the metabolic syndrome (Prevent Metabolic Syndrome [PrevMetSyn], n = 371). Diabetes risk score models were developed to estimate the 10 year risk of incident diabetes.
Results
Analysis in FINRISK 2002 showed that the Cer(d18:1/18:0)/Cer(d18:1/16:0) ceramide ratio was predictive of incident diabetes (HR per SD 2.23, 95% CI 2.05, 2.42), and remained significant after adjustment for several risk factors, including BMI, fasting glucose and HbA1c (HR 1.34, 95% CI 1.14, 1.57). The finding was validated in the WECAC study (unadjusted HR 1.81, 95% CI 1.53, 2.14; adjusted HR 1.39, 95% CI 1.16, 1.66). In the intervention trial, the ceramide ratio and diabetes risk scores significantly decreased in individuals who had 5% or more weight loss.
Conclusions/interpretation
The Cer(d18:1/18:0)/Cer(d18:1/16:0) ratio is an independent predictive biomarker for incident diabetes, and may be modulated by lifestyle intervention.
Keywords
Ceramide 
Diabetes 
Palmitic acid 
Prediction 
Prevention 
Risk 
Stearic acid 
Abbreviations
CRP

C-reactive protein

dScore

Diabetes score

HDL-C

HDL-cholesterol

PrevMetSyn

Prevent Metabolic Syndrome (trial)

TG

Triacylglycerol

WECAC

Western Norway Coronary Angiography Cohort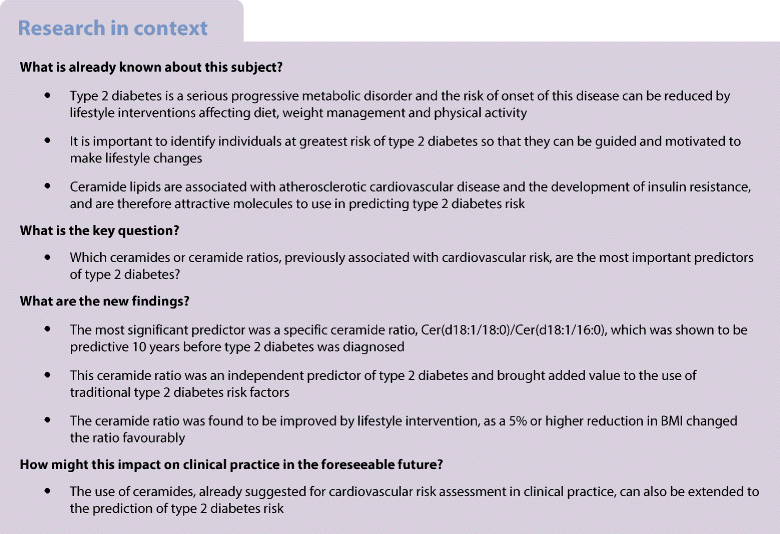 Introduction
Type 2 diabetes is a serious progressive metabolic disorder in which the body becomes resistant to insulin and gradually loses the capacity to produce it in sufficient amounts. Worldwide, an estimated 422 million adults were afflicted by diabetes in 2014, and the global age-standardised prevalence has doubled since 1980, now being 8.5% in the adult population [1]. Type 2 diabetes can lead to severe complications, including kidney, retinal and neural damage, and accelerated cardiovascular disease resulting in myocardial infarctions or strokes [2].
According to WHO guidelines, type 2 diabetes is diagnosed if: (1) the fasting plasma glucose level is 7 mmol/l or higher; (2) the 2 h plasma glucose level is 11.1 mmol/l or higher during a glucose tolerance test; or (3) the HbA1c level is 47.5 mmol/mol (6.5%) or higher [1]. Prediabetes is an intermediate state of hyperglycaemia with glycaemic variables above normal but below the type 2 diabetes threshold; however, the exact diagnostic criteria of prediabetes are not uniform across various international professional organisations [3]. Importantly, lifestyle interventions affecting diet, weight management and physical activity significantly decrease the risk of conversion from the prediabetic state to type 2 diabetes [3]. Thus, identifying individuals at greatest risk and motivating them to lifestyle changes are highly important in the prevention of type 2 diabetes and its complications.
Ceramides are sphingolipids that have a crucial role in the development of type 2 diabetes and other cardiometabolic disorders. Several studies have investigated the role and mechanisms underlying the contribution of ceramides to the development of insulin resistance in various tissues [4, 5]. Moreover, it was recently demonstrated in both mice and humans that concentrations of plasma dihydroceramides, ceramide precursor molecules, are already elevated years before the onset of type 2 diabetes [6]. We previously described the value of three ceramides [Cer(d18:1/16:0), Cer(d18:1/18:0), Cer(d18:1/24:1)] and their ratios to Cer(d18:1/24:0) in predicting cardiovascular risk, especially cardiovascular death, in both secondary and primary prevention cardiovascular studies [7, 8]. Prior results suggest that one of these ceramides, Cer(d18:1/18:0), was also able to predict the risk of future type 2 diabetes [6]. The aim of the present study was to investigate how these cardiovascular disease-associated ceramides predict incident type 2 diabetes and are modulated by lifestyle intervention.
Discussion
In this study, it has been shown for the first time that the Cer(d18:1/18:0)/Cer(d18:1/16:0) ratio is an independent marker for risk of incident diabetes. Moreover, this ratio was decreased in individuals with a weight loss of 5% or more, which is in line with dietary intervention studies showing that even a weight loss of a few kilograms is sufficient to lower the risk of developing diabetes [19]. New diabetes scores have been proposed to improve the prediction of incident diabetes.
These d18:1 ceramides have been extensively investigated in plasma, skeletal muscle, liver and adipose tissue in human and animal studies, but this is the first study to show that the Cer(d18:1/18:0)/Cer(d18:1/16:0) ratio stands out as a superior ceramide biomarker for the onset of incident diabetes. This raises the question of why this ratio in particular offers the best predictive ability. One answer comes from our analyses showing that among the ceramides Cer(d18:1/18:0) was the most, and Cer(d18:1/16:0) the least, significantly correlated ceramide with BMI, fasting glucose, insulin and HbA1c, which are all important factors predisposing an individual to the onset of diabetes. Thus, the very different associations of these two ceramides with the development of insulin resistance may explain the predictive power of this ratio. However, Cer(d18:1/18:0)/Cer(d18:1/16:0) also predicts incident diabetes independently of glucose and HbA1c.
The important role of Cer(d18:1/18:0) in the development of insulin resistance has been demonstrated in several studies. In the Australian Diabetes, Obesity and Lifestyle Study (AusDiab), both plasma Cer(d18:1/18:0) and its precursor Cer(d18:0/18:0) showed strong associations with type 2 diabetes and prediabetes [20]. It has been documented in another human study that insulin sensitivity inversely correlates especially with plasma Cer(d18:1/18:0) [21], and this was also the most upregulated ceramide in plasma in genetically obese (ob/ob) mice [22].
Insulin resistance in skeletal muscle plays a major role in the development of type 2 diabetes [23], and there are mixed results for the Cer(d18:1/18:0) and Cer(d18:1/16:0) ceramides in the literature, although most studies support the importance of Cer(d18:1/18:0) in the development of insulin resistance in muscle. In a study investigating insulin resistance in humans, it was shown that, in muscle, Cer(d18:1/18:0) was the only lipid elevated by insulin resistance independently of obesity, and in plasma, Cer(d18:1/18:0), together with its precursor Cer(d18:0/18:0), was associated with both insulin resistance and obesity [24]. The same study also demonstrated that there was a positive correlation between plasma and muscle concentrations of Cer(d18:1/18:0), and this lipid correlated positively with visceral and liver fat and inversely with metabolic flexibility, which was determined by the change in respiratory quotient at rest and after insulin stimulation [24]. Another study supports these findings by showing that the concentration of Cer(d18:1/18:0) was significantly higher in type 2 diabetic individuals than athletes, and it was positively associated with BMI and inversely associated with insulin sensitivity [25]. However, there is a study demonstrating that Cer(d18:1/16:0) is more strongly increased than Cer(d18:1/18:0) in the muscle of obese individuals [26].
The results in adipose tissue are more controversial than those observed in muscle. Elevated expression of ceramide synthase 6, responsible for the synthesis of Cer(d18:1/16:0), has been demonstrated in adipose tissue in obese humans, together with increased concentrations of Cer(d18:1/16:0) and Cer(d18:1/18:0) [27]. CerS6-deficient mice, and also models with specific knockout in brown adipose tissue and liver, are protected from diet-induced obesity and glucose intolerance [27]. However, contradictory results were obtained in another study showing that obesity leads to the degradation of ceramides in the adipose tissue of obese (ob/ob) mice [22]. The accumulation of ceramides in adipose tissue in obesity was again supported by a mouse study which showed that both Cer(d18:1/16:0) and Cer(d18:1/18:0) were already elevated in adipose tissue after 1 week on a high-fat diet [28]. In this study, it was also reported that the high-fat diet induced in particular an elevation of Cer(d18:1/18:0) in muscle, and in liver Cer(d18:1/18:0) was elevated after 16 weeks, but not as much as Cer(d18:1/20:0) or Cer(d18:1/22:0) [28].
Taken together, these studies suggest that the observed increase of especially Cer(d18:1/18:0) in obese and insulin-resistant individuals is a result of the regulation and synthesis of ceramides in several different organs. Numerous studies have investigated the mechanisms by which ceramides affect insulin sensitivity, and there are several pathways that induce ceramide synthesis, such as saturated fatty acids and activation of inflammatory pathways triggered by Toll-like receptor 4 (TLR4) recognition of the saturated fatty acids [4]. Furthermore, the insulin sensitiser adiponectin and endoplasmic reticulum stress modulate ceramide metabolism [4]. The accumulated ceramides then inhibit insulin signalling by decreasing the activity of Akt (also known as protein kinase B) via protein phosphatase 2A or atypical protein kinase C [5]. However, further studies are needed to understand why stearic acid-containing ceramides in particular are strongly associated with the development of obesity and insulin resistance.
The strength of our study was that the results were derived from a large population-based study and validated in another large cohort of individuals with suspected stable angina pectoris, and both studies had long follow-up times. Despite the apparent differences between these studies, the results were consistent, which supports the robustness of our observations. Another strength was that, using the ceramide ratio and other laboratory measurements, we were able to obtain a better prediction than with the traditional risk factors, such as BMI, physical activity and family history of diabetes. However, a limitation of our study was that we did not have available all the risk factors of the current diabetes risk calculators, such as history of blood glucose levels, gestational diabetes and blood pressure medication, or nutritional data, and therefore we could not compare the developed models explicitly with current risk calculators. However, it is noteworthy that the ceramide ratio also improved the model consisting of several established risk factors, including BMI, waist circumference, family history, blood pressure and physical activity. Another limitation was the slight difference in the follow-up times of the two cohorts, and that the study participants were not fasting, which may especially affect TG levels.
It has recently been suggested that the investigated ceramides should be adopted into clinical practice for cardiovascular risk prediction [29], and it is therefore a tempting idea that the same molecules, although in a different ratio, could also be used to predict risk of diabetes. An interesting topic for further investigation is whether these ceramides could predict the cardiovascular complications of diabetes. Another interesting area for study is the predictive value of the Cer(d18:1/18:0)/Cer(d18:1/16:0) ratio for gestational diabetes, and, as the ceramide ratio was elevated in individuals on statin treatment, to explore whether this ratio could serve as a biomarker for statin-induced diabetes.
Notes
Contribution statement
RL, VS and ON were responsible for the conception and design of the whole study. The conception, design and data acquisition of the studies were carried out by VS, ASH, TL and PJ (FINRISK 2002); ON, ERP, GST and KM (WECAC); and MJS, TS and A-MT (PrevMetSyn). DK undertook the design of the laboratory analyses and acquisition of the ceramide data. MH was responsible for statistical analyses, data interpretation and drafting of the first version of the manuscript. All authors have revised the manuscript critically for important intellectual content and accepted the manuscript version to be published. MH and RL are responsible for the integrity of the work as a whole.
Funding
VS was supported by the Finnish Foundation for Cardiovascular Research. The PrevMetSyn study was supported by grants from the Ministry of Social Affairs and Health (decisions 083/THL/TE/2012 and 201310185), Finland, the Academy of Finland (decision 1114784), the Juho Vainio Foundation, the Sigrid Jusélius Foundation, the Diabetes Research Foundation, the Finnish Foundation for Cardiovascular Research and the City of Oulu, Finland.
Duality of interest
Zora Biosciences Oy holds patents for the diagnostic use of ceramides for cardiovascular risk determination. MH and DK are employees, and RL is an employee and shareholder, of Zora Biosciences Oy. VS participated in a congress trip sponsored by Novo Nordisk.
Copyright information
© The Author(s) 2018
Open Access This article is distributed under the terms of the Creative Commons Attribution 4.0 International License (http://creativecommons.org/licenses/by/4.0/), which permits unrestricted use, distribution, and reproduction in any medium, provided you give appropriate credit to the original author(s) and the source, provide a link to the Creative Commons license, and indicate if changes were made.