Interplay between genetic predisposition, macronutrient intake and type 2 diabetes incidence: analysis within EPIC-InterAct across eight European countries
Open Access
Short Communication
Abstract
Aims/hypothesis
Gene–macronutrient interactions may contribute to the development of type 2 diabetes but research evidence to date is inconclusive. We aimed to increase our understanding of the aetiology of type 2 diabetes by investigating potential interactions between genes and macronutrient intake and their association with the incidence of type 2 diabetes.
Methods
We investigated the influence of interactions between genetic risk scores (GRSs) for type 2 diabetes, insulin resistance and BMI and macronutrient intake on the development of type 2 diabetes in the European Prospective Investigation into Cancer and Nutrition (EPIC)-InterAct, a prospective case-cohort study across eight European countries (N = 21,900 with 9742 incident type 2 diabetes cases). Macronutrient intake was estimated from diets reported in questionnaires, including proportion of energy derived from total carbohydrate, protein, fat, plant and animal protein, saturated, monounsaturated and polyunsaturated fat and dietary fibre. Using multivariable-adjusted Cox regression, we estimated country-specific interaction results on the multiplicative scale, using random-effects meta-analysis. Secondary analysis used isocaloric macronutrient substitution.
Results
No interactions were identified between any of the three GRSs and any macronutrient intake, with low-to-moderate heterogeneity between countries (I2 range 0–51.6%). Results were similar using isocaloric macronutrient substitution analyses and when weighted and unweighted GRSs and individual SNPs were examined.
Conclusions/interpretation
Genetic susceptibility to type 2 diabetes, insulin resistance and BMI did not modify the association between macronutrient intake and incident type 2 diabetes. This suggests that macronutrient intake recommendations to prevent type 2 diabetes do not need to account for differences in genetic predisposition to these three metabolic conditions.
Keywords
BMI 
Body mass index 
Diabetes 
Diet 
Dietary fibre 
Genetic risk score 
GRS 
Insulin resistance 
Interaction 
Macronutrient 
Abbreviations
EPIC

European Prospective Investigation into Cancer and Nutrition

GRS

Genetic risk score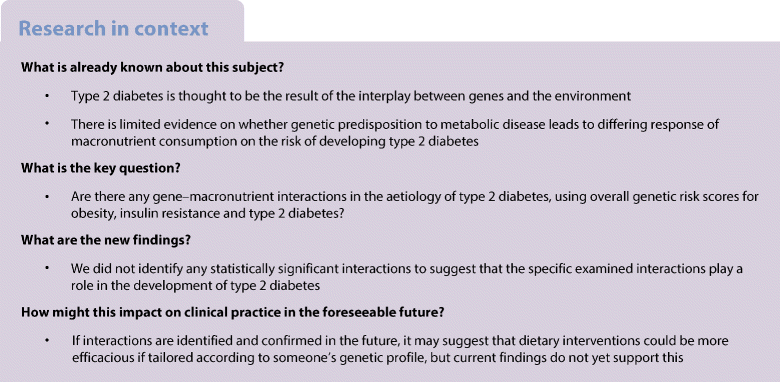 Notes
Acknowledgements
We thank all participants and staff who contributed to the study within their respective EPIC centres. We thank N. Kerrison of the Medical Research Council (MRC) Epidemiology Unit, Cambridge, UK for managing the data for the InterAct project. We thank staff from the Technical, Field Epidemiology and Data Functional Group Teams of the MRC Epidemiology Unit in Cambridge for carrying out sample preparation, DNA provision and quality control, genotyping and data-handling work. S.X. Li thanks the Commonwealth Scholarship Commission and the Cambridge Trust for supporting her PhD studies.
Contribution statement
SXL and RAS had full access to all of the data in the study and take responsibility for the integrity of the data and the accuracy of the data analysis. SXL performed the statistical analyses and wrote the first draft with supervision from NGF and NJW. NJW, CL, NGF and SJS coordinated the InterAct project. The Working Group (RAS, FI, MBS, JSZ, ZY) and all other authors contributed to interpretation of data, revised the article critically for important intellectual content and approved the final version of the manuscript.
Funding
The InterAct project is supported by the EU Sixth Framework Programme (FP6) (grant LSHM_CT_2006_037197). The InterAct investigators acknowledge support from the Medical Research Council Epidemiology Unit (grants MC_UU_12015/1 and MC_UU_12015/5), Medical Research Council Human Nutrition Research (grant MC_UP_A090_1006) and Cambridge Lipidomics Biomarker Research Initiative (grant G0800783). NJW and NGF acknowledge IS-BRC-1215-20014 funding support from NIHR Biomedical Research Centre Cambridge. MBS was supported by a grant from the German Federal Ministry of Education and Research (BMBF) to the German Center for Diabetes Research (DZD) and the State of Brandenburg. Support was also provided by the following bodies: Health Research Fund (FIS) of the Spanish Ministry of Health and Navarre Regional Government (to EA); Health Research Fund of the Spanish Ministry of Health and Murcia Regional Government (No. 6236) (to JMH); German Cancer Aid, German Ministry of Research (BMBF) (to RK); Cancer Research UK C8221/A19170 and Medical Research Council MR/M012190/1 (to TJK); Medical Research Council UK and Cancer Research UK (to KTK); Swedish Research Council (to PMN); Dutch Ministry of Public Health, Welfare and Sports (VWS), Netherlands Cancer Registry (NKR), LK Research Funds, Dutch Prevention Funds, Dutch ZON (Zorg Onderzoek Nederland), World Cancer Research Fund (WCRF) and Statistics Netherlands (to NCOM, IS, AMWS and EPIC Bilthoven and Utrecht); Compagnia di San Paolo (to SP); Regional Government of Asturias (to JRQ); Danish Cancer Society (to AT); Sicilian Regional Government and AIRE-ONLUS Ragusa (to RT and EPIC Ragusa) and Imperial College Biomedical Research Centre (to ER). Verification of diabetes cases in EPIC-NL was additionally funded by NL Agency grant IGE05012 and an Incentive Grant from the Board of the UMC Utrecht.
Duality of interest
The authors declare that there is no duality of interest associated with this manuscript.
Copyright information
© The Author(s) 2018
Open Access This article is distributed under the terms of the Creative Commons Attribution 4.0 International License (http://creativecommons.org/licenses/by/4.0/), which permits unrestricted use, distribution, and reproduction in any medium, provided you give appropriate credit to the original author(s) and the source, provide a link to the Creative Commons license, and indicate if changes were made.