Abstract
Aims/hypothesis
Obesity results from a constant and complex interplay between environmental stimuli and predisposing genes. Recently, we identified the IFN-activated gene Ifi202b as the most likely gene responsible for the obesity quantitative trait locus Nob3 (New Zealand Obese [NZO] obesity 3). The aim of this study was to evaluate the effects of Ifi202b on body weight and adipose tissue biology, and to clarify the functional role of its human orthologue IFI16.
Methods
The impact of Ifi202b and its human orthologue IFI16 on adipogenesis was investigated by modulating their respective expression in murine 3T3-L1 and human Simpson-Golabi-Behmel syndrome (SGBS) pre-adipocytes. Furthermore, transgenic mice overexpressing IFI202b were generated and characterised with respect to metabolic traits. In humans, expression levels of IFI16 in adipose tissue were correlated with several variables of adipocyte function.
Results
In mice, IFI202b overexpression caused obesity (Δ body weight at the age of 30 weeks: 10.2 ± 1.9 g vs wild-type mice) marked by hypertrophic fat mass expansion, increased expression of Zfp423 (encoding the transcription factor zinc finger protein [ZFP] 423) and white-selective genes (Tcf21, Tle3), and decreased expression of thermogenic genes (e.g. Cidea, Ucp1). Compared with their wild-type littermates, Ifi202b transgenic mice displayed lower body temperature, hepatosteatosis and systemic insulin resistance. Suppression of IFI202b/IFI16 in pre-adipocytes impaired adipocyte differentiation and triacylglycerol storage. Humans with high levels of IFI16 exhibited larger adipocytes, an enhanced inflammatory state and impaired insulin-stimulated glucose uptake in white adipose tissue.
Conclusions/interpretation
Our findings reveal novel functions of Ifi202b and IFI16, demonstrating their role as obesity genes. These genes promote white adipogenesis and fat storage, thereby facilitating the development of obesity-associated insulin resistance.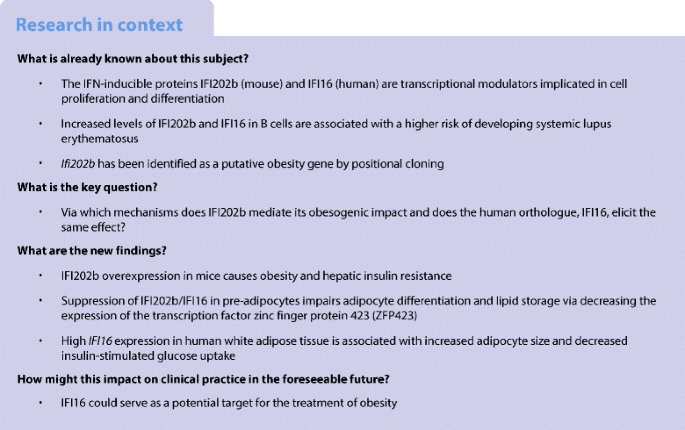 Data availability
Generated and analysed datasets of this study are available from the corresponding author on reasonable request.
Abbreviations
B6-wt:

C57BL/6J wild-type

BAT:

Brown adipose tissue

C/EBP:

CCAAT/enhancer-binding protein

CRP:

C-reactive protein

EBF2:

Early B cell factor 2

HFD:

High-fat diet

IFI:

IFN-inducible protein

Nob3 :

New Zealand Obese obesity 3 (quantitative trait locus)

NZO:

New Zealand Obese

PPARγ:

Peroxisome proliferator-activated receptor γ

QTL:

Quantitative trait locus

SCA1:

Stem cell antigen 1

SGBS:

Simpson–Golabi–Behmel syndrome

TÜF:

Tübingen Family (study)

UCP1:

Uncoupling protein 1

WAT:

White adipose tissue

WATgon:

Gonadal white adipose tissue

WATsc:

Subcutaneous white adipose tissue

ZFP:

Zinc finger protein
References
Berry R, Jeffery E, Rodeheffer MS (2014) Weighing in on adipocyte precursors. Cell Metab 19:8–20

Duval C, Thissen U, Keshtkar S et al (2010) Adipose tissue dysfunction signals progression of hepatic steatosis towards nonalcoholic steatohepatitis in C57Bl/6 mice. Diabetes 59:3181–3191

Cusi K (2010) The role of adipose tissue and lipotoxicity in the pathogenesis of type 2 diabetes. Curr Diab Rep 10:306–315

Unger RH, Clark GO, Scherer PE, Orci L (2010) Lipid homeostasis, lipotoxicity and the metabolic syndrome. Biochim Biophys Acta 1801:209–214

Montanari T, Pošćić N, Colitti M (2017) Factors involved in white-to-brown adipose tissue conversion and in thermogenesis: a review. Obes Rev 18:495–513

Saely CH, Geiger K, Drexel H (2011) Brown versus white adipose tissue: a mini-review. Gerontology 58:15–23

Cypess AM, White AP, Vernochet C et al (2013) Anatomical localization, gene expression profiling and functional characterization of adult human neck brown fat. Nat Med 19:635–639

Lidell ME, Betz MJ, Enerbäck S (2014) Two types of brown adipose tissue in humans. Adipocyte 3:63–66

Ma X, Lee P, Chisholm DJ, James DE (2015) Control of adipocyte differentiation in different fat depots; implications for pathophysiology or therapy. Front Endocrinol 6:1

Farmer SR (2006) Transcriptional control of adipocyte formation. Cell Metab 4:263–273

Guo L, Li X, Tang Q-Q (2014) L05 transcriptional regulation of adipocyte differentiation: a central role for CCAAT/enhancer-binding protein (C/EBP). J Biol Chem 290:755–761

Chawla A, Schwarz EJ, Dimaculangan DD, Lazar MA (1994) Peroxisome proliferator-activated receptor (PPAR) gamma: adipose-predominant expression and induction early in adipocyte differentiation. Endocrinology 135:798–800

Vogel H, Nestler M, Rüschendorf F et al (2009) Characterization of Nob3, a major quantitative trait locus for obesity and hyperglycemia on mouse chromosome 1. Physiol Genomics 38:226–232

Vogel H, Scherneck S, Kanzleiter T et al (2012) Loss of function of Ifi202b by a microdeletion on chromosome 1 of C57BL/6J mice suppresses 11β-hydroxysteroid dehydrogenase type 1 expression and development of obesity. Hum Mol Genet 21:3845–3857

Kluth O, Matzke D, Kamitz A et al (2015) Identification of four mouse diabetes candidate genes altering β-cell proliferation. PLoS Genet 11:e1005506

Asefa B, Klarmann KD, Copeland NG et al (2003) The interferon-inducible p200 family of proteins: a perspective on their roles in cell cycle regulation and differentiation. Blood Cells Mol Dis 32:155–167

Choubey D, Duan X, Dickerson E et al (2010) Interferon-inducible p200-family proteins as novel sensors of cytoplasmic DNA: role in inflammation and autoimmunity. J Interf Cytokine Res 30:371–380

Vogel H, Jähnert M, Stadion M et al (2017) A vast genomic deletion in the C56BL/6 genome affects different genes within the Ifi200 cluster on chromosome 1 and mediates obesity and insulin resistance. BMC Genomics 18:172

Klein J, Fasshauer M, Ito M et al (1999) Beta(3)-adrenergic stimulation differentially inhibits insulin signaling and decreases insulin-induced glucose uptake in brown adipocytes. J Biol Chem 274:34795–34802

Tseng Y-H, Kriauciunas KM, Kokkotou E, Kahn CR (2004) Differential roles of insulin receptor substrates in brown adipocyte differentiation. Mol Cell Biol 24:1918–1929

Schulz TJ, Huang TL, Tran TT et al (2011) Identification of inducible brown adipocyte progenitors residing in skeletal muscle and white fat. Proc Natl Acad Sci U S A 108:143–148

Spangrude GJ, Klein J, Heimfeld S et al (1989) Two monoclonal antibodies identify thymic-repopulating cells in mouse bone marrow. J Immunol 142:425–430

Rodeheffer MS, Birsoy K, Friedman JM (2008) Identification of white adipocyte progenitor cells in vivo. Cell 135:240–249

Schulz N, Himmelbauer H, Rath M et al (2011) Role of medium- and short-chain L-3-hydroxyacyl- CoA dehydrogenase in the regulation of body weight and thermogenesis. Endocrinology 152:4641–4651

Kannt A, Pfenninger A, Teichert L et al (2015) Association of nicotinamide-N-methyltransferase mRNA expression in human adipose tissue and the plasma concentration of its product, 1-methylnicotinamide, with insulin resistance. Diabetologia 58:799–808

Klöting N, Fasshauer M, Dietrich A et al (2010) Insulin-sensitive obesity. Am J Physiol Endocrinol Metab 299:E506–E515

Staiger H, Böhm A, Scheler M et al (2013) Common genetic variation in the human fndc5 locus, encoding the novel muscle-derived 'browning' factor irisin, determines insulin sensitivity. PLoS One 8:e61903

Finucane FM, Luan J, Wareham NJ et al (2009) Correlation of the leptin: adiponectin ratio with measures of insulin resistance in non-diabetic individuals. Diabetologia 52:2345–2349

Savage DB, Petersen KF, Shulman GI (2007) Disordered lipid metabolism and the pathogenesis of insulin resistance. Physiol Rev 87:507–520

Gupta RK, Arany Z, Seale P et al (2010) Transcriptional control of preadipocyte determination by Zfp423. Nature 464:619–623

Shao M, Ishibashi J, Kusminski CM et al (2016) Zfp423 maintains white adipocyte identity through suppression of the beige cell thermogenic gene program. Cell Metab 23:1167–1184

Gupta RK, Mepani RJ, Kleiner S et al (2012) Zfp423 expression identifies committed preadipocytes and localizes to adipose endothelial and perivascular cells. Cell Metab 15:230–239

Patil M, Sharma BK, Elattar S et al (2017) Id1 promotes obesity by suppressing brown adipose thermogenesis and white adipose browning. Diabetes 66:1611–1625

Stine RR, Shapira SN, Lim H-W et al (2016) EBF2 promotes the recruitment of beige adipocytes in white adipose tissue. Mol Metab 5:57–65

Seale P, Conroe HM, Estall J et al (2011) Prdm16 determines the thermogenic program of subcutaneous white adipose tissue in mice. J Clin Invest 121:96–105

Michailidou Z, Jensen MD, Dumesic DA et al (2007) Omental 11β-hydroxysteroid dehydrogenase 1 correlates with fat cell size independently of obesity. Obesity 15:1155–1163

Shepherd PR, Gnudi L, Tozzo E et al (1993) Adipose cell hyperplasia and enhanced glucose disposal in transgenic mice overexpressing GLUT4 selectively in adipose tissue. J Biol Chem 268:22243–22246

Martinez-Botas J, Anderson JB, Tessier D et al (2000) Absence of perilipin results in leanness and reverses obesity in Lepr(db/db) mice. Nat Genet 26:474–479

Tansey JT, Sztalryd C, Gruia-Gray J et al (2001) Perilipin ablation results in a lean mouse with aberrant adipocyte lipolysis, enhanced leptin production, and resistance to diet-induced obesity. Proc Natl Acad Sci U S A 98:6494–6499

Klop B, Elte JWF, Cabezas MC (2013) Dyslipidemia in obesity: mechanisms and potential targets. Nutrients 5:1218–1240

van de Woestijne AP, Monajemi H, Kalkhoven E, Visseren FLJ (2011) Adipose tissue dysfunction and hypertriglyceridemia: mechanisms and management. Obes Rev 12:829–840

Lafontan M (2014) Adipose tissue and adipocyte dysregulation. Diabetes Metab 40:16–28
Acknowledgements
We gratefully thank M. Niehaus, C. Gumz, A. Teichmann and S. Ernst of the German Institute of Human Nutrition Potsdam-Rehbrücke (Nuthetal, Germany) for their skilful technical assistance as well as S. Gohlke for sharing her knowledge and skills concerning WT-1 cells with us. We kindly thank U. Smith of the University of Gothenburg for discussions on this project. Furthermore, the authors thank the staff of the Max Rubner Laboratory (Nuthetal, Germany) for animal care and technical support. Some of the data were presented in a talk at the 53rd EASD Annual meeting in 2017.
Contribution statement
MS, KS, AG, CB, MR, WJ, CW, HS, AF, HUH, NK, MB and PFP contributed to the acquisition and analysis of data as well as to the critical interpretation of the results. AS, HV, HGJ, TJS, WJ and MS were responsible for the major study concept and critical revision of the manuscript. AS, MS, HV and KS participated in the drafting and writing of the manuscript. AG, CB, MR, WJ, CW, HS, AF, HUH, NK, MB, PFP and TJS were involved in the design of the study. All authors contributed to the interpretation of data, edited the manuscript, and approved its final version for publication. AS is the guarantor of this work.
Funding
The study was supported by grants from the German Ministry of Education and Research and the Brandenburg state (82DZD00302, AS), the European Research Council (ERC-StG, no. 311082, TJS) and the Emmy Noether Program of the German Research Foundation (DFG grant, no. SCHU 2445/2-1 to TJS; SFB, 958 to AS).
Ethics declarations
The authors declare that there is no duality of interest associated with this manuscript.
Electronic supplementary material
Rights and permissions
Open Access This article is distributed under the terms of the Creative Commons Attribution 4.0 International License (http://creativecommons.org/licenses/by/4.0/), which permits unrestricted use, distribution, and reproduction in any medium, provided you give appropriate credit to the original author(s) and the source, provide a link to the Creative Commons license, and indicate if changes were made.
About this article
Cite this article
Stadion, M., Schwerbel, K., Graja, A. et al. Increased Ifi202b/IFI16 expression stimulates adipogenesis in mice and humans. Diabetologia 61, 1167–1179 (2018). https://doi.org/10.1007/s00125-018-4571-9
Received:

Accepted:

Published:

Issue Date:

DOI: https://doi.org/10.1007/s00125-018-4571-9
Keywords
Adipogenesis

Beiging

IFI16
Ifi202b

Obesity

Zfp423