Abstract
Aims/hypothesis
The reasons underlying a greater association of premature mortality with early-onset type 2 diabetes relative to late-onset disease are unclear. We evaluated the clinical characteristics at type 2 diabetes diagnosis and the broad trajectories in cardiometabolic risk factors over the initial years following diagnosis in relation to age at diagnosis.
Methods
Our cohort consisted of 100,606 individuals with newly diagnosed type 2 diabetes enrolled in the Swedish National Diabetes Register from 2002 to 2012. The average follow-up time was 2.8 years. Analyses were performed using a linear mixed-effects model for continuous risk factors and a mixed generalised linear model with a logistic link function for dichotomous risk factors.
Results
The individuals diagnosed at the youngest age (18–44 years) were more often male and had the highest BMI (mean of 33.4 kg/m2) at diagnosis and during follow-up compared with all other groups (those diagnosed at 45–59 years, 60–74 years and ≥75 years; p < 0.05), being ~5 kg/m2 higher than the oldest group. Although HbA1c patterns were similar between all age groups, there was a difference of about 5 mmol/mol (0.45%) between the two groups at 8 years post-diagnosis (p < 0.05). Additionally, individuals diagnosed younger had ~0.7 mmol/l higher triacylglycerol, and ~0.2 mmol/l lower HDL-cholesterol levels at diagnosis relative to the oldest group. Such differences continued for several years post diagnosis. Yet, although more of these younger individuals were receiving oral glucose-lowering agents, other cardioprotective therapies were prescribed less often in this group. Differences in BMI, blood glucose and lipid levels remained with adjustment for potential confounders, including marital status, education and country of birth, and, where relevant, differential treatments by age, and in those with at least 5 years of follow-up.
Conclusions/interpretation
Individuals who develop type 2 diabetes at a younger age are more frequently obese, display a more adverse lipid profile, have higher HbA1c and a faster deterioration in glycaemic control compared with individuals who develop diabetes later in life. These differences largely remain for several years after diagnosis and support the notion that early-onset type 2 diabetes may be a more pathogenic condition than late-onset disease.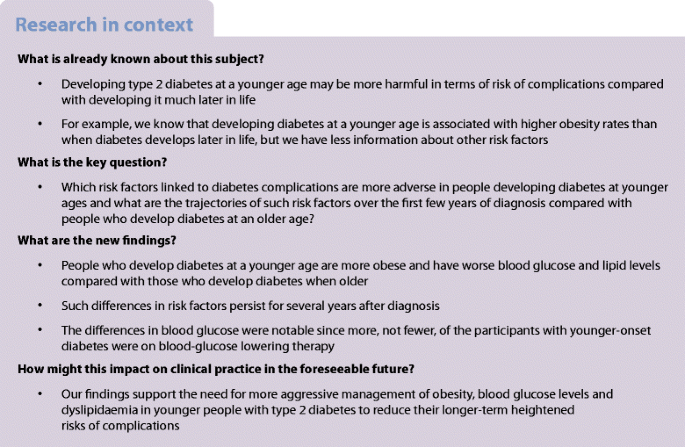 Data availability
The data that support the findings of this study are available from the corresponding author in anonymised form upon reasonable request.
Abbreviations
CVD:

Cardiovascular disease

DBP:

Diastolic BP

NDR:

The Swedish National Diabetes Register

SBP:

Systolic BP
References
González ELM, Johansson S, Wallander M-A, Rodríguez LAG (2009) Trends in the prevalence and incidence of diabetes in the UK: 1996-2005. J Epidemiol Community Health 63:332–336

Mokdad AH, Ford ES, Bowman BA et al (2000) Diabetes trends in the U.S.: 1990-1998. Diabetes Care 23:1278–1283

Alberti G, Zimmet P, Shaw J et al (2004) Type 2 diabetes in the young: the evolving epidemic: the International Diabetes Federation Consensus Workshop. Diabetes Care 27:1798–1811

Koopman RJ, Mainous AG, Diaz VA, Geesey ME (2005) Changes in age at diagnosis of type 2 diabetes mellitus in the United States, 1988 to 2000. Ann Fam Med 3:60–63

Grinstein G, Muzumdar R, Aponte L et al (2003) Presentation and 5-year follow-up of type 2 diabetes mellitus in African-American and Caribbean-Hispanic adolescents. Horm Res 60:121–126

Mokdad AH, Serdula MK, Dietz WH et al (1999) The spread of the obesity epidemic in the United States, 1991-1998. JAMA 282:1519–1522

Hillier TA, Pedula KL (2003) Complications in young adults with early-onset type 2 diabetes: losing the relative protection of youth. Diabetes Care 26:2999–3005

Gordon-Dseagu VLZ, Shelton N, Mindell J (2014) Diabetes mellitus and mortality from all-causes, cancer, cardiovascular and respiratory disease: evidence from the Health Survey for England and Scottish Health Survey cohorts. J Diabetes Complicat 28:791–797

Jansson SPO, Andersson DKG, Svärdsudd K (2016) Mortality and cardiovascular disease outcomes among 740 patients with new-onset type 2 diabetes detected by screening or clinically diagnosed in general practice. Diabet Med 33:324–331

Bell RA, Mayer-Davis EJ, Beyer JW et al (2009) Diabetes in non-Hispanic white youth: prevalence, incidence, and clinical characteristics: the SEARCH for Diabetes in Youth Study. Diabetes Care 32(Suppl 2):S102–S111

Eppens MC, Craig ME, Cusumano J et al (2006) Prevalence of diabetes complications in adolescents with type 2 compared with type 1 diabetes. Diabetes Care 29:1300–1306

Zeitler P, Hirst K, Pyle L et al (2012) A clinical trial to maintain glycemic control in youth with type 2 diabetes. N Engl J Med 366:2247–2256

Tancredi M, Rosengren A, Svensson A-M et al (2015) Excess mortality among persons with type 2 diabetes. N Engl J Med 373:1720–1732

Wong J, Constantino M, Yue DK (2015) Morbidity and mortality in young-onset type 2 diabetes in comparison to type 1 diabetes: where are we now? Curr Diab Rep 15:566

Eliasson B, Gudbjörnsdottir S (2014) Diabetes care – improvement through measurement. Diabetes Res Clin Pract 106:S291–S294

Rawshani A, Landin-Olsson M, Svensson AM et al (2014) The incidence of diabetes among 0-34 year olds in Sweden: new data and better methods. Diabetologia 57:1375–1381

WHO (2006) Definition and diagnosis of diabetes mellitus and intermediate hyperglycemia: report of a WHO/IDF consultation. Available at: www.who.int/diabetes/publications/diagnosis_diabetes2006/en/. Accessed 11 Oct 2017

Hoelzel W, Weykamp C, Jeppsson JO et al (2004) IFCC reference system for measurement of hemoglobin A1c in human blood and the national standardization schemes in the United States, Japan, and Sweden: a method-comparison study. Clin Chem 50:166–174

Huo X, Gao L, Guo L et al (2016) Risk of non-fatal cardiovascular diseases in early-onset versus late-onset type 2 diabetes in China: a cross-sectional study. Lancet Diabetes Endocrinol 4:115–124

Wright AK, Kontopantelis E, Emsley R et al (2017) Life expectancy and cause-specific mortality in type 2 diabetes: a population-based cohort study quantifying relationships in ethnic subgroups. Diabetes Care 40:338–345

Emerging Risk Factors Collaboration, SRK S, Kaptoge S et al (2011) Diabetes mellitus, fasting glucose, and risk of cause-specific death. N Engl J Med 364:829–841

Hatunic M, Burns N, Finucane F et al (2005) Contrasting clinical and cardiovascular risk status between early and later onset type 2 diabetes. Diab Vasc Dis Res 2:73–75

Hillier TA, Pedula KL (2001) Characteristics of an adult population with newly diagnosed type 2 diabetes: the relation of obesity and age of onset. Diabetes Care 24:1522–1527

Stratton IM, Adler AI, Neil HA et al (2000) Association of glycaemia with macrovascular and microvascular complications of type 2 diabetes (UKPDS 35): prospective observational study. BMJ 321:405–412

Niskanen L, Turpeinen A, Penttilä I, Uusitupa MIJ (1998) Hyperglycemia and compositional lipoprotein abnormalities as predictors of cardiovascular mortality in type 2 diabetes: a 15-year follow-up from the time of diagnosis. Diabetes Care 21:1861–1869

Aguilar-Salinas CA, Rojas R, Gómez-Pérez FJ et al (2002) Prevalence and characteristics of early-onset type 2 diabetes in Mexico. Am J Med 113:569–574

Triglyceride Coronary Disease Genetics Consortium and Emerging Risk Factors Collaboration, Sarwar N, Sandhu MS et al (2010) Triglyceride-mediated pathways and coronary disease: collaborative analysis of 101 studies. Lancet 375:1634–1639

Navar-Boggan AM, Peterson ED, D'Agostino RB et al (2015) Hyperlipidemia in early adulthood increases long-term risk of coronary heart disease. Circulation 131:451–458

JBS3 Board (2014) Joint British Societies' consensus recommendations for the prevention of cardiovascular disease (JBS3). Heart 100:ii1-ii67

Song SH, Hardisty CA (2009) Early onset type 2 diabetes mellitus: a harbinger for complications in later years – clinical observation from a secondary care cohort. QJM 102:799–806

Sniderman AD, Thanassoulis G, Williams K, Pencina M (2016) Risk of premature cardiovascular disease vs the number of premature cardiovascular events. JAMA Cardiol 1:492–494

Logue J, Walker JJ, Colhoun HM et al (2011) Do men develop type 2 diabetes at lower body mass indices than women? Diabetologia 54:3003–3006
Acknowledgements
Some preliminary versions of the analyses conducted with more age groups were presented in A.O. Steinarsson's BSc thesis. We thank all the data-collecting clinicians and staff at the Swedish National Diabetes Register. We thank Liz Coyle for her excellent technical assistance in the preparation of this article.
Funding
This work was supported by grants from the Swedish Association of Local Authorities and Regions and by Region Västra Götaland in Sweden.
Ethics declarations
Duality of interest
NS has consulted for Boehringer Ingelheim, Novo Nordisk, Janssen and Eli Lilly, and received grant support from AstraZeneca. All other authors declare no conflict of interest associated with this study.
Electronic supplementary material
Rights and permissions
Open Access This article is distributed under the terms of the Creative Commons Attribution 4.0 International License (http://creativecommons.org/licenses/by/4.0/), which permits unrestricted use, distribution, and reproduction in any medium, provided you give appropriate credit to the original author(s) and the source, provide a link to the Creative Commons license, and indicate if changes were made.
About this article
Cite this article
Steinarsson, A.O., Rawshani, A., Gudbjörnsdottir, S. et al. Short-term progression of cardiometabolic risk factors in relation to age at type 2 diabetes diagnosis: a longitudinal observational study of 100,606 individuals from the Swedish National Diabetes Register. Diabetologia 61, 599–606 (2018). https://doi.org/10.1007/s00125-017-4532-8
Received:

Accepted:

Published:

Issue Date:

DOI: https://doi.org/10.1007/s00125-017-4532-8
Keywords
Age group

Blood glucose

BMI

Cardiometabolic risk

Cardiovascular disease

Lipids

Premature mortality

Type 2 diabetes