Abstract
Rust diseases are a major cause of yield loss in wheat worldwide, and are often controlled through the incorporation of resistance genes using conventional phenotypic selection methods. Slow-rusting resistance genes are expressed quantitatively and are typically small in genetic effect thereby requiring multiple genes to provide adequate protection against pathogens. These effects are valuable and are generally considered to confer durable resistance. Therefore an understanding of the chromosomal locations of such genes and their biological effects are important in order to ensure they are suitably deployed in elite germplasm. Attila is an important wheat grown throughout the world and is used as a slow-rusting donor in international spring wheat breeding programs. This study identified chromosomal regions associated with leaf rust and stripe rust resistances in a cross between Attila and a susceptible parent, Avocet-S, evaluated over 3 years in the field. Genotypic variation for both rusts was large and repeatable with line-mean heritabilities of 94% for leaf rust resistance and 87% for stripe rust. Three loci, including Lr46/Yr29 on chromosome 1BL, were shown to provide resistance to leaf rust whereas six loci with small effects conferred stripe rust resistance, with a seventh locus having an effect only by epistasis. Disease scoring over three different years enabled inferences to be made relating to stripe rust pathogen strains that predominated in different years.
Access options
Buy single article
Instant access to the full article PDF.
US$ 39.95
Tax calculation will be finalised during checkout.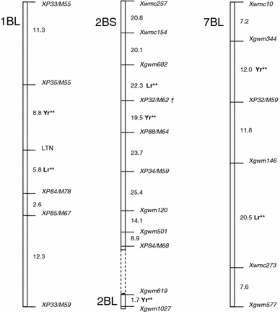 References
Ayala L, Henry M, van Ginkel M, Singh RP, Keller B, Khairallah M (2002) Identification of QTLs for BYDV tolerance in bread wheat. Euphytica 128:249–259

Bariana HS, Hayden MJ, Ahmed NU, Bell JA, Sharp PJ, McIntosh RA (2001) Mapping of durable adult plant and seedling resistances to stripe rust and stem rust diseases in wheat. Aust J Agric Res 52:1247–1255

Börner A, Röder MS, Unger O, Meinel A (2000) The detection and molecular mapping of a major gene for non-specific adult-plant disease resistance against stripe rust (Puccinia striiformis) in wheat. Theor Appl Genet 100:1095–1099

Boukhtem N, Baret PV, Mingeot D, Jacquemin JM (2002) Quantitative trait loci for resistance against yellow rust in two wheat-derived recombinant inbred line populations. Theor Appl Genet 104:111–118

Caldwell RM (1968) Breeding for general and/or specific plant disease resistance. In: Finlay KW, Shepherd KW (eds) Proceedings of third international wheat genetics symposium. Australian Academy of Science, Canberra, pp 263–272

Caldwell RM, Schafer JF, Compton LE, Patterson FL (1957) A mature plant type of wheat leaf-rust resistance of composite origin. Phytopathology 47:691–692

Chalmers KJ, Campbell AW, Kretschmer J, Karakousis A, Henschke PH, Pierens S, Harker N, Pallotta M, Cornish GB, Shariflou MR, Rampling LR, McLauchlan A, Daggard G, Sharp PJ, Holton TA, Sutherland MW, Appels R, Langridge P (2001) Construction of three linkage maps in bread wheat, Triticum aestivum. Aust J Agric Res 52:1089–1119

Churchill GA, Doerge RW (1994) Empirical threshold values for quantitative trait mapping. Genetics 138:963–971

Dyck PL (1987) The association of a gene for leaf rust resistance with the chromosome 7D suppressor of stem rust resistance in common wheat. Genome 29:467–469

Farrer W (1898) The making and improvement of wheats for Australian conditions. Agric Gaz NSW 9:131–168

Faris JD, Li WL, Liu DJ, Chen PD, Gill BS (1999) Candidate gene analysis of quantitative disease resistance in wheat. Theor Appl Genet 98:219–225

Flor HH (1956) The complementary genic systems in flax and flax rust. Adv Genet 8:29–54

Johnson R (1988) Durable resistance to yellow (stripe) rust in wheat and its implications in plant breeding. In: Simmonds NW, Rajaram S (eds) Breeding strategies for resistance to the rusts of wheat. CIMMYT, Mexico D.F., Mexico, pp 63–75

Littell RC, Milliken GA, Stroup WW, Wolfinger RD (1996) SAS system for mixed models. SAS Institute Inc., Cary

McIntosh RA, Wellings CR, Park RF (1995) Wheat rusts: an atlas of resistance genes. CSIRO Publishing, Melbourne, Australia

Mallard S, Gaudet D, Aldeia A, Abelard C, Besnard AL, Sourdille P, Dedryver F (2005) Genetic analysis of durable resistance to yellow rust in bread wheat. Theor Appl Genet 110:1401–1409

Messmer MM, Seyfarth R, Keller M, Schachermayr G, Winzeler M, Zanetti S, Feuillet C, Keller B (2000) Genetic analysis of durable leaf rust resistance in winter wheat. Theor Appl Genet 100:419–431

Navabi A, Tewari JP, Singh RP, McCallum B, Laroche A, Briggs KG (2005) Inheritance and QTL analysis of durable resistance to stripe and leaf rusts in an Australian cultivar, Triticum aestivum "Cook". Genome 48:97–107

Nelson JC, Singh RP, Autrique JE, Sorrells ME (1997) Mapping genes conferring and suppressing leaf rust resistance in wheat. Crop Sci 37:1928–1935

Ohm HW, Shaner GE (1976) Three components of slow-leaf rusting at different growth stages in wheat. Phytopathology 66:1356–1360

Parlevliet JE (1975) Components of resistance that reduce the rate of epidemic development. Annu Rev Phytopathol 17:203–222

Peterson RF, Campbell AB, Hannah AE (1948) A diagrammatic scale of estimating rust severity on leaves and stems of cereals. Can J Res Sec C 26:496–500

Ramburan VP, Pretorius ZA, Louw JH, Boyd LA, Smith PH, Boshoff WHP, Prins R (2004) A genetic analysis of adult plant resistance to stripe rust in the wheat cultivar Kariega. Theor Appl Genet 108:1426–1433

Röder MS, Korzun V, Wendehake K, Plaschke J, Tixier MH, Leroy P, Ganal MW (1998) A microsatellite map of wheat. Genetics 149:2007–2023

Rosewarne GM, Singh RP, Huerta-Espino J, William HM, Bouchet S, Cloutier S, McFadden H, Lagudah ES (2006) Leaf tip necrosis, molecular markers and β1-proteasome subunits associated with the slow rusting resistance genes Lr46/Yr29. Theor Appl Genet 112:500–508

Schnurbusch T, Bossolini E, Messmer M, Keller B (2004) Tagging and validation of a major quantitative trait locus for leaf rust resistance and leaf tip necrosis in winter wheat cultivar Forno. Phytopathology 94:1036–1041

Singh RP, Rajaram S (1991) Resistance to Puccinia recondita f. sp. tritici in 50 Mexican bread wheat cultivars. Crop Sci 31:1472–1479

Singh RP, Rajaram S (1994) Genetics of adult plant resistance to stripe rust in ten spring bread wheats. Euphytica 72:1–7

Singh RP, Mujeeb-Kazi A, Huerta-Espino J (1998) Lr46: a gene conferring slow-rusting to leaf rust in wheat. Phytopathology 88:890–894

Singh RP, Huerta-Espino J, Rajaram S (2000) Achieving near-immunity to leaf and stripe rusts in wheat by combining slow rusting resistance genes. Acta Phytopathol et Entomol Hungarica 35:133–139

Singh RP, Huerta-Espino J, William HM (2005) Genetics and breeding for durable resistance to leaf and stripe rusts in wheat. Turk J Agric Forest 29:121–127

Suenaga K, Singh RP, Huerta-Espino J, William HM (2003) Microsatellite Markers for genes Lr34/Yr18 and other quantitative trait loci for leaf rust and stripe rust resistance in bread wheat. Phytopathology 93:881–890

Suenaga K, Khairallah M, William HM, Hoisington DA (2005) A new intervarietal linkage map and its application for quantitative trait locus analysis of "gigas" features in bread wheat. Genome 48:65–75

Van der Plank JE (1963) Plant diseases; epidemics and control. Academic Press, New York

William HM, Hoisington D, Singh RP, Gonzalez-de-Leon D (1997) Detection of quantitative trait loci associated with leaf rust resistance in bread wheat. Genome 40:253–260

William HM, Singh RP, Huerta-Espino J, Palacios G, Rajaram R, Hoisington DA (2003) Characterization of genes for durable resistance to leaf rust and yellow rust in CIMMYT Spring wheats. Plant and Animal Genome XI, San Diego, pp 170

Xu X-Y, Bai G-H, Carver BF, Shaner GE, Hunger RM (2005a) Mapping of QTLs prolonging the latent period of Puccinia triticina infection in wheat. Theor Appl Genet 110:244–251

Xu X-Y, Bai G-H, Carver BF, Shaner GE, Hunger RM (2005b) Molecular characterization of slow leaf-rusting resistance in wheat. Crop Sci 45:758–765

Yang J, Hu CC, Ye XZ, Zhu J (2005) QTLNetwork 2.0. Institute of Bioinformatics, Zhejiang University, Hangzhou, China (http://ibi.zju.edu.cn/software/qtlnetwork)
Acknowledgments
This work was supported by GRDC grant CIM10 and CONACYT Project 12163. Our thanks go to members of CSIRO editorial panel for suggestions and constructive criticism of the manuscript.
Additional information
Communicated by B. Keller.
About this article
Cite this article
Rosewarne, G.M., Singh, R.P., Huerta-Espino, J. et al. Quantitative trait loci for slow-rusting resistance in wheat to leaf rust and stripe rust identified with multi-environment analysis. Theor Appl Genet 116, 1027–1034 (2008). https://doi.org/10.1007/s00122-008-0736-0
Received:

Accepted:

Published:

Issue Date:
Keywords
Quantitative Trait Locus

Amplify Fragment Length Polymorphism

Simple Sequence Repeat Marker

Leaf Rust

Stripe Rust