Zusammenfassung
Hintergrund
Für Gesundheitsfragen ist das Internet eine wichtige Informationsquelle und insbesondere Fachgesellschaften sollten hierbei verlässliche Inhalte anbieten. Mit dem "Urologenportal" engagieren sich die Deutsche Gesellschaft für Urologie e. V. und der Berufsverband der Deutschen Urologen e. V. bereits seit 2001. Aktuell wird ein umfassender Relaunch vorbereitet. Um hierbei möglichst gut auf die Bedürfnisse der Nutzer eingehen zu können, führten wir eine Nutzerbefragung durch.
Material und Methoden
Über ein Pop-up auf der Seite www.urologenportal.de luden wir die Nutzer zu einer Online-Umfrage mit 26 Fragen ein. Für die Beurteilung der Webseite nutzten wir einen validierten Fragebogen. Die Datenerhebung erfolgte anonymisiert.
Ergebnisse
Von Februar bis September 2015 erhielten wir n = 200 vollständige Datensätze. Das mediane Alter der Teilnehmer lag bei 57 (Spannweite 17–89) Jahren. 78 % der Nutzer waren männlich. Die Nutzer bewerteten Relevanz und Verständlichkeit der Informationen sehr positiv. Kritischer wurden Layout und Aufbau gesehen. 73 % der Nutzer waren selbst betroffen, wobei sich hiervon nur die Hälfte in urologischer Behandlung befand. Bei 54 % der Befragten musste zum Befragungszeitpunkt eine gesundheitsbezogene Entscheidung getroffen werden. Bei 54 % dieser Teilnehmer konnte die Informationssuche auf der Webseite bei der Entscheidung helfen und 20 % veränderten als Konsequenz ihre Entscheidung. Die drei häufigsten urologischen Themen, über die sich Nutzer der Webseite informieren, sind Beschneidung/Phimose (33 %), Prostatavergrößerung (19 %) und Erektionsstörungen (18 %).
Schlussfolgerung
Bereits jetzt steht mit dem "Urologenportal" eine gemeinsame Internetpräsenz aller deutschen Urologen zur Verfügung, die relevante Informationen verständlich vermittelt. Die laufende Überarbeitung sollte sich insbesondere auf die Struktur und das Layout fokussieren.
Abstract
Background
The Internet is an important source for health issues and especially professional associations should offer reliable information. Since 2001 the professional German urological associations (DGU and BDU) have hosted a joint platform to inform patients. Because a complete relaunch is currently ongoing, we evaluated the users' needs and wishes.
Materials and methods
Using a pop-up on the website www.urologenportal.de, users were invited to complete a 26-item online survey. We used a validated questionnaire for evaluation of the website. Data acquisition was performed in an anonymised manner.
Results
We received n = 200 complete responses from February through September 2015. Respondents' median age was 57 years (range 17–89 years); 79 % were male. Users rated relevance and comprehensibility of information as very good and superior compared to layout and structure of the website. Of the users 73 % were affected themselves, but only half of them reported to have consulted a urologist. At the time of the survey, 54 % of the respondents had to make a health-related decision. The website helped 54 % of these respondents in their decision-making and 20 % reported to have changed their mind due to the information obtained. The three most frequently requested urological topics were circumcision/phimosis (33 %), prostatic enlargement (19 %), and erectile dysfunction (18 %).
Conclusions
Currently the Urologenportal as the joint information platform hosted by German urologists is perceived as a comprehensible source of relevant information. The ongoing relaunch should focus particularly on the website's structure and layout.
Access options
Buy single article
Instant access to the full article PDF.
US$ 39.95
Tax calculation will be finalised during checkout.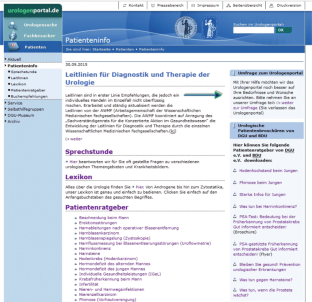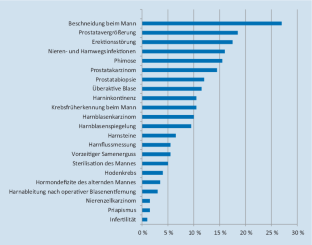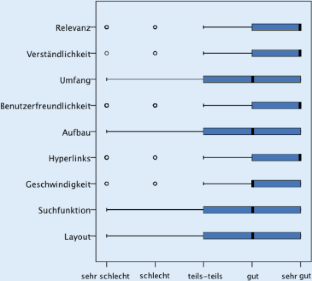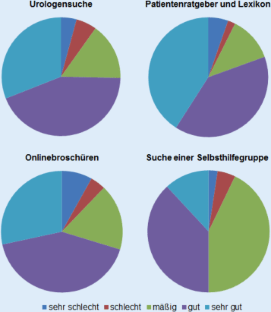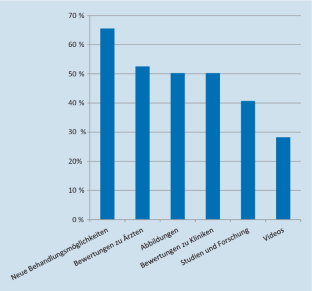 Abbreviations
AWMF:

Arbeitsgemeinschaft der Wissenschaftlichen Medizinischen Fachgesellschaften e. V.

BDU:

Berufsverband der Urologen e. V.

DGU:

Deutsche Gesellschaft für Urologie e. V.

PHQ:

"patient health questionnaire"

WEQ:

"website evaluation questionnaire"
Literatur
1.

Statistisches Amt der Europäischen Union (Eurostat) (2015) Personen, die das Internet zur Beschaffung von gesundheitsrelevanten Informationen genutzt haben. http://ec.europa.eu/eurostat/tgm/graph.do?tab=graph&plugin=1&pcode=tin00101&language=de&toolbox=type. Zugegriffen: 15. Nov. 2015

2.

Nölke L, Mensing M, Kramer A et al (2015) Sociodemographic and health-(care-)related characteristics of online health information seekers: a cross-sectional German study. BMC Public Health 15:31

3.

Laugesen J, Hassanein K, Yuan Y (2015) The Impact of Internet Health Information on Patient Compliance: A Research Model and an Empirical Study. J Med Internet Res 17:e143

4.

Schneider AW, Heicappell R (2002) Urologe [B]42:18–22 (www.Urologenportal.de)

5.

Elling S, Lentz L, Jong M de (2007) Website evaluation questionnaire: development of a research-based tool for evaluating informational Websites. EGOV 2007. LNCS 4656:293–304

6.

Behr D, Braun M, Dorer B (2015) Messinstrumente in internationalen Studien. GESIS – Leibniz-Institut für Sozialwissenschaften (SDM Survey Guidelines), Mannheim

7.

Degner LF, Sloan JA (1992) Decision making during serious illness: what role do patients really want to play? J Clin Epidemiol 45:941–950

8.

Huber J, Ihrig A, Huber CG et al (2011) Patientenorientierung und Entscheidungsfindung bei lokal begrenztem Prostatakarzinom: mögliche Felder urologischer Versorgungsforschung. Urologe 50:691–696

9.

Huber J, Ihrig A, Peters T et al (2011) Decision-making in localized prostate cancer: lessons learned from an online support group. BJU Int 107:1570–1575

10.

Kroenke K, Spitzer RL, Williams JB et al (2009) An ultra-brief screening scale for anxiety and depression: the PHQ-4. Psychosomatics 50:613–621

11.

Donovan KA, Grassi L, McGinty HL et al (2013) Validation of the Distress Thermometer worldwide: state of the science. Psychooncology 23:241–250

12.

Elling S, Lentz L, Jong M et al (2012) Measuring the quality of governmental websites in a controlled versus a laboratory setting with the Website Evaluation Questionnaire. Gov Inf Q 29:383–393

13.

Zschorlich B, Gechter D, Janßen IM, Swinehart T, Wiegard B, Koch K (2015) Gesundheitsinformationen im Internet: Wer sucht was, wann und wie? Z Evid Fortbild Qual Gesundhwes 109:144–152

14.

Emmert M, Sander U, Pisch F (2013) Eight questions about physician-rating websites: a systematic review. J Med Internet Res 15:e24

15.

Emmert M, Meier F (2013) An analysis of online evaluations on a physician rating website: evidence from a german public reporting instrument. J Med Internet Res 15:e157

16.

Hesse BW, Nelson DE, Kreps GL et al (2005) Trust and sources of health information the impact of the internet and its implications for health care providers: findings from the first health information national trends survey. Phd Arch Intern Med 165:2618–2624

17.

Iverson SA, Howard KB, Penney BK (2008) Impact of internet use on health-related behaviors and the patient-physician relationship: a survey-based study and review. J Am Osteopath Assoc 108:699–711

18.

Broom A (2005) Virtuallyhe@lthy: the impact of internet use on disease experience and the doctor-patient relationship. Qual Health Res 15:325–345

19.

Coutinho K, Stensland K, Hyun G (2014) Circumcision on the web: a comparison of quality, content, and bias online. J Pediatr Urol 10:688–692
Danksagung
Wir danken Frau Bettina Wahlers (Pressestelle der DGU und des BDU) und Herrn Herr Olaf Kurpick (DGU-Geschäftsstelle) für ihre Unterstützung bei der Durchführung des Projektes.
Ethics declarations
Interessenkonflikt
M. Baunacke, C. Groeben, H. Borgmann, A. Schneider, S. Kliesch und J. Huber geben an, dass kein Interessenkonflikt besteht.
Dieser Beitrag beinhaltet keine von den Autoren durchgeführten Studien an Menschen oder Tieren.
Additional information
Dieses Projekt entstand im Rahmen der Patienten Akademie der Deutschen Gesellschaft für Urologie e. V. und der Arbeitsgruppe Versorgungsforschung & Soziale Medien der GeSRU Academics.
About this article
Cite this article
Baunacke, M., Groeben, C., Borgmann, H. et al. Evaluation des Urologenportals. Urologe 55, 923–932 (2016). https://doi.org/10.1007/s00120-016-0144-z
Schlüsselwörter
Webseiten

Internetpräsenz

Entscheidungsfindung

Versorgungsforschung

Fragebogen
Keywords
Websites

Internet presence

Decision making

Health services research

Questionnaires