Abstract
The study investigated the effects of short-term thermo-mechanical (STTM) densification temperature and pressure on changes in surface wettability of veneer of different wood species (alder, beech, birch and pine). Veneer sheets were densified using pressure levels of 4, 8 and 12 MPa at three temperatures: 100, 150 and 200 °C for a short time of 4 min. The wettability analysis showed that in a relatively short process time wettability can be changed significantly; STTM-densified veneer surfaces became more hydrophobic.
Access options
Buy single article
Instant access to the full article PDF.
US$ 39.95
Tax calculation will be finalised during checkout.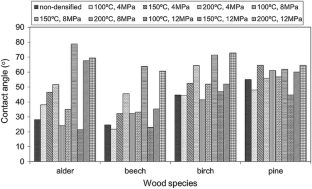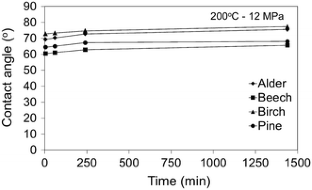 References
Arruda L, Del Menezzi CHS (2013) Effect of thermomechanical treatment on physical properties of wood veneers. Int Wood Prod J 4(4):217–224

Bekhta PA, Niemz P, Sedliacik J (2012) Effect of pre-pressing of veneer on the glueability and properties of veneer-based products. Eur J Wood Prod 70(1):99–106

Diouf PN, Stevanovic T, Cloutier A, Fang C-H, Blanchet P, Koubaa A, Mariotti N (2011) Effects of thermo-hygro-mechanical densification on the surface characteristics of trembling aspen and hybrid poplar wood veneers. Appl Sur Sci 257:3558–3564

Fengel D, Wegener G (1989) Wood: chemistry, ultrastructure, reactions. Walter de Gruyter, Berlin

Kocaefe D, Poncsak S, Doré G, Younsi R (2008) Effect of heat treatment on the wettability of white ash and soft maple by water. Holz Roh-Werkst 66:355–361

Navi P, Sandberg D (2012) Thermo-hydro-mechanical wood processing. EPFL Press, Lausanne
Acknowledgments
The authors would like to thank the COST Action FP 1006 "Bringing new functions to wood through surface modification" for financial support within the framework of the Short Term Scientific Mission (STSM).
About this article
Cite this article
Bekhta, P., Proszyk, S., Krystofiak, T. et al. Surface wettability of short-term thermo-mechanically densified wood veneers. Eur. J. Wood Prod. 73, 415–417 (2015). https://doi.org/10.1007/s00107-015-0902-4
Received:

Published:

Issue Date:
Keywords
Contact Angle

Wettability

Wood Species

Static Contact Angle

High Contact Angle