Abstract
A series of novel α,α-difluoro-β-hydroxyl pyrazole esters was prepared by Reformatsky reaction. Subsequently, these esters were converted to acids and hydrazides. All the synthesized compounds were evaluated for their in vitro antioxidant, anti-inflammatory and anticancer potential at various concentrations (50, 100 μM). Compounds 4d and 6e were found to be potent (93.19 and 90.91 %) and compounds 5d, 6c and 5f were good OH radical scavengers (79.55–72.73 %) as compared to the standard drug ascorbic acid (88.63 %). Compounds 6a, 5c, 6f, 4d and 5a showed significant 1,1-diphenyl-2-picrylhydrazyl radical scavenging activity (75.95–70.89 %). All the compounds have shown higher cyclooxygenase-1 (COX-1) inhibition over cyclooxygenase-2 (COX-2) at concentrations 100 and 50 μM. Compounds 5f, 6b, 4a, 5c, 4f, 5 and 6d showed significant COX-2 inhibition (38.56–28.30 %) at a concentration of 100 μM compared to standard drug aspirin (11.11 %). Compounds 6f, 6e and 5f have shown significant cytotoxicity against MCF-7 (51.03–40.59 %), whereas 6d, 5f and 5a showed moderate cytotoxicity against HL-60 (26.98–20.21 %) cancer cell lines compared to the methotrexate as reference standard (68.42 and 54.29 % respectively). All compounds have shown almost neglisible cytotoxicity against normal cell line 293.
Access options
Buy single article
Instant access to the full article PDF.
US$ 39.95
Tax calculation will be finalised during checkout.
Subscribe to journal
Immediate online access to all issues from 2019. Subscription will auto renew annually.
US$ 79
Tax calculation will be finalised during checkout.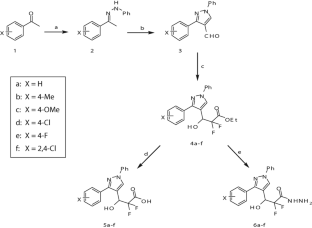 References
Bandgar BP, Chavan HV, Adsul LK, Thakare VN, Shringare SN, Shaikh R, Gacche RN (2013) Design, synthesis, characterization and biological evaluation of novel pyrazole integrated benzophenones. Bioorg Med Chem Lett 23:912–916

Bandgar BP, Gawande SS, Bodade RG, Gawande NM, Khobragade CN (2009) Synthesis and biological evaluation of a novel series of pyrazole chalcones as anti-inflammatory, antioxidant and antimicrobial agents. Bioorg Med Chem 17:8168–8173

Bégué J-P, Bonnet-Delpon D (2008) Bioorganic and medicinal chemistry of fluorine. Wiley, Hoboken, N. J

Blois MS (1958) Antioxidant determinations by the use of a stable free radical. Nature 181:1199–1200

Bohacek RS, McMartin C, Guida WC (1996) The art and practice of structure-based drug design: a molecular modeling perspective. Med Res Rev 16:3–50

Burkholder CR, Dolbier Jr. WR, Médebielle M (1998) Tetrakis(dimethylamino)ethylene as a useful reductant of some bromodifluoromethyl heterocycles. Application to the synthesis of new gem-difluorinated heteroarylated compounds. J Org Chem 63:5385–5394

Burkholder CR, Dolbier Jr. WR, Médebielle M (2000) The syntheses of nonnucleoside, HIV-1 reverse transcriptase inhibitors containing a CF2 group: the SRN1 reactions of 2-(bromodifluoromethyl)benzoxazole with the anions derived from heterocyclic thiols and phenolic compounds. J Fluorine Chem 102:369–376

Chavan HV, Adsul LK, Kotmale AS, Dhakane VD, Thakare VN, Bandgar BP (2015) Design, synthesis, characterization and in vitro and in vivo anti-inflammatory evaluation of novel pyrazole-based chalcones. J Enz Inhib Med Chem 30:22–31

Chavan HV, Bandgar BP, Adsul LK, Dhakane VD, Bhale PS, Thakare VN, Masand V (2013) Design, synthesis, characterization and anti-inflammatory evaluation of novel pyrazole amalgamated flavones. Bioorg Med Chem Lett 23:1315–1321

Chou T-S, Heath PC, Patterson LE, Poteet LM, Lakin RE, Hunt AH (1992) Stereospecific synthesis of 2-deoxy-2,2-difluororibonolactone and its use in the preparation of 2′-deoxy-2′,2′-difluoro-β-D-ribofuranosyl pyrimidine nucleosides: the key role of selective crystallization. Synthesis 1992(6):565–570

Garg HG, Prakash C (1971) Potential antidiabetics. 9. Biological activity of some pyrazoles. J Med Chem 14:649–650

Hagmann WK (2008) The many roles for fluorine in medicinal chemistry. J Med Chem 51:4359–4359

Hallinan EA, Fried J (1984) 2,2-Difluoro-3-hydroxyesters by reformatskii reaction. Tetrahedron Lett 25:2301–2302

Hida T, Yatabe Y, Achiwa H, Muramatsu H, Kozaki K, Nakamura S, Ogawa M, Mitsudomi T, Sugiura T, Takahashi T (1998) Increased expression of cyclooxygenase 2 occurs frequently in human lung cancers, specifically in adenocarcinomas. Cancer Res 58:3761–3764

Holla BS, Mahalinga M, Karthikeyan MS, Akberali PM, Shetty NS (2006) Synthesis of some novel pyrazolo[3,4-d]pyrimidine derivatives as potential antimicrobial agents. Bioorg Med Chem 14:2040–2047

Kawase M, Motohashi N, Satoh K, Sakagami H, Nakashima H, Tan S, Shıratak Y, Kurihara T, Spengler G, Wolfard K, Molnar J (2003) Biological activity of persimmon (Diospyros kaki) peel extracts. Phytother Res 17:495–500

Kirk KL (2008) Fluorination in medicinal chemistry: methods, strategies, and recent developments. Org Process Res Dev 12:305–321

Legters J, Thijs L, Zwanenburg B (1991) Synthesis of naturally occurring (2S,3S)-(+)-aziridine-2,3-dicarboxylic acid. Tetrahedron 47:5287–5294

Liu F, Ooi VEC, Chang ST (1997) Free radical scavenging activities of mushroom polysaccharide extracts. Life Sci 60:763–771

Manna F, Chimenti F, Fioravanti R, Bolasco A, Secci D, Chimenti P, Ferlini C, Scambia G (2005) Synthesis of some pyrazole derivatives and preliminary investigation of their affinity binding to P-glycoprotein. Bioorg Med Chem Lett 15:4632–4635

Mantani N, Imanishi N, Kawamata H, Terasawa K, Ochiai H (2001) Inhibitory effect of (+)-catechin on the growth of influenza A/PR/8 virus in MDCK cells. Planta Med 67:240–243

Meth-Cohn O, Tarnowski B (1982) Cyclizations under vilsmeier conditions. Adv Heterocycl Chem 31:207–236

Mulder R, Wellinga K, van Daalen JJ (1975) A new class of insecticides. Naturwissenschaften 62:531–532

Murias M, Handler N, Erker T, Pleban K, Ecker G, Saiko P, Szekeres T, Jäger W (2004) Resveratrol analogues as selective cyclooxygenase-2 inhibitors: synthesis and structure–activity relationship. Bioorg Med Chem 12:5571–5578

Ojima I (2009) Fluorine in medicinal chemistry and chemical biology. Blackwell

Purser S, Moore PR, Swallow S, Gouverneur V (2008) Fluorine in medicinal chemistry. Chem Soc Rev 37:320–330

Roesler R, Malta LG, Carrasco LC, Pastore G (2006) Evaluation of the antioxidant properties of the Brazilian Cerrado fruit Annona crassiflora (Araticum). J Food Sci 71:102–107

Rollet-Labelle E, Gragne MS, Elbim C, Marquetty C, Gougerot-Pocidalo MA (1998) Hydroxyl radical as a potential intracellular mediator of polymorphonuclear neutrophil apoptosis. Free Rad Biol Med 24:563–572

Ruiz van Haperen VWT, Veerman G, Vermorken JB, Peters GJ (1993) 2′,2′-Difluoro-deoxycytidine (gemcitabine) incorporation into RNA and DNA of tumour cell lines. Biochem Pharmacol 46:762–766

Saha A, Kumar R, Kumar R, Devakumar (2010) Development and assessment of green synthesis of hydrazides. Ind J Chem B 49:526–531
Ethics declarations
Conflict of interest
The authors declare that they have no competing interests. The authors alone are responsible for the content and writing of this article.
About this article
Cite this article
Mukarram, S., Bandgar, B.P., Shaikh, R.U. et al. Synthesis of novel α,α-difluoro-β-hydroxycarbonyl pyrazole derivatives as antioxidant, anti-inflammatory and anticancer agents. Med Chem Res 26, 262–273 (2017). https://doi.org/10.1007/s00044-016-1744-2
Received:

Accepted:

Published:

Issue Date:
Keywords
Pyrazole

Reformatsky

Antioxidant

Anti-inflammatory

Anticancer