Abstract
Members of the Tre2/Bub2/Cdc16 (TBC), lysin motif (LysM), domain catalytic (TLDc) protein family are associated with multiple neurodevelopmental disorders, although their exact roles in disease remain unclear. For example, nuclear receptor coactivator 7 (NCOA7) has been associated with autism, although almost nothing is known regarding the mode-of-action of this TLDc protein in the nervous system. Here we investigated the molecular function of NCOA7 in neurons and generated a novel mouse model to determine the consequences of deleting this locus in vivo. We show that NCOA7 interacts with the cytoplasmic domain of the vacuolar (V)-ATPase in the brain and demonstrate that this protein is required for normal assembly and activity of this critical proton pump. Neurons lacking Ncoa7 exhibit altered development alongside defective lysosomal formation and function; accordingly, Ncoa7 deletion animals exhibited abnormal neuronal patterning defects and a reduced expression of lysosomal markers. Furthermore, behavioural assessment revealed anxiety and social defects in mice lacking Ncoa7. In summary, we demonstrate that NCOA7 is an important V-ATPase regulatory protein in the brain, modulating lysosomal function, neuronal connectivity and behaviour; thus our study reveals a molecular mechanism controlling endolysosomal homeostasis that is essential for neurodevelopment.
Graphic abstract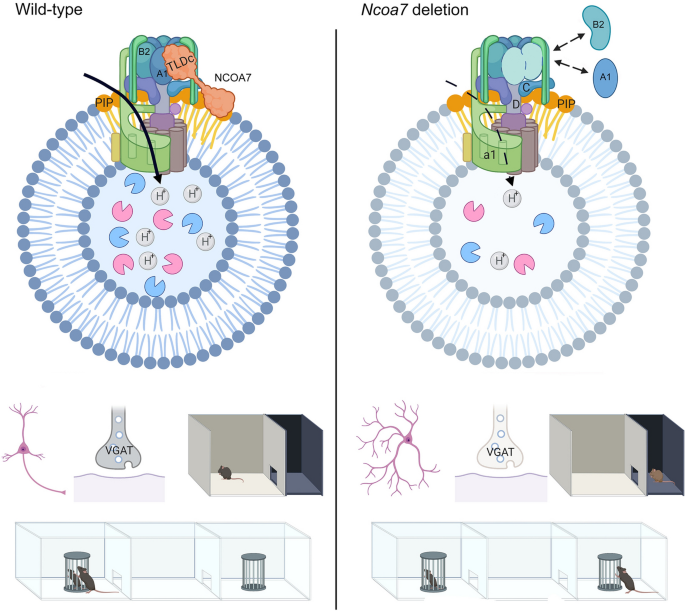 Data availability
Contact corresponding author.
Abbreviations
ASD:

Autism spectrum disorder

AT1A1:

Sodium/potassium-transporting ATPase subunit alpha-1

CB:

Calbindin

CNS:

Central nervous system

ERAP40:

Estrogen receptor (ER)-associated protein 140

GABA:

Gamma-aminobutyric acid

GRAM:

Rab-like GTPase activators and myotubularins

IFN:

Interferon

NCOA7:

Nuclear receptor coactivator 7

NCOR1:

Nuclear receptor corepressor 1

NDD:

Neurodevelopmental disorders

OXR1:

Oxidation resistance 1

PIP:

Phosphoinositide

SRC1:

Steroid receptor coactivator 1

TLDc:

Tre2/Bub2/Cdc16 (TBC), lysin motif (LysM), domain catalytic

TBC1D24:

Tre2/Bub2/Cdc16 (TBC)1 domain family member 24

VGAT:

Vesicular GABA transporter

VGLUT:

Vesicular glutamate transporter
Referencesauthor note: references 51 and 52 needsd to be swapped-over in the list below
Acknowledgements
We thank the animal care staff in Biomedical Services at the University of Oxford and the Mary Lyon Centre at MRC Harwell Institute, in particular Simona Oliveri and Simon Gillard, along with the Transgenic core at the Wellcome Trust Centre for Human Genetics and Errin Johnson at The Electron Microscopy Facility at The Dunn School Bioimaging Facility, University of Oxford. We also thank Fran Platt and Brent Ryan for valuable discussions. The graphical abstract was created using BioRender.
Funding
This work was funded by a European Research Council Consolidator Award (Grant PAROSIN 311384) and a Medical Research Council Programme Grant (Grant MR/P502005/1) to PLO. The Transgenic core at the WCHG was funded by a Wellcome Trust Core Award (Grant 203141/Z/16/Z).
Ethics declarations
Conflict of interest
The authors declare that there are no conflicts of interest. The funding institution had no role in data acquisition, analysis or decision to publish the results.
Ethics approval
Animals were generated and maintained under UK Home Office Project Licences 30/2966, 30/3353 and P7133CD66 with local ethical guidelines issued by the University of Oxford and the Medical Research Council Harwell Institute.
Additional information
Publisher's Note
Springer Nature remains neutral with regard to jurisdictional claims in published maps and institutional affiliations.
Supplementary Information
Below is the link to the electronic supplementary material.
Rights and permissions
Open Access This article is licensed under a Creative Commons Attribution 4.0 International License, which permits use, sharing, adaptation, distribution and reproduction in any medium or format, as long as you give appropriate credit to the original author(s) and the source, provide a link to the Creative Commons licence, and indicate if changes were made. The images or other third party material in this article are included in the article's Creative Commons licence, unless indicated otherwise in a credit line to the material. If material is not included in the article's Creative Commons licence and your intended use is not permitted by statutory regulation or exceeds the permitted use, you will need to obtain permission directly from the copyright holder. To view a copy of this licence, visit http://creativecommons.org/licenses/by/4.0/.
About this article
Cite this article
Castroflorio, E., den Hoed, J., Svistunova, D. et al. The Ncoa7 locus regulates V-ATPase formation and function, neurodevelopment and behaviour. Cell. Mol. Life Sci. 78, 3503–3524 (2021). https://doi.org/10.1007/s00018-020-03721-6
Received:

Revised:

Accepted:

Published:

Issue Date:

DOI: https://doi.org/10.1007/s00018-020-03721-6
Keywords
Lysosome

V-ATPase

Neuron

Mouse

Neurodevelopment

Behaviour

Autism