Stem cell activation in skeletal muscle regeneration
Abstract
Muscle stem cell (satellite cell) activation post muscle injury is a transient and critical step in muscle regeneration. It is regulated by physiological cues, signaling molecules, and epigenetic regulatory factors. The mechanisms that coherently turn on the complex activation process shortly after trauma are just beginning to be illuminated. In this review, we will discuss the current knowledge of satellite cell activation regulation.
Keywords
Satellite cells 
Quiescent stem cells 
Epigenetics 
Non-coding RNA 
DNA methylation 
Growth factors 
Introduction
Skeletal muscle is voluntarily controlled striated muscle tissue that produces locomotion, postural behavior, and breathing. It is also the largest insulin-stimulated glucose utilization tissue in the body [1]. As the most abundant tissue in the human body, on average, it accounts for 40–50 % of an adult male's and 30–40 % of an adult female's body weight. Maintenance of muscle mass is not only critical for precise movements, but also important for optimal metabolic homeostasis. Unfortunately, due to the function and location of skeletal muscle, it is susceptible to the damage caused by overstretching, straining, trauma, everyday wear and tear, and several degenerative muscle disorders. These damages can be repaired through muscle regeneration mediated by muscle stem cells. Satellite cells represent a major group of muscle stem cells. Initially identified by Mauro [2] in 1961, satellite cells are located between the sarcolemma and the basal lamina of myofibers. These cells usually remain quiescent with a large nuclear-to-cytoplasmic ratio and a low number of mitochondria [3]. In response to exercise and injury, quiescent satellite cells are activated to enter the cell cycle, proliferate, and eventually exit at G1, fusing to form terminally differentiated multinucleated myofibers.
In addition to satellite cells, several other types of muscle-resident adult stem cells have recently been found [3]. These stem cells are also capable of muscle lineage differentiation and their activation also represents an important part of muscle regeneration, although the regulatory mechanism remains largely unknown.
There are many sophisticated reviews on satellite cells and muscle regeneration [3, 4, 5, 6, 7, 8, 9, 10, 11, 12]. Here, we summarize the current literature on regulation of satellite cells and other muscle-resident stem cell activation.
Satellite cells and satellite cell activation
Although multiple types of stem cells with muscle lineage differentiation potential have been identified [13], satellite cells are the major contributor to the remarkable regenerative capabilities of skeletal muscle. Satellite cells were initially discovered by Alex Mauro more than 50 years ago using electron microscopy, as mononucleated cells located at the periphery of muscle fibers [2]. Mauro suggested that satellite cells "might be pertinent to the vexing problem of skeletal muscle regeneration" [2]. Indeed, later experiments revealed that satellite cells were able to give rise to terminally differentiated multinucleated myotubes through cell fusion to regenerate damaged myofibers [14, 15, 16, 17, 18, 19, 20].
During embryonic development, satellite cells emerge together with the muscle in which they reside and share the same origin as muscle. Satellite cells from the trunk and limb muscles originate from the dermomyotome, while the majority of the satellite cells of the craniofacial muscles are derived from the head mesoderm [4, 21, 22, 23, 24]. The number of satellite cells reaches a peak at the neonatal stage, accounting for about 30–35 % of the total myofiber nuclei. The number decreases to ~2–7 % of the total myofiber nuclei in adulthood [25, 26, 27, 28, 29].
Satellite cells are activated and are more proliferative during the neonatal period to support the rapid gain in muscle mass [25, 30, 31, 32]. In contrast to the situation in neonates, the majority of satellite cells are mitotically quiescent in adults, remaining at the G0 stage, although the mechanism by which active satellite cells become quiescent after the burst of postnatal muscle mass growth is not clear yet.
The quiescent satellite cells reside in a unique niche in intact muscles [
5
]. They are located closely juxtaposed between the sarcolemma of muscle fibers and the basal lamina that surrounds the fiber [
2
]. These cells display specific gene expression profiles compared to actively proliferating satellite cells. Pax7, Pax3, M-cadherin, Syndecan-4, CD34, α
7
-Integrin, and CXCR4 [
33
,
34
,
35
] dominantly express in quiescent satellite cells (Fig. 
1
), and MyoD expression is absent in quiescent satellite cells [
36
,
37
]. They can be quickly activated to re-enter the cell cycle and proliferate in response to extrinsic signals, a process referred to as satellite cell activation.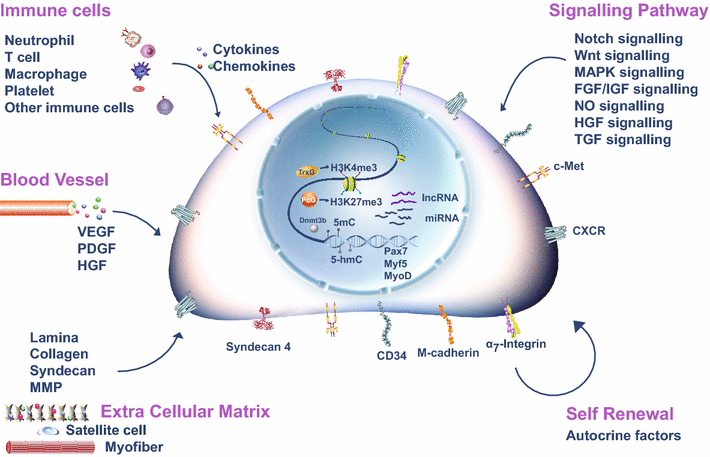 The morphology of activated satellite cells is different from that of quiescent satellite cells. Quiescent satellite cells are usually spindle-shaped with little cytoplasm and few organelles [38, 39], whereas activated satellite cells are larger with an expanded cytoplasm and more organelles [39, 40]. The earliest marker for activated satellite cells is phosphorylated p38, followed by MyoD [41, 42, 43]. Although detected in the majority of quiescent satellite cells, Myf5 is highly upregulated on activation [44, 45]. During G1 phase, shortly after exit from quiescence, MyoD does not promote differentiation, but instead directly regulates the expression of Cdc6, a gene involved in rendering chromatin accessible for DNA replication, allowing cell cycle entry [43, 46].
MyoD plays multiple roles at different stages of muscle differentiation in a context-dependent manner. For example, MyoD expressed in quiescent cells has been reported to inhibit cell proliferation in a differentiation-independent way [47]. In myoblasts, MyoD can also inhibit cell cycle entry by the induction of p21 and upregulation of apoptotic genes [48, 49]. After the first cell division, the proliferative cells enter the cell cycle and continue to divide every 10 h [50].
Upon stimulation, such as muscle damage, exercise, or pathogenic conditions, the satellite cells start to proliferate and give rise to a myogenic precursor cell population called myoblasts. Myoblasts can go through several rounds of amplification, then exit the cell cycle and fuse to each other or to the existing myofibers to form terminally differentiated myofibers. Some of the progeny of the activated satellite cells can restore the pool of quiescent stem cells by asymmetric self-renewal [51]. ERK signaling regulates the reversible quiescence of a subpopulation of satellite cells through ERK signaling inhibitor Spry1 [52]. Depletion of Spry1 in satellite cells increases the number of cells committed to apoptosis and reduced the number of quiescent satellite cells after muscle injury reparation, suggesting that Spy1 is required for reversible quiescence [52]. Activation of satellite cells is the critical step in the initiation of muscle regeneration. It is subjected to multiple layers of tight regulation. Physiological cues, signaling molecules, and epigenetic regulators are all involved in the orchestration of the orderly activation of satellite cells upon stimulation.
Physiological cues to induce satellite cell activation
Satellite heterogeneity and satellite activation
Satellite cells are heterogeneous cell populations. They have various developmental origins, fiber associations, and expression profiles [10]. For example, the expression level of Pax7 varies dramatically in distinct subgroups of satellite cells. Pax7High cells display reduced metabolic activity and delayed entrance into cell cycle upon stimulation, whereas Pax7Low cells are more primed be activated [12]. A small proportion of quiescent satellite cells do not express CD34 and Myf5 [167], although the physiological significance of this has not been elucidated. The heterogeneity of satellite cells could affect the dynamics of satellite cell activation.
Myoblasts expressing desmin, MyoD, and myogenin have been observed within 12 h post-injury, when satellite cell activation is incomplete and proliferation has not yet been initiated [168]. The presence of the apparently differentiated myoblast population before satellite cell activation and proliferation could suggest the existence of two distinct satellite cell populations, the normal quiescent satellite cells and another group of more ready to differentiate [168]. Each population might be activated through different signaling pathways and display distinct kinetics. Identification of markers for each satellite cell subpopulation and development of methods for the specific isolation of each subpopulation will contribute to elucidate the specific activation mechanism governing each subpopulation. The accumulation of genomewide profiling at the single cell level will further deepen our understanding of the activation of heterogeneous satellite cells.
Epigenetic regulation in satellite cell activation
Conclusion
The activation of quiescent satellite cells is orchestrated by physiological cues, signaling pathways, and epigenetic regulators. We are just beginning to unravel how this process is regulated. Many questions remain unanswered, especially with regard to transcription and epigenetic regulation. Satellite cell activation is an asynchronized and transient process in vivo. Following the live cell activation process by high-resolution imaging and other new techniques will reveal more information about the process in vivo. The identification of more key genetic mutants affecting satellite cell activation will also help to reveal the missing links in the regulatory network, while genomewide analysis of the binding profile of epigenetic regulators will further deepen our understanding.
Many factors have been found to exhibit dramatic changes when satellite cells are activated. However, whether these changes are the causes of satellite cell activation or the consequences of it remains to be identified. Genetic mutations and careful characterization of the order of events during the satellite cell activation process will shed light on this. Another important question that remains to be explored is the link between uncontrolled satellite cell activation and cancer, especially non-alveolar rhabdomyosarcoma. Further exploration of this question will reveal more targets for drug development to treat rhabdomyosarcoma.
Notes
Acknowledgments
This work was sponsored by grants from the Ministry of Science and Technology of China (2014CB964700 to P.H.), the ''Strategic Priority Research Program'' of the Chinese Academy of Sciences (XDA01010204 to P. H.), the National Natural Science Foundation of China (31171420 to P. H.), One Hundred Talents Program of Chinese Academy of Sciences 2012OHTP02 to P. H., Science and Technology Commission of Shanghai Municipality (12PJ1409700, 13JC1406500 to P. H.), and CAS-CSIRO Research Program brant No. GJHZ1504.
Copyright information
© The Author(s) 2015
Open AccessThis article is distributed under the terms of the Creative Commons Attribution License which permits any use, distribution, and reproduction in any medium, provided the original author(s) and the source are credited.