Dalbavancin: A Novel Lipoglycopeptide Antibiotic with Extended Activity Against Gram-Positive Infections
Abstract
Dalbavancin is a lipoglycopeptide antibiotic recently approved by the United States Food and Drug Administration (FDA) for acute bacterial skin and skin structure infections (ABSSSIs). It is active against gram-positive pathogens, including methicillin-resistant Staphylococcus aureus (MRSA), and minimum inhibitory concentrations (MICs) are consistently <0.125 µg/ml, much lower than most other anti-MRSA agents. Dalbavancin possesses an extended half-life of over 1 week, allowing an initial dose of 1000 mg followed by 500 mg 1 week later to complete a course of therapy for ABSSSI. It is approximately 95% protein bound and is widely distributed throughout the body, achieving concentrations similar to plasma levels in numerous tissues. Against MRSA, dalbavancin is 4–8 times more potent than vancomycin in vitro, and limited data suggest it possesses activity against MRSA with reduced susceptibility to vancomycin such as hVISA and VISA. Dalbavancin also possesses in vitro activity against streptococci and enterococci, although activity against vancomycin-resistant enterococci is lacking. In phase 3 ABSSSI studies, dalbavancin demonstrated similar activity to vancomycin and provides a more convenient dosing regimen. Limited phase 2 data suggest dalbavancin also possesses activity in catheter-related bloodstream infections. Potential further therapeutic uses include conditions that require long-term treatment such as osteomyelitis and infective endocarditis, although data are currently lacking. The extended half-life of dalbavancin, along with its in vitro activity against gram-positive organisms with reduced susceptibility to other anti-MRSA antibiotics, suggest it could have an exciting clinical role going forward.
Keywords
Antibiotic 
Dalbavancin 
Lipoglycopeptide 
Skin infections 
Introduction
Staphylococcus aureus is the leading cause of both community and hospital-acquired infection in the United States [1]. Among S. aureus isolates observed in the United States, between 40% and 50% are methicillin-resistant (MRSA), greatly reducing therapeutic options. MRSA are responsible for several serious infections, including endocarditis, pneumonia, catheter-associated bloodstream infections, osteomyelitis, and skin infections. Vancomycin, a glycopeptide antibiotic derived in the 1950s from Streptomyces orientalis, has been the mainstay in anti-MRSA therapy for more than 50 years [2]. Over this time, vancomycin has remained remarkably active against most gram-positive bacterial strains. A 2013 surveillance study of over 2000 MRSA bloodstream isolates found less than 0.1% possessed a vancomycin minimum inhibitory concentration (MIC) of 4 µg/ml, the MIC that establishes MRSA as a vancomycin-intermediate susceptible Staphylococcus aureus (VISA) according to the Clinical and Laboratory Standards Institute (CLSI) [3]. However, isolates with reduced susceptibility are increasing in the literature after first being reported 20 years ago [4, 5]. Even when vancomycin therapy is appropriate, the management of the antibiotic is complicated. Nephrotoxicity is often associated with vancomycin therapy, and its narrow therapeutic index makes it the only currently available antibiotic with a consensus guideline statement regarding its dosing [6]. The difficulty of vancomycin administration, increase of MRSA with reduced susceptibility to vancomycin, and toxicities associated with vancomycin use have led to the recent development of several novel anti-MRSA antibiotics.
Dalbavancin is a lipoglycopeptide antibiotic derived from teicoplanin, an analog of vancomycin [7]. Dalbavancin is approved for the treatment of acute bacterial skin and skin structure infections (ABSSSI) caused by susceptible, gram-positive isolates [8]. It possesses a similar spectrum of activity to vancomycin, including activity against methicillin-susceptible S. aureus (MSSA) and MRSA [9]. Owing to its extended half-life, dalbavancin is dosed once weekly, with only two doses required for the duration of therapy [10]. This novel antibiotic possesses several qualities that make it an interesting addition to the anti-MRSA armamentarium. This review will serve to introduce dalbavancin, review pertinent in vitro and clinical data, and discuss possible future therapeutic uses for dalbavancin outside the currently FDA-approved indication.
Structure and Mechanism of Action
Dalbavancin is a semisynthetic lipoglycopeptide derived structurally from antibiotic A-40926, a teicoplanin-like, natural antibiotic produced by
Nonomuria
spp. [
11
]. Several structural alterations were made in an attempt to enhance activity against
S. aureus
as well as extend the half-life of dalbavancin [
11
]. Perhaps the most important addition to dalbavancin is the extended, lipophilic side chain not present in teicoplanin or A-40926. This additional side chain allows dalbavancin to anchor to the bacterial cell membrane, enhancing its potency, prolonging its half-life, and allowing for extended dosing intervals [
12
]. Dalbavancin also possesses an amidated carboxyl side group that enhances the agent's anti-staphylococcal activity. The structure of dalbavancin is detailed in Fig. 
1
.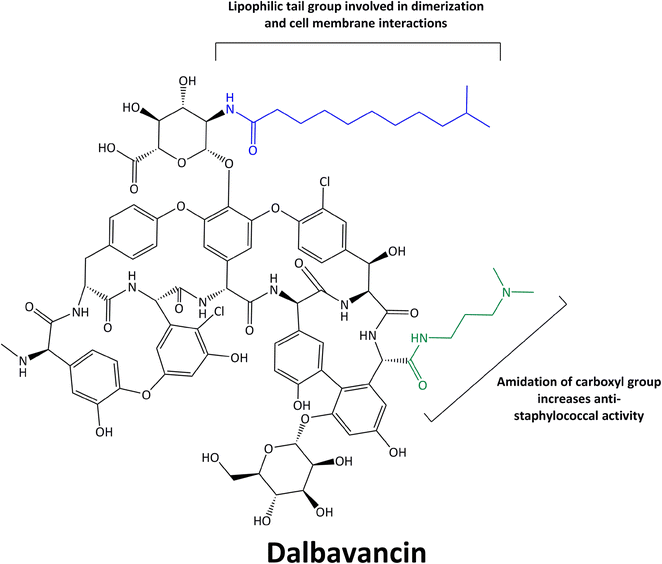 Like other agents in its class, dalbavancin exerts its antimicrobial activity through interaction with terminal d-alanyl-d-alanine residues of peptidoglycan precursors [13]. The binding of dalbavancin to these terminal residues prevents both transpeptidase and transglycosylase enzymes from catalyzing peptidoglycan cross-linking and thereby destroying the integrity of the cell wall, ultimately causing cell death [12]. Recent data have demonstrated that the lipophilic side chain of dalbavancin allows dimerization of the molecule and anchors dalbavancin to lipid II in the cellular membrane, strengthening adherence to the d-alanyl-d-alanine target site and allowing for enhanced activity compared to vancomycin and teicoplanin [14].
Conclusion
With options for the treatment of resistant staphylococcal infections limited and vancomycin susceptibility demonstrating signs of decline, dalbavancin presents an exciting therapeutic alternative. It has evidenced an excellent safety and efficacy profile in the setting of ABSSSI and has gained FDA approval for this indication. ABSSSI infections continue to be a large healthcare burden, and the availability of a two-dose therapeutic regimen has important implications for patient adherence, potential hospital avoidance, and cost savings versus inpatient therapy. Emergency departments and observational care units stand to benefit especially, as patients will be able to be easily transitioned back into the community after being seen for only a limited amount of time. Perhaps most exciting are the clinical opportunities for dalbavancin use outside of its current approved indication. Dalbavancin has already demonstrated efficacy in CR-BSI, and further studies will be important to determine its place in deep-seated infections such as pneumonia, osteomyelitis, and endocarditis. Preliminary data are promising, as dalbavancin achieves concentrations in bone tissue well above staphylococcal MIC90 values 14 days after a 1000 mg dose [47]. Going forward, it will be imperative to determine optimal dosing strategies for infections that require weeks-long durations of therapy. Owing to the activity dalbavancin possesses in vitro and in vivo against S. aureus with reduced vancomycin susceptibility, further study involving dalbavancin against these isolates is also intriguing and warranted. It remains to be seen whether antibiotic combinations with dalbavancin will display similar additive effects as they do with vancomycin and daptomycin against gram-positive pathogens. Dalbavancin has the potential to be an effective agent to combat resistant gram-positive organisms, and expanded use of this agent post-approval will help determine its ultimate place in therapy.
Notes
Acknowledgments
No sponsorship or funding was received for this publication. The authors would like to acknowledge Jeffrey M. Rybak for his assistance with the drawing of the chemical structure of dalbavancin. All named authors meet the International Committee of Medical Journal Editors (ICMJE) criteria for authorship for this manuscript, take responsibility for the integrity of the work as a whole, and have given final approval for the version to be published.
Conflict of interest
Jordan R. Smith and Karrine D. Roberts have nothing to disclose. Michael J. Rybak has been a speaker and/or consultant and obtained research support from Actavis, Cubist, and Theravance; speaker and/or consultant for Bayer, Durata, Novartis, The Medicines Company, and Sunovian; and obtained research and partial salary support from NIH R21 AI109266-01.
Compliance with ethics guidelines
This article is based on previously conducted studies and does not involve any new studies of human or animal subjects performed by any of the authors.
Open Access
This article is distributed under the terms of the Creative Commons Attribution-NonCommercial 4.0 International License (http://creativecommons.org/licenses/by-nc/4.0/), which permits any noncommercial use, distribution, and reproduction in any medium, provided you give appropriate credit to the original author(s) and the source, provide a link to the Creative Commons license, and indicate if changes were made.