Potential Hormone Mechanisms of Bariatric Surgery
Open Access
Health Services and Programs (R Welbourn, Section Editor)
Part of the following topical collections:
Abstract
Purpose of Review
In recent years, the role of the gastrointestinal (GI) tract in energy homeostasis through modulation of the digestion and absorption of carbohydrates and the production of incretin hormones is well recognized.
Recent Findings
Bariatric surgery for obesity has been a very effective method in substantially improving weight, and numerous studies have focused on intestinal adaptation after bariatric procedures. A number of structural and functional changes in the GI tract have been reported postsurgery, which could be responsible for the altered hormonal responses. Furthermore, the change in food absorption rate and the intestinal regions exposed to carbohydrates may affect blood glucose response.
Summary
This review hopes to give new insights into the direct role of gut hormones, by summarising the metabolic effects of bariatric surgery.
Keywords
Bariatric surgery 
Gastric banding 
Sleeve gastrectomy 
Roux-en-Y gastric bypass 
Gut hormones 
Gastrin 
GLP-1 
GLP-2 
PYY 
Ghrelin 
CCK 
GIP 
Oxyntomodulin 
Secretin 
VIP 
PP 
Insulin 
Glucagon 
Somatostatin 
Obestatin 
Gustducin 
FGF19 
FGF21 
Introduction
Obesity, defined as a body mass index ≥30 kg/m
2
, has become a worldwide epidemic, considered among the greatest public health challenges of our time. An estimated global progression of obesity over the next decades indicates that by 2030, more than 1 billion adults will be obese [
1
]. Obesity can contribute towards multiple cardiometabolic co-morbidities, with debilitating consequences. The weight reductive effects of bariatric surgery have been well documented over the past decades, and bariatric surgery remains currently the most effective weight loss method mainly by GI tract volume restriction and/or beneficial metabolic sequelae [
2
]. The mechanisms underlying the metabolic effects of bariatric surgery remain elusive, but they are likely to be secondary to changes in the secretion of gut hormones and the transformation of the gastrointestinal lining [
3
]. This review article aims at elucidating the potential hormone mechanisms of the most commonly used bariatric procedures (Table
1
).
Table 1
The effects of the most common bariatric procedures on gut hormone regulation
Procedures
Bariatric procedures, such as Roux-en-Y gastric bypass and vertical sleeve gastrectomy, cause substantial and durable weight loss in both humans and rodents. Lately, these surgical interventions have also been termed metabolic due to the substantive metabolic changes beyond body weight loss alone. The most popular interventions at present are gastric banding, sleeve gastrectomy and the Roux-en-Y gastric bypass.
Gastric Banding
Gastric banding (GB) includes the placement of a silicone ring around the stomach to create a small upper gastric pouch at the bottom of the oesophagus. This procedure was introduced in the 1970s and remains safe, well tolerated and efficacious with a relative low risk of serious complications. Another benefit to this procedure is the ability to adjust the band enhancing its weight loss effect without compromising safety [4].
Roux-en-Y Gastric Bypass
The Roux-en-Y gastric bypass (RYGB) is one of the most common bariatric procedures and has the greatest weight loss effect [5]. During the procedure, a small gastric pouch is created, draining into the jejunum (alimentary limb) causing nutrients to bypass the pylorus and duodenum. The bile and pancreatic juices drain into the duodenum and jejunum as normal (biliopancreatic limb) but are only mixed with food after the anastomosis of the alimentary and biliopancreatic limbs to create the common limb. The length of the common limb is an important factor for the development of serious complications [5]. In standard RYGB, the Roux limb is usually 0.75–1.5 m long with a common limb of ∼3 m which is usually adequate for absorption of nutrients. A modified version of the RYGB is called 'distal bypass' technique, reducing the length of the common limb to ∼75 cm, carrying though a higher risk for complications [5].
Sleeve Gastrectomy
The sleeve gastrectomy (SG) involves creating a long, thin longitudinal gastric pouch or sleeve. This reduces the volume of the stomach by approximately 80% but leaves the pylorus intact. SG was initially performed as a precursor to a larger procedure but has been increasingly used alone due to its efficacy and safety. SG is now one of the most commonly performed bariatric surgery procedures with impressive weight loss effect and relative low rate of complications [6].
Potential Hormone Mechanisms of Bariatric Surgery
The metabolic effects of bariatric surgery have been attributed by many to changes in the secretion of gastroenteropancreatic peptides although additional mechanisms have been proposed (Fig.
1
). In this review article, we will focus on the weight loss-independent effects of bariatric surgery mainly involving changes in postprandial gut hormone secretions (Table
2
) [
3
].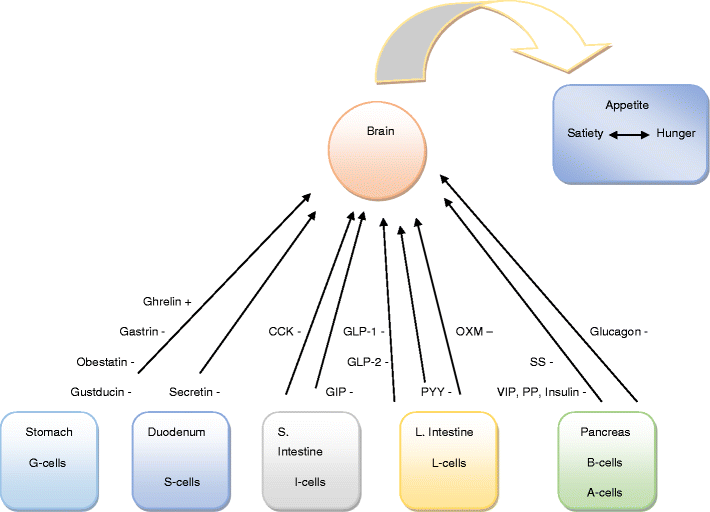 Table 2
Gut hormones and their actions
| Hormone | Organ/cell | Mechanism of action |
| --- | --- | --- |
| Gastrin | Stomach/G cells | Increases HCl production |
|   |   | Promotes satiety |
| Ghrelin | Stomach/G cells | Increases appetite |
|   |   | Enhances gastric emptying GI motility and GH secretion |
| GLP-1 | Ileum/L cells | Causes the incretin effect |
|   |   | Increases insulin sensitivity and production. Delays gastric emptying. Enhances satiety. |
| GLP-2 | Ileum/L cells | Causes gut hypertrophy. Alters GI motility |
| PYY | Colon/L cells | Delays gastric emptying. Promotes satiety |
| OXM | Ileum/L cells | Promotes satiety, increases energy expenditure |
| Secretin | Duodenum/S cells | Reduces gastric and duodenal motility. Enhances insulin release |
| VIP | Enteric and parasympathetic nerves | Promotes hormone secretion by the brain, gut and pancreas Increases the secretion of water and electrolytes. Reduces HCl secretion |
| PP | Pancreas- PP cells | Promotes satiety |
|   |   | Exocrine and endocrine secretion regulator |
| Insulin | Pancreas/B cells | Regulates metabolism of carbs, fat and protein. Promotes absorption glucose from the blood |
| Obestatin | Stomach/epithelial cells | Promotes satiety |
| Gustducin | Stomach/specialized lining cells | Enhances GLP-1 secretion |
| SS | Pancreas/D cells | Reduces gastrin, GLP-1, CCK, GIP and secretin |
| Glucagon | Pancreas/A cells | Promotes glucogenolysis and gluconeogenesis |
| FGF19 | Ileum | Regulation of glucose and lipid metabolism. Increases energy expenditure |
Bariatric Surgery and Gut Hormones
Conclusions
Whether the metabolic benefits of bariatric surgery are secondary to weight loss or not remains controversial. It is nevertheless clear that there are widespread physiological responses to changes in GI tract morphology. Studies of peptide hormone concentrations after bariatric surgery have often found conflicting results, and these findings are further complicated by the fact that most of the observed hormonal and physiological responses are similar between all surgical interventions. Weight loss itself can cause changes in gut hormone secretion, regardless of the effects of bariatric surgery, making it difficult to evaluate the independent effects of surgery on weight loss postsurgically. The beneficial effects of bariatric surgery are still poorly understood, but are most likely to be multifactorial in aetiopathogenesis. An obvious candidate, however, is GLP-1. The increase in postprandial GLP-1 levels following bariatric surgery is obviously beneficial to the stimulation of postprandial insulin secretion. Interestingly, however, suppression of the GLP-1R does not diminish the beneficial effects of surgery, indicating that this is not the only mechanism for the observed metabolic phenomena of surgery. Changes in calorie restriction occurring postsurgery, coupled with hormonal adaptations, promote weight loss which, surprisingly, can be preserved in the long term. Yet, there are patients lacking sustainable weight loss despite initial good response to bariatric surgery (secondary poor responders). There are several hypotheses regarding this phenomenon, including cognitive traits related to eating behaviour and isolated cases of blunted GLP-1 and PYY secretion following bariatric surgery. In contrast, primary poor responders to bariatric surgery may be genetically predisposed to a limited weight loss as various genome-wide associated studies have shown. In such cases, weight loss % over time is a strong prognostic factor to overall achieved weight loss.
The success of bariatric surgery comes from the combined effect of physiological and molecular signalling changes in both the GI tract and other organs that result in sustained weight loss and improved glucose and insulin homeostasis.
Notes
Acknowledgements
We acknowledge the scientific input from Professor Harpal S. Randeva in the design of this manuscript.
Compliance with Ethical Standards
Conflict of Interest
Georgios K. Dimitriadis, Manpal S. Randeva and Alexander D. Miras declare they have no conflict of interest.
Human and Animal Rights and Informed Consent
This article does not contain any studies with human or animal subjects performed by any of the authors.
References
Papers of particular interest, published recently, have been highlighted as: • Of importance •• Of major importance
Copyright information
© The Author(s) 2017
Open Access This article is distributed under the terms of the Creative Commons Attribution 4.0 International License (http://creativecommons.org/licenses/by/4.0/), which permits unrestricted use, distribution, and reproduction in any medium, provided you give appropriate credit to the original author(s) and the source, provide a link to the Creative Commons license, and indicate if changes were made.