Abstract
Salvia sclarea or "clary sage" is an aromatic plant that is used for various ailments especially among the women. The aim of this investigation was to evaluate the biological activities of clary sage oil with emphasis on its application in women health. The information of this study was extracted by key words of clary sage, S. sclarea, biological activities in references books and electronic resources. The results of investigation exhibited that the chemical composition of clary sage influenced from various ecological, geographical and environmental conditions, but linalool and linalyl acetate is known as main components of clary sage oil. Clary sage oil is used in aromatherapy for women during the menstrual cycle, childbirth and menopause. The modern clinical investigations confirmed the efficacy of clary sage oil as anti-stress, anti-depression and analgesic agents in primary dysmenorrhea. The anti-oxidant, antimicrobial, cytotoxic and anti-inflammatory effects of clary sage have been confirmed. Furthermore, clary sage oil is known as safe oil with no adverse effects. Designing the large clinical study to evaluate the oral efficacy of clary sage oil for women ailments is essential for future studies.
This is a preview of subscription content, log in to check access.
Access options
Buy single article
Instant unlimited access to the full article PDF.
US$ 39.95
Price includes VAT for USA
Subscribe to journal
Immediate online access to all issues from 2019. Subscription will auto renew annually.
US$ 99
This is the net price. Taxes to be calculated in checkout.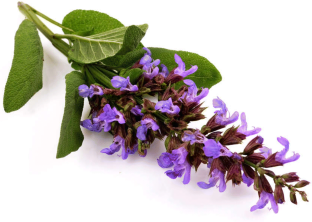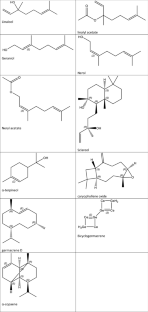 References
Ali B, Al-Wabel NA, Shams S, Ahamad A, Khan SA, Anwar F (2015) Essential oils used in aromatherapy: a systemic review. Asian Pacific J Trop Biomed 5(8):601–611. https://doi.org/10.1016/j.apjtb.2015.05.007

Bailey JA, Carter GA, Burden RS, Wain RL (1975) Control of rust diseases by diterpenes from Nicotiana glutinosa. Nature 255:328. https://doi.org/10.1038/255328a0

Banthorpe DV, Brown JT, Morris GS (1990) Accumulation of the anti-fungal diterpene sclareol by cell cultures of Salvia sclarea and Nicotiana glutinosa. Phytochemistry 29(7):2145–2148. https://doi.org/10.1016/0031-9422(90)83025-V

Baytop T (1984) Therapy with medicinal plants (past and present), vol 3255. Istan-bul University Publications, Istanbul

Ben Taarit M, Msaada K, Hosni K, Marzouk B (2011) Physiological changes and essential oil composition of clary sage (Salvia sclarea L.) rosette leaves as affected by salinity. Acta Physiologiae Plantarum 33(1):153–162. https://doi.org/10.1007/s11738-010-0532-8

Ben Taârit M, Msaada K, Hosni K, Marzouk B (2012) Fatty acids, phenolic changes and antioxidant activity of clary sage (Salvia sclarea L.) rosette leaves grown under saline conditions. Ind Crops Prod 38:58–63. https://doi.org/10.1016/j.indcrop.2012.01.002

Blasko A, Gazdag Z, Grof P, Mate G, Sarosi S, Krisch J, Vagvolgyi C, Makszin L, Pesti M (2017) Effects of clary sage oil and its main components, linalool and linalyl acetate, on the plasma membrane of Candida albicans: an in vivo EPR study. Apoptosis Int J Program Cell Death 22(2):175–187. https://doi.org/10.1007/s10495-016-1321-7

Burns E, Blamey C (1994) Soothing scents in childbirth. Int J Aromather 6(1):24–28

Burns E, Blamey C, Ersser SJ, Lloyd AJ, Barnetson L (2000a) The use of aromatherapy in intrapartum midwifery practice an observational study. Complement Ther Nurs Midwifery 6(1):33–34. https://doi.org/10.1054/ctnm.1999.0901

Burns E, Blamey C, Lloyd A (2000b) Aromatherapy in childbirth: an effective approach to care. Br J Midwifery 8:639–643. https://doi.org/10.12968/bjom.2000.8.10.8065

Cai J, Lin P, Zhu X, Su Q (2006) Comparative analysis of clary sage (Salvia sclarea L.) oil volatiles by GC–FTIR and GC–MS. Food Chem 99(2):401–407. https://doi.org/10.1016/j.foodchem.2005.07.041

Caissard JC, Olivier T, Delbecque C, Palle S, Garry PP, Audran A, Valot N, Moja S, Nicole F, Magnard JL, Legrand S, Baudino S, Jullien F (2012) Extracellular localization of the diterpene sclareol in clary sage (Salvia sclarea L., Lamiaceae). PLoS ONE 7(10):e48253. https://doi.org/10.1371/journal.pone.0048253

Durgha H, Thirugnanasampandan R, Ramya G, Ramanth MG (2016) Inhibition of inducible nitric oxide synthase gene expression (iNOS) and cytotoxic activity of Salvia sclarea L. essential oil. J King Saud Univ Sci 28(4):390–395. https://doi.org/10.1016/j.jksus.2015.11.001

Elnir O, Putievsky E, Ravid U, Dudai N, Ladizinsky G (1991) Genetic affinity between two chemotypes of clary sage (Salvia sclarea L.). Euphytica 54(2):205–208. https://doi.org/10.1007/bf00039610

Farka P, Hollá M, Tekel J, Mellen S, Vaverková t (2005) Composition of the essential oils from the flowers and leaves of Salvia sclarea L. (Lamiaceae) cultivated in Slovak Republic. J Essent Oil Res 17(2):141–144. https://doi.org/10.1080/10412905.2005.9698858

Fraternale D, Giamperi L, Bucchini A, Ricci D, Epifano F, Genovese S, Curini M (2005) Composition and antifungal activity of essential oil of Salvia sclarea from Italy. Chem Nat Compd 41(5):604–606. https://doi.org/10.1007/s10600-005-0221-9

García-Caparrós P, José Romero M, Llanderal A, Cermeño P, Lao M, Segura M (2019) Effects of drought stress on biomass, essential oil content, nutritional parameters, and costs of production in six lamiaceae species. Water 11:573. https://doi.org/10.3390/w11030573

Gülçin I, Uguz M, Oktay M, Beydemir Ş, Küfrevioǧlu ÖI (2004) Evaluation of the antioxidant and antimicrobial activities of clary sage (Salvia sclarea L.). Turk J Agric For 28:25–33

Han SH, Hur MH, Buckle J, Choi J, Lee MS (2006) Effect of aromatherapy on symptoms of dysmenorrhea in college students: a randomized placebo-controlled clinical trial. J Altern Complement Med (New York, NY) 12(6):535–541. https://doi.org/10.1089/acm.2006.12.535

Hristova Y, Gochev V, Wanner J (2013) Chemical composition and antifungal activity of essential oil of Salvia sclarea L. from Bulgaria against clinical isolates of Candida species. J BioSci Biotech 2:39–44

Hudaib M, Bellardi MG, Rubies-Autonell C, Fiori J, Cavrini V (2001) Chromatographic (GC-MS, HPLC) and virological evaluations of Salvia sclarea infected by BBWV-I. Farmaco (Societa chimica italiana) 56(3):219–227

Jasicka-Misiak I, Poliwoda A, Petecka M, Buslovych O, Shlyapnikov VA, Wieczorek PP (2018) Antioxidant phenolic compounds in Salvia officinalis L. and Salvia sclarea L. Ecol Chem Eng 25:133–142

Kostic M, Kitic D, Petrovic MB, Jevtovic-Stoimenov T, Jovic M, Petrovic A, Zivanovic S (2017) Anti-inflammatory effect of the Salvia sclarea L. ethanolic extract on lipopolysaccharide-induced periodontitis in rats. J Ethnopharmacol 199:52–59. https://doi.org/10.1016/j.jep.2017.01.020

Kuzma L, Rozalski M, Walencka E, Rozalska B, Wysokinska H (2007) Antimicrobial activity of diterpenoids from hairy roots of Salvia sclarea L.: salvipisone as a potential anti-biofilm agent active against antibiotic resistant Staphylococci. Phytomed Int J Phytother Phytopharmacol 14(1):31–35. https://doi.org/10.1016/j.phymed.2005.10.008

Kuzma L, Kalemba D, Rozalski M, Rozalska B, Wieckowska-Szakiel M, Krajewska U, Wysokinska H (2009) Chemical composition and biological activities of essential oil from Salvia sclarea plants regenerated in vitro. Molecules (Basel, Switzerland) 14(4):1438–1447. https://doi.org/10.3390/molecules14041438

Lawrence BM (1994) Production of clary sage oil and sclareol in North America. In: Proceedings of the 4th international symposium on medicinal and aromatic plants, p 41

Lee KB, Cho E, Kang YS (2014) Changes in 5-hydroxytryptamine and cortisol plasma levels in menopausal women after inhalation of clary sage oil. Phytother Res PTR 28(11):1599–1605. https://doi.org/10.1002/ptr.5163

Opdyke D (1973) Monographs on fragrance raw materials. J Food Cosmet Toxicol 11(4):1011–1081

Ou MC, Hsu TF, Lai AC, Lin YT, Lin CC (2012) Pain relief assessment by aromatic essential oil massage on outpatients with primary dysmenorrhea: a randomized, double-blind clinical trial. J Obstet Gynaecol Res 38(5):817–822. https://doi.org/10.1111/j.1447-0756.2011.01802.x

Ozdemir E, Alpinar K (2015) An ethnobotanical survey of medicinal plants in western part of central Taurus Mountains: Aladaglar (Nigde—Turkey). J Ethnopharmacol 166:53–65. https://doi.org/10.1016/j.jep.2015.02.052

Peana AT, Moretti MDL (2002) Pharmacological activities and applications of Salvia sclarea and Salvia desoleana essential oils. In: Atta ur R (ed) Studies in natural products chemistry, vol 26. Elsevier, Amsterdam, pp 391–423. https://doi.org/10.1016/S1572-5995(02)80012-6

Pitarokili D, Couladis M, Petsikos-Panayotarou N, Tzakou O (2002) Composition and antifungal activity on soil-borne pathogens of the essential oil of Salvia sclarea from Greece. J Agric Food Chem 50(23):6688–6691. https://doi.org/10.1021/jf020422n

Raffa RB, Iannuzzo JR, Levine DR, Saeid KK, Schwartz RC, Sucic NT, Terleckyj OD, Young JM (2005) Bacterial communication ("quorum sensing") via ligands and receptors: a novel pharmacologic target for the design of antibiotic drugs. J Pharmacol Exp Therapeutics 312(2):417–423. https://doi.org/10.1124/jpet.104.075150

Schmiderer C, Grassi P, Novak J, Weber M, Franz C (2008) Diversity of essential oil glands of clary sage (Salvia sclarea L., Lamiaceae). Plant Biol 10(4):433–440. https://doi.org/10.1111/j.1438-8677.2008.00053.x

Seol GH, Shim HS, Kim PJ, Moon HK, Lee KH, Shim I, Suh SH, Min SS (2010) Antidepressant-like effect of Salvia sclarea is explained by modulation of dopamine activities in rats. J Ethnopharmacol 130(1):187–190. https://doi.org/10.1016/j.jep.2010.04.035

Seol GH, Lee YH, Kang P, You JH, Park M, Min SS (2013) Randomized controlled trial for Salvia sclarea or Lavandula angustifolia: differential effects on blood pressure in female patients with urinary incontinence undergoing urodynamic examination. J Altern Complement Med (New York, NY) 19(7):664–670. https://doi.org/10.1089/acm.2012.0148

Sharopov FS, Satyal P, Setzer WN, Wink M (2015) Chemical compositions of the essential oils of three Salvia species cultivated in Germany. J Am J Essent Oils Nat Prod 3:26–29

Shinohara K, Doi H, Kumagai C, Sawano E, Tarumi W (2017) Effects of essential oil exposure on salivary estrogen concentration in perimenopausal women. Neuro Endocrinol Lett 37(8):567–572

Sienkiewicz M, Glowacka A, Poznanska-Kurowska K, Kaszuba A, Urbaniak A, Kowalczyk E (2015) The effect of clary sage oil on Staphylococci responsible for wound infections. Postepy dermatologii i alergologii 32(1):21–26. https://doi.org/10.5114/pdia.2014.40957

Souleles C, Argyriadou N (1997) Constituents of the essential oil of Salvia sclarea growing wild in Greece. Int J Pharmacogn 35(3):218–220. https://doi.org/10.1076/phbi.35.3.218.13295

Tadokoro Y, Horiuchi S, Takahata K, Shuo T, Sawano E, Shinohara K (2017) Changes in salivary oxytocin after inhalation of clary sage essential oil scent in term-pregnant women: a feasibility pilot study. BMC Res Notes 10(1):717. https://doi.org/10.1186/s13104-017-3053-3

Tulukcu E, Yalcin H, Ozturk I, Sagdic O (2012) Changes in the fatty acid compositions and bioactivities of clary sage seeds depending on harvest year. Ind Crops Prod 39:69–73. https://doi.org/10.1016/j.indcrop.2012.02.012

Ulubelen A, Topcu G, Eris C, Sonmez U, Kartal M, Kurucu S, Bozok-Johansson C (1994) Terpenoids from Salvia sclarea. Phytochemistry 36(4):971–974

Verzár-Petri G, Then M, Mészáros S (1985) Formation of essential oil in clary sage under different conditions. In: Svendsen AB, Scheffer JJC (eds) Essential oils and aromatic plants: proceedings of the 15th international symposium on essential oils, held in Noordwijkerhout, The Netherlands, July 19–21, 1984. Springer Netherlands, Dordrecht, pp 199–202. https://doi.org/10.1007/978-94-009-5137-2_22

Vieira-Brock PL, Vaughan BM, Vollmer DL (2017) Comparison of antimicrobial activities of natural essential oils and synthetic fragrances against selected environmental pathogens. Biochimie Open 5:8–13. https://doi.org/10.1016/j.biopen.2017.09.001

Winter CA, Risley EA, Nuss GW (1962) Carrageenin-induced edema in hind paw of the rat as an assay for antiiflammatory drugs. Proc Soc Exp Biol Med Soc Exp Biol Med (New York, NY) 111:544–547. https://doi.org/10.3181/00379727-111-27849

Yang Z, Kitano Y, Chiba K, Shibata N, Kurokawa H, Doi Y, Arakawa Y, Tada M (2001) Synthesis of variously oxidized abietane diterpenes and their antibacterial activities against MRSA and VRE. Bioorg Med Chem 9(2):347–356. https://doi.org/10.1016/s0968-0896(00)00253-4

Yang HJ, Kim KY, Kang P, Lee HS, Seol GH (2014) Effects of Salvia sclarea on chronic immobilization stress induced endothelial dysfunction in rats. BMC Complement Altern Med 14:396. https://doi.org/10.1186/1472-6882-14-396

Yaseen M, Kumar B, Ram D, Singh M, Anand S, Yadav HK, Samad A (2015) Agro morphological, chemical and genetic variability studies for yield assessment in clary sage (Salvia sclarea L.). Ind Crops Prod 77:640–647. https://doi.org/10.1016/j.indcrop.2015.09.047

Yousefzadi M, Sonboli A, Karimic F, Ebrahimi SN, Asghari B, Zeinalia A (2007) Antimicrobial activity of some Salvia species essential oils from Iran. Zeitschrift fur Naturforschung C, J Biosci 62(7–8):514–518
Acknowledgements
The authors are thankful from TabibDaru Pharmaceutical Company, Kashan, Iran.
Ethics declarations
Ethical statement
This article does not contain any studies with human participants or animals performed by any of the authors.
Conflict of interest
Mohaddese Mahboubi has no conflict of interest.
Additional information
Publisher's Note
Springer Nature remains neutral with regard to jurisdictional claims in published maps and institutional affiliations.
About this article
Cite this article
Mahboubi, M. Clary sage essential oil and its biological activities. ADV TRADIT MED (ADTM) (2020) doi:10.1007/s13596-019-00420-x
Received:

Accepted:

Published:
Keywords
Clary sage

Salvia sclarea

Dysmenorrhea

Linalool

Linalyl acetate