General synthesis of silica-based yolk/shell hybrid nanomaterials and in vivo tumor vasculature targeting
Abstract
Multifunctional yolk/shell-structured hybrid nanomaterials have attracted increasing interest as theranostic nanoplatforms for cancer imaging and therapy. However, because of the lack of suitable surface engineering and tumor targeting strategies, previous research has focused mainly on nanostructure design and synthesis with few successful examples showing active tumor targeting after systemic administration. In this study, we report the general synthetic strategy of chelator-free zirconium-89 (89Zr)-radiolabeled, TRC105 antibody-conjugated, silica-based yolk/shell hybrid nanoparticles for in vivo tumor vasculature targeting. Three types of inorganic nanoparticles with varying morphologies and sizes were selected as the internal cores, which were encapsulated into single hollow mesoporous silica nanoshells to form the yolk/shell-structured hybrid nanoparticles. As a proof-of-concept, we demonstrated successful surface functionalization of the nanoparticles with polyethylene glycol, TRC105 antibody (specific for CD105/endoglin), and 89Zr (a positron-emitting radioisotope), and enhanced in vivo tumor vasculature-targeted positron emission tomography imaging in 4T1 murine breast tumor-bearing mice. This strategy could be applied to the synthesis of other types of yolk/shell theranostic nanoparticles for tumor-targeted imaging and drug delivery.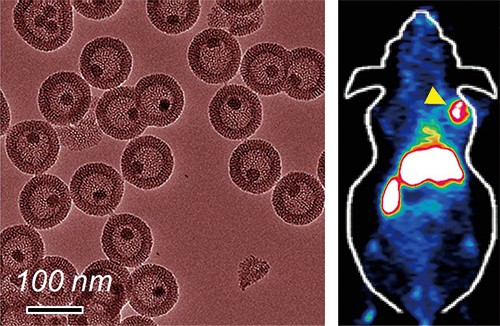 Keywords
yolk/shell 
intrinsic radiolabeling 
vasculature targeting 
positron emission tomography 
zirconium-89 
Notes
Acknowledgements
This work is supported, in part, by the University of Wisconsin-Madison, the National Institutes of Health (P30CA014520 and NIBIB/NCI 1R01CA169365), the National Natural Science Foundation of China (No. 81630049), and the American Cancer Society (No. 125246-RSG-13-099-01-CCE).
Copyright information
© Tsinghua University Press and Springer-Verlag GmbH Germany, part of Springer Nature 2018