Understanding the structural evolution and Na+ kinetics in honeycomb-ordered O′3-Na3Ni2SbO6 cathodes
Abstract
The development of new sodium ion battery (SIB) cathodes with satisfactory performance requires an in-depth understanding of their structure−function relationships, to rationally design better electrode materials. In this work, highly ordered, honeycomb-layered Na3Ni2SbO6 was prepared to elucidate the structural evolution and Na+ kinetics during electrochemical desodiation/sodiation processes. Structural analysis involving in situ synchrotron X-ray diffraction (XRD) experiments, electrochemical performance measurements, and electrochemical characterization (galvanostatic intermittent titration technique, GITT) methods were used to obtain new insights into the reaction mechanism controlling the (de)intercalation of sodium into the host Na3−xNi2SbO6 structure. Two phase transitions occur (initial O′3 phase → intermediate P′3 phase → final O1 phase) upon Na+ extraction; the partial irreversible O′3-P′3 phase transition is responsible for the insufficient cycling stability. The fast Na+ mobility (average 10–12 cm2·s–1) in the interlayer, high equilibrium voltage (3.27 V), and low voltage polarization (50 mV) establish the linkage between kinetic advantage and a good rate performance of the cathode. These new findings provide deep insight into the reaction mechanism operating in the honeycomb cathode; the present approach could be also extended to investigate other materials for SIBs.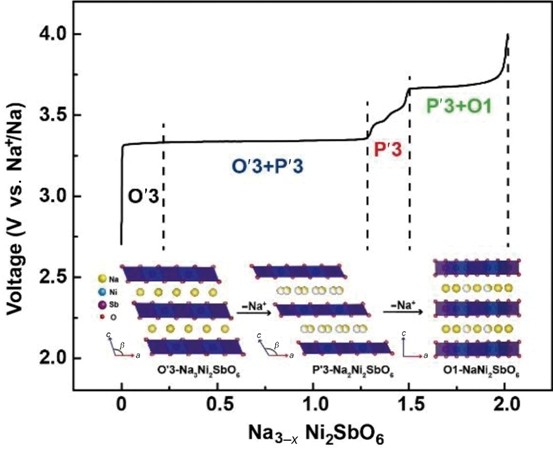 Keywords
sodium-ion batteries (SIB) 
cathode 
honeycomb-ordered 
structural evolution 
Na+ kinetics 
Notes
Acknowledgements
This work was supported by the National Key R&D Program of China (No. 2016YFA0202500), the National Natural Science Foundation of China (NSFC) (Nos. 51772301 and 21773264), and the "Strategic Priority Research Program" of the Chinese Academy of Sciences (No. XDA09010100) and the Chinese Academy of Sciences (CAS).
Copyright information
© Tsinghua University Press and Springer-Verlag GmbH Germany, part of Springer Nature 2017