Hepatic encephalopathy: a critical current review
Open Access
Special Issue - Portal Hypertension
Abstract
Hepatic encephalopathy (HE) is a serious neuropsychiatric complication of cirrhosis and/or porto-systemic shunting. The clinical symptoms are widely variable, extending from subtle impairment in mental state to coma. The utility of categorizing the severity of HE accurately and efficiently serves not only to provide practical functional information about the current clinical status of the patient but also gives valuable prognostic information. In the past 20–30 years, there has been rapid progress in understanding the pathophysiological basis of HE; however, the lack of direct correlation between pathogenic factors and the severity of HE make it difficult to select appropriate therapy for HE patients. In this review, we will discuss the classification system and its limitations, the neuropsychometric assessments and their challenges, as well as the present knowledge on the pathophysiological mechanisms. Despite the many prevalent hypotheses around the pathogenesis of the disease, most treatments focus on targeting and lowering the accumulation of ammonia as well as inflammation. However, treatment of minimal HE remains a huge unmet need and a big concerted effort is needed to better define this condition to allow the development of new therapies. We review the currently available therapies and future approaches to treat HE as well as the scientific and clinical data that support their effectiveness.
Keywords
Hepatic encephalopathy 
Treatment 
Classification 
Pathogenesis 
Abbreviations
ACLF

Acute-On-Chronic Liver Failure

ALF

Acute liver failure

ALLO

Allopregnanolone

BBB

Blood–brain barrier

BCAAs

Branched-chain amino acids

BDL

Bile-duct ligated

cGMP

Cyclic guanosine monophosphate

CFF

Critical Flicker Frequency

CHE

Covert hepatic encephalopathy

CHESS

Clinical Hepatic Encephalopathy Staging Scale

CLF

Chronic liver failure

CRT

Continuous Reaction Time

CSF

Cerebrospinal fluid

EEG

Electroencephalogram

FMT

Fecal microbiota transplantation

GPB

Glycerol phenylbutyrate

HE

Hepatic encephalopathy

HESA

Hepatic Encephalopathy Scoring Algorithm

ICT

Inhibitory Control Test

ISHEN

Society for Hepatic Encephalopathy and Nitrogen Metabolism

LOLA

l-Ornithine and L-aspartate

MARS

Molecular Adsorbent Recirculating System

mHE

Minimal hepatic encephalopathy

NKA

Na+–K+ ATPase

OHE

Overt hepatic encephalopathy

OP

Ornithine phenylacetate

PEG

Polyethylene glycol

PHES

Psychometric Hepatic Encephalopathy Score

RBANS

Repeatable battery for the assessment of neuropsychological status

RCTs

Randomized controlled trials

SIRS

Systemic inflammatory response syndrome

THDOC

Tetradehydrodeoxycorticosterone
Introduction
Hepatic encephalopathy (HE) is defined as "brain dysfunction caused by liver insufficiency and/or porto-systemic shunting manifesting as a wide spectrum of neurological or psychiatric abnormalities ranging from subclinical alterations to coma" [1]. The recognition that liver disease and in particular jaundice could be associated with mood and behavioral disturbances can be traced back to the father of Western medicine, Hippocrates (460–371 BC) [2]. However, it was not until experimental work in the late nineteenth and the twentieth century that pathophysiological mechanisms of this relationship started to unravel, instigating a shift leading to the understanding that behavioral changes are an integral consequence of chronic liver insufficiency and disease.
Classification of hepatic encephalopathy
The clinical presentation of HE may be highly variable constituting, a myriad of signs and symptoms ranging from defects in cognition, personality and intellect to altered conscious state and impaired neuromuscular function such as asterixis and hyperreflexia. The heterogeneous manifestations of HE vary not only between patients but also longitudinally for an individual patient. Furthermore, important observations that cirrhotic patients who appear clinically "normal" could also have defects on electroencephalography [
3
] and neuropsychometric testing [
4
] have led to the concept of minimal HE (mHE). In order to reconcile short comings and difficulties in accurately defining and classifying the severity of HE, in 1998 the World Organisation of Gastroenterology introduced a multiaxial definition of HE [
5
], which categorized HE according to; (1) etiology (Type A—Acute Liver failure, Type B—Portosystemic bypass without intrinsic liver disease, Type C—Cirrhosis), (2) severity (minimal or West Haven Grade 1–4 [Table 
1
]), (3) time course (episodic, recurrent, persistent), and (4) precipitated versus spontaneous. The EASL-AASLD consensus modified this in 2014 but kept the main elements of this classification [
1
].
Table 1
West Haven criteria for grading severity of HE
Grade

Clinical features

I

Trivial lack of awareness

Euphoria or anxiety

Shortened attention span

Impairment of addition or subtraction

II

Lethargy or apathy

Personality change

Disorientation for time

Inappropriate behavior

III

Somnolence to semi-stupor

Confusion

Gross disorientation

IV

Coma
The West Haven Criteria categorizes HE into 4 stages based solely on clinical criteria, and is often used arbitrarily and subjectively by clinicians in routine practice rather than considering all manifestations in a particular stage [6]. It has good functionality in distinguishing those patients at the lower and higher ends of the scale, but the main limitation lies in accurate identification and discrimination of grade 1 HE from those who have no HE and those with mHE due to significant inter- and intra-observer inconsistency [7]. The Hepatic Encephalopathy Scoring Algorithm (HESA) [8] combines clinical and neuropsychological assessment as a means of improving the sensitivity of grading and has shown promise in clinical trials [9]. The Clinical Hepatic Encephalopathy Staging Scale (CHESS) [10] was developed as a newer method, and grades severity of HE in a linear fashion from 1 to 9, but is not widely used. Grade II HE is more readily discriminated using disorientation and asterixis as markers, which has led to a proposal by the International Society for Hepatic Encephalopathy and Nitrogen Metabolism (ISHEN) to term HE Grade ≥II as Overt HE (OHE), whereas Grade 1 and mHE may be classed as Covert HE (CHE) [7]. OHE and CHE can be viewed as tangible points in a paradigm that considers the spectrum of neurocognitive impairment in cirrhosis as a continuum rather than categorical [11]. The term CHE is limited, being in essence an umbrella term. A study of 132 cirrhotics demonstrated CHE to be heterogeneous syndrome requiring a combination of clinical and neuropsychometric indicators for diagnosis [12]. In a recent prospective study, Thomsen et al. [13] showed that patients with Grade 1 HE were clinically, pathophysiologically and prognostically distinct from those with mHE, suggesting that lumping Grade 1 HE and mHE together under the term CHE is potentially flawed.
The utility of categorizing the severity of HE accurately and efficiently serves not only to provide practical functional information about the current clinical status of the patient but gives valuable prognostic information and presents objective standards for research and trials involving HE. The current challenge thus is of first clarifying what is "normal", as an absence of HE does not necessarily equal absence of neuropsychometric abnormality [14], and then determining optimal methods by which early HE can be consistently and accurately distinguished. Montagnese et al. [14] advocate the advantages of considering an individual's lifelong neuropsychometric performance and co-morbidity in determining whether any abnormality equates to HE.
Neuropsychometric assessment
Although termed minimal, mHE is not trivial, having been associated with a multitude of deleterious effects on quality of life [15], including sleep disturbance [16], falls [17], ability to drive [18] and impacts on employment ability, with knock-on effects on associated socio-economic status [19]. The occurrence of mHE predicts the onset of OHE [20] and adversely affects survival [21]. Several methods are available to diagnose mHE, including common tests such as Psychometric Hepatic Encephalopathy Score (PHES), Critical Flicker Frequency (CFF) and Electroencephalogram (EEG); less widely-used tests include the scan test, Continuous Reaction Time (CRT) Test, Inhibitory Control Test (ICT) and repeatable battery for the assessment of neuropsychological status (RBANS). A significant issue, however, is just the moderate concordance between differing methodologies, [22] which is likely indicative of the tests reflecting different pathologies [23], and thus they should be considered as complementary rather than equivalent [14]. Given the detrimental impact of mHE, there is an urgent need to translate diagnostic criteria and tests into pragmatic everyday clinical practice [24].
Assessing the degree to which cognitive dysfunction is caused by hepatic insufficiency can be challenging, as not only can a multitude of potential concurrent factors such as infection, renal failure, drugs, or pre-existing cognitive/psychiatric disorders contribute to and exacerbate HE, but causes of underlying liver disease such as alcohol [25], obesity [26] and Hepatitis C [27] may also lead to impairment in cognitive ability. This distinction is important in order to allow identification and correct individual treatment of all mechanisms causing altered mental status. HE is observed in a one third of all patients admitted to hospital with acute decompensation [28]. The presence of HE is predictive of worse survival in both patients with and without Acute-On-Chronic Liver Failure (ACLF) [29]. Isolated HE in acute decompensation is different to the ACLF, in that it is associated with older age, inactive drinkers and not fundamentally related to the severity of underlying liver disease, highlighting the predisposition of other insults to the brain (ageing and alcohol) in the development of HE [29]. In ACLF, HE is more frequent in younger patients with more severe liver failure, infection and evidence of systemic inflammation (white cell count and C-reactive protein). Cognitive impairment in cirrhosis is strongly associated with bacterial infection; a prospective study demonstrated cognitive impairment (overt or subclinical) in 42% of cirrhotics without infection, in 79% with infection and in 90% with sepsis and systemic inflammatory response [30]. It is proposed that HE in ACLF is clinically distinct from that in acute decompensation driven by diverse pathological mechanisms in each entity [31], underscoring the multifactorial pathogenesis of this condition. More studies are therefore required for the better understanding of each condition and mechanism of development of HE.
Pathophysiological mechanisms of HE
HE occurs due to a combination of distinct pathophysiological mechanisms such as inflammation [
32
], oxidative stress [
33
], impaired blood–brain barrier (BBB) permeability, neurotoxins, impaired energy metabolism of the brain [
34
] and more (Fig. 
1
). Moreover, it is assumed that HE is caused by similar mechanisms both in mHE and overt states of the syndrome. However, recent clinical and experimental data suggest that there are discrepancies between studies indicating that HE is likely to be a heterogenous entity. In this section, we will try to assess the current limitations in our understanding of the pathophysiology of HE.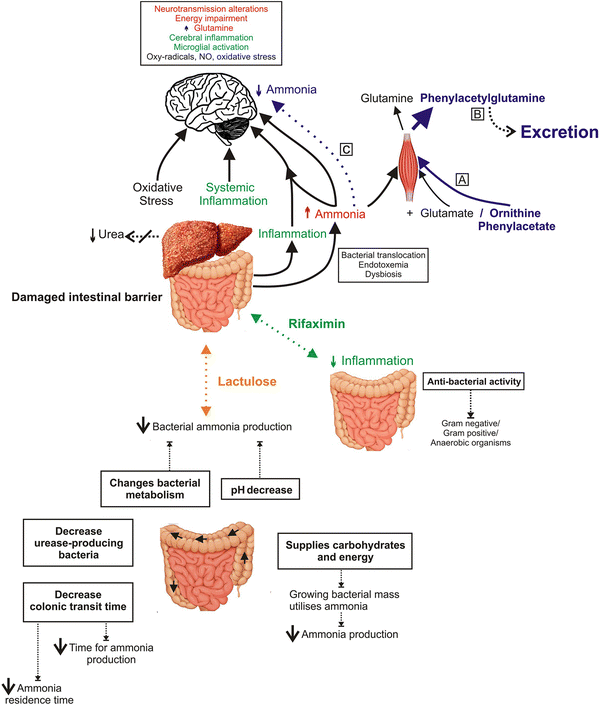 Treatment
The approach to the treatment of HE depends on its severity. Ammonia remains the main target and is aimed at reducing the production of ammonia and maximizing the body's removal of ammonia from the bloodstream. However, ammonia metabolism is complex and is regulated in various organs such as the liver, muscles, kidneys and brain. Therefore, the drugs used to treat HE need to be well understood and undergo regulated clinical trials to maximize their effectiveness. Additionally, lack of treatment for other precipitating factors involved in the development of HE, such as oxidative stress, inflammation or other cerebral alterations, is a major limiting step in the treatment area. The first priority of treatment depends on actively identifying and treating all potential precipitating causes, such as infection, electrolyte disturbance, dehydration, etc., while managing the complications of encephalopathy. Finally, recurrence of HE needs to be addressed when the patient recovers from the acute episode. Despite the subtle nature of minimal and episodic HE, it can have significant effects on a patient's daily living. Unfortunately, at this time, only OHE is routinely treated and overall medical treatment options for HE are limited. Finally, a more personalized treatment will have to be developed for patients, without focusing only on the stage of HE but also considering the disease responsible and its history. Some of the most current and emerging treatments for HE are discussed in the following section and depicted in Table 
2
.
Table 2
Current treatments for HE, suggested prescribed dose and effectiveness
Treatment

Example

Dose

Effect

Non-absorbable disaccharides

Lactulose

30–80 g/day

Decrease plasma ammonia

Lactitol

5–360 days

Antibiotics

Rifaximin

550 mg twice daily

Decrease serum levels of ammonia and bacterial translocation

Amino acids

l-ornithine-l-aspartate (LOLA)

0.25/(kg bodyweight/day)

Decrease serum ammonia levels

Ammonia scavenger

Ornithine phenylacetate (under experimental conditions)

Phase II trials (final dose yet to be determined)

Decrease plasma ammonia and neuroinflammation

Glycerol phenylacetate (HPN-100)

6 mL bid

Decrease plasma ammonia

Polyethylene glycol (PEG)

0.25 g/L orally

Decrease plasma ammonia

Albumin dialysis

MARS (Molecular Adsorbent Recirculating System)

Albumin dialysis

Targets inflammation and reserved for specialists centers only

Radiological Interventions

Occlusion of spontaneous shunts

Radiology

Reducing ammonia by targeting portosystemic shunting

Probiotics

Various

Various

Decrease intestinal pH

Decrease blood ammonia levels

Alter microbiome composition

Nutritional therapy

Changes in diet

35–45 kcal/g

Unknown

1.2–1.5 g/kg protein/day

Branched-chain amino acids (BCAAs)

Various

 

Unclear

Experimental

Bromocriptine

Various

Increase dopamine neurotransmission

Minocycline

100 mg/daily

Decrease plasma and cerebrospinal fluid ammonia levels

Ibuprofen

Unknown

Targets neuroinflammation

Sildenafil

25–50 mg

Reduces neuroinflammation and restores cognition

Indomethacin

0.5 mg/kg

Targets neurosteroids and Neuroinflammation

Ro15-4513

Unknown

Increase neurological scores and EEG tracing

Decrease bleeding

Fecal microbiota transplantation (FMT)

4 FMT

Targets intestinal dysbiosis
Conclusions
In the past 20–30 years, there has been rapid progress in understanding the pathophysiological basis of HE. Many new strategies are addressing the issue of hyperammonemia but the lack of direct correlation between ammonia levels and the severity of HE makes it difficult to select patients for liver transplantation. The results of the Phase IIb study of OP are awaited, as it will provide the first evidence of the role of ammonia in patients with an acute episode of HE on the background of CLF. The recently defined entity of ACLF and the identification that this entity is distinct from acute decompensation has huge implications for the selection of HE patients for clinical trials. Finally, treatment of mHE remains a huge unmet need and a huge concerted effort is needed to better define this condition to allow the development of new therapies.
Notes
Compliance with ethical standards
Conflict of interest
Professor Jalan is an inventor of ornithine phenylacetate which was licensed by UCL to Ocera Therapeutics. He is also the inventor of Yaq-001, DIALIVE and Yaq-005, the patents for which have been licensed by his University into a UCL spinout company, Yaqrit Ltd. Professor Jalan is one of the founders of Yaqrit Ltd. None of the others authors have any conflict of interest to declare.
Human or animal rights statement
This article does not contain any studies with human or animal subjects.
Copyright information
© The Author(s) 2017
Open AccessThis article is distributed under the terms of the Creative Commons Attribution 4.0 International License (http://creativecommons.org/licenses/by/4.0/), which permits unrestricted use, distribution, and reproduction in any medium, provided you give appropriate credit to the original author(s) and the source, provide a link to the Creative Commons license, and indicate if changes were made.