Abstract
Metaheuristics are algorithms that have proven their efficiency on multi-objective combinatorial optimisation problems. They often use local search techniques, either at their core or as intensification mechanisms, to obtain a well-converged and diversified final result. This paper surveys the use of local search techniques in multi-objective metaheuristics and proposes a general structure to describe and unify their underlying components. This structure can instantiate most of the multi-objective local search techniques and algorithms in literature.
This is a preview of subscription content, log in to check access.
Access options
Buy single article
Instant access to the full article PDF.
US$ 39.95
Price includes VAT for USA
Subscribe to journal
Immediate online access to all issues from 2019. Subscription will auto renew annually.
US$ 99
This is the net price. Taxes to be calculated in checkout.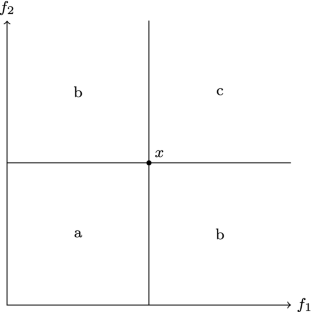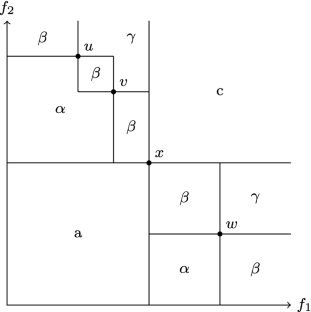 References
Abbasi, M., Paquete, L., Pereira, F.B.: Local search for multiobjective multiple sequence alignment. In: Guzman, F.M.O., Rojas, I. (eds.) Bioinformatics and Biomedical Engineering—Third International Conference, IWBBIO 2015. Proceedings, Part II, Springer, Lecture Notes in Computer Science, vol. 9044, pp. 175–182 (2015)

Aguirre, H., Tanaka, K.: Random bit climbers on multiobjective MNK-landscapes: effects of memory and population climbing. IEICE Trans. Fundam. Electron. Commun. Comput. Sci. 88(1), 334–345 (2005)

Angel, E., Bampis, E., Gourvés, L.: Approximating the pareto curve with local search for the bicriteria TSP (1, 2) problem. Theor. Comput. Sci. 310(1–3), 135–146 (2004)

Arroyo, J.E.C., dos Santos, Ottoni R., de Paiva, Oliveira A.: Multi-objective variable neighborhood search algorithms for a single machine scheduling problem with distinct due windows. Electron. Notes Theor. Comput. Sci. 281, 5–19 (2011)

Bandyopadhyay, S., Saha, S., Maulik, U., Deb, K.: A simulated annealing-based multiobjective optimization algorithm: AMOSA. IEEE Trans. Evol. Comput. 12(3), 269–283 (2008)

Basseur, M., Burke, E.K.: Indicator-based multi-objective local search. In: IEEE Congress on Evolutionary Computation, IEEE, pp. 3100–3107 (2007)

Basseur, M., Zeng, R.Q., Hao, J.K.: Hypervolume-based multi-objective local search. Neural Comput. Appl. 21(8), 1917–1929 (2012)

Baykasoglu, A., Owen, S., Gindy, N.: A taboo search based approach to find the pareto optimal set in multiple objective optimization. Eng. Optim. 31(6), 731–748 (1999)

Beausoleil, R.P.: Multiple criteria scatter search. In: 4th Metaheuristics International Conference, pp. 534–539 (2001)

Blot, A., Aguirre, H., Dhaenens, C., Jourdan, L., Marmion, M.É., Tanaka, K.: Neutral but a winner! how neutrality helps multiobjective local search algorithms. In: Evolutionary Multi-criterion Optimization. Proceedings, Part I, pp. 34–47 (2015)

Blot, A., Hoos, H.H., Jourdan, L., Marmion, M.É., Trautmann, H.: MO-ParamILS: a multi-objective automatic algorithm configuration framework. In: LION 10 (2016)

Blot, A., Jourdan, L., Kessaci-Marmion, M.É.: Automatic design of multi-objective local search algorithms: case study on a bi-objective permutation flowshop scheduling problem. In: Proceedings of the Genetic and Evolutionary Computation Conference, pp. 227–234 (2017a)

Blot, A., Pernet, A., Jourdan, L., Kessaci-Marmion, M.É., Hoos, H.H.: Automatically configuring multi-objective local search using multi-objective optimisation. In: Evolutionary Multi-criterion Optimization, Proceedings, pp. 61–76 (2017b)

Czyzak, P., Jaszkiewicz, A.: A multiobjective metaheuristic approach to the location of petrol stations by the capital budgeting model. Control Cybern. 25, 177–187 (1996)

Czyzak, P., Jaszkiewicz, A.: Pareto simulated annealing—a metaheuristic technique for multiple-objective combinatorial optimization. J. Multi-Criteria Decis. Anal. 7(1), 34–47 (1998)

Deb, K.: Multi-objective Optimization Using Evolutionary Algorithms, vol. 1. Wiley, New York (2001)

Drugan, M.M., Thierens, D.: Path-guided mutation for stochastic Pareto local search algorithms. In: 11th International on Conference on Parallel Problem Solving from Nature—PPSN XI, pp. 485–495. Springer (2010)

Drugan, M.M., Thierens, D.: Stochastic Pareto local search: Pareto neighbourhood exploration and perturbation strategies. J. Heuristics 18(5), 727–766 (2012)

Dubois-Lacoste, J., López-Ibáñez, M., Stützle, T.: A hybrid TP\(+\)PLS algorithm for bi-objective flow-shop scheduling problems. Comput. Oper. Res. 38(8), 1219–1236 (2011)

Dubois-Lacoste, J., López-Ibáñez, M., Stützle, T.: Pareto local search algorithms for anytime bi-objective optimization. In: European Conference on Evolutionary Computation in Combinatorial Optimization, pp. 206–217. Springer (2012)

Dubois-Lacoste, J., López-Ibáñez, M., Stützle, T.: Anytime Pareto local search. Eur. J. Oper. Res. 243(2), 369–385 (2015)

Engrand, P.: A multi-objective optimization approach based on simulated annealing and its application to nuclear fuel management. Technical Report, Electricite de France (1998)

Feo, T.A., Resende, M.G.C., Smith, S.H.: A greedy randomized adaptive search procedure for maximum independent set. Oper. Res. 42(5), 860–878 (1994)

Fortemps, P., Teghem, J., Ulungu, B.: Heuristics for multiobjective combinatorial optimization by simulated annealing. In: XIth International Conference on MCDM, pp. 1–6 (1994)

Geiger, M.J.: Randomised variable neighbourhood search for multi objective optimisation. In: Proceedings of the 4th EU/ME Workshop: Design and Evaluation of Advanced Hybrid Meta-Heuristics, November 4–5, Nottingham, UK, pp. 34–42 (2008). arXiv:0809.0271

Gendreau, M., Potvin, J.Y.: Handbook of Metaheuristics, vol. 2. Springer, Berlin (2010)

Glover, F., Laguna, M., Taillard, E., de Werra, D.: Tabu Search. Baltzer, Basel (1993)

Hansen, M.P.: Tabu search for multiobjective optimization: MOTS. In: Proceedings of the 13th International Conference on Multiple Criteria Decision Making, pp. 574–586 (1997)

Hoos, H.H., Stützle, T.: Stochastic Local Search: Foundations & Applications. Elsevier/Morgan Kaufmann, Amsterdam (2004)

Inja, M., Kooijman, C., de Waard, M., Roijers, D.M., Whiteson, S.: Queued Pareto local search for multi-objective optimization. In: 13th International on Conference on Parallel Problem Solving from Nature—PPSN XIII, pp. 589–599 (2014)

Ishibuchi, H., Murata, T.: Multi-objective genetic local search algorithm. In: Proceedings of IEEE International Conference on Evolutionary Computation, 1996, pp. 119–124. IEEE (1996)

Ishibuchi, H., Tsukamoto, N., Nojima, Y.: Evolutionary many-objective optimization: a short review. In: IEEE Congress on Evolutionary Computation, IEEE, pp 2419–2426 (2008)

Jaeggi, D., Asselin-Miller, C., Parks, G., Kipouros, T., Bell, T., Clarkson, J.: Multi-objective parallel tabu search. In: 8th International on Conference on Parallel Problem Solving from Nature—PPSN VIII, pp. 732–741. Springer (2004)

Jaeggi, D., Parks, G.T., Kipouros, T., Clarkson, P.J.: The development of a multi-objective Tabu search algorithm for continuous optimisation problems. Eur. J. Oper. Res. 185(3), 1192–1212 (2008)

Jaszkiewicz, A.: Genetic local search for multi-objective combinatorial optimization. Eur. J. Oper. Res. 137(1), 50–71 (2002)

Kirkpatrick, S., Gelatt, C.D., Vecchi, M.P., et al.: Optimization by simulated annealing. Science 220(4598), 671–680 (1983)

Knowles, J., Corne, D.: The Pareto archived evolution strategy: a new baseline algorithm for pareto multiobjective optimisation. In: 1999. CEC 99. Proceedings of the 1999 Congress on Evolutionary Computation, vol. 1, pp. 98–105. IEEE (1999)

Knowles, J., Corne, D.: Approximating the nondominated front using the Pareto archived evolution strategy. Evol. Comput. 8(2), 149–172 (2000a)

Knowles, J., Corne, D.: M-PAES: a memetic algorithm for multiobjective optimization. In: Proceedings of the 2000 Congress on Evolutionary Computation, 2000, vol. 1, pp. 325–332. IEEE (2000b)

Laumanns, M., Thiele, L., Deb, K., Zitzler, E.: Combining convergence and diversity in evolutionary multiobjective optimization. Evol. Comput. 10(3), 263–282 (2002)

Liefooghe, A., Humeau, J., Mesmoudi, S., Jourdan, L., Talbi, E.: On dominance-based multiobjective local search: design, implementation and experimental analysis on scheduling and traveling salesman problems. J. Heuristics 18(2), 317–352 (2012)

Lourenço, H., Martin, O., Stützle, T.: Iterated local search. In: Glover, F.W., Kochenberger, G.A. (eds.) Handbook of Metaheuristics, pp. 320–353. Springer (2003)

Lourenço, H., Martin, O., Stützle, T.: Iterated local search: framework and applications. In: Gendreau, M., Potvin, J.-Y. (eds.) Handbook of Metaheuristics, vol. 2, pp. 363–397. Springer (2010)

Lust, T., Teghem, J.: Two-phase Pareto local search for the biobjective traveling salesman problem. J. Heuristics 16(3), 475–510 (2010)

Martí, R., Campos, V., Resende, M.G.C., Duarte, A.: Multiobjective GRASP with path relinking. Eur. J. Oper. Res. 240(1), 54–71 (2015)

Mladenović, N., Hansen, P.: Variable neighborhood search. Comput. Oper. Res. 24(11), 1097–1100 (1997)

Moalic, L., Caminada, A., Lamrous, S.: A fast local search approach for multiobjective problems. In: International Conference on Learning and Intelligent Optimization, pp. 294–298. Springer (2013)

Molina, J., Laguna, M., Martí, R., Caballero, R.: SSPMO: a scatter Tabu search procedure for non-linear multiobjective optimization. INFORMS J. Comput. 19(1), 91–100 (2007)

Moslehi, G., Mahnam, M.: A pareto approach to multi-objective flexible job-shop scheduling problem using particle swarm optimization and local search. Int. J. Prod. Econ. 129(1), 14–22 (2011)

Murata, T., Ishibuchi, H., Gen, M.: Cellular genetic local search for multi-objective optimization. In: Proceedings of the 2nd Annual Conference on Genetic and Evolutionary Computation, pp. 307–314. Morgan Kaufmann Publishers Inc. (2000)

Paquete, L., Stützle, T.: A two-phase local search for the biobjective traveling salesman problem. In: Evolutionary Multi-criterion Optimization, pp. 69–69. Springer (2003)

Paquete, L., Chiarandini, M., Stützle, T.: Pareto local optimum sets in the biobjective traveling salesman problem: an experimental study. In: Gandibleux, X., Sevaux, M., Sörensen, K., T'Kindt, V. (eds.) Metaheuristics for Multiobjective Optimisation, pp. 177–199. Springer, Berlin (2004)

Serafini, P.: Simulated annealing for multi objective optimization problems. In: Tzeng, G.H., Wang, H.F., Wen, U.P., Yu, P.L. (eds.) Multiple Criteria Decision Making, pp. 283–292. Springer, Berlin (1994)

Suman, B.: Simulated annealing-based multiobjective algorithms and their application for system reliability. Eng. Optim. 35(4), 391–416 (2003)

Suman, B., Kumar, P.: A survey of simulated annealing as a tool for single and multiobjective optimization. J. Oper. Res. Soc. 57(10), 1143–1160 (2006)

Suppapitnarm, A., Parks, G.: Simulated annealing: an alternative approach to true multiobjective optimization. In: Proceedings of the Genetic and Evolutionary Computation Conference (GECCO 1999), pp. 406–407. Morgan Kaufmann Publishers (1999)

Suresh, R., Mohanasundaram, K.: Pareto archived simulated annealing for permutation flow shop scheduling with multiple objectives. In: 2004 IEEE Conference on Cybernetics and Intelligent Systems, vol.2, pp. 712–717. IEEE (2004)

Talbi, E.G., Rahoual, M., Mabed, M.H., Dhaenens, C.: A hybrid evolutionary approach for multicriteria optimization problems: application to the flow shop. In: International Conference on Evolutionary Multi-criterion Optimization, pp 416–428. Springer (2001)

Tricoire, F.: Multi-directional local search. Comput. OR 39(12), 3089–3101 (2012)

Ulungu, B., Teghem, J., Fortemps, P.: Heuristic for multi-objective combinatorial optimization problems by simulated annealing. In: Gu, J., Chen, G., Wei, Q., Wang, S. (eds.) MCDM: Theory and Applications, pp. 229–238. Sci-Tech (1995)

Ulungu, B., Teghem, J., Fortemps, P., Tuyttens, D.: MOSA method: a tool for solving multiobjective combinatorial optimization problems. J. Multi-criteria Decis. Anal. 8(4), 221 (1999)

Vianna, D.S., Arroyo, J.E.C.: A grasp algorithm for the multi-objective knapsack problem. In: Computer Science Society, 2004. SCCC 2004. 24th International Conference of the Chilean, pp. 69–75. IEEE (2004)

Zitzler, E., Künzli, S.: Indicator-based selection in multiobjective search. In: International Conference on Parallel Problem Solving from Nature, pp. 832–842. Springer (2004)

Zitzler, E., Thiele, L.: Multiobjective evolutionary algorithms: a comparative case study and the strength Pareto approach. IEEE TEVC 3(4), 257–271 (1999)
About this article
Cite this article
Blot, A., Kessaci, M. & Jourdan, L. Survey and unification of local search techniques in metaheuristics for multi-objective combinatorial optimisation. J Heuristics 24, 853–877 (2018). https://doi.org/10.1007/s10732-018-9381-1
Received:

Revised:

Accepted:

Published:

Issue Date:
Keywords
Multi-objective optimisation

Combinatorial optimisation

Metaheuristics

Unification

Local search algorithms