Abstract
Magnetotactic bacteria have intracellular chains of magnetic nanoparticles, conferring to their cellular body a magnetic moment that permits the alignment of their swimming trajectories to the geomagnetic field lines. That property is known as magnetotaxis and makes them suitable for the study of bacterial motion. The present paper studies the swimming trajectories of uncultured magnetotactic cocci and of the multicellular magnetotactic prokaryote 'Candidatus Magnetoglobus multicellularis' exposed to magnetic fields lower than 80 μT. It was assumed that the trajectories are cylindrical helixes and the axial velocity, the helix radius, the frequency and the orientation of the trajectories relative to the applied magnetic field were determined from the experimental trajectories. The results show the paramagnetic model applies well to magnetotactic cocci but not to 'Ca. M. multicellularis' in the low magnetic field regime analyzed. Magnetotactic cocci orient their trajectories as predicted by classical magnetotaxis but in general 'Ca. M. multicellularis' does not swim following the magnetic field direction, meaning that for it the inversion in the magnetic field direction represents a stimulus but the selection of the swimming direction depends on other cues or even on other mechanisms for magnetic field detection.
This is a preview of subscription content, log in to check access.
Access options
Buy single article
Instant unlimited access to the full article PDF.
US$ 39.95
Price includes VAT for USA
Subscribe to journal
Immediate online access to all issues from 2019. Subscription will auto renew annually.
US$ 199
This is the net price. Taxes to be calculated in checkout.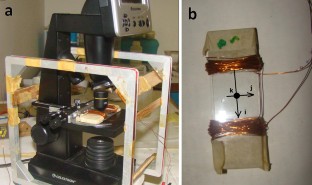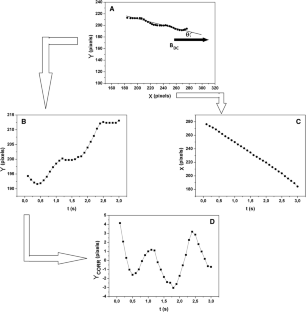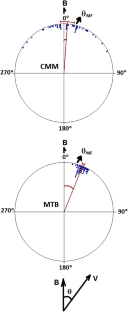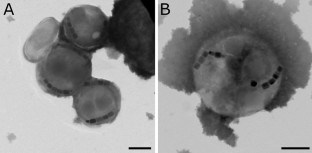 Data availability
The datasets generated during the current study are available from the corresponding author on reasonable request.
References
Abreu F, Martins JL, Silveira TS, Keim CN, Lins de Barros HGP, Gueiras-Filho F, Lins U (2007) 'Candidatus Magnetoglobus multicellularis', a multicellular magnetotactic prokaryote from a hypersaline environment. Int J Syst Evol Microbiol 57:1318–1322

Abreu F, Silva KT, Leao P, Guedes IA, Keim CN, Farina M, Lins U (2013) Cell adhesion, multicellular morphology, and magnetosome distribution in the multicellular magnetotactic prokaryote Candidatus Magnetoglobus multicellularis. Microsc Microanal 19:535–543

Acosta-Avalos D, Azevedo LMS, Andrade TS, Lins de Barros H (2012) Magnetic configuration model for the multicellular magnetotactic prokaryote Candidatus Magnetoglobus multicellularis. Eur Biophys J 41:405–413

Almeida FP, Viana NB, Lins U, Farina M, Keim CN (2013) Swimming behaviour of the multicellular magnetotactic prokaryote 'Candidatus Magnetoglobus multicellularis' under applied magnetic fields and ultraviolet light. Antonie Van Leeuwenhoek 103:845–857

Araujo ACV, Morillo V, Cypriano J et al (2016) Combined genomic and structural analyses of a cultured magnetotactic bacterium reveals its niche adaptation to a dynamic environment. BEM Genom 17(Suppl 8):726

Bennet M, McCarthy A, Fix D, Edwards MR, Repp F, Vach P, Dunlop JWC, Sitti M, Buller GS, Klumpp S, Faivre D (2014) Influence of magnetic fields on magneto-aerotaxis. PLoS ONE 9:e101150

Berg HC (2003) The rotary motor of bacterial flagella. Annu Rev Biochem 72:19–54

Chen YR, Zhang R, Du HJ, Pan HM, Zhang WY, Zhou K, Li JH, Xiao T, Wu LF (2015) A novel species of ellipsoidal multicellular magnetotactic prokaryotes from Lake Yuehu in China. Environ Microbiol 17:637–647

Crenshaw HC (1996) A new look at locomotion in microorganisms: rotating and translating. Am Zool 36:608–618

Cui Z, Kong D, Pan Y, Zhang K (2012) On the swimming motion of spheroidal magnetotactic bacteria. Fluid Dyn Res 44:055508

De Melo RD, Acosta-Avalos D (2017) Light effects on the multicellular magnetotactic prokaryote 'Candidatus Magnetoglobus multicellularis' are cancelled by radiofrequency fields: the involvement of radical pair mechanisms. Antonie Van Leeuwenhoek 110:177–186

Felfoul O, Mohammadi M, Taherkhani S et al (2016) Magneto-aerotactic bacteria deliver drug-containing nanoliposomes to tumour hypoxic regions. Nat Nanotechnol 11:941–947

Frankel RB, Blakemore RP (1980) Navigational compass in magnetic bacteria. J Mag Mag Mater 15–18:1562–1564

Greenberg M, Canter K, Mahler I, Tornheim A (2005) Observation of magnetoreceptive behavior in a multicellular magnetotactic prokaryote in higher than geomagnetic fields. Biophys J 88:1496–1499

Kalmijn AJ (1981) Biophysics of geomagnetic field detection. IEEE Trans Magn MAG-17: 1113–1124

Keim CN, Martins JL, Abreu F, Rosado AS, Lins de Barros HGP, Borojevic R, Lins U, Farina M (2004) Multicellular life cycle of magnetotactic prokaryotes. FEMS Microbiol Lett 240:203–208

Keim CN, De Melo RD, Almeida FP, Lins de Barros HGP, Farina M, Acosta-Avalos D (2018) Effect of applied magnetic fields on motility and magnetotaxis in the uncultured magnetotactic multicellular prokaryote 'Candidatus Magnetoglobus multicellularis'. Environ Microbiol Rep 10:465–474

Klumpp S, Lefevre CT, Bennet M, Faivre D (2019) Swimming with magnets: from biological organisms to synthetic devices. Phys Rep 789:1–54

Kong D, Lin W, Pan Y, Zhang K (2014) Swimming motion of rod-shaped magnetotactic bacteria: the effects of shape and growing magnetic moment. Front Microbiol 5:8

Leão P, Gueiros-Filho FJ, Bazylinski DA, Lins U, Abreu F (2018) Association of magnetotactic multicellular prokaryotes with Pseudoalteromonas species in a natural lagoon environment. Antonie Van Leeuwenhoek 111:2213–2223

Lefevre CT, Bernadac A, Yu-Zhang K, Pradel N, Wu LF (2009) Isolation and characterization of a magnetotactic bacterial culture from the Mediterranean Sea. Environ Microbiol 11:1646–1657

Lefevre CT, Santini CL, Bernadac A, Zhang WJ, Li Y, Wu LF (2010) Calcium ion-mediated assembly and function of glycosylated flagellar sheath of marine magnetotactic bacterium. Mol Microbiol 78:1304–1312

Lefevre CT, Bennet M, Landau L, Vach P, Pignol D, Bazylinski DA, Frankel RB, Klumpp S, Faivre D (2014) Diversity of Magneto-aerotactic behaviors and oxygen sensing mechanisms in cultured magnetotactic bacteria. Biophys J 107:527–538

Lins U, Freitas F, Keim CN, Lins de Barros H, Esquivel DMS, Farina M (2003) Simple homemade apparatus for harvesting uncultured magnetotactic microorganisms. Braz J Microbiol 34:111–116

Mao X, Egli R, Petersen N, Hanzlik M, Zhao X (2014) Magnetotaxis and acquisition of detrital remanent magnetization by magnetotactic bacteria in natural sediment: first experimental results and theory. Geochem Geophys Geosyst 15:255–283

Nadkarni R, Barkley S, Fradin C (2013) A comparison of methods to measure the magnetic moment of magnetotactic bacteria through analysis of their trajectories in external magnetic fields. PLoS ONE 8:e82064

Nogueira FS, Lins de Barros HGP (1995) Study of the motion of magnetotactic bacteria. Eur Biophys J 24:13–21

Pan Y, Lin W, Li J, Wu W, Tian L, Deng C, Liu Q, Zhu R, Winklhofer M, Petersen N (2009) Reduced efficiency of magnetotaxis in magnetotactic coccoid bacteria in higher than geomagnetic fields. Biophys J 97:986–991

Perantoni M, Esquivel DMS, Wajnberg E, Acosta-Avalos D, Cernicchiaro G, Lins de Barros H (2009) Magnetic properties of the microorganism Candidatus Magnetoglobus multicellularis. Naturwissenschaften 96:685–690

Pinto O Jr, Gonzalez WD, Pinto IRCA, Gonzalez ALC, Mendes O Jr (1992) The South Atlantic Magnetic Anomaly: three decades of research. J Atmos Terr Phys 54:1129–1134

Posfai M, Lefèvre CT, Trubitsyn D, Bazylinski DA, Frankel RB (2013) Phylogenetic significance of composition and crystal morphology of magnetosome minerals. Front Microbiol 4:344

Silva KT, Abreu F, Almeida FP, Keim CN, Farina M, Lins U (2007) Flagellar apparatus of South-seeking many-celled magnetotactic prokaryotes. Microsc Res Technol 70:10–17

Wiltschko R, Wiltschko W (2006) Magnetoreception. BioEssays 28:157–168

Yan L, Zhang S, Chen P, Liu H, Yin H, Li H (2012) Magnetotactic bacteria, magnetosomes and their application. Microbiol Res 167:507–519

Yang C, Chen C, Ma Q, Wu L, Song T (2012) Dynamic model and motion mechanism of magnetotactic bacteria with two lateral flagellar bundles. J Bionic Eng 9:200–210

Zhang WY, Zhou K, Pan HM, Yue HD, Jiang M, Xiao T, Wu LF (2012) Two genera of magnetococci with bean-like morphology from intertidal sediments of the Yellow Sea, China. Appl Environ Microbiol 78:5606–5611

Zhang SD, Petersen N, Zhang WJ, Cargou S, Ruan J, Murat D, Santini CL, Song T, Kato T, Notareschi P, Li Y, Namba K, Gue AM, Wu LF (2014) Swimming behaviour and magnetotaxis function of the marine bacterium strain MO-1. Environ Microbiol Rep 6:14–20
Acknowledgements
D. Acosta-Avalos acknowledges financial support from Fundação do Amparo à Pesquisa do Rio de Janeiro (FAPERJ). R. D. de Melo thanks Conselho Nacional de Desenvolvimento Cientifico e Tecnologico (CNPq) for PIBIC grant. F. Abreu acknowledges support from FAPERJ, Conselho Nacional de Desenvolvimento Cientifico e Tecnologico (CNPq), Coordenação de Aperfeiçoamento de Pessoal de Nível Superior (CAPES) and thanks to the microscopy facilities CENABIO-UFRJ and UniMicro-UFRJ.
Ethics declarations
Conflict of interest
The authors declare that they have no conflict of interest.
Additional information
Publisher's Note
Springer Nature remains neutral with regard to jurisdictional claims in published maps and institutional affiliations.
Electronic supplementary material
Below is the link to the electronic supplementary material.
Supplementary Video 1: Uncultured magnetotactic cocci are initially concentrated in the drop border and depart from it when the magnetic field is inverted. From this type of video the trajectory coordinates were obtained using the software ImageJ. Not all MTB can be followed in the video, but using several videos we were able to get from 40 to 48 trajectories. (AVI 187 kb)
Supplementary Video 2: Ca. 'Magnetoglobus multicellularis' are initially concentrated in the drop border and depart from it when the magnetic field is inverted. From this type of video the trajectory coordinates were obtained using the software ImageJ. Using several videos we were able to get from 37 to 41 trajectories. (AVI 218 kb)
About this article
Cite this article
de Melo, R.D., Leão, P., Abreu, F. et al. The swimming orientation of multicellular magnetotactic prokaryotes and uncultured magnetotactic cocci in magnetic fields similar to the geomagnetic field reveals differences in magnetotaxis between them. Antonie van Leeuwenhoek 113, 197–209 (2020). https://doi.org/10.1007/s10482-019-01330-3
Received:

Accepted:

Published:

Issue Date:
Keywords
Magnetotaxis

Magnetotactic bacteria

Taxis/tactic responses

Bacterial swimming

Cylindrical helix swimming trajectory