Nitrogen doped graphene quantum dots as a fluorescent probe for mercury(II) ions
Abstract
A highly selective fluorescent probe for Hg2+ is reported. It consists of nitrogen doped graphene quantum dots (NGQDs) that are nearly spherical in shape, have an average diameter of 2.7 nm and excitation-independent emission. The blue fluorescence of the NGQDs (with maximum excitation/emission at 378/447 nm) is quenched by Hg2+ due to both dynamic and static quenching. The probe has a wide detection range (2.5 μM – 800 μM) and a limit of detection of 2.5 μM. The dynamic and static quenching constants are 417 M−1 and 63500 M−1, respectively. The probe was used to quantfy Hg2+ in spiked real water samples with satisfactory results.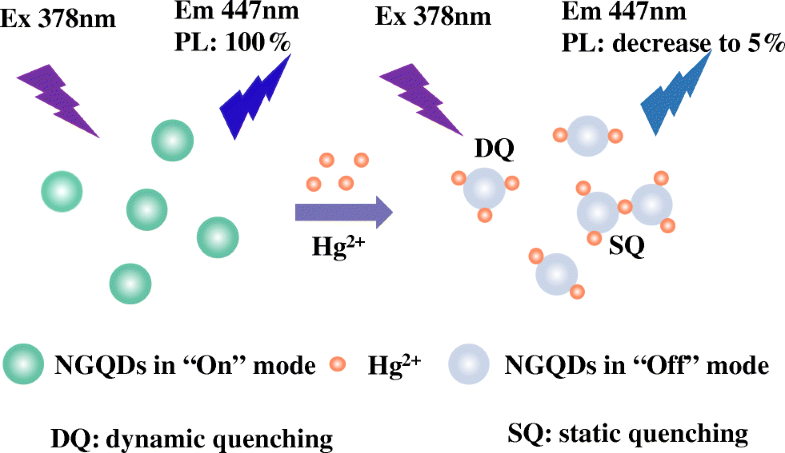 Keywords
Nitrogen doped graphene quantum dots 
Fluorescent probe 
Fluorescence quenching 
Hg2+ detection 
Modified Stern-Volmer equation 
Static and dynamic quenching 
Notes
Acknowledgements
This work was supported by Science Foundation of China (61635004, 61705023, 61705024, 11574161, 61405023), Key Research and Development Project of Ministry of Science and Technology (2016YFC0801200), Chongqing Postdoctoral Program for Innovative Talents (CQBX201703), Postdoctoral Science Foundation of Chongqing (Xm2017047), Natural Science Foundation of Chongqing (cstc2018jcyjAX0644), Science and Technology on Plasma Physics Laboratory (6142A0403050817), and National Science Fund for Distinguished Young Scholars (61825501).
Compliance with ethical standard
The author(s) declare that they have on competing interests.
Copyright information
© Springer-Verlag GmbH Austria, part of Springer Nature 2019